Unclear instructions from above, staff and budgetary shortages and the risk posed by the coronavirus have local election officials struggling to organise a safe and orderly vote.
By KAUNG HSET NAING and YE MON | FRONTIER
Mingun monastery is the largest in Yangon Region's Insein Township, and a place of great importance for the area's Buddhists. In recent weeks, however, it has taken on a different role, used to train heads and deputy heads of the 196 polling stations in Insein for Sunday's election. Conducting electoral training at a monastery is unusual, since it usually takes place at government schools.
Sitting on spaced-out plastic chairs under a shelter in the monastery compound, 30 school teachers wearing masks with the standard white shirts and green longyis listened attentively as U Kyaw Lin, chairman of Insein Township's election sub-commission, explained the difference between valid and invalid ballots. The lesson, observed by Frontier on October 23, was complemented by an instructional video that explained what constitutes an invalid vote.
The neatly organised training session – one of hundreds taking place concurrently across Myanmar – signalled the determination of the Union Election Commission to press ahead as normal with the election, despite the pressures of the COVID-19 pandemic.
With Myanmar reporting many hundreds of cases a day, the pandemic has emerged as one of the biggest challenges to Sunday's vote. But the UEC has repeatedly rejected calls to postpone it and has said it is confident of conducting an orderly and safe election.
Measures introduced by the UEC aimed at minimising the risk of infection have included allowing those aged 60 and over to cast advance votes between October 29 and November 5 at makeshift polling stations in their ward or village tract, or with the help of mobile teams of election officials, in order to reduce crowding in polling stations on November 8. The UEC has also allowed citizens unable to return to the constituencies where they are registered to vote in advance at their present location, after completing a Form 15 application for an out-of-constituency advance ballot.
However, the rushed expansion of advance voting has attracted dozens of complaints of mismanagement and possible fraud from across the country. Allegations have included the use of unauthorised stamps to mark ballots and voters being issued ballots meant for other constituencies. This has left many candidates and voters anxious about how polling will be conducted on election day, given that, like the just-concluded advance voting process, it will involve measures that are unfamiliar from previous elections.
Unclear orders
In recent months, the UEC has issued numerous orders and instructions aimed at keeping the election on track amid the pandemic, but they have not always been clearly communicated to lower-level officials and voters, say staff at election sub-commissions.
Frontier visited ward-level sub-commission offices in Yangon's Mayangone Township in early October, when voter lists were being publicly displayed nationwide for a second time. In the absence of clear guidance from above, local election officials were then offering Form 3(a) applications to temporary residents who wanted to vote locally because they could not return to their home constituencies. This form allows voters registered elsewhere to transfer their vote and be included in a local voter list.
"[Aung San Suu Kyi] talked about it on television. Then, people came to the ward office to apply [via a Form 3(a)] the next day," said an official at the election sub-commission in Mayangone's eighth ward, who asked not to be named.
The state counsellor made the comments on television on October 5. However, a few days later, the local election officials discovered that they should instead have been issuing these voters with Form 15 applications. This form allows temporary residents to cast an out-of-constituency advance vote – a type of absentee ballot that is then forwarded to a voter's home constituency for counting on election day.
Staff at the Insein Township election sub-commission also said that unclear and belated instructions from higher levels of the election commission had made life difficult for them. They cited as an example the UEC's extension of the initial, July 25 to August 7 nationwide voter list display by an extra week.
Staff at the Insein sub-commission said that in the absence of any formal communication, they did not know if this news was official, and this led to delays in informing ward-level officials in the township and created confusion, said chairman Kyaw Lin.
Kyaw Lin also said instructions from the UEC on how to oversee advance voting by residents aged 60 and over were unclear. "It was very difficult to proceed because the UEC did not explain the process to us in detail," he said. "I was very disappointed."
Staff at numerous other sub-commissions in Yangon said a lack of clear and timely instructions from above meant they frequently had to improvise.
Sharp capacity constraints have compounded this problem. The UEC has distributed hand sanitiser and protective clothing to sub-commission offices for use on election day in polling stations, but many do not have the facilities to store them. Kyaw Lin said he was able to arrange storage at the Mingun monastery because the abbot is his friend, but many other sub-commission offices did not have this option.
An additional challenge is that nine of Insein Township's polling stations have had to be changed, either because the original sites were being used as COVID-19 quarantine centres, or to provide improved access for the disabled.
Kyaw Lin said he had asked ward administrators to collect donations from the public to establish the nine new polling stations because the UEC did not respond to his request for extra funds.
Several other sub-commission chairs told Frontier they were also beyond their budgets. A UEC spokesperson did not respond to requests for comment on this issue.
"The UEC set our budget for regular meetings and other essential activities, but it does not cover the cost of transport or fees for carrying ballot papers," said Kyaw Lin, who estimated his staff had spent K200,000 of their own money on electoral preparations.
Staff shortages
Many sub-commissions have also been hit by staff shortages.
U Kyaw Kyaw Win, chairman of the election sub-commission for Yangon's Mayangone Township, told Frontier on October 26 that his office had to hire extra staff members off-budget to organise advance voting by the elderly.
Several people at ward-level sub-commissions told Frontier that staff regularly worked until late into the night, and many had not taken a day off for months.
"If we hire from outside, we have to pay with our own money. We informed [the UEC] about this but we haven't received a response," Kyaw Kyaw Win said.
According to procedure, each township sub-commission should have five members, including the chairperson, who is paid K300,000 a month. The other four are paid K275,000 on a rotating basis, Kyaw Kyaw Win explained.
"If two members receive K275,000 in January, the other two receive it in February. It started in January. Before that we didn't receive anything," said Kyaw Kyaw Win.
In the 2015 election, sub-commissions were able to rely on plenty of volunteers, but there appear to be fewer people willing to volunteer this year because of the risks posed by COVID-19, even though the need for staff is greater because of the extra health measures.
"In the last election, there were 14 staff in each polling station. Now, the union-level [UEC] wants to add three staff to conduct temperature checks and distribute masks to voters," said Khin Maung Win, chairman of the Yangon Western District election sub-commission.
In Myanmar elections, including municipal votes, government school teachers typically staff polling stations. This year, many of them are concerned about contracting COVID-19 on election day, but, as government staff, they feel they have little choice but to take part.
U Myo Kyaw San, headmaster of the No.13 Basic Education Primary School in Insein Township, has served as the head of a polling station in every election since 2010.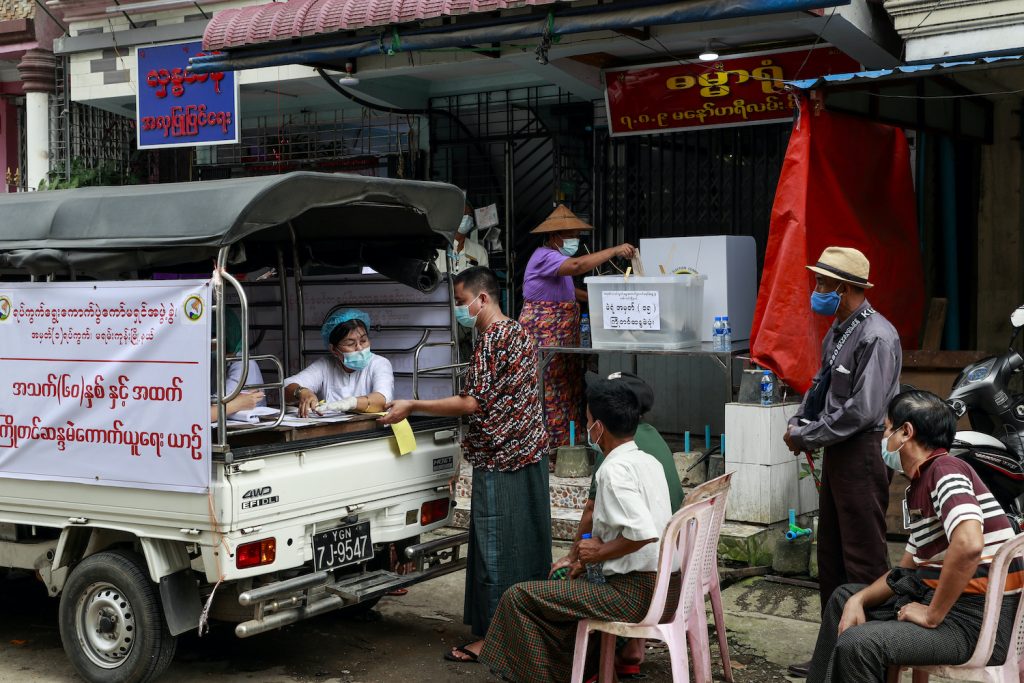 Speaking to Frontier at Mingun monastery on October 23, he said he and other teachers are especially concerned about COVID-19 because the authorities are not testing polling staff or putting them in quarantine either before or after election day.
"I would not refuse to serve, but we want to be quarantined and swab-tested before returning home," said Myo Kyaw San, who has a month-old child and is concerned for his family if he becomes infected. "I want to know who will be held responsible if we are infected with the virus. It would not only hurt me but also my family."
The risk is heightened for staff who go to people's homes, and quarantine centres, to collect advance votes.
"It would be better to be quarantined. We don't want to take any risks," said U Hlaing Moe Aung, a primary school teacher in Insein Township, who said he is concerned for his family, including his 60-year-old mother-in-law and four-month-old daughter.
Other teachers were worried about the possibility of being dismissed from their jobs if they declined to volunteer for election duties, said U Lin Lin Htike, headmaster of a primary school in Pyapon Township, Ayeyarwady Region.
In Ayeyarwady's Pathein Township, a teacher tested positive for the virus while undergoing polling station training. Dr Than Min Htut, head of Pathein General Hospital, told Frontier on October 29 that the teacher was infected by a family member, and that those in the same training class had no reason to worry.
"All teachers in her training have tested negative," he explained, adding that testing and quarantining all polling staff would be impractical given the huge numbers involved.
"I don't think it's necessary to test and quarantine all teachers around the country who are helping with the election," he said. "What would happen if medical staff requested it? All medical staff would be quarantined."
Speaking to Frontier on November 5 about another incident, Than Min Htut confirmed that seven polling officials in Pathein had contracted COVID-19 while collecting advance votes from an infected 84-year-old man. Than Min Htut said all seven are now in the hospital.
Despite these incidents, Dr Than Naing Soe, spokesperson for the Ministry of Health and Sports, dismissed the fears of election volunteers over contracting COVID-19 on election day. They will be provided with international-standard Personal Protective Equipment, he said. "The key is to strictly follow the precautionary measures, and wear only the prescribed protective clothing … It is more important than testing," he said.
"There is nothing to worry about. It is like worrying about the sky falling."