African footballers have made a big contribution to the Myanmar National League since its launch seven years ago this month, although the experiences of some have highlighted the importance of trustworthy agents.
By HTUN KHAING | FRONTIER
Photos TEZA HLAING
Jonathan Yamoah had travelled the world as a professional footballer before he decided to settle in Myanmar.
Yamoah, 29, from Ghana in West Africa, is an impressive example of what African footballers can achieve here.
He played as a professional for more than 10 years in his native Ghana, the United States, Jamaica and Malaysia, before arriving in Myanmar in 2009, when the Myanmar National League was launched.
He played for Zeyar Shwe Myay Football Club, based in Sagaing Region, and is now a manager for Nay Pyi Taw FC.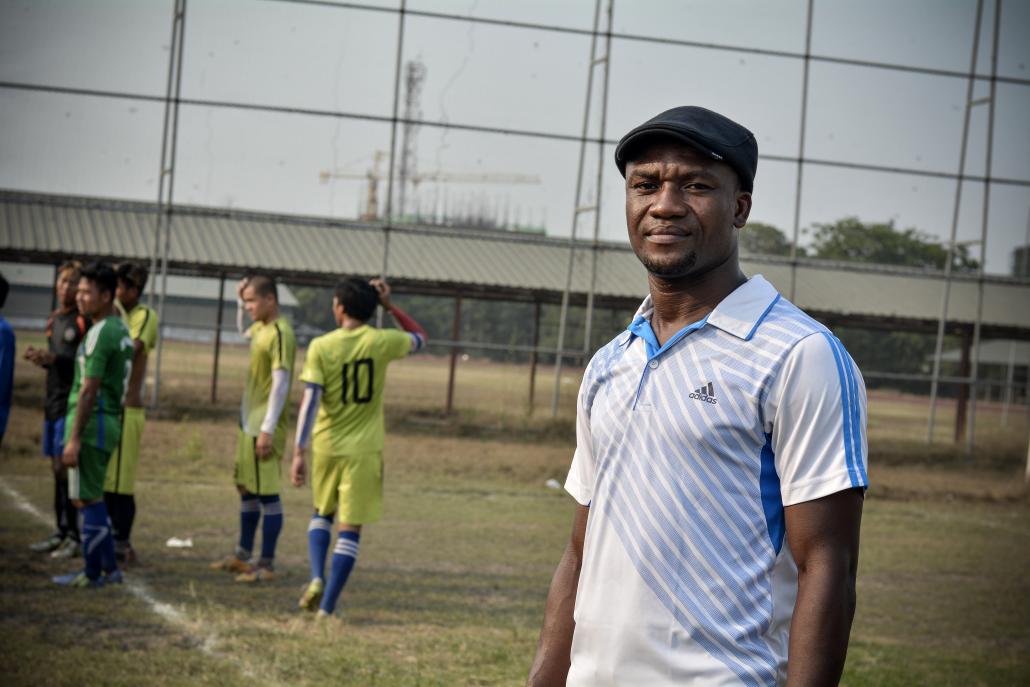 African footballers have made an important contribution to the success of the MNL. About half of the league's foreign players are African and at the end of each season they regularly top the list of goal scorers.
"African footballers fit quite well in Myanmar because the lifestyle and weather are not too different," said Erdinc Pala, who coaches MNL side Horizon FC.
Pala, who is Turkish, hired three Africans for the first round of MNL matches that began last September. He was unsatisfied with the way some of them performed, but is trying to recruit more African players for the second round, which kicks off on May 21.
Not every African footballer who comes to Myanmar enjoys the success of players like Yamoah.
Some have arrived with unrealistic expectations and left after short stays when their hopes were dashed. Others have been the victims of scams and a few have found themselves on the wrong side of the law.
"African players who come here because they think they'll find it easy soon realise that the MNL is not what they expected," Yamoah told Frontier. "On the face of it, the Myanmar football world seems easy but when you're involved as a player the competition is very tough."
There are some restrictions on foreign players in the MNL. The league is divided into two groups – MNL and MNL2 – and each of their 12 clubs can recruit up to four foreigners, of whom one must be Asian.
That means there are potentially 72 vacancies for African players. But not every MNL club hires Africans exclusively; they have to compete against players from Brazil, Europe and elsewhere.
Clubs are tight-lipped about salaries for foreign players but reporters who cover the MNL say they range from US$1,000 to $3,000 a month. Top players reportedly earn up to $9,000.
Ahead of the football transfer season – the period between the two rounds of matches that are held each year – dozens of African hopefuls arrive in Myanmar in the hope of being signed by a MNL club. Almost all are from countries in western Africa, such as Ghana, Nigeria, Liberia, Ivory Coast, Uganda and Cameroon.
Some travel to Myanmar on visits arranged by their agents and others arrive on tourist visas. A few have little football experience and are brought by agents motivated mainly by the possibility of signing fees. The inexperience of these players and the greed of their agents quickly becomes obvious when they are trialled by clubs.
"Some Africans are unable to kick the ball well and the coach has asked me, 'Are they real footballers? How did they enter your country?'" said U Kyaw Kyaw Oo, the manager of Horizon FC.
"The agents who have brought Africans with no experience to Myanmar show no respect for the calibre of Myanmar football and their behaviour offends the clubs," Kyaw Kyaw Oo told Frontier.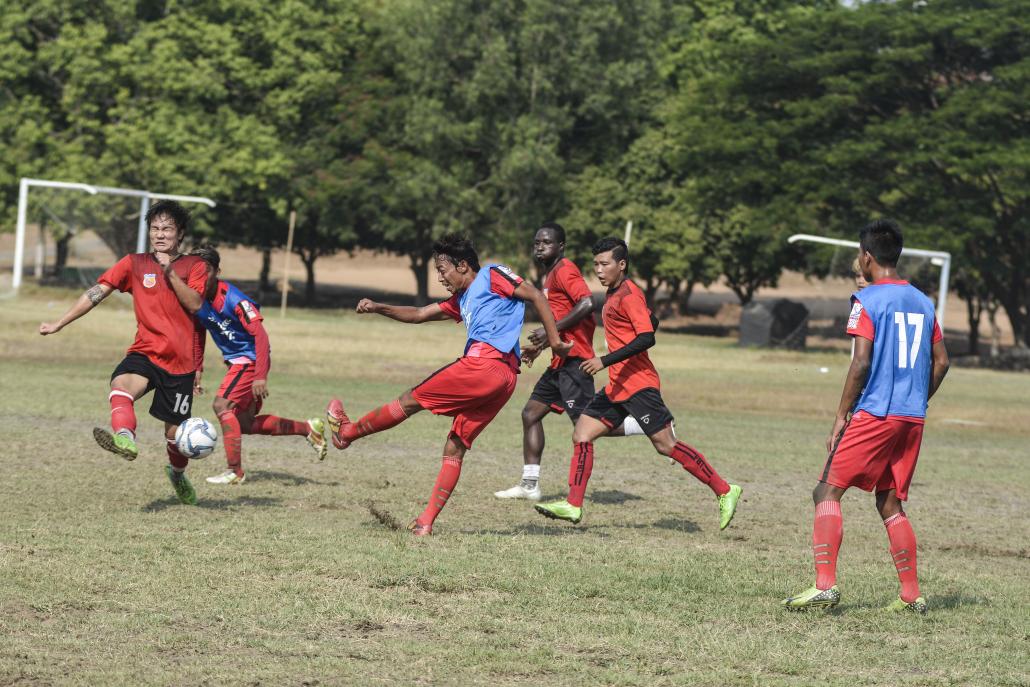 As well as unscrupulous agents, a few African footballers have reportedly been lured to Myanmar under false pretences by compatriots who have promised to arrange signings with MNL teams.
Cheated players who struggled to survive after their signing hopes evaporated include an African footballer who was rejected by a number of clubs and was seen working as a waiter at a restaurant in Yangon's Pazundaung Township in 2011. Yamoah, said he was unaware of an African player working as a waiter, but he did know of a footballer from Africa who became a teacher to support himself.
The importance of clubs and players using reliable player agents was highlighted soon after the MNL began when two Nigerian players were the victims of a costly scam.
They had each paid about $4,000 to a Nigerian "players' agent" who had promised them a contract with a MNL club, the Myanmar Times reported in September 2009, just months after the league launched.
After arriving in Myanmar, the pair discovered that most clubs were unwilling to even give them a trial. The only club to show interest declined to sign because it said they lacked experience and the distraught pair had no choice but to return to Nigeria.
In early 2010, two Cameroonian players made headlines for the wrong reasons when they were charged with fraud after claiming to be able to make counterfeit US dollar notes.
The pair had turned to crime after failing to be signed, despite playing some matches with MNL clubs, media reports said at the time.
African footballers say the way some players are treated is far from ideal. Salaries can be as low as $200 a month.
"A pair of football shoes alone can cost $100," Yamoah said.
U Zaw Min Htike, the league's information officer, said the responsibility for visas, work permits and the conditions under which foreign players were recruited rested with their club and their agent – and the footballers themselves.
Despite these cautionary examples, African footballers continue to come to Myanmar in the hope of a long stint with a MNL club. Yamoah has some advice for African players considering a move to Myanmar: do your research. He suggests they head online to find out as much as possible about their likely prospects in the MNL before leaving home.