Low energy prices and the high cost of offshore exploration are prompting some energy companies to give back blocks won in a 2014 tender – a development that could hurt Myanmar's ability to meet its power needs in the years ahead.
By THOMAS KEAN | FRONTIER
LOW OIL and gas prices are prompting many foreign energy firms that flocked to Myanmar in the wake of economic reforms to downsize their holdings and even exit the country completely.
Frontier has confirmed through interviews with industry sources and company officials that almost half of the offshore blocks awarded in a 2014 tender have been relinquished.
Companies including Shell, Reliance Industries and Norway's Statoil have all decided to hand back blocks, although some have retained acreage with more promising development prospects.
So far just one operator, Australian firm Woodside, has confirmed that it will undertake drilling in 2018, although France's Total and Italy's Eni are planning seismic data acquisition in their blocks.
The scaling back of activity could have implications for Myanmar's energy security over the medium-term, as it reduces the likelihood that new offshore fields will come online in the next five to 10 years.
"The decision by exploration and production companies to relinquish blocks reduces the potential pipeline of areas to be developed," said Mr Jeremy Mullins, research director at Myanmar Energy Monitor. "The difficulty is that Myanmar needs natural gas now for electricity generation," he added. "Delays to potential offshore production constrain Myanmar's options in addressing electricity generation."
Drill or drop
Energy companies have been prompted to review their positions in Myanmar by the nature of the production sharing contracts they signed with the government in 2014 and 2015 for blocks won in the tender. Most contracts required operators to make a decision on whether to extend the study or exploration period within two or three years – what's known in the industry as the "drill or drop" deadline. As part of the tender process, bidders also had to commit to undertake surveying activities, including seismic tests and data analysis.
Against a background of low gas prices – the spot price was around US$2.80 per million British thermal units in December, down from $4.20 in April 2013 when the tender was announced – many block holders have balked at the high cost of exploration. A single deepwater well can cost upwards of US$50 million.
The last winning bidder to sign a PSC, Australia's Tap Oil, was also among the first to exit, announcing in early 2017 that it had begun negotiations with the government to withdraw from the M-7 concession. In October, Indian giant Reliance Industries announced it was giving back two blocks (M-17 and M-18), while Oil India also gave notice it would relinquish one block (M-4) last year.
In late 2017, Statoil announced that after conducting 2D seismic testing in 2016 in the AD-10 block, the company had "decided to relinquish the licence and close its office in Yangon, as it now assesses the potential for commercially viable discovery to be low". The company had won the 9,000 square kilometre block in partnership with ConocoPhillips but took over the full licence after the US firm exited Myanmar in 2016.
A spokesperson for Anglo-Dutch major Shell said it had relinquished three deepwater blocks (AD-9, AD-11, MD-5) because the 3D seismic evaluation suggested they would be "very challenging" to develop commercially. Ms Hanke Verspaget said Shell had also extended the study period for two others (A-4 and AD-2) because it needs "more time to analyse the data we collected to fully understand the potential". Approval for the extensions was granted in December 2017, she said.
Meanwhile Chevron, which won the shallow water A-5 block in 2014, is still seeking buyers for its Myanmar assets, which are valued at more than $1 billion and include a share in the Yadana project.
Bucking the trend
One company bucking the trend is Woodside, which unlike most of its rivals has bet big on Myanmar. The Australian firm holds nine permits in the Rakhine basin, and has drilled seven deepwater wells and acquired more than 30,000 square kilometres of seismic data since 2015.
It has a stake in four blocks awarded in 2014, including the two Shell has extended. The company is also proceeding in the two others, entering the initial exploration period in A-7 and being granted a two-year extension to the study period in AD-5.
"Woodside plans to undertake another drilling campaign beginning in mid-2018," a spokesperson said, adding that details would be confirmed in mid-February. "These activities align with our strategy to secure international growth opportunities in frontier and emerging basins that leverage our core deep water capabilities."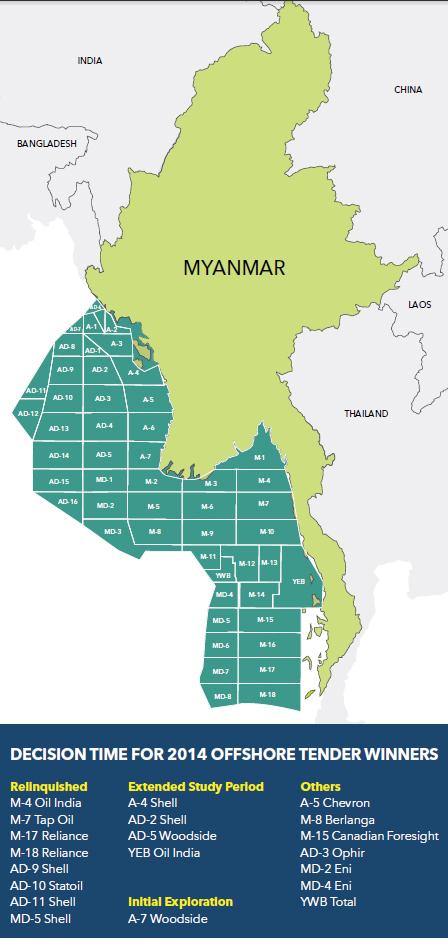 But Woodside is not just retaining existing assets; it doubled down on its Myanmar strategy in 2017 by farming in to three blocks (AD-1, AD-2, AD-8) that China's CNPC has held for more than a decade.
Some other majors are also stepping up their activities. On January 18, marine geophysical services company Shearwater announced that Total and Eni had awarded it a contract to acquire seismic data across 10,000 square kilometres in two blocks, YWB and MD-4. The statement said the survey would begin this month and run to the middle of the year.
However, Eni's plans for its other block, MD-2, remain unclear, as do the intentions of several smaller companies – Ophir Energy, Canadian Foresight and Berlanga – who also emerged victorious from the 2014 tender. In its half-year results to June 30, 2017, Ophir indicated that it could drill a discretionary well in 2018-19 in AD-3 block, while Canadian Foresight has been seeking investment to fund exploration activities.
Another tender
A Ministry of Electricity and Energy official said the government was aware that some winners from 2014 intended to hand blocks back to the government, but declined to say how many. The official, a director in the Energy Planning Department, said the ministry had not yet received formal notice from many of the companies as to their plans. Only Woodside had confirmed that it would drill in 2018, and many concession holders were still yet to provide the ministry with the seismic data required under the terms of their PSCs.
Blocks that are returned could be put up for tender again later this year together with 10 blocks left over from the 2014 bidding round, the official said. "We plan to hold a tender round in 2018, but we are not able to confirm our plans yet or the date … the number will certainly be more than 10 blocks in the next round," the official said.
If it goes ahead, the next tender seems unlikely to attract the same level of interest as the round called in 2013. In a recent report, BMI Research – a division of Fitch Group ­– said it expected little serious exploration in Myanmar's offshore areas in the short term because most foreign energy firms are focusing on "shedding non-core assets, cutting costs and improving shareholder returns". The conflict in Rakhine State has also spooked some companies. "It expected most energy firms will keep a relatively low profile in Myanmar for the foreseeable future and only commit to the minimum activity needed to retain their respective blocks," BMI Research said.
Mullins from Myanmar Energy Monitor said a range of factors was conspiring to dampen enthusiasm in offshore exploration. Some companies had simply found that blocks that initially seemed promising were unlikely to be commercially viable. The tax regime in Myanmar is also "a sticking point", he said. But low prices remain the key issue.
"Offshore drilling is an expensive, risky business, and it's hard to make the case to spend hundreds of millions of dollars doing this when the potential returns are much lower than they were a few years ago," he said.
dditional reporting by Kyaw Lin Htoon.