Resistance forces have stepped up attacks on the military's power supply, sometimes affecting ordinary civilians' lives, though the data shows the regime is responsible for the vast majority of blackouts.
By FRONTIER
With temperatures soaring past 40 degrees Celsius for much of April, nationwide power shortages were keenly felt across Myanmar as the military regime tightly rationed electricity. The junta's inability to keep the lights on has caused hardship for business owners, some of whom need constant electricity.
"When I operate my press, it needs to run continuously for eight hours," said the owner of a printing press in Yangon's downtown Pazundaung Township, who now relies on an expensive generator to avoid disruptions.
A rice mill owner in Ayeyarwady Region's Maubin Township, meanwhile, told Frontier he had to shut down his business entirely.
As usual, the military regime has sought to blame those opposed to its rule, saying resistance forces conducted 229 attacks on electricity infrastructure since the 2021 coup. On April 6 state media accused "terrorists" of "intentionally attacking against the infrastructures related to the electric power generation, transmission and distribution to the public".
But the National Unity Government, appointed by elected lawmakers deposed in the coup, and resistance forces say they are cutting off a vital source of military power while taking measures to avoid overly inconveniencing the general public.
"The military council needs electricity to run its war machine, like the production of weapons and ammunition. So, it's important for us to cut the power supply," U Naing Htoo Aung, permanent secretary of the NUG's defence ministry, told Frontier.
The coup and subsequent violent crackdown on peaceful protests sparked a grassroots uprising against military rule, with armed resistance groups known as People's Defence Forces emerging across the country.
While not lacking in courage or manpower, the PDFs are severely outgunned. The military receives sophisticated weapons from Russia and China, including aircraft, but resistance forces rely on the extortionate black market and homemade guns. Some have therefore turned their attention to levelling the playing field – by sabotaging the military's weapons factories.
"We will attack and destroy anything that supports the military council's production of arms and ammunition and its propaganda networks," said Ko Wai Yan, spokesperson for the Bago Region PDF, which is under the NUG's chain of command.
"We have instructed our forces to minimise as much as possible the effect on the people," added Naing Htoo Aung.
But because of how Myanmar's electricity grid operates, with virtually all nodes connected in a single network, taking any of them offline can temporarily disrupt the overall flow of electricity, which can result in knock-on power cuts in residential areas. This, however, is true both for targeted resistance assaults on infrastructure and more indiscriminate military attacks like village burnings and airstrikes.
Who's to blame?
All of the civilians interviewed for this article blamed the power outages on the junta, but most also appealed to resistance forces to take measures to avoid making ordinary people's lives more difficult.
"Under the National League for Democracy, there were times in the [March to May] hot season when power was only available part-time," said a woman who lives in Yangon's North Okkalapa Township, referring to the overthrown elected government.
She said under the junta, power is rationed even more severely, and frequently isn't available even during scheduled times.
"The military council blames the power failures on this or that and it can say what it likes, but this situation is due to its mismanagement," she said.
However, she said PDFs should take care to minimise the impact of sabotage attacks on the public.
"I only want attacks that will affect the military council. I can understand why the PDFs need to carry out such attacks, but as transmission lines deliver power from one place to another, we don't want attacks that will harm the people," she said.
But Mr Guillaume de Langre, a former advisor to the civilian government on energy policy, said while resistance attacks "occasionally disrupt the stability of the grid, most power cuts are the result of bad policy, economic chaos and loss of investor confidence in the junta".
According to de Langre's data, in this year's second quarter, Myanmar is producing 2,444 megawatts less electricity than was projected before the coup. Most of the lost power – 1,418 MW – is because planned projects have been cancelled or left in limbo, while another 800 MW has been lost from power plants shutting down since the coup.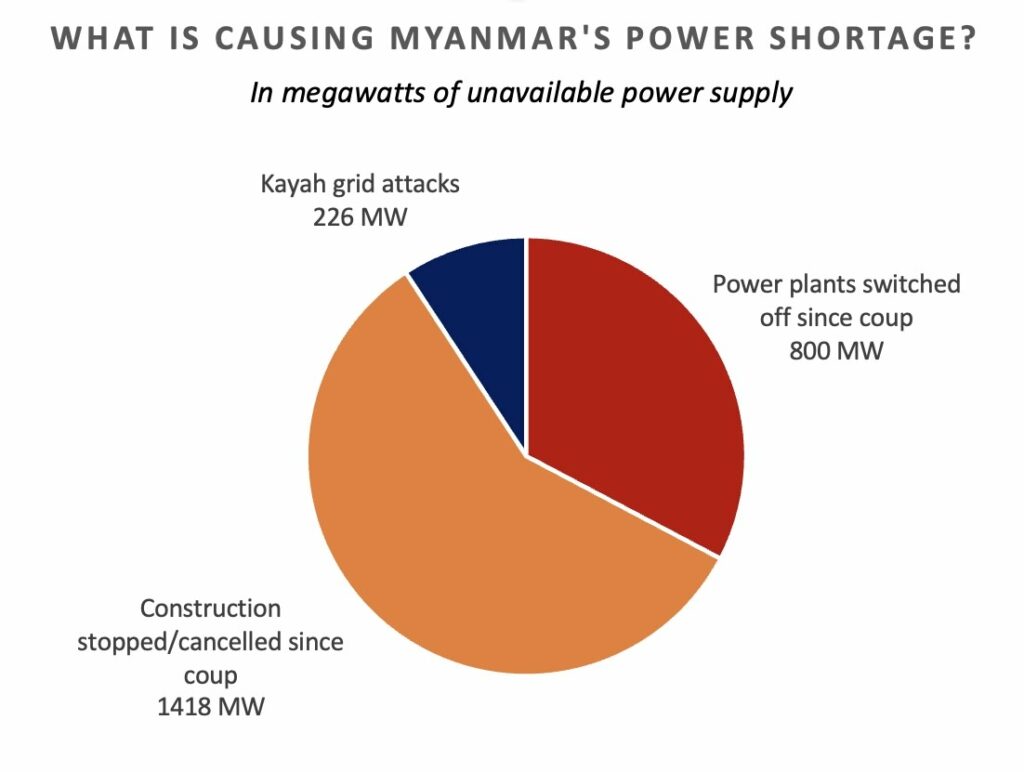 A Yangon Electricity Supply Corporation official told the pro-military Popular News Journal in April that 1,500 MW was being distributed nationally, down from 3,200 MW before the coup. Repeated attempts by Frontier to seek comment from YESC chief executive officer U Kyaw Thu were unsuccessful.
"Investors lost trust in Myanmar, so dozens of power plants were either shut down or cancelled," de Langre explained.
For example, 26 proposed solar power plants were reportedly cancelled last year after Chinese companies postponed signing power purchase agreements that were agreed on before the coup.
Another 226 MW, or around 9 percent of the lost energy, is a result of resistance attacks on power lines, de Langre's data shows. In February, the Karenni Nationalities Defence Force said it blew up nine electricity towers in southern Shan State's Pekon Township supplying power to the capital Nay Pyi Taw.
A spokesperson for the armed group, which was founded after the coup and primarily operates in Kayah and southern Shan states, said the KNDF only targeted transmission lines "that are to be used against us".
But while Nay Pyi Taw may be the power centre of the regime, there are hundreds and thousands of ordinary civilians living there too. And besides increased hardship for affected communities, there has also been some cost in human lives.
In December, the junta claimed 19 electricity workers had been killed in resistance attacks on infrastructure since 2021, with another 56 injured.
Naing Htoo Aung said the NUG's policy is to "act in accordance with international conventions", but while they are considered civilians under international law, civil servants and local officials working for the regime have been targeted by resistance forces on an almost daily basis.
"What we want is for people better than Min Aung Hlaing to rule us. It's true we support the NUG, but we don't support anything that would hurt people," said a woman from Nay Pyi Taw's Zabuthiri Township, who criticised resistance attacks that have killed or injured civilians.
Nay Pyi Taw PDF spokesperson Bo Ngwe Soe admitted to setting off "warning bombs" to deter electricity workers from collecting unpaid bills from those participating in a boycott, but did not say whether his group had killed or injured any of the workers.
An electricity worker in Magway Region's Chauk Township, an area with strong resistance activity, said he lives in fear.
"We're worried we could be attacked at work or even while we're off duty, because these things are happening and we don't have any weapons," he said.
He said a PDF once planted explosives near power lines in Chauk, and one of his friends and colleagues was briefly abducted last year in Shan State.
"I don't know why they arrested him, but after 10 days in custody he was released," he said.
Looking ahead
Contrary to de Langre's data, the junta claimed in the state-run Myanma Alinn in December last year that sabotage attacks on the national power grid had reduced supply by about 160MW.
"It always lies, and it will continue to lie, and the people know that," the NUG's Naing Htoo Aung said.
A woman in Yangon's Hlaing Township said the electricity shortages are evidence of Senior General Min Aung Hlaing's shortcomings and called for the dictator to step down.
"I support what the PDF is doing, including the sabotage attacks on transmission towers. I want the revolution to succeed as quickly as possible," she said.
The printing press owner agreed.
"They are ruling the country, so it's their responsibility," he said.
The December article in Myanma Alinn also said it had not been possible to carry out necessary repair work in some areas.
"Attacks on infrastructure are low risk/high impact, and they can happen anywhere," said de Langre. "For the junta, it's very expensive to keep repairing the lines. High voltage lines cost tens if not hundreds of thousands of dollars to fix."
Political analyst U Than Soe Naing said the junta's priorities were clear from its budget allocations. For the 2023-24 fiscal year, the regime allocated more than K5.6 trillion to defence spending, up nearly K2 trillion compared to the previous year. By contrast, it granted only K680 billion to the electricity sector, which is heavily subsidised, and has experienced a collapse and only partial recovery in bill collection since the coup.
"We can assume that the military council will escalate military operations and will not solve the problems of the people in education, health and electricity supply. The reason for the chaos in electricity supply is the mismanagement of the military council," he said.
De Langre said he expects these attacks to continue, and to become "more frequent and sophisticated".
The woman from North Okkalapa said she would continue supporting the PDFs and called for others to do the same.
"They need to take great care not to hurt the people, but sometimes inconveniences might happen unexpectedly," she said. "People should understand that PDFs are fighting for the people. So, I for one would support any attack they deem necessary."