By KYAW YE LYNN | FRONTIER 
YANGON – Firefighters are yet to extinguish a blaze at Yangon's largest rubbish dump that has caused major air pollution problems in several townships on the city's outskirts.
The fire broke out at Htein Bin rubbish dump in Hlaing Tharyar Township on Saturday, the authorities said. While it has been brought under control, Yangon City Development Committee official Aung Myint Maw said they were struggling to put it out completely.
"Since Monday evening the firefighters have been able to stop the fire from spreading and there are no new fires until now," Aung Myint Maw, the deputy head at YCDC's Environmental Conservation and Sanitation Department, told reporters earlier today.
"However, it's not easy to extinguish the fire completely because it's burning from the inside … Obviously it will keep burning for a few days.
"We are not very clear on the cause of the fire. At the moment our focus is on extinguishing it as soon as possible."
A pall of smoke has descended over neighbouring townships, including Insein, Hlaing and Shwepyithar.
Health authorities have set up temporary clinics in some badly affected Hlaing Tharyar wards to provide assistance to residents.
A nurse at a temporary clinic set up in 20th quarter on Sunday, told Frontier they are providing free medicine and treatment. Most patients are suffering headaches and some have respiratory problems.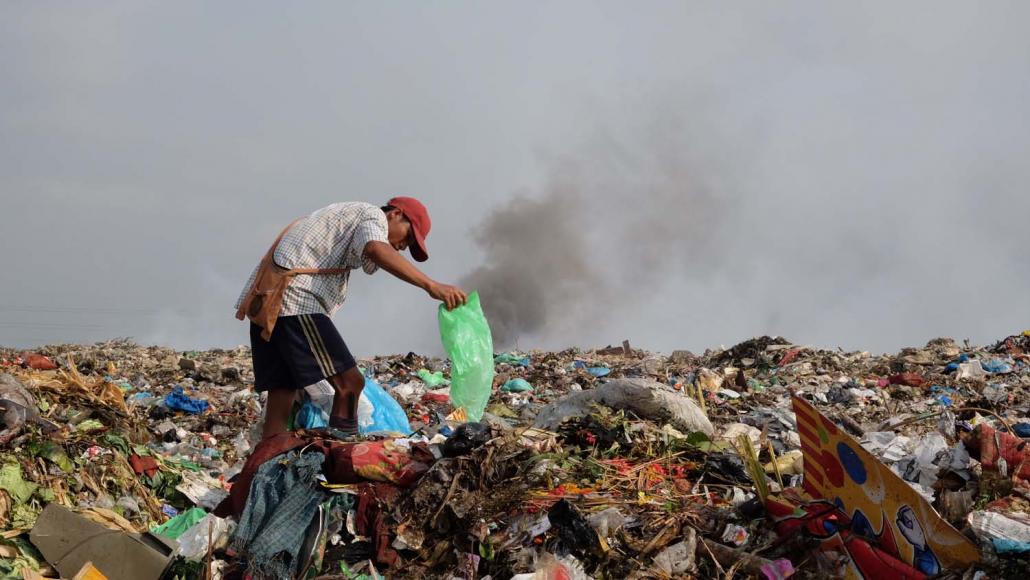 "We transferred about 40 people to hospital last night. Today though we've only received two patients," said the nurse, who asked not to be named as she was not authorised to speak to the media.
When Frontier visited the site this morning fire department officials said they were employing 20 fire engines and 12 tankers to fight the blaze.
"It's not that easy," said U Myint Oo, chief of Hlaing Tharyar's fire brigade. "When you try to extinguish it at the front, the flames go up at the back.
"At the moment we're trying to ensure it doesn't spread and then we're soaking one spot after another with water."
He said it was impossible to know when the fire would be completely extinguished.
"It seems like it will take some time," he said. "The best thing would be if it rains. Even then, the rain will have to be rather heavy and it should last at least half a day."