Runaway inflation, a depreciating kyat and increased labour rights violations are leaving many garment workers contemplating life abroad, despite the high costs and difficulty in making the move.
By FRONTIER
After eight hours working in a garment factory in the industrial Yangon neighbourhood of Hlaing Tharyar, 23-year-old Ma Aye Min Thant goes back to her 16 square metre dormitory to study Japanese.
"I hope to go to Japan in June or July 2023. I need to study more to achieve a high proficiency level in Japanese. I believe that I can support my parents with more money when I get there," she told Frontier in late August.
Since 2018, Aye Min Thant has been sending more than half of her K220,000 monthly salary to her parents in Pale Township, Sagaing Region, where she is from. Two years ago, her salary would have been worth around US$150 – today it's just $66 at the market exchange rate of K3,300 to the dollar.
Since the military seized power in a coup in February 2021, the new regime has presided over a precipitous economic collapse marked by rising inflation and the runaway depreciation of the kyat.
The price of basic commodities is rising across the board.
Before the coup, one pyi (around 1.9 kilograms) of the lowest quality type of rice sold for around K1,300 – today it is selling for K3,900. One litre of palm oil sold for between K1,500 and K2,000, but now it is up to K5,000. One litre of the cheapest fuel was about K400 – today it is K2,300.
Meanwhile, daily wage workers take home just K3,600 per day while contract workers make K4,800, which now puts both groups of workers below the World Bank's International Poverty Line of $1.90 per day.
At the same time, the lawlessness caused by the coup has created a space for unscrupulous business owners to take advantage of lax regulations, with some slashing wages and ending overtime pay. Faced with all these compounding problems, Aye Min Thant can only afford to send K50,000 to her family each month, a sharp decrease from the K120,000 she used to send.
"I have to spend money on my accommodation, which costs K25,000 every month and I need to buy essential things. Even a litre of palm oil costs about K5,000. I want to send more money to my parents, but I can't. It would be possible if the factory paid us to work overtime," she said.
Supporting her family in Sagaing has become even more crucial, as the region has been engulfed in armed conflict since the coup. After the military slaughtered hundreds of peaceful protesters, many turned to armed resistance, forming anti-military armed groups known as People's Defence Forces. Sagaing has emerged as a PDF stronghold, and has subsequently been subjected to rampant military violence, including in Pale Township, leaving Aye Min Thant to afraid to visit her home.
Ma Sandar, 26, finds herself in a similar economic predicament. Hailing from Hinthada Township in Ayeyarwady Region, she has earned about K200,000 per month working in a shoe factory in Hlaing Tharyar since 2019.
She spends K45,000 on rent, while prices for basic commodities rise, including medicine for her mother.
Ma Sandar's mother suffers from diabetes and hypertension; her medication before the coup cost around K30,000 or K40,000, but today costs K50,000-K60,000, on top of the depreciation of the kyat. Surging medical costs are a direct result of the junta's disastrous economic policies, like strict import controls.
"My mother is not in good health and medicine prices are rising. I want to earn more money but how could I do it? Jobs are scarce and prices are rising every day. I want the authorities to consider a minimum wage," said Ma Sandar.
The minimum wage is legally required to be reviewed every two years by a committee including representatives from the labour ministry, business and trade unions. The committee last met in January 2020 to start negotiations after the previous minimum wage was set in 2018, but negotiations stalled due to COVID-19, with many factories closing amid mass layoffs.
After the coup, the junta formed a new National Committee on the Minimum Wage that excluded trade unions and declined to raise the minimum wage. One reason the junta may have for keeping the minimum wage low is to attract and retain international garment manufacturers, as a steady stream of foreign companies exit the country. A March review by the WageIndicator Foundation and GlobalData found that Myanmar had the third lowest salary for garment workers in the world.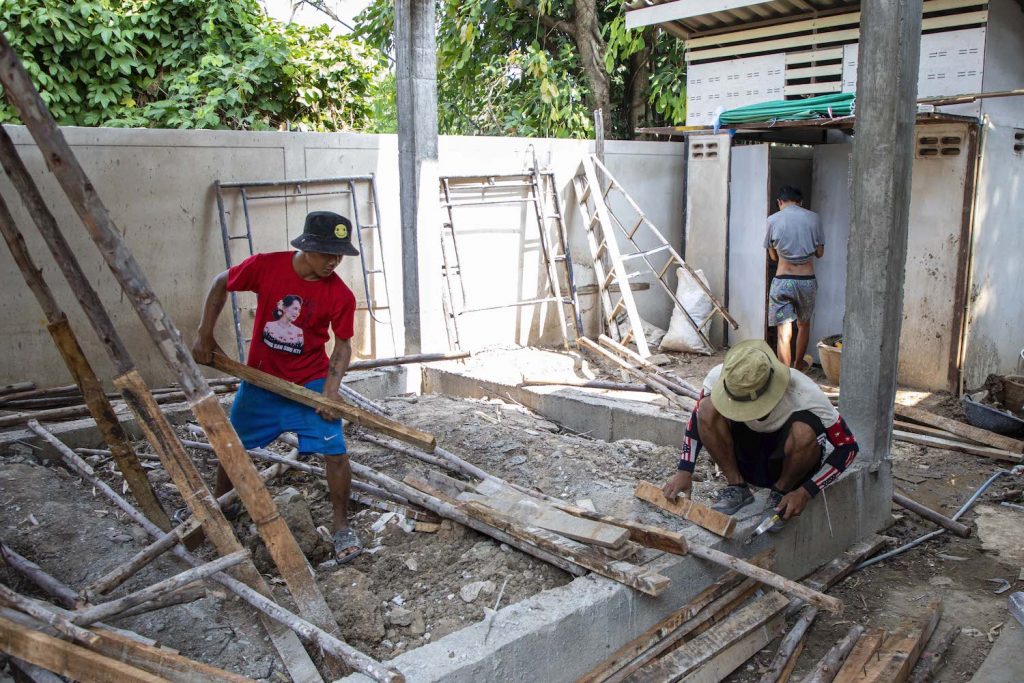 Seeking employment abroad
With the situation in Myanmar becoming bleaker by the day, Aye Min Thant is not alone in looking to new pastures abroad to escape the cycle of poverty.
Ko Soe Aung, a 32-year-old worker at a garment factory in Shwepyithar Township, said that he is planning to move to Malaysia. He has already completed the necessary training, and is now waiting for a contract. With about K1 million in savings, he says he needs to borrow money to make the move, but believes it is worth it given the dire situation in Myanmar.
"I think it's better to go. I would go into debt even if I stayed in Yangon. The Myanmar kyat is now becoming worthless, and our salaries are not enough to support our families," Soe Aung said.
According to the owner of an overseas employment agency, who requested anonymity, a worker typically needs to pay around K3 million to move to Malaysia, including travel costs and agent fees. But he said workers can make around K1 million per month once they arrive, roughly five times the monthly wage of Ma Sandar and Aye Min Thant.
It takes around five months for migrant workers to get approval to legally work in Malaysia under the current Memorandum of Understanding between the two countries. The long wait time may tempt some to skirt the rules and migrate illegally but increasing raids by Malaysian authorities targeting Myanmar nationals serve as a deterrent.
"If domestic factory workers want to go to Malaysia, I recommend going legally under the MoU system. Otherwise, they will be arrested one day when the police find out that they are illegal migrant workers. I just want to tell them to take your time and save money to go there legally," said the employment agency owner.
Many have also turned to a closer neighbour – Thailand. Ko Aung Thura made the decision to get out of Myanmar only six weeks after the coup, and says it was the right call.
"If I had continued working in Yangon, I would have struggled a lot to earn enough money. I think I made the right decision. Now, my monthly income is 21,000 baht [$575], which is enough to support my parents," he said.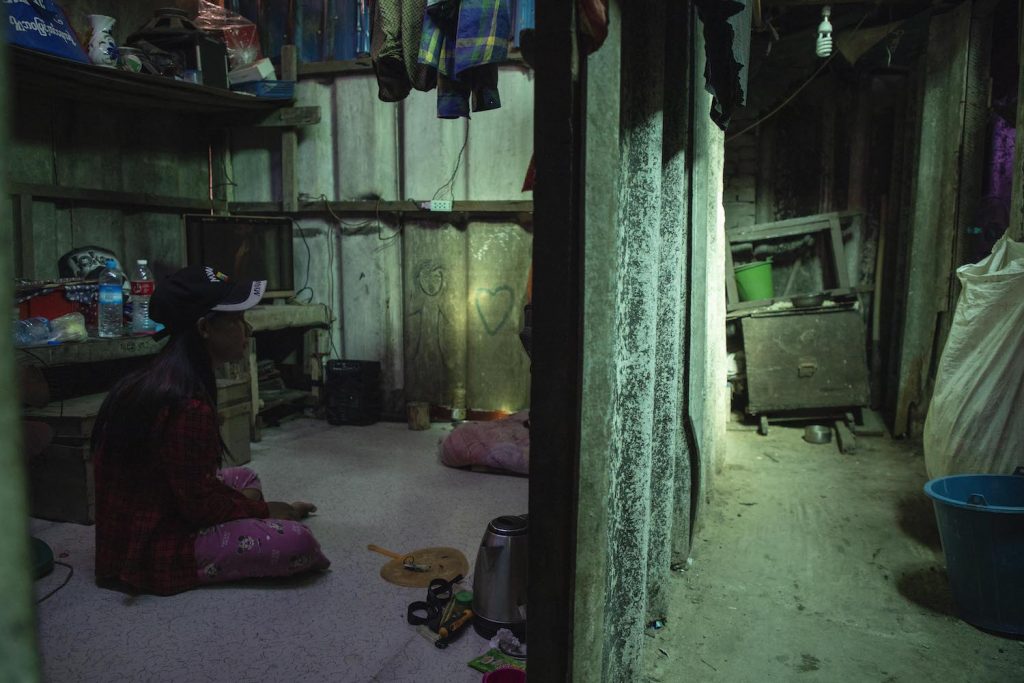 Unfair working conditions
The push to go abroad has been inspired not just by the economic collapse, but also by increased labour rights violations. Rights activists and workers say that factory owners are no longer respecting basic rights, like paid leave, fair compensation or overtime pay.
"In the garment industry, increasing reports show workers in precarious employment including casual or daily labor, irregular working hours, and workers receiving lower pay," said an August report by the International Labor Organization.
Domestic labour unions echoed this assessment.
"A worker must earn K1,200 per hour for overtime. There are factories that pay for overtime and there are also factories that don't. We have received a lot of complaints about that," said Ko Aung, a secretary for the Federation of General Workers Myanmar (FGWM).
He also said FGWM has received numerous complaints that factory owners are only allowing unpaid leave, even though paid leave is required under the law.
The manager of one factory in Hlaing Tharyar, who spoke on the condition of anonymity, said workers from areas with strong armed resistance to the military have also been unfairly targeted.
"Not all factories violate labor rights, but there are some that do. I heard that some factories fired workers who came from Magway, Sagaing and Mandalay regions and Kayah State without any reason," he said.
A member of the central executive committee from the Industrial Workers' Federation of Myanmar (IWFM) told Frontier in late August that they had received complaints of workers from these areas being unfairly terminated from at least four factories: Myanmar Bestex Garment Factory, Lucky Fortune Garment Factory, Green Wings International and EMC.
Frontier made multiple unanswered calls to the factory managers.
IWFM has started an online campaign to support those workers, but say it is increasingly difficult to operate in Myanmar, due to legal persecution of labour unions and their refusal to cooperate with the junta.
"The Confederation of Trade Unions Myanmar can't do anything under the military junta. That is why the owners of factories are taking advantage," the IWFM member said.
Frontier was unable to contact the spokesperson of the junta's labour ministry, but the ministry released a public statement on August 31 rejecting accusations that the Chinese Zhejiang Tongi clothing factory unfairly fired workers from Magway, Sagaing and Mandalay.
"The ministry found that only the workers who did not follow the rules were fired in accordance with the labour law," the statement said.
The National Unity Government, a cabinet appointed by lawmakers elected in the 2020 polls, said in a statement on August 27 that it would punish employers who violate labour rights, but it is not clear how the parallel government could take action.
"The workers who are being discriminated against or had their labour rights violated can complain to the [NUG] Ministry of Labour and the ministry will record and take action against the employers," said the statement.
Ma Sandar warned that the junta's hostile policies towards workers will only cause further nationwide economic decline.
"Factory workers are one of the pillars of the country's economy. If one of those pillars deteriorates, I think the country's economy will get worse. The junta and its labour ministry should know how important factory workers are," she said.