The declining kyat and the junta's import restrictions have made vital medicines more expensive and in some cases hard to buy – with potentially deadly consequences for those suffering from serious health conditions.
By FRONTIER
Five years ago, retired civil servant Daw Thida Win* was diagnosed with liver cancer. Since then her prognosis has worsened; with her cancer now at an advanced stage, she likely has less than a year to live.
Thida Win's condition began to deteriorate this July when she developed cirrhosis of the liver. Her skin and eyes turned yellow and her abdomen and legs began to swell.
An oncologist at a private hospital in Yangon's Lanmadaw Township prescribed fortnightly infusions of albumin, a drug used in the treatment and aftercare of cancer patients, to reduce the severity of the symptoms and help prolong her life.
Like most pharmaceuticals in Myanmar, albumin is imported from abroad. The price in the local market depends in large part on the exchange rate, and as the kyat has lost value in the past 18 months since the coup, albumin and other imported medicines have become significantly more expensive to buy.
Since Thida Win's doctor prescribed the drug, its price has risen about 30 percent; as of mid-August, an albumin drip cost K128,000 ($45 at current market rates, $61 at the junta's official rate). This is about 60pc higher than the start of the year, when a single drip cost K75,000 to K80,000.
Thida Win has to buy a range of other medicines for her condition, and estimates that her regular spend on treatment drugs has almost doubled since the start of the year. Over the same period, the kyat has fallen by over 50pc against the dollar on informal markets.
The junta-controlled Central Bank of Myanmar sets a reference exchange rate, currently K2,100 to the dollar, but most importers are unable to access cash at this rate due to a decline in trade and a dwindling of the junta's foreign exchange reserves.
Market sources say prices of a wide range of medicines have increased significantly in recent months. The cost of common treatments for colds and influenza drugs that strengthen the immune system rose by 20 to 30pc in August alone, while the wholesale prices of drugs used to combat hypertension, cancer, heart disease, kidney and lung ailments and diabetes are up by more than 50pc, they told Frontier.
But price is not the only problem: patients and their carers also face the challenge of simply getting their hands on the imported medicines they need. In early April, the regime introduced strict capital controls that have led to shortages of essential commodities, including medicines – and in the process created a perilous situation for patients like Thida Win.
Her daughter, Ma Nyein Nyein San*, said that in recent weeks she'd had trouble finding any albumin in local markets.
"Cancer medicines and cancer-related drugs are now in short supply," Thida Win's daughter told Frontier in August. "I'm very worried that I'll not be able to buy the medicine my mother needs."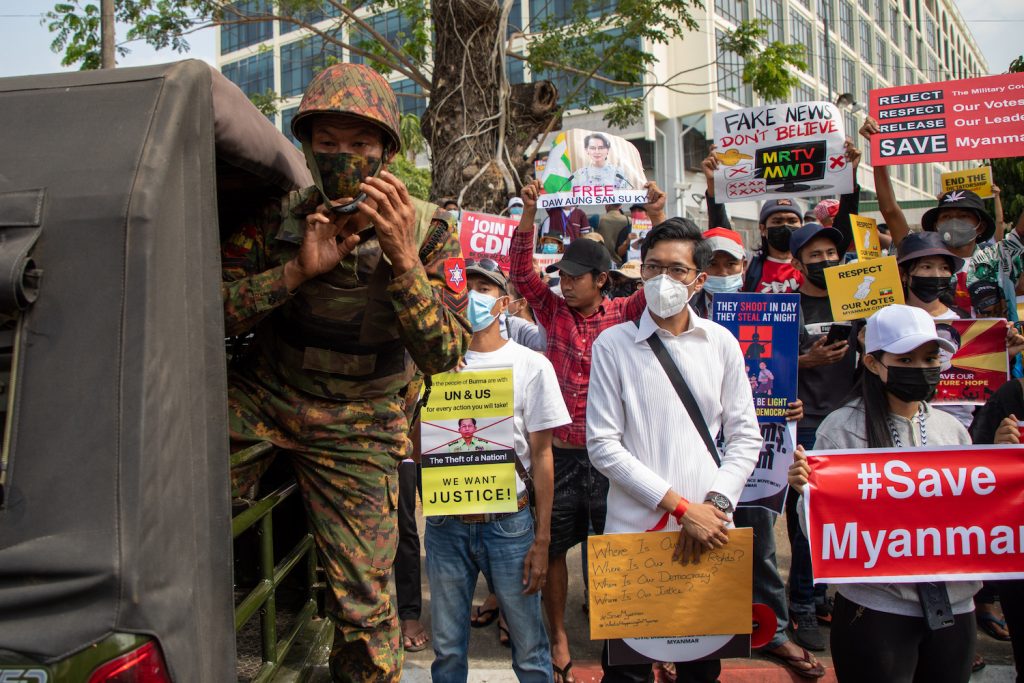 Economic mismanagement
When the third wave of COVID-19 hit Myanmar in mid-2021, prices for many medicines rose sharply due to a surge in panic-buying, and pharmacies quickly ran out of stock. When COVID cases subsided, however, demand – and along with it prices and supply – soon returned to normal.
In contrast, the price rises and shortages of recent months are not due to increased demand; they are the result of a slew of cataclysmic economic policy choices that have sent the kyat tumbling and starved the market of supply.
At the time of the coup, the kyat was worth around K1,330 to a dollar, and for most of the past five years was trading in a band from K1,300 to K1,500. The coup sparked an immediate slide, as confidence in the economy slumped; in September 2021, the kyat briefly fell as low as K3,000, before recovering and stabilising at around K2,000.
Behind the scenes, though, a foreign currency shortage was brewing. Capital flight, declining foreign investment, aid and remittances, and the impact of rising commodity prices were taking their toll on the regime's foreign currency reserves.
On April 3, the regime responded by introducing strict controls on imports, fixed the exchange rate at K1,850 to the dollar (compared to the market rate of K2,040) and ordered banks to convert most US dollars in private accounts into kyat.
To access dollars at the official rate importers have to seek approval from the junta-controlled Foreign Exchange Supervisory Committee. Although pharmaceuticals are nominally one of five priority sectors, along with essentials such as fuel and cooking oil, in practice many importers have been unable to get approval since April.
Those in need of dollars who are unable to access the official rate have little choice but to buy on the informal market, where the kyat has since fallen to around K3,000. But importers say that there simply aren't enough dollars available on the informal market to pay for the medicines they need to bring into the country.
Meanwhile, to further control imports the regime has re-introduced a system of import permits for many items. In July, the World Bank's Myanmar Economic Monitor noted that about 81pc of tariff lines now require import licences, up from 35pc in 2021, with new licence requirements imposed on consumer products, raw materials, intermediate goods and machinery.
This represents "a significant reversal of previous import licence liberalization" but at the same time "the capacity to administer these licences remains limited", the report said.
"As a result, it reportedly takes longer now to obtain a licence for certain imports (such as processed food), and there is less clarity around the decision-making process, increasing the uncertainty faced by firms managing their supply chains," it said.
Although pharmaceuticals required an import permit under the previous National League for Democracy government, importers told Frontier that it was mostly a formality, to check that the medicines being brought into the country were approved by the Food and Drug Administration.
But they said that since the capital controls were introduced in April, they have been mostly unable to get approval to import medicines, essentially putting a freeze on vital new deliveries.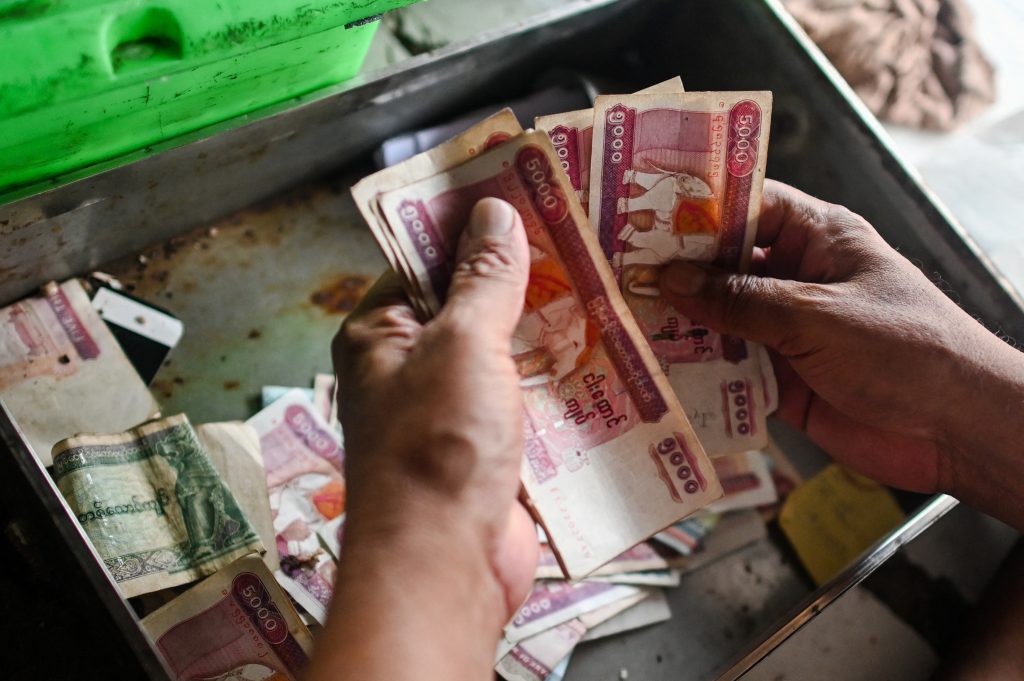 Medicine imports blocked
For medicine importers and the patients who rely on them, these changes have been disastrous. Before the coup, Myanmar imported around 90pc of its medicines, with India accounting for close to 40pc of the total, according to figures from the Central Statistical Organization for 2019-20.
Bangladesh, China, Germany, Indonesia, Japan, South Korea, Malaysia, the Philippines, Singapore, Taiwan, Thailand, the United States and Vietnam provided the majority of other imports, state media reported in September 2020.
Under the new import system, pharmaceuticals importers must apply to the Myanmar Chamber of Commerce for Pharmaceutical and Medical Device, which assesses the application together with the junta's health ministry. The application is then forwarded to the Foreign Exchange Supervisory Committee. If approved, the importer can apply to the Trade Department for an import permit, and the FESC will instruct a private bank to sell the importer the required amount of dollars and transfer it to their overseas supplier.
Pharmaceutical importers say they have been waiting months for the FESC to approve their applications and are warning that stocks of some drugs for chronic diseases are almost exhausted.
"We applied for an import licence four months ago and are still waiting to receive it," an executive from one Yangon-based importer, who asked not to be named, told Frontier. He said the import licence was for insulin, essential in the treatment of type 1 diabetes.
The executive said the supplier in India was running low on stock, and because of delays in issuing the import licence his company had missed the deadline to place an order. "Because of this, we'll have to wait at least several months for delivery. Also, the FDA licence for the insulin will expire in December and it will take at least three months to get it extended," he said.
Wholesalers, retailers and importers told Frontier that many imported medicines, particularly those used to treat chronic diseases such as diabetes and hypertension, are now difficult to find. Anaesthetics, reagents, and medical and surgical equipment are also in short supply, they said.
Pharmaceutical companies are no longer able to meet demand, said U Toe Wai*, a wholesaler with a pharmacy in the eight-storey Shwe Pyae Sone market. The market, in central Yangon's Mingalar Taung Nyunt Township, is the country's largest for pharmaceutical wholesalers.
"[Importers and distributors] can only supply limited quantities. Most pharmacies have completely run out of stocks of medicines for treating chronic diseases," Toe Wai said.
The Food and Drug Administration under the junta's health ministry, the Trade Department of the junta's commerce ministry and the Myanmar Chamber of Commerce for Pharmaceutical and Medical Device did not respond to Frontier's requests for comment.
A backtrack, of sorts
It appears the junta may have wisened up to the health disaster it is creating. On July 22 the Trade Department issued a notification indicating it would grant import permits to medicine importers that are not seeking to buy dollars at the official rate – effectively giving them the green light to source foreign currency on the black market.
For those medicine importers with head offices overseas, the notification means their parent company can now pay for the shipments and they are able to get an import permit relatively easily.
An executive at a pharmaceutical company that distributes more than 50 products throughout the country told Frontier that it had submitted import licence applications for eight medicines since April, but until the rules changed a month ago only one – for a bone supplement – had been approved.
"The Trade Department has now granted all of our licences," she said. "Our main office will directly pay the foreign factories on behalf of our branch office in Myanmar. Most pharmaceutical companies with head offices outside the country are doing the same."
A senior staffer from the same company's marketing department said that because of the exchange rate and poor economic climate, the firm had decided to cut back on the number of products it was importing by around one third.
"We only import those medicines that are in high demand or that bring large profits … Less well-known treatments are not included anymore," she said.
But the July 22 instruction at least means that some products are on the way to Myanmar, alleviating the shortages that have gripped pharmacies and markets in recent weeks. "Three of the eight products that we have ordered from foreign factories will arrive at the end of August, and the other five will arrive sometime next month," she said.
The marketing executive said the policy change may only resolve the supply shortages to some extent, as importers without an office overseas were still having trouble buying up enough dollars on informal markets to pay for medicines.
Either way, medicines will be significantly more expensive, and possibly unaffordable for many.
"Due to the rising price of the US dollar on the black market, the cost of medicines, medical products and pharmaceuticals is still very high in kyat terms. It will have huge effects on ordinary people," she added.
One importer told Frontier that because of the shortage of dollars in Myanmar, he'd opened accounts in Thailand and Singapore to pay suppliers.
"We buy medicines with baht or Singapore dollars and then import them by plane or border gates," he said.
Pharmacists and wholesalers told Frontier they expected the cost of medicines and other pharmaceutical products to continue to rise because of this seemingly inexorable slide in the kyat's value.
Unless the junta radically rethinks policies affecting the health sector, people of limited means will be hardest hit by higher prices, they warned.
"If the situation worsens, unregistered drugs may enter the country illegally across its borders. If that happens, it will be people at the grassroots who will be most reliant on them," said Ko Hein Min Htet*, a retailer of both modern and traditional medicines from Pyin Oo Lwin in Mandalay Region.
Despite the relaxation on imports, one doctor told Frontier that some medicines were still "simply not available". Dr Kyaw Zin*, a general practitioner at a private clinic in Yangon's Tarmwe Township, said doctors were trying to prescribe other medicines with the same active ingredients, but patients were often unable to find these alternative products either. In some cases they have been forced to rely on medicines with a lower efficacy. "It's very disruptive to treatment," he added.
Daw Htet Htet Lin*, a resident of Yangon's Thingangyun Township who suffers from kidney disease, said she's still struggling to find the medicines she needs. "Most of the pharmacies in my township are running out of what I need," she said.
* denotes the use of pseudonym for safety reasons