Divide and rule is an old Tatmadaw tactic and in Kachin State it is enabling local elites to take advantage of grievances to foster distrust and increase their influence.
By Emily Fishbein, Jauman Naw, Zau Myet Awng and Nu Nu Lusan | FRONTIER
The coup has united people across ethnic divides against a common enemy, but it has also provided the Tatmadaw and its supporters with an opportunity to take advantage of ethnic tensions to increase their power and influence.
It's nothing new. The Tatmadaw has used divide-and-rule tactics for decades to weaken the strength of ethnic armed organisations in the country's border areas.
In Kachin State, especially in rural areas suffering from generational poverty, underdevelopment and marginalisation, smaller Kachin groups and non-Kachin have historically provided low-hanging fruit for these tactics and have been used to counter the Kachin Independence Army. The KIA, the armed wing of the Kachin Independence Organization, has fought the Tatmadaw since 1961 and is one of the country's strongest ethnic armed groups.
The Kachin National Association of Tradition and Culture identifies six Kachin groups: Jinghpaw, Lachid, Lhaovo, Lisu, Rawang and Zaiwa. There is a perceived dominance of Jinghpaw people in Kachin society, politics and the KIO/KIA. Cases of alleged rights abuses by KIA soldiers against non-Jinghpaw Kachin and non-Kachin people, including Shanni, have opened the door for elites from these regions to present themselves as protectors of communities' land, resources and safety while striking deals with the military that benefit their own interests.
Since the coup, the KIA has recaptured territory and claims to have killed dozens of Tatmadaw troops, prompting an outpouring of support from the Bamar majority and other previously unsympathetic groups. At the same time, Tatmadaw-aligned elites in Kachin have sought to weaken the KIO/KIA and increase their own influence.
Frontier interviewed five residents of Kachin about changes in the politics and ethnic dynamics in the state since the coup. Their accounts, which begin with background about their ethnic groups, have been edited for length and clarity and their names have been changed for their security.
Phong Ram, a Rawang youth in Putao Township
Most Rawang live in Kachin's mountainous northern townships of Putao, Nawngmun, Machanbaw and Khaunglanphu. After a seventeen-year ceasefire between the KIA and Tatmadaw collapsed in 2011, a Khaunglanphu-based Rawang militia known as the Rebellion Resistance Force became one of several EAOs to join the Tatmadaw in fighting against the KIA. The militia, now known as the People's Militia Force or Rawang militia, is led by Tanggu Dang, also called Ah Dang. He is a former leader of a KIA breakaway outfit known as the New Democratic Army-Kachin, which has become a Border Guard Force under Tatmadaw command.
Since the coup, the militia has arrested Rawang youth accused of training with the KIA and handed them to the Tatmadaw. Meanwhile, members of the Rawang Culture and Literature Association, known by the acronym MRTM for its name in Rawang, have been working closely with the military-aligned Union Solidarity and Development Party to strengthen the militia. The MRTM plays an influential role in Rawang society, and was actively involved in protests which led to the suspension of a UNESCO world heritage nomination that had sought to promote environmental conservation of a vast forested area in Kachin State's northern Hakabo Razi region in 2018.
MRTM vice-chairperson Htonphu Dagon, joined the USDP in May to recruit people in Nawngmun township into the militia and called for the militia to train and arm local youth, reported Kachin Newsgroup. Htonphu Dagon was also at the center of a controversy in 2020 in his former role as chair of the Kachin National Association of Tradition and Culture, when the association renamed Kachin State Day's Manau festival from Jinghpaw Mungdaw Nhtoi to Kachin Mungdaw Nhtoi and as a result of disagreements, the festival was cancelled.
Since the coup, Rawang groups domestically and abroad have issued statements denouncing the Rawang militia and its actions against the KIO/KIA.
Phong Ram: Before the coup, there was already political competition and ethnic distrust. The Tatmadaw knows well about these issues and uses them to divide and control us. They promise to grant the older generation's demands and give them their own territory. Many influential Rawang elders, including members of the Rawang Culture and Literature Association, support or are involved in the USDP, so the USDP gained power [in 2015, the USDP won seven parliamentary seats in Kachin State, including all four seats in Nawngmun and Machanbaw townships]
Ethnic problems and grievances against the KIO/A are used as political tools. They spread the story of the KIA killing our people and say that now, the KIA is trying to kill us again and we must protect ourselves and fight to take back our land, and that the militia is necessary to fight against the KIA. They spread these ideas in society and recruit people.
Since the coup, the State Administration Council has appointed people from the USDP and Rawang Culture and Literature Association to township and district councils. The militia is also recruiting, mostly through the Rawang Culture and Literature Association.
Most Rawang youth don't like the USDP. Many support the National League for Democracy, because during its term, infrastructure and public services improved, and because people don't like the military. As for me, I'm not a strong NLD supporter. We tried to get self-determination during the NLD's term, but we didn't achieve it, or freedom of speech. But no matter who we supported before, most youth dislike the coup.
Youth involvement in anti-coup protests has caused conflict with elders. Speaking out can be dangerous, because influential people hold tightly to old concepts, but now, the risks of speaking out are less than before the coup.
Support for the KIA has grown since the coup. People want them to come here quickly to remove the Tatmadaw. Before, many Rawang, Lisu and others in the Putao region viewed the KIA's revolution as a rebellion, but now, more people see clearly who the real rebels are and how cruel the military is.
We cannot hold onto ethnic divisions anymore. We must work hard to achieve self-determination for our state and move beyond past problems to build a new country. If we all come together, we will achieve our goals faster.
Deborah, a Lisu youth in Myitkyina
There are large Lisu communities in Waingmaw, Khaunglanphu, Putao, Tsawlaw, Tanai and Myitkyina townships. The Lisu National Development Party, also known as the Du Lay [Crossbow] Party, is influential in Lisu society. It won four parliamentary seats in the 2015 elections, in Khaunglanphu and Tsawlaw townships, and one seat in Khaunglanphu township in 2020. Its leader, U Shwe Min, who formerly served with the New Democratic Army-Kachin, formed a Lisu militia in 2016, which clashed with the NDA-K. He won the seat of Lisu ethnic affairs minister for Kachin State in the 2020 elections.
The Du Lay Party has led three protests since 2016 against the KIA's alleged killing of Lisu people. During a June 2019 protest in Myitkyina, a banner called for the Tatmadaw to "annihilate" the KIA. U Shwe Min told the media then that more than 20 civilians had died at the hands of the KIA, including by landmines, since 2016. In June 2020, the party's secretary told Frontier that the party had a "positive relationship" with the USDP.
In March, the Lisu American Association issued a statement that said the Du Lay Party and Lisu leaders of other parties who support the junta do not represent the Lisu people.
Deborah: Before the coup, many Lisu supported the Du Lay Party with the hope that it would change their lives because it is from their ethnic group. I didn't vote for them because I want a party that isn't only working for Lisu people. We must work hard to break the mindset that as long as our people are doing well, we don't have to care much for others.
Problems from before the coup still exist. Some Lisu don't want us to be part of the Jinghpaw wunpawng ethnic identity; they prefer it to be called Kachin Wunpawng. Since the coup, people have become more divided. Some view the coup as an opportunity, if they side with the military. But many Du Lay Party supporters changed their minds, mainly because the party is allied with the USDP.
In 2019, Lisu demonstrated against the KIA after Lisu were killed. At that time, it wasn't just an issue between Lisu and the KIA, but also between the Tatmadaw and KIA. Now, many Lisu are uncertain about their stance. Some might support the KIA because it is fighting against the military and they want the coup to fail.
Many Du Lay Party leaders are older, and I don't think they will listen if we youth speak out against them. They might let us speak, but they will follow their same old ways in the end. I think the changes will happen in the next generation.
I would like to see more inclusive nation-building, not just for Lisu. We must elect qualified people who don't just prioritise their respective ethinc groups but who work for everyone. The current political process is like riding a bike. It's important to move forward without stopping or rolling back.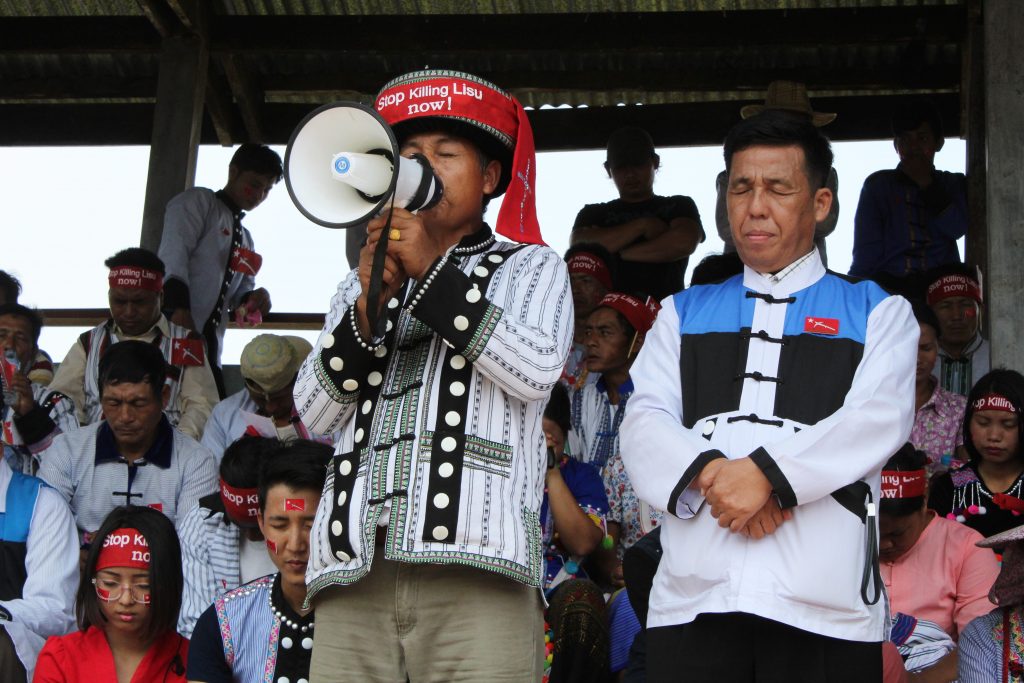 Hkawng Dau, a Lhaovo man in Chipwi Township
Special Region 1, which encompasses the townships of Chipwi and Tsawlaw and the Sidone area of Waingmaw Township, on Kachin State's northeastern border with China, has large numbers of Lhaovo and Lachid people.
The area is under control of a Tatmadaw Border Guard Force formerly known as the New Democratic Army-Kachin, as well as a Tatmadaw-aligned militia. Both are led by Zahkung Ting Ying, a Lachid who led a KIA breakaway group in 1968. In 2011, his forces allegedly fought alongside the Tatmadaw against the KIA.
Ting Ying was elected as an independent to the Amyotha Hluttaw (Kachin 5) in 2010 and reelected in 2015, but was stripped of his seat following claims that he had intimidated competing candidates from the NLD. In 2020, his son, Ying Sau, was elected to Chipwi-2 in the Kachin State Hluttaw as a representative of the newly-founded New Democracy Party-Kachin.
Since emerging in about 2014, illegal rare earth mining by Chinese companies has dramatically increased in the region, and is the subject of a forthcoming Frontier report.
Kachin Newsgroup reported in May that the Border Guard Force and militia were cracking down on anti-coup protesters, and that they had conducted a census for recruitment purposes in two IDP camps in Chipwi Township, demanding one person from each household.
Hkawng Dau: The USDP and the local party are the most influential parties here. It is commonly known that the two are connected. The local party aligns itself with the military so they can get more authority and opportunities. The local party is also connected with armed groups, although they don't openly say it.
People here mostly support these two parties – maybe because these parties can promote themselves more than others, or because they have more authority. And of course, because they have weapons, people are scared of them and don't have many options.
After the coup, the State Administration Council appointed USDP party members and other Tatmadaw supporters as local administrators, but few of them were elected by the people.
Most people here don't like the coup. Many have supported the KIA since before the coup, but they don't dare to openly show it.
I don't see much armed presence here, but Pangwa [in Chipwi Township on the border with China] has the local militia, BGF and Tatmadaw. In small villages in Chipwi Township, local militia have ordered one person from each family to join them. In the Pangwa area, they also took a census and recruited one person from each family.
Nan Moe Myint, a Shanni woman in Waingmaw Township
Shanni, also known as Tai Leng, are a Shan group found primarily in southern Kachin State and northern Sagaing Region. The Shanni ruled their own kingdom for centuries, but its size diminished over the years and after Burma's independence from the British empire, its remaining territory was absorbed into Kachin State and Sagaing Region.
There are two Shanni political parties, the Tai-Leng Nationalities Development Party (TNDP) and the Shan-ni Solidarity Party (SSP). A month before the 2015 elections, two TNDP members were shot and killed in Hpakant Township in an incident blamed by the party leader on the KIA.
Shanni people have at times been caught between the Tatmadaw and KIA. In 2013, the TNDP accused the KIA of forced conscription, among other rights abuses, and thousands of Shanni people protested in Myitkyina.
There are also two Shanni armed groups. The Shanni Nationalities Army seeks to gain statehood for the Shanni people within a federal union and to unify the Shan sub-groups. There is also a Tatmadaw-aligned Shanni militia with units in different towns throughout Kachin, including Talawgyi. The Shanni militia has at times also fought alongside the Tatmadaw against the KIA.
On May 26, Tatmadaw forces killed four KIA soldiers outside the house of a Shanni militia leader in Shaduzup, Hpakant Township. On the same day, the second-in-command of the Shanni Nationalities Army in Sagaing Region's Homalin Township was assassinated; the perpetrator remains unknown. On May 27, a Shanni militia leader in Hpakant Township's Naungmi village was assassinated by unknown assailants.
Nan Moe Myint: Shanni people are divided. No single party or armed group unites us. Shan armed groups in Shan State have power, but Shanni armed groups aren't that powerful.
The Tatmadaw gives weapons to the militia so Shanni people will be on their side. Some people say the militia is working for Shanni people's freedom, but it doesn't represent all of us. It just seems influential because it has arms and military backing and people are afraid of it. The Shanni militia only started getting excited and showing off its power after the coup, with the Tatmadaw's backing.
Shanni Nationalities Army supporters include Shanni nationalists and people who dislike the militia or the Tatmadaw. As for me, I don't expect either side to take responsibility to protect us.
After the coup, distrust increased. Most people understand that we have to fight against the Tatmadaw, and after that, we can talk about getting back our land. But some people, including the leaders of the Tai-Leng (Shanni) Nationalities Development Party, see the coup as an opportunity. They believe that the State Administration Council will hold elections one year after the coup, and say that when [the TNDP] wins the elections, it will work for Shanni people. About a month after the coup, some younger Shanni people had a big argument with a party leader. We told them that we couldn't accept their view – that they were supporting the military, and when the whole country is suffering, we shouldn't only think for Shanni people.
Some older people also don't like for young people to protest, because they were oppressed in the past and because the Tatmadaw has given them weapons to form a militia. They tell young people that this [coup] has nothing to do with them and is just related to the NLD. But we aren't protesting for the NLD; we're protesting for the whole country.
Before the coup, there was fighting between the KIA and Shanni. Since the coup, the situation has totally changed. Some people believe we have to fight for our own land and drive out the KIA, but some believe the KIA is fighting for everyone. Many people support the KIA now, even people who hated it before. We pray in our own way for the KIA whenever they clash with the Tatmadaw. Some Shanni youth also joined the KIA and some joined the SNA in order to fight against the military. People don't like dictators, so they support any group which stands for the public.
Sayadaw Tayza Niya, a Shanni monk in Kachin State
Sayadaw Tayza Niya: Most Shan people in Kachin live simply as farmers. Conservative elders with military connections or who hate the KIA are focused on making their enemies fall rather than standing on the side of justice. The younger generation is more educated and open-minded, but they aren't able to get through to older leaders. As a result, some Shan people are standing in the middle and don't know which party or group to follow in this [anti-coup] revolution.
The difference between Kachin and Shan youth is that many Kachin youth have studied political science and understand politics. Shan youth are afraid of Kachin, Shan elders, the KIA and the Tatmadaw too. Therefore, people who welcome them have to put in a lot of effort. But now, Shan youth are coming to understand their rights.
Kachin people have strong [civil society] organisations, but Shan in Kachin State don't. Even if we want to take representative positions in the Hluttaw, Shan people in Kachin are not ready, so Kachin people will be the ones who represent everyone.
Hate toward Kachin and the KIA has been shaped by older people, but youths' mindset is changing. The KIA is a hero in this revolution, and many of my followers secretly trust and depend on it, although they don't say it out loud.
But there is doubt behind this trust too. Some people worry that the KIA will only focus on 'Kachin wunpawng mungdan' [building a nation for Kachin people]. The KIA has been trying to create the image that they represent human rights and equality for all, but there are some Kachin youth who hold strongly onto 'an hte wunpawng' [Kachin ethno-centrism].
Some also worry that if we get federalism, Kachin people could take revenge on Buddhists because of the military's persecution of Christians. Conservative Shan elders can use this as a tool on Shan people, in the name of national and religious protection.
Youth understand that hate won't bring us anywhere. To follow the path of justice, there is a need for collaboration and unity between Shan and Kachin youth. Shan and Kachin are indigenous people, so we should overcome extreme nationalism and religious beliefs. The KIA also needs to really show that they are representing and protecting everyone in the state.