Some of the Asia-Pacific region's top brewers will be showcasing their amber liquids at an international event in Yangon this month.
By THOMAS KEAN | FRONTIER
Photos HKUN LAT
HOW DO you organise an international craft beer festival in a place that doesn't allow beer imports?
Easy – you just brew the beer inside the country.
And so, on a recent December afternoon, Thai brothers Mr Nattachai Ungsriwong and Mr Teerapat Ungsriwong found themselves slowly stirring bag after bag of malted barley into a stainless steel mash tun of hot water at Burbrit Brewery in Yangon's North Dagon Township.
The mixing of the malt and water – known as "mashing in" – is the very start of the beermaking process. Over the next few weeks, their mash will transform into a Devanom Pakkret Pale Ale that, all going well, will be showcased at Myanmar's first craft beer festival on January 19.
"We decided to brew a pale ale because it's delicious and easy to drink," Nattachai explained, as the sweet, malty aroma of the mash fills the brewery. "Many people in Southeast Asia love pale ale because of its sweetness – it goes well with our food."
Ahead of the festival, Burbrit has opened its doors to seven regional breweries like Devanom – including Brewerkz from Singapore, Winking Seal from Vietnam and Australia's Old Wives Ales – so they can use its equipment and create their best and most unique brews for Myanmar drinkers.
Winking Seal is working with Burbrit to make a watermelon sour. Thought to be the first sour brewed in Myanmar, it's certainly not the kind of beer you'll find on the shelf of a Yangon grocery store. "We're proud to partner with Burbrit and push the envelope," said Winking Seal co-founder Mr Mark Nerney.
The pale ale and watermelon sour are among 32 beer styles that will be available at the Craft Beer Fest, to be held at the Burbrit Taproom in Yangon's Dagon Township.
The event caps a successful first three years for Myanmar's pioneering microbrewery, which opened on January 20, 2017. It now has a brewery and taproom, and its beers are available in dozens of supermarkets and more than 50 restaurants. Burbrit produces about 10,000 litres a month and sales are growing at 180 percent a year, say its co-founders, U Htin Lin and Ko Maung Zaw.
"We've been meaning to do a festival since day one but we just didn't have time," said Htin Lin. "We decided that for our three-year anniversary we just had to make it happen."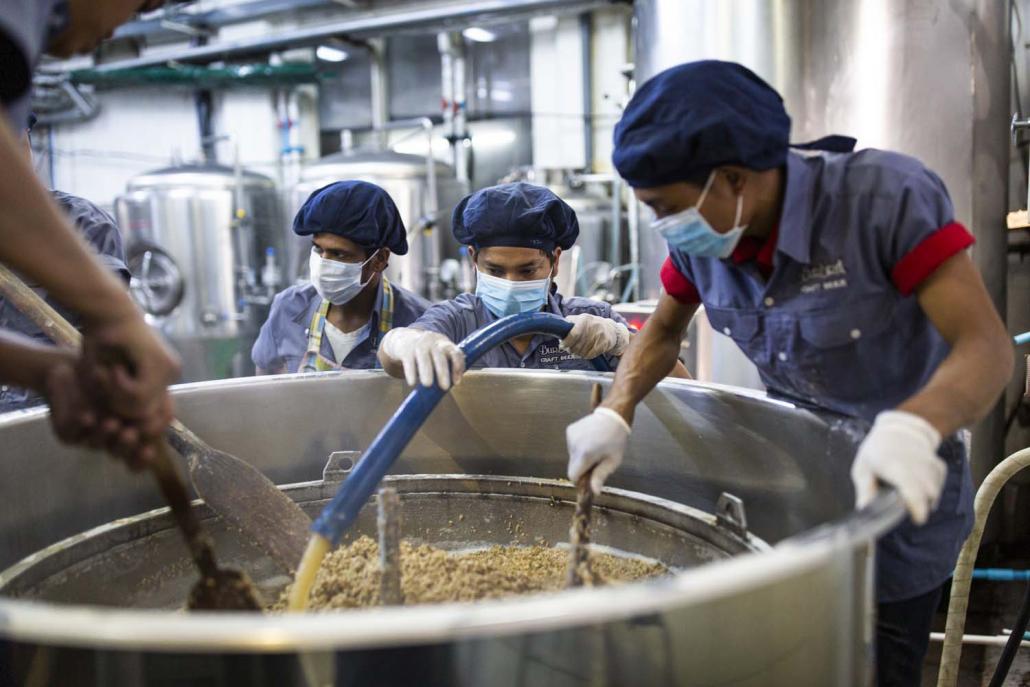 Working together
As well as a showcase for quality craft beer, the festival is an example of the collaboration and agility for which the craft beer scene is renowned.
"This is about cooperation, variety," Htin Lin said. "It's an opportunity to learn from each other and build closer bonds with the different breweries."
For Nattachai and Teerapat, collaboration with other breweries is not just helpful – it's essential.
They caught the craft beer bug in 2011 while travelling in Europe and picked up the basics at a homebrewing class three years later. What began as a hobby soon turned into a calling: Nattachai closed his app development business in 2015 to brew full time, and they later established Nonthaburi Brewing Company.
It's been hard work, though. Unless you're one of the big two – ThaiBev, which makes Chang, or Boon Rawd, whose brands include Singha and Leo – Thailand is a difficult place to make beer.
Although not completely outlawed, microbreweries and brewpubs are basically non-existent due to high production requirements and other regulations that make them uneconomical – for example, beer cannot be bottled, and each beer recipe needs prior approval from the authorities. The police have also been known to occasionally arrest homebrewers.
To get around these rules, many aspiring craft brewers brew their beer outside the country and import it. But this has held back the growth of the craft beer scene, Nattachai explained, because imports are subject to high levels of tax. Craft beer is often simply too expensive for most consumers, so they mostly stick to the mainstream beers. 
Change might be coming, though. Among the Future Forward MPs who won seats in the March 2019 general election was Mr Taopiphop Limjittrakorn, who was arrested in January 2017 for making homebrew in Bangkok.
Just months after his election, Taopiphop grilled Deputy Finance Minister Mr Santi Prompat in parliament about why government regulations were locking small and medium businesses out of Thailand's beer market to the benefit of a few conglomerates. The deputy minister put forward an unconvincing response: to protect consumers and ensure quality.
Nattachai said that even Taopiphop's arrest was helpful for the craft beer scene. "It was covered on the front page of the papers. For many people it was the first time they'd even heard of homebrewing."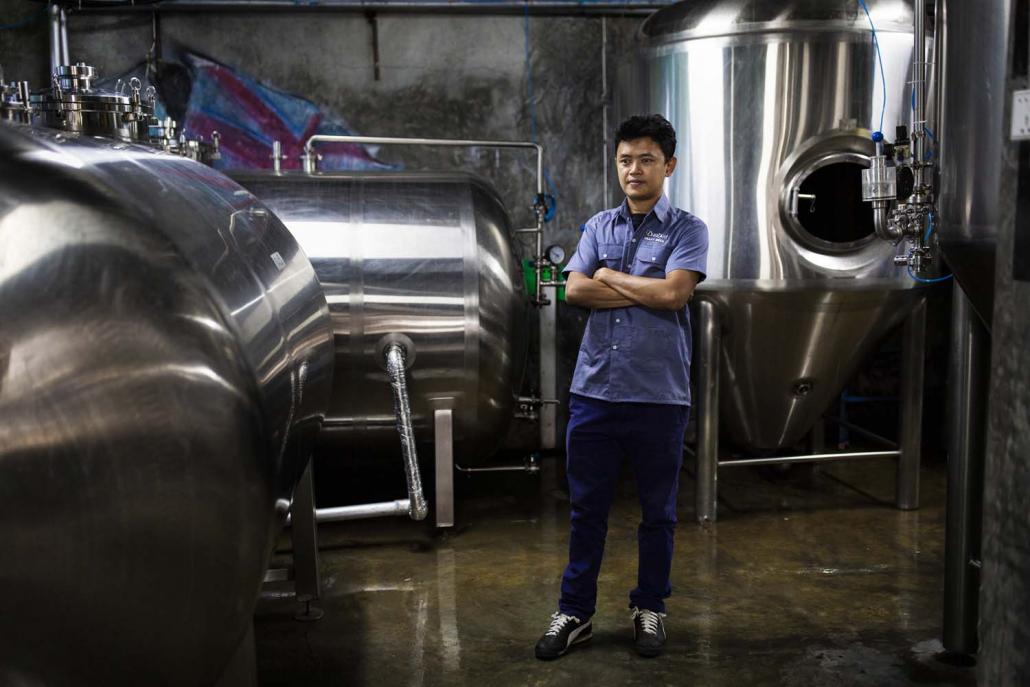 A regional beer hub
Thai beermakers chafing against government rules can only cast envious glances at their counterparts in Vietnam, who are thriving in a more liberal environment.
With more than 30 microbreweries, Vietnam is the fastest-growing market in Southeast Asia, Nerney said, and craft beer festivals are increasingly common.
But it's not just scale that's putting the country – and particularly Ho Chi Minh City – on the global craft beer map. It's also the willingness of its brewers to experiment with local ingredients and make unique beers that can't be found anywhere else.
"The growth has been driven by a strong existing beer-drinking culture, rapidly expanding middle-class, and a thirst for new flavours and innovations," Nerney said.
Compared to Vietnam or even Thailand, Myanmar's craft beer scene still has a long way to go.
Despite its early success, Htin Lin says that he thinks Burbrit probably opened too soon given Myanmar's low income levels, lack of exposure to craft beer and limited infrastructure. "The price point and need for cold storage – our beers have to be kept cold because they aren't pasteurised or filtered – mean we still can't reach much of the market," he said.
Over the next three years, Htin Lin says Burbrit wants to try to reach a wider audience and introduce more beers with local ingredients.
For the festival his ambitions are a little more modest – although he hopes it can become an annual event.
"We just want people to come down and enjoy the beer with friends, good food and music," he said. "That's what craft beer is all about: community and having a good time."
The Craft Beer Fest Myanmar 2020 will be held at Burbrit Taproom (No. 74, Manaw Hari Street, near Thai embassy, Dagon Township, Yangon) on January 19. Early-bird tickets cost K15,000 and include three beer samples and a food option. For more information go to https://www.facebook.com/cbfmyanmar.
TOP PHOTO: Mr Teerapat Ungsriwong (left) and Mr Nattachai Ungsriwong, who make the Thai craft beer Devanom, inside the Burbrit Brewery in North Dagon Township last month. (Hkun Lat | Frontier)