A boycott launched in the wake of the February 1 military takeover has caused sales of Myanmar Beer to plummet – and may even have wiped US$1 billion off the value of its military-linked parent company.
By FRONTIER
For decades Myanmar's beer market has been a cash cow for the military, with its stakes in three different breweries giving it a market share of around 80 percent.
The undisputed jewel in its crown is Myanmar Beer, which until recently was thought to account for more than half of all beer sales in the country and reliably delivers huge profits to its parent company, Myanmar Brewery Limited.
In the space of just two months, that market dominance has been shattered – a remarkable and rapid fall, all brought about by consumer power.
Activists have responded to the February 1 coup by launching a highly successful boycott of military-owned products designed to cut off the Tatmadaw's sources of funding.
Myanmar Beer has been hit the hardest, with industry sources telling Frontier that sales have fallen by 80 to 90 percent. Some other military-linked brands have also seen demand plummet.
"The boycott campaign is everywhere online and sales of Myanmar Beer have plunged at almost every shop," a Myanmar Beer senior sales officer told Frontier. "When you go into a pub, you can hear beer drinkers censuring anyone who keeps drinking Myanmar Beer. They say, 'Hey, are you still supporting military products?' So beer consumers have changed to other brands."
The fallout from the military takeover could end up costing the Tatmadaw and its partner in the brewery, Japanese beverage giant Kirin, hundreds of millions of dollars in profits, and may also wipe more than US$1 billion off the company's value, analysts say.
The sales slump and recent imposition of sanctions on the military conglomerate Myanma Economic Holdings Public Company Limited (better known as MEHL) could also complicate Kirin's plans, announced shortly after the coup, to terminate the joint venture in Myanmar Brewery, as well as its partnership with the military firm in Mandalay Brewery Limited.
Sales are 'almost nothing'
Figures from research firm Euromonitor show that in 2018 Myanmar Brewery had 62pc of the market, while Dagon Beverages Company, a subsidiary of military-owned Myanmar Economic Corporation, had almost 16pc. The Myanmar Beer brand accounted for 56pc of all beer sales.
But Myanmar Beer's longstanding popularity has now become a liability, making it a high-profile target for those advocating a boycott of all military-owned businesses and products, from banks to cigarettes.
The brand was widely targeted on social media and within a week of the military takeover, the country's largest retailer, City Mart, had stripped its shelves of all Tatmadaw-linked beers. Many other outlets, both retailers and bars, have followed suit, with some putting up signs announcing their support for the boycott.
On March 6, protesters in the Sagaing Region capital Monywa staged an unusual protest against Myanmar Beer, by pouring beer on their feet and those of passers-by to show their contempt for anything linked to the military.
Industry sources put the decline in demand for Myanmar Beer at 80-90pc. Wholesalers said they had been left with a significant stockpile of Myanmar Beer that they were now unable to move.
Three sources, including two from Myanmar Brewery, told Frontier that the company had cut back production at its Yangon factory as a result of the sales slump.
"We worked normally until the end of February, but now we are working one week on, one week off," said a staff member on the production side of the business. "We've also cut back on the amount that we're producing."
Another staff member said that since the start of March many of the company's drivers, who deliver beer to customers and sometimes also collect payments, had been told to stay home because there was no work to do. "It's because our head office is closed and there aren't many businesses to deliver to, but we still get our salary," he said. "According to cash collectors, income is down about 70pc – it's a huge drop."
A spokesperson for Kirin declined to discuss sales and production figures, but said the company was operating in a "challenging environment".
"Production levels at our breweries have been adjusted according to the situation on the ground, keeping safety and well-being of our employees as the deciding factor in these adjustments," the spokesperson said.
But industry sources also confirmed a catastrophic drop in sales. In comments that were echoed by several retailers and distributors, one beer and liquor distributor from Yangon said demand for Myanmar Beer had dropped to "almost nothing at all".
The owner of a liquor store told Frontier they had stopped selling all military products – including not only Myanmar Beer but also Andaman Gold, Black Shield and other beer brands – since mid-February.
"I've changed to Tiger and Chang Beer because I hate these devils," said one beer drinker, referring to the military.
Another said that he had never liked Myanmar Beer, but because it was so ubiquitous he often had no choice but to drink it. "In this situation, everyone is trying to avoid it. I think the boycott could be effective – if the people are united, the military won't be able to bear it."
There is some evidence that the boycott could significantly hurt the Tatmadaw and its leaders, as Myanmar Brewery appears to provide the bulk of its profits.
In its 2020 Pwint Thit Sa report, the Myanmar Centre for Responsible Business said MEHL's financial statement for 2018-19 appeared to show that income from operating activities and other sources across the entire conglomerate totalled approximately $110 million.
Kirin's corporate disclosures suggest MEHL's share of the profit from Myanmar Brewery – around $55 million – would account for around half of that figure.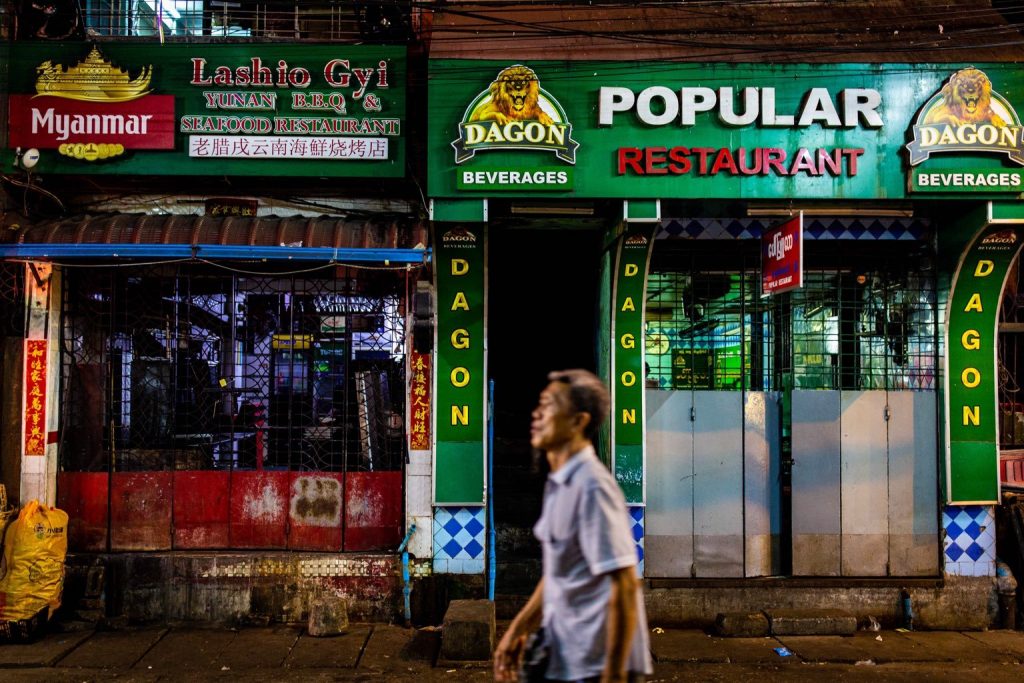 Billion-dollar wipeout?
Analysis commissioned by Frontier shows that prior to the military takeover Myanmar Brewery Limited had an estimated equity value of $1.65 billion to $2 billion.
Although total sales were around $300 million in 2019, which is relatively low, Myanmar Brewery's value is buoyed by the fact it's in a rapidly growing market.
This is reflected in the company's high sales growth rate of 10-15pc a year, which combined with its strong operating profit margin – that is, the profit it makes on a dollar of sales – of around 40pc pointed to a company value 5.5 to 6.5 times higher than its sales.
The picture now looks far less rosy. The analysis mapped three potential scenarios for Myanmar Brewery, all based on an assumption of an 80pc decline in sales in the aftermath of the coup.
In the most optimistic scenario, MEHL would exit the partnership, enabling sales to recover to 2019 levels within two years, and annual growth would average 10pc thereafter. The company's value would be around $1.16 billion – meaning the coup would have wiped off at least $500 million, but possibly more than $800 million.
If sales recover in five years, the value would be $830 million, but if they never recover then the company would be worth just $300 million – a drop in equity value of as much as $1.65 billion.
Even these numbers may be overoptimistic. The analysis was commissioned before the impact of the coup on Myanmar's economy had become clear, and the World Bank has since forecast a decline in GDP growth of 10.0 percent, while Fitch Solutions has warned of a 20.0pc contraction and possible "economic collapse". Either scenario is likely to have a significant impact on the beer market, as growth tends to follow overall changes in GDP.
Whether Myanmar Brewery's revenue can recover will also depend on a range of other factors, including whether the boycott is sustained and if MEHL exits the partnership.
Even if MEHL remains, Myanmar Brewery has other options. It could, for example, launch new products in the hope that the public doesn't realise they are linked to the military.
There's some evidence to suggest this could work. Several sources said that since February 1 some Myanmar Beer drinkers had switched to Andaman Gold, another Myanmar Brewery product, because they apparently didn't realise it was also military-affiliated.
"Andaman Gold has sold out and we can't replenish stocks," said the company sales representative, adding that, despite this new demand for a formerly less popular product, the company would hold back on ramping up its production. "Our factory seems to be waiting and watching the situation – for now it has mostly suspended production."
The sales representative added that outlets that sold Myanmar Beer on tap had not cut their ties with the company. The outlets have to pay a deposit to the company, but so far "none of them have withdrawn their deposit", he said.
"Some people are turning to Andaman Gold," agreed one distributor, while a wholesaler said prices of the beer had actually risen because of lack of supply. "We can't buy Andaman Gold from the factory so most of us are out of stock."
Kirin's non-exit
Kirin began working with MEHL in 2015, after buying out the previous foreign partner in Myanmar Brewery, Singapore's Fraser & Neave, for a $560 million fee set at arbitration.
Kirin later separately acquired 51pc of Mandalay Brewery.
But barely two years after entering the market, the Japanese company began to come under pressure to end its relationship with the Tatmadaw, after the military waged a brutal campaign in northern Rakhine State in 2017, prompting 750,000 Rohingya to flee to Bangladesh.
Kirin eventually commissioned an arm of Deloitte to conduct an independent assessment of MEHL's financial and governance structures, but in January announced that the audit had been inconclusive because Deloitte was not given access to sufficient information.
A separate disclosure by MEHL to the Directorate of Investment and Company Administration confirmed that at least some military units held shares in the company, adding further weight to warnings that the profits from Myanmar Brewery were helping to fund military operations and therefore crimes against humanity or even genocide.
In November last year, Kirin suspended dividend payments to the Tatmadaw conglomerate "due to the significant lack of visibility" regarding its businesses. The lack of transparency included how MEHL's share of the profits was being used.
Four days after the coup, Kirin said it had "no option but to terminate our current joint-venture partnership", and would "be taking steps as a matter of urgency to put this termination into effect".
But Kirin's preferred option is not to leave the country – rather, it wants to buy out MEHL, and possibly sell that stake to another partner, the company's president and CEO Yoshinori Isozaki told Nikkei Asia in mid-February.
This is the logical option for several reasons. Finding a buyer for its own stake would be complicated by sanctions and reputational concerns – the United States and United Kingdom have recently sanctioned both MEHL and MEC – and the pool of potential investors would likely be small.
A bigger factor, though, is that the ongoing boycott will greatly diminish the sale price, and the company would be unlikely to recover its initial investment.
Conversely, getting the military out of the partnership would go a long way to restoring Myanmar Brewery's pre-coup value.
But Isozaki said that it wasn't clear MEHL would be willing to sell, adding that junta chief Senior General Min Aung Hlaing, who heads a patron committee above the military conglomerate's board of directors, would make the final decision.
But even if the senior general agrees, buying MEHL's shares could still be politically fraught for Kirin. Either it or a new partner would have to pay hundreds of millions of dollars – money that is likely to go to both the military leadership and Tatmadaw units at a time when they are shooting protesters in the streets.
The Kirin spokesperson told Frontier it remained "deeply concerned by the actions of the military" and was focused on "urgently implementing the termination our joint-venture partnership" with the military conglomerate.
"Our sincere hope is to find a way forward that will allow Kirin to continue to contribute positively to Myanmar but all options remain on the table."
Taking advantage
For now, the boycott has created an opportunity for other beer brands, which have struggled for years to make inroads into Myanmar Beer's popularity.
Brewing was a military monopoly for decades until 2015, when both Heineken and Carlsberg entered the market and launched a range of beers at varying prices.
However, Euromonitor figures show that by 2018 the European giants had captured only 8.0pc and 4.5pc of the market, respectively.
In late 2019 they were joined by Emerald Brewery, which began brewing Chang under licence from Thailand's ThaiBev. Just five days before the coup, Thailand's Singha was granted an investment permit for a $115 million brewery in Mandalay Region's Sintgaing Township.
So far it seems like the biggest winners have been Chang and Heineken. Although sales of Heineken beer have not changed, retailers and distributors said some drinkers were switching from Myanmar Beer and Black Shield to Tiger and ABC stout, both of which are Heineken brands.
One retailer, who also sells to small restaurants and bars, said sales of Chang had doubled. "Before, a beer station might order one carton of Chang cans a day, but now they'll take too. Also, bottled Chang didn't sell well before, but now bottles are going quickly," she said.
Overall, though, the market remains depressed. COVID-19 dealt a significant blow to sales last year, as restaurants and bars were forced to adopt limited hours or close completely. Similarly, the nationwide 8pm curfew imposed after the coup has curtailed drinking at public venues, which is where most beer is consumed. Retail sales have also been disrupted by frequent shop closures due to strikes and the risk of vandalism from security forces.
"Sales of other [non-military] brands haven't gone up noticeably – they're more or less the same. Maybe it's because we've had to close our shop regularly – whenever there's gunfire, we pull down the shutters," said one distributor. "And even when we've had orders, we can't always deliver them because sometimes the roads are blocked."
"Beer sales have declined sharply since the coup," added another distributor. "Most retail outlets have closed, so our orders have fallen. We have three delivery vans, and normally they'd make three trips a day. Now each van only makes a single trip."