A shortage of foreign currency has led the junta to crack down on illegally imported alcohol, spooking smugglers, but some predict corruption will soon smooth the way back to business as usual.
By FRONTIER
On July 31, security forces raided three liquor stores in Yangon and arrested two shop-owners for selling illegally imported beer. About an hour before his business was inspected, alcohol shop owner Ko Min Min* received a warning from a contact in the General Administration Department.
"My store was also inspected, but I'd removed all illegal alcohol so nothing happened. However, now I'm too nervous to sell any illegal drinks," Min Min told Frontier.
Two days later, township GAD offices across Yangon Region summoned shop owners with FL-12 liquor licences. The August 2 meetings were called to share an internal directive issued by the central GAD in July, instructing local officials to take legal action against anybody transporting or selling unapproved alcohol products.
Min Min attended one such meeting, where they were told that regular inspections would be conducted by joint teams of township GAD and Internal Revenue Department personnel, accompanied by police.
"It was emphasised at the meeting that any violations involving the sale of illegal liquor would result in legal action," he told Frontier.
The GAD directive listed 19 brands of beer, made by seven companies, that are approved for sale in Myanmar. Eight of those brands belong to military-owned conglomerates. There are also approved international options brewed in-country, including Heineken, Carlsberg and Chang.
A senior township GAD official in Yangon told Frontier on the condition of anonymity that although there were instructions in the past to conduct inspections for illegally imported alcohol, there were no orders to make arrests.
"Now, comprehensive instructions have been issued and they apply to all GAD offices throughout the country," he added. "Although big cities like Yangon and Mandalay can implement schemes to investigate and apprehend anyone selling illegal beer and alcohol products, most rural townships might struggle to do this," the official said, referring to armed uprisings across the country.
Since the 2021 coup, the military regime has remained in control of most cities and large towns. But newly formed resistance groups, known as People's Defence Forces, and long-standing ethnic armed groups have rejected the junta's administration and maintain influence over large swathes of the countryside.
"Many areas remain beyond the scope of security measures. This is why last year there were cases in which FL-12 licences from Sagaing were transferred to Yangon," the GAD official said.
In Sagaing Region, a resistance stronghold, many liquor store owners refuse to pay taxes to the junta. In response, the regime took the unprecedented step of cancelling their licences and transferring them to compliant businesses in Yangon, as first revealed by Frontier in April.
Although inspections are already underway in Yangon, liquor shop owners in conflict-affected areas – like Sagaing and Magway regions and Kayin State – said there have been no such inspections there yet.
"As of now, I haven't received any communication from the GAD and there have been no inspections here," Ko A Yoe*, a liquor shop owner in Sagaing's Kyunhla town, told Frontier on August 16.
The rise and fall of smuggling
In the past, foreign beer brands such as Heineken and Carlsberg were smuggled into the country, but over the last decade they have been brewed legally in Myanmar. Then, during the COVID-19 pandemic, global trade disruptions affected the supply of raw materials to breweries in Myanmar, leading to a fall in production. Black marketeers seized an opportunity to cash in, breathing fresh life back into the smuggling industry.
Smuggled brands range from North American products like Corona and Budweiser, to Thai beer giants like Chang and Singha, and Chinese beverages like Xi Ge Lan and Mian Xin Leoi.
Beer drinking has also steadily increased. "Since 2010, there has been a noticeable surge in beer consumption in Myanmar and a corresponding increase in the number of beer shops," said the Yangon GAD official.
At the core of the new directive appears to be an effort to hoard increasingly rare foreign currency, which the regime needs to buy overseas goods like weapons, as it struggles to overcome Western financial sanctions. Recent US sanctions on two government banks that the military and state-owned enterprises use to access foreign markets is expected to exacerbate that shortage.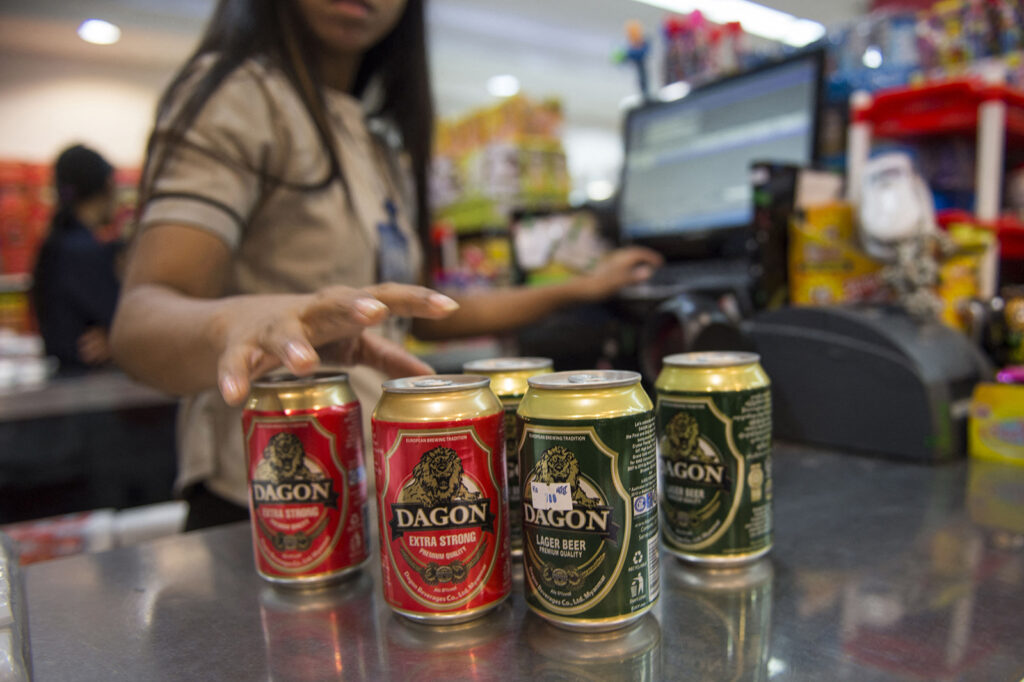 "The more illegal imports there are, the more foreign currency leaves the country. The directives to conduct inspections and take legal action over the sale of unathorised beer were issued to address this," the official added.
After beer is illegally smuggled into the country, it's typically sold to wholesale distributors, who then sell it to liquor store owners.
"People involved in smuggling illegal goods use sea and border routes. However, even wholesalers like us are unaware of where exactly they bring goods across borders," said Ko Taryar*, who buys and distributes illegally imported alcohol in Yangon Region. "They won't reveal the location of their warehouses; they arrange drop-off deliveries."
Before the new directive, alcohol shipments, warehouses and trucks were rarely raided. Another township GAD officer, who is based in a border state, said there is often a "mutual understanding" between smugglers and police.
"Arrests usually occur only when they are ordered from above as part of a specific operation and even then there's often leniency and people are released. That is why eradicating beer smuggling remained a challenging task," he said, adding that conflict and the devaluation of the kyat have undermined the illegal border trade.
Meanwhile, the crackdown in Yangon is already being felt.
"With the increase in arrests, distributors based in Yangon have temporarily halted their operations," Ko Taryar said.
A brief disruption?
The August directive also orders officials to crack down on the transport of alcohol without a licence from the GAD.
As with the illegal alcohol sales, businesses have long needed a licence to legally transport alcohol between townships but this requirement was largely ignored previously.
"Such unlicensed transportations were already prohibited but the police didn't take any action," said the Yangon GAD official.
Yet, while the crackdown on unlicensed sales and distribution has had a definite impact, it's unclear whether it will tame the market in the long term.
Ko Taryar, the wholesaler, told Frontier that the crackdown had convinced him and other businesses on the wrong side of the law to shift to distributing beer made in Myanmar.
"I've heard that if they discover a bottle of illegal liquor or beer during an inspection, it results in a fine of K3 million [US$882 at the market rate]. That's why I completely stopped selling foreign beer about two weeks ago. I can't risk getting arrested. I prefer doing business without risk of trouble, even if the profits are smaller," he said on August 14.
Ko Taryar said he has since obtained permission for the wholesale distribution of Chang beer brewed in Myanmar and is applying to distribute other legal brands, but doesn't have a transport licence yet, so he can only sell it within his township.
But the border state GAD officer said he expects the black market trade to recover quickly. He explained that the regime can't enforce policies in large parts of the country it doesn't control and the dire economy leaves the door open for corruption.
"To effectively tackle smuggling, we need a strong policy and effective implementation. Unfortunately, the country's financial difficulties have led some individuals to engage in corruption," he said. And as the kyat continues to depreciate, "corruption is likely to increase."
* indicates the use of a pseudonym for security reasons