The participation of Myanmar artists in an exhibition of South Asian works at the recent Dhaka Art Summit raises questions about the regional 'ownership' of art.
By NATHALIE JOHNSTON | FRONTIER
Six artists from Myanmar were recently included as South Asian artists in a regional survey exhibition held as part of the annual Dhaka Art Summit in the Bangladeshi capital.
What does it mean that Myanmar can be seen as part of South Asia in some art circles and Southeast Asia in others? Does it have to be one or the other and why does it matter?
As borders are constantly redefined and history often rewritten, art historians, curators, and galleries make judgment calls on what is emphasised. Of course money and power do the talking, but mostly money.
The Hong Kong art world tends to take ownership of all Asia through various art fairs and exhibitions: Chinese, Japanese, and Korean art rules but Southeast Asian art is now in the mix. The Hong Kong-based Asia Art Archive, a non-profit that documents the recent history of contemporary art in Asia, in its definition of the region makes only the distinction of the traditional "East" as in east of the Ural Mountains and including the Arab and Persian states, as well as the former states of the Soviet Union.
Australia is flirting with an Asian identity, deploying the term the "Asia-Pacific" of which it sees itself a part; Taiwan, with its complex relation to mainland China, explores links with their tropical neighbours. China hopes Kunming will serve Southeast Asia as a hub for transport, manufacture, trade, and culture.
As the most developed member of the Association of Southeast Asian Nations, Singapore claims the position of representing Southeast Asia and has incredible art museums with unrivalled collections of art from throughout the region. Myanmar, as far as Singapore's art establishment is concerned, fits snuggly into Southeast Asia.
Myanmar, where China meets India, apparently, has long and complex historical ties with all the peoples and states on its borders. Buddhism and ideals of governance arrived from South Asia. Its colonial experience saw it ruled from British India, a legacy that lives on in myriad ways. However, post independence and having joined ASEAN in 1997, Myanmar is politically firmly part of Southeast Asia.
Regional art shows and surveys, which are much in vogue in the art world, offer a lens and framing for what we can see. When Myanmar artists are placed in the context of Southeast Asian art, there tends to be an emphasis on Buddhism in order to create dialogue between it and neighbouring Thai or Cambodian art. Much of the emphasis of Southeast Asian regional exhibitions is on religion, highlighting the diversity of the region.
Myanmar artists as South Asians see far greater emphasis placed on the secular impact of their work as it relates to contemporary struggles. This can look at class and privilege and be based on shared histories and responses to development, socialism, capitalism, and colonialism.
The Dhaka Art Summit is "the world's largest non-commercial research and exhibition platform for South Asian Art", sponsored by the Samdani Art Foundation and run by a team of expert curators, including artistic director Diana Campbell Betancourt, an American based in Mumbai.
The summit features the solo projects of South Asian artists, panel discussions, an archival exhibition, performances, film, as well as an impressive selection of art and architecture from Bangladesh. The event hosts tens of thousands of visitors every year.
Po Po, one of Myanmar's preeminent contemporary artists, who moved to Yangon after university in the early 1980s, creates wonderful installations of video, sculpture and photography as subtle critiques on society. As part of the Dhaka Art Summit this year, Po Po recreated his VIP Project, which he had started in Yangon in 2010.
The project consists of placing small, plastic VIP signs at public bus stops throughout the city and photographing or video-taping passengers waiting at the stop, who are shown either avoiding the signs, not daring to move them, or curiously, considering the preposterous notion of public transport being reserved for VIPs. The 'VIPs' are well known to South and Southeast Asia.
In Dhaka, Po Po took the same signage and placed it at bus stops throughout the city. Though Myanmar and Bangladesh have a shared colonial history, after independence, in 1948 and 1971 respectively, the former experienced military rule for much longer than the latter, which has been a parliamentary democracy since 1991.
In a commentary Ms Betancourt described the relationship of the new venue to the work: "While the reactions of the public seem very similar in the documentation across Yangon and Dhaka, the Bangladesh political scenario opened up for the possibility for a few members of the public to think Po Po's intervention as a joke. This reaction never occurred in the Myanmar intervention, where choice of interpretation of public signage had never previously been an option."
Pointing to both the similarities in class structure of society as well as the differences in cultural and historic makeup is where Myanmar seems to be a loose fit in regional survey exhibitions. Compare Po Po's VIP Project in Dhaka to another commissioned installation chosen for the Singapore Biennale in 2013 – Road to Nirvana – and one notes the emphasis on class and society versus religious belief.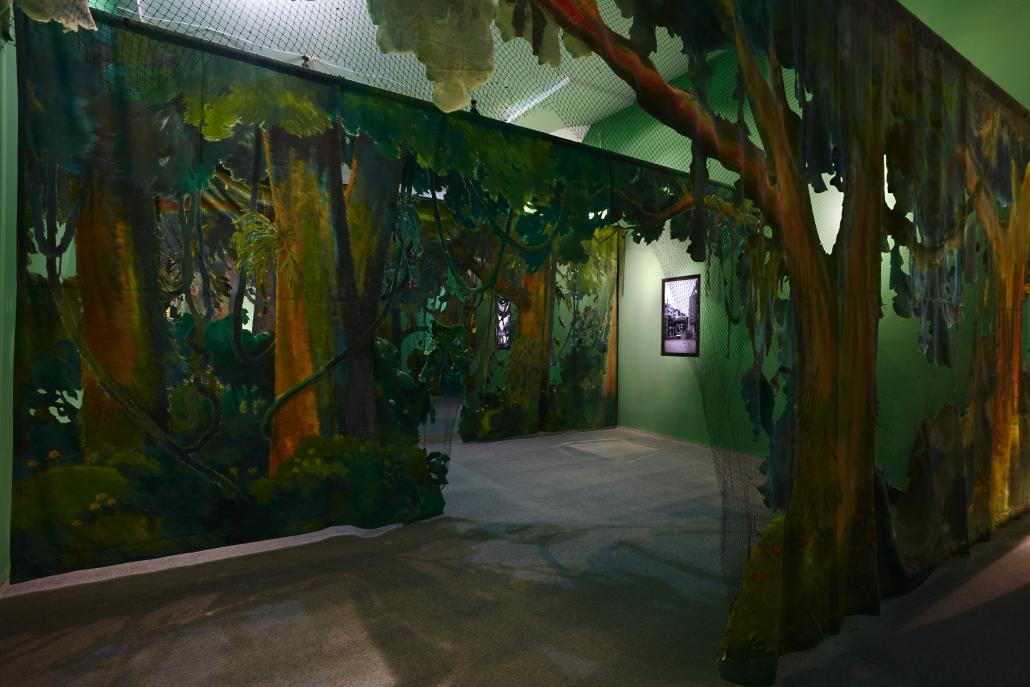 Tun Win Aung and Wah Nu, a couple who often present their work together, recreated a multimedia installation for the summit. Titled Ipso Facto, the piece explores the changing landscape of Myanmar as well as traditional set design for village theatre.
Six video projections told the story of Yangon and other developing cities in Myanmar, the changing nature of the Ayeyarwady River, and a nostalgia for the forests, plains and creeks that their grandchildren will never see.
Tun Win Aung and Wah Nu often reference traditional Myanmar life by using props or objects from the village, such as backdrops used on stage, to give the impression of a forest.
The work's placement at the summit was a telling one, mainly because of its simplicity of concept. South Asian cities have not suffered the isolation that cities in Myanmar have experienced during the past 50 years. Many artists have long abandoned the critique of development, accepting it as inevitable and instead turning to natural materials to tell their stories or envision their concept.
Nge Lay, an artist who works mainly with photography, displayed her series The Relevancy of Restricted Things. It continued the theme of the provincial, looking to the village and the traditional way of life as a way to critique current circumstances.
Families gather in the photographic portraits and Nge Lay poses as a masked man, a father figure, represent the missing patriarch in these homes. Her husband, Aung Ko, also an artist, was invited to the summit to speak on a panel titled "Off Center" about his experience of hosting an art festival in his village outside Pyay for the past several years. He spoke along with 13 other panelists from South Asia who work in similar locations.
The sixth Myanmar artist featured at the summit was the late Bagyi Aung Soe, whose illustrations, and a few paintings, between 1948 and 1990 influenced a generation of artists and earned him the title of Myanmar's father of modern art. He is probably the best researched artist in Myanmar and the most widely written about, with an online database established in his name, featuring a wealth of information largely compiled by Assistant Professor Yin Ker of Singapore's Nanyang Technological University.
Why was his work featured in the summit section titled "Rewind" – a historical exhibition highlighting work from the region before 1980? Bagyi Aung Soe travelled to Santiniketan in West Bengal, India in the early 1950s to attend what is now Visva-Bharti University, studying the philosophies of Rabindranath Tagore, under the tutelage of artist Nandalal Bose. Here seems to be the crux of the history of Myanmar art's relationship with neighbouring India and South Asia, and why art narratives may continue on this path of study.
Amar Kanwar's artwork was a moving tribute to the resilience of individuals, specifically bookshop owner Ko Than Htay in Mandalay, who tore from his books the list of the junta's "three main national causes" before selling or renting them.
Though artists from Myanmar seem to know more about other Southeast Asian artists than those from South Asia, the latter are keenly aware of Myanmar as hosting a wealth of shared history.
Prominent Indian writer Amitav Ghosh, who is based in Kolkata, has as one major theme of his work, the interconnections between the Bay of Bengal and the Indian Ocean. His novel, The Glass Palace, explores the relationship of history and nation to a few key characters spanning over generations, including Thibaw, Burma's last king.
In 2008, Amar Kanwar, an Indian artist from New Delhi, completed and released his multi-installation artwork titled The Torn First Pages, in honour of the democracy movement in Myanmar and in relation to some students and activists he knew who were living in self-exile in Delhi.
The artwork was a moving tribute to the resilience of individuals, specifically bookshop owner Ko Than Htay in Mandalay, who tore from his books the list of the junta's "three main national causes" before selling or renting them.
Pablo Bartholomew, a well-known photographer also featured at the summit, is the son of one of India's most famous art critics, Richard Bartholomew, who is originally from Mon State and fled to India during World War II.
These South Asian artists have recognised through their work the importance of personal histories of Myanmar and how it relates to the rest of the world. In a 2008 interview, Mr Kanwar said: "What everything is really all about is your own relationship with authority…your own need for defiance…if you can understand what's happening in Burma, you can understand your own life and where you are from."
Though Mr Kanwar was discussing a particular work and a particular time, I believe it bears witness to the question of authority in the art world, who claims whom, and where Myanmar fits on this scale of recognition or emphasis. For me, it is not what Myanmar can add to South or Southeast Asia as part of a regional discourse, but how the region can interact with the histories of Myanmar and its experiences through art and through its history as part of the region.
Title Photo: 'VIP Project' by Po Po, exhibited at the Dhaka Art Summit. (Photo by Jenni Carter, courtesy Po Po and the Samdani Art Foundation)