Ethnic identity is poised to define the election in the Kachin State capital, where votes from internal migrants and Tatmadaw soldiers could tip the scales in a close race.
This article is part of Frontier's Tale of Five Elections series. We're following the election through five townships across the country, capturing events and local voices through the campaign, voting and declaration of winners. Stay tuned for updates about Myitkyina, as well as Bawlakhe in Kayah State, Mayangone in Yangon Region, Mrauk-U in Rakhine State and Pyawbwe in Mandalay Region.
By HKUN LAT | FRONTIER
"So far everything is smooth and peaceful," said Kachin State election sub-commission deputy director U Htun Aung Khaing, speaking from his desk in the state capital, Myitkyina. "There are no big problems."
Ahead of the 2015 general election, conflict between the Tatmadaw and the Kachin Independence Army prompted the Union Election Commission to cancel polling in 212 of Kachin's 628 village tracts. Fighting has lessened in the last two years, following a spike in 2018, and more than 90 percent of those excluded village tracts – 193 in total – will host polling stations in the November election, Htun Aung Khaing told Frontier during a visit to Myitkyina in late July.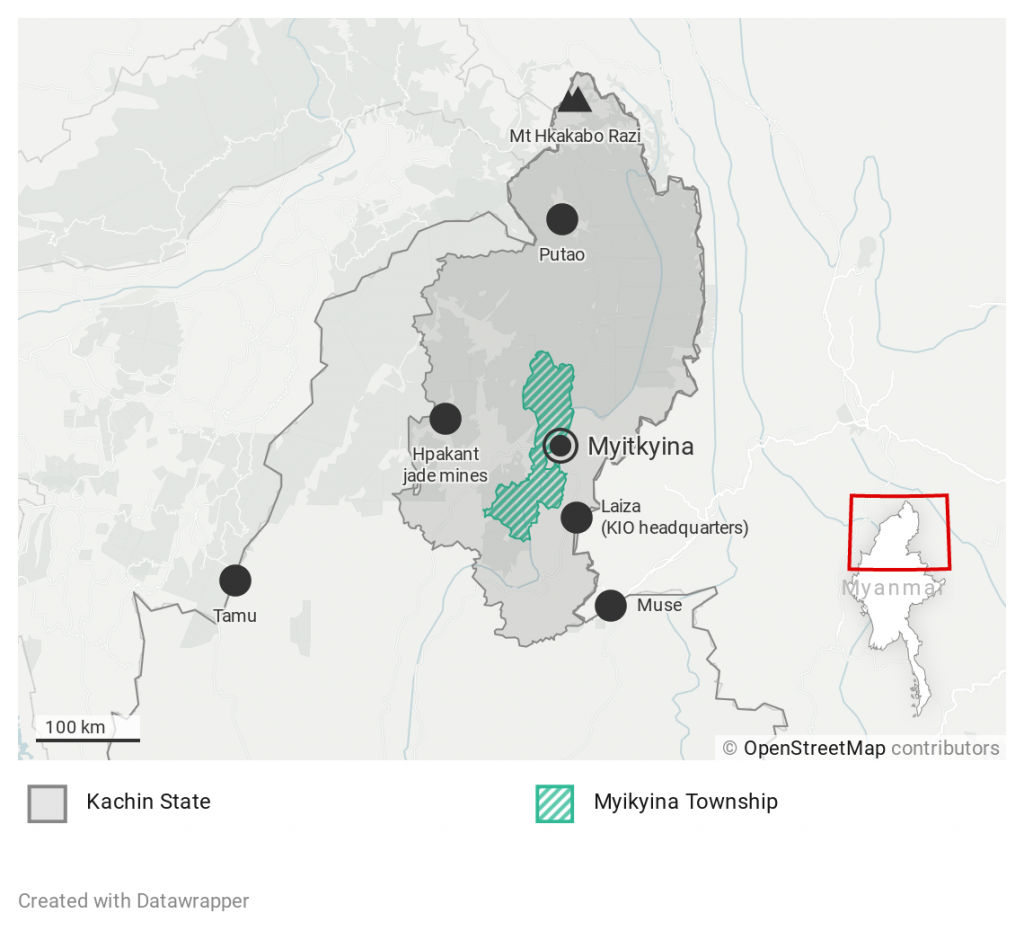 Disruptions to the election are highly unlikely in the city, even if armed conflict were to resume in the countryside. Situated on an oxbow of the Ayeyarwaddy River 800 kilometres north of Mandalay, Myitkyina has been an important trade hub between Myanmar and China for centuries and hosts a diverse mix of ethnic Kachin, Shan, Bamar, Indian and Chinese communities. At the concrete shopfronts and markets in the city's low-rise centre, you can hear traditional Kachin clothing and plastic Chinese goods being haggled over in Burmese, Jinghpaw, Hindi and other languages.
But despite Myitkyina's veneer of cosmopolitanism and peaceful commerce, the ravages of a decades-long war that was reignited in 2011, when a 17-year ceasefire collapsed, remain front of mind for many resident voters. The sprawling cantonments of the Tatmadaw's Northern Command form a city-within-a-city, and the resident soldiers and their dependents are a readymade voting bloc for the military-aligned Union Solidarity and Development Party. Meanwhile, thousands of people uprooted from elsewhere in Kachin still languish in 26 camps for the internally displaced within the boundaries of the city.
In 2015 the National League for Democracy won both the upper and lower house seats for Myitkyina Township with 46pc of the vote, and both state assembly seats with similar margins. The USDP was the runner-up in elections across the board, and the party narrowly won a by-election for the upper house seat (Kachin-2) in November 2018, thanks to low overall turnout combined with virtually unanimous voting in military cantonments.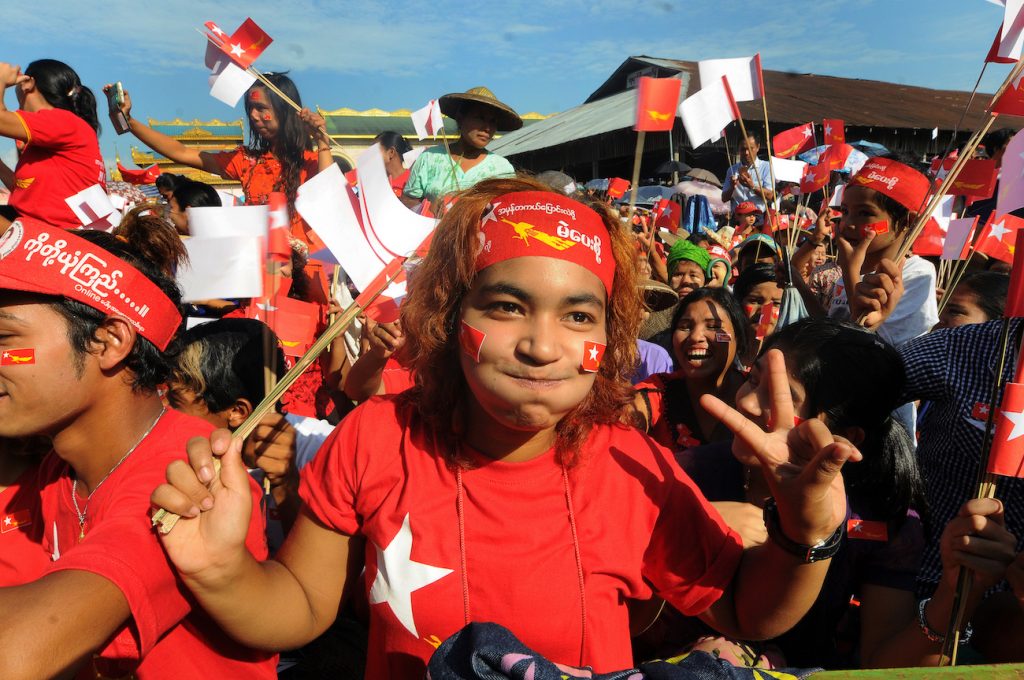 This year, however, political support seems split along ethnic lines in the township, which includes rural areas beyond the city limits. Among the ethnic Kachin community, at least, NLD support has waned. The party fell to third place, behind a Kachin party, in the 2018 by-election. Meanwhile, several Kachin parties that did poorly in 2015 have since merged to form the Kachin State People's Party. Judging from the chatter in Myitkyina's tea shops and beer stations, the KSPP is poised to present a significant challenge to the NLD and USDP in November.
"The youth have tried to unite since 2014 but it had not been successful," said Seng Nu Pan, a 26-year-old lawyer and activist and a KSPP candidate for the Pyithu Hluttaw seat. "After 2015, by the effort of the youth and the people, the parties have united," she told Frontier.
She said she's disappointed with what she called the NLD's "failed promise" of more transparency surrounding the Chinese-backed Myitsone Dam – a stalled hydroelectric project at the nearby confluence of the Mali and N'mai, the source of the Ayeyarwaddy River. The project remains deeply controversial, raising concerns over grave environmental damage and community dispossession, as well as uncertainties over who would benefit from the power it would generate.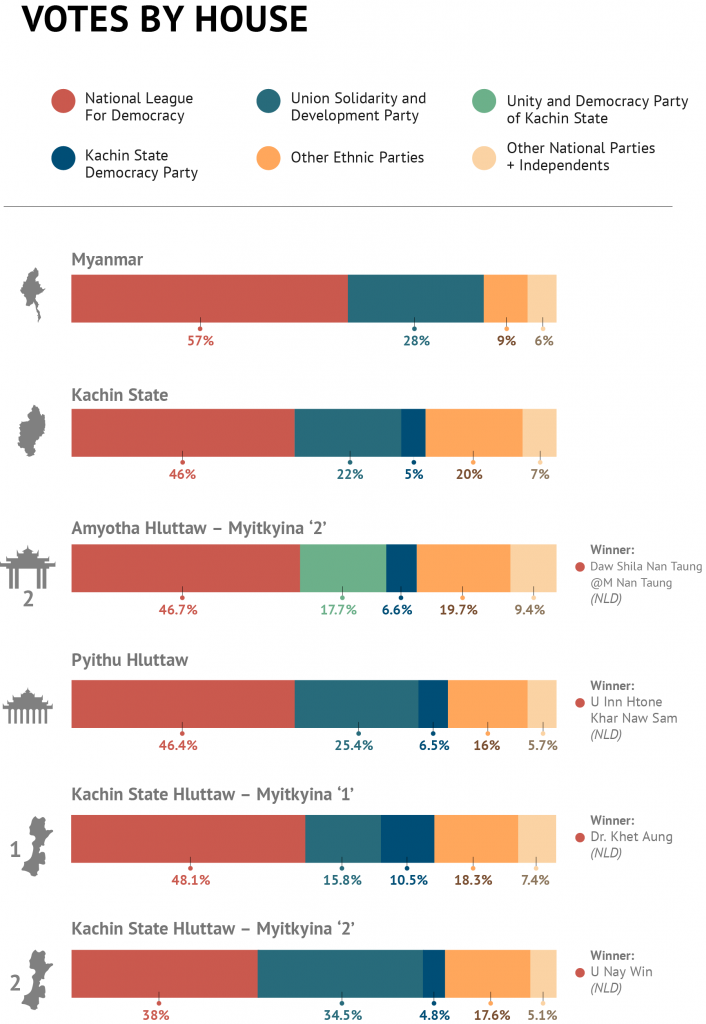 Seng Nu Pan said she's also worried about a proposed 300,000-acre project in Khaunglanhpu Township in northern Kachin, where Australian-backed Fortuna Metals has applied to conduct a feasibility study to mine gold and other metals. Residents of the area have raised concerns of losing their land if the plan moves forward.
While economic growth takes pride of place on her policy agenda, she wants its proceeds to accrue at a more local, grassroots level, and she's wary of large-scale Chinese projects she says often lack transparency.
"We want to support small and medium-sized businesses," she told Frontier. "If everything is done by big Chinese companies, small local businesses will not have access to markets. Chinese projects have damaged our agricultural land. They don't care for the environment, they don't care for human rights."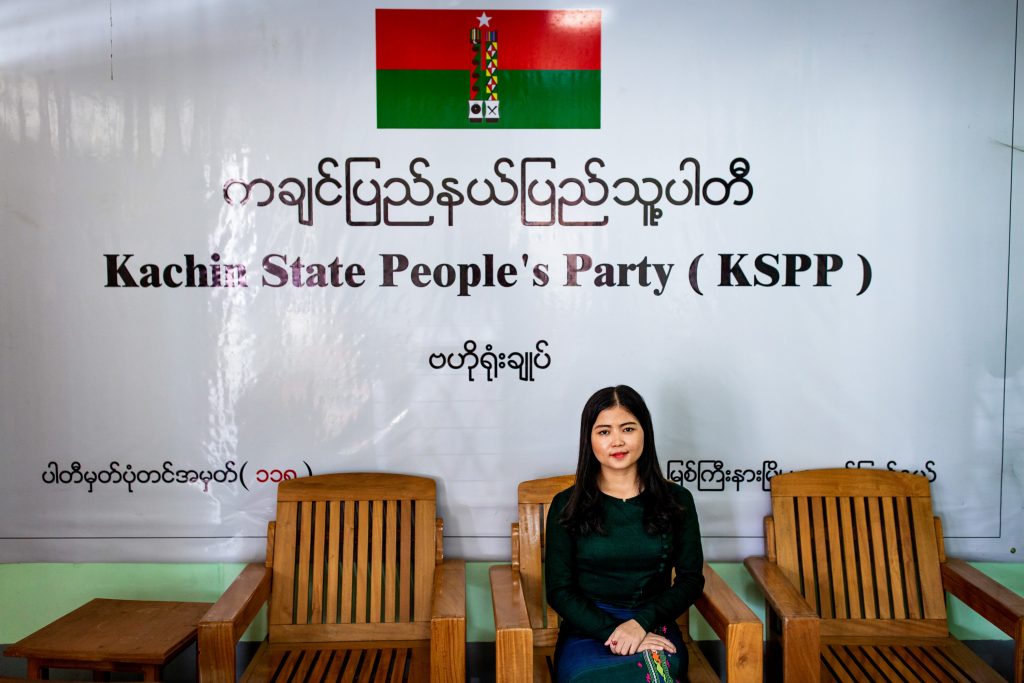 Lum Tu, a 33-year-old electronics shop owner and KSPP supporter, agrees on the need for economic growth but thinks China could actually be part of the solution. "There are many young people with no income here," he said. "Most villagers raise pigs, but there aren't good markets to sell them to. Corn grown in villages could be sold to corn mills in China, to the benefit of corn growers." Too much food now just goes spoilt, he said.
He believes NLD support remains strong primarily among non-Kachin migrants to the state, who he says have become a majority in Myitkyina.
Data from the General Administration Department says that 50.15pc of the township's population of 244,151 is ethnic Kachin. The next largest bloc is the Bamar, at 28.3pc, followed by the Shan, at 9.91pc. The ethnic breakdown from the 2014 census, which may be more accurate, has not been released.
"All Bamar support the NLD," Lum Tu claimed. "Many people from lower parts of Myanmar come to work here on road and bridge construction. They come with their family and they sometimes don't go back."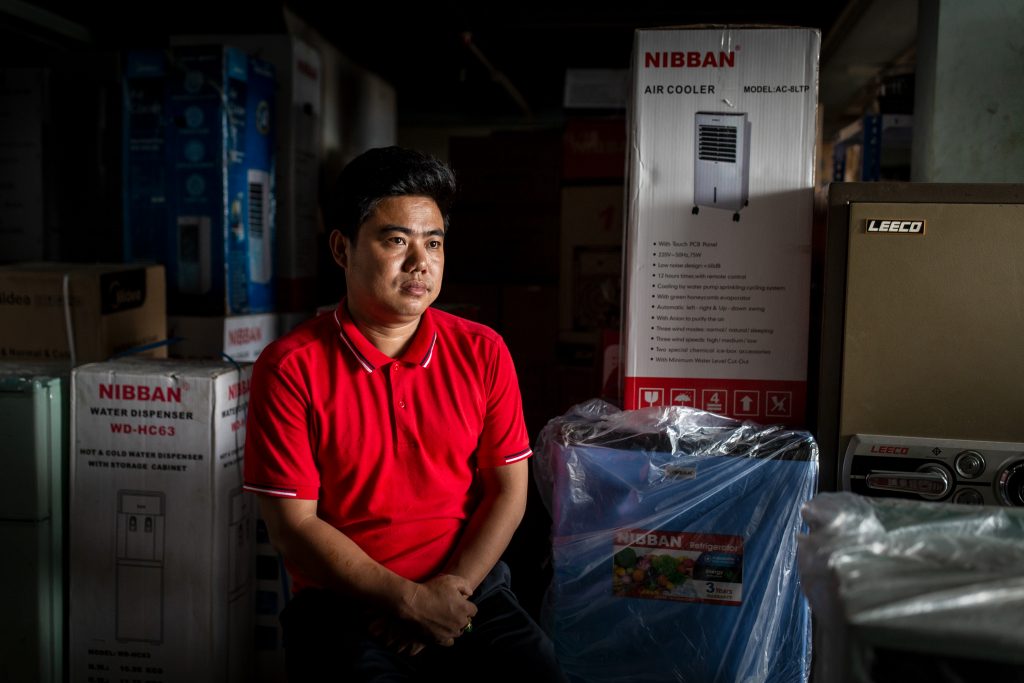 A change in the election by-laws earlier this year allows internal migrants resident in a township for at least 90 days to transfer their vote to that township, rather than a previous 180-day residency requirement. The KSPP and other ethnic parties, fearing this would dilute their share of votes, protested the change.
But Kachin-based ethnic groups are also split politically. The Lisu, for instance, who often reject belonging to an umbrella "Kachin" ethnic identity, largely vote for the Du Lay (crossbow) party, properly called the Lisu National Development Party, Lum Tu said. His answer for a more unified Kachin state? "The KSPP is not just an [ethnic] Kachin party – they are now campaigning as a party that everyone can join," he said. "If we all unite behind one Kachin [State] party, we may win against the NLD."
Aung Myat, a 23-year-old field officer for a local civil society organisation, hopes that better access to education will be taken up as an election issue.
"In Kachin State there are not many places to study, and government-run libraries don't' have enough teaching materials and books," he said. He also wants a better system in place to help students navigate applying for and receiving scholarships.
November will be Aung Myat's first time voting. He said he's unsatisfied with the performance of his current representatives in parliament, who seem distant and out of touch with their constituents.
"My single vote is essential," he said. "I believe that if we vote for the party we believe in, it can fulfil our needs when it is elected." His own vote will, like Lum Tu, be cast for the KSPP.
"I have decided not to vote for the political party that comes from lower Myanmar," he told Frontier, in what seemed like a reference to the NLD or USDP, who have both been at the helm of government. "I have been under their rule, and I know it does not work."
Still, everyone's hopes – for local economic growth, for better access to healthcare and education – are all for naught without a more lasting security for all, and an end to Kachin State's "forever war".
"I wish [elected officials] would accelerate the peace process," Lum Tu said. "Only if there is peace will business flourish."