U Kyaw Myint made headlines due to his shady past, lavish lifestyle and sudden arrest, but in rural Mon State his United Democratic Party has been accused of deceiving hard-up residents by promising them jobs.
By LAWI WENG | FRONTIER
Nai Shee didn't know much about U Kyaw Myint, but he knew enough. Kyaw Myint was rich, ­­ran a lot of businesses and could help Nai Shee get a job for the rainy season, until he could begin tapping his rubber trees again.
At the age of 60, it wasn't easy for Nai Shee to find work in rural Mon State, particularly since the start of this year when many migrants returned from Thailand. The day that he went to apply to work as a security guard with Kyaw Myint's United Democratic Party – known to locals as the hninsi (rose) party, because of its logo – the ethnic Mon man dyed his grey hair black to make himself look younger.
But since he submitted his application in June, Nai Shee has heard nothing from the party. "I didn't expect a lot from them, but I was hoping at least to get work for a few months," he said.
Nai Shee heard about Kyaw Myint and the UDP from Mi Nu, a party organiser in his village of Kalawthut, in Mon State's Mudon Township.
He wasn't the only one. Mi Aww, a 55-year-old resident of nearby Kawpehtaw village in Mudon,told Frontier that Mi Nu had encouraged her daughter to apply for a job at a company run by the UDP. "She told me my daughter would become a manager for the company if she applied," Mi Aww recalled.
Mi Aww's daughter didn't have a Citizenship Scrutiny Card (popularly called a National Registration Card, or NRC), which is typically required to apply for formal employment in Myanmar. Not wanting her daughter to miss out on what seemed to be a rare opportunity, Mi Aww rushed to the immigration office in Mudon town and spent K50,000 – most of it on bribes – to arrange an identity card. After receiving the card, she applied for the job in June. "We haven't heard anything back from the company about the job," said Mi Aww. "I'm sure that they just tricked us into becoming UDP members – these people are liars."
Another Kawpehtaw resident, Nai Chit Win, was more sceptical of the party's promises. In the end he applied for a job because he was more afraid of his wife than being cheated. "I was worried the UDP was trying to trick us into becoming members by promising jobs," he said. "But my wife insisted I apply."
Nai Chit Win paid someone K1,000 to write his job application and another K2,000 for the required passport photos. Like others in this area of Mudon, he never heard anything back from the party about the job after submitting his application in the second week of June.
Chit Win's wife, Mi Win, was furious when she realised they'd been duped. She believes that instead of applying for a job, they were tricked into signing up for the party. "I really wanted to kill her [Mi Nu] when I worked it out," she said.
Nai Shee, Mi Aww and Mi Win are among 100 or so residents from Kawpehtaw, Taungpa, Kalawthu and Pe Dow villages in southern Mudon who were encouraged to apply for jobs through the party. In an area where unemployment is high, particularly as a result of the economic impacts of COVID-19, it wasn't hard for UDP organisers to find eager applicants.
Frontier was unable to confirm whether they have been registered as party members, but it would go some way towards explaining party chairman Kyaw Myint's claim that the UDP has signed up millions of people.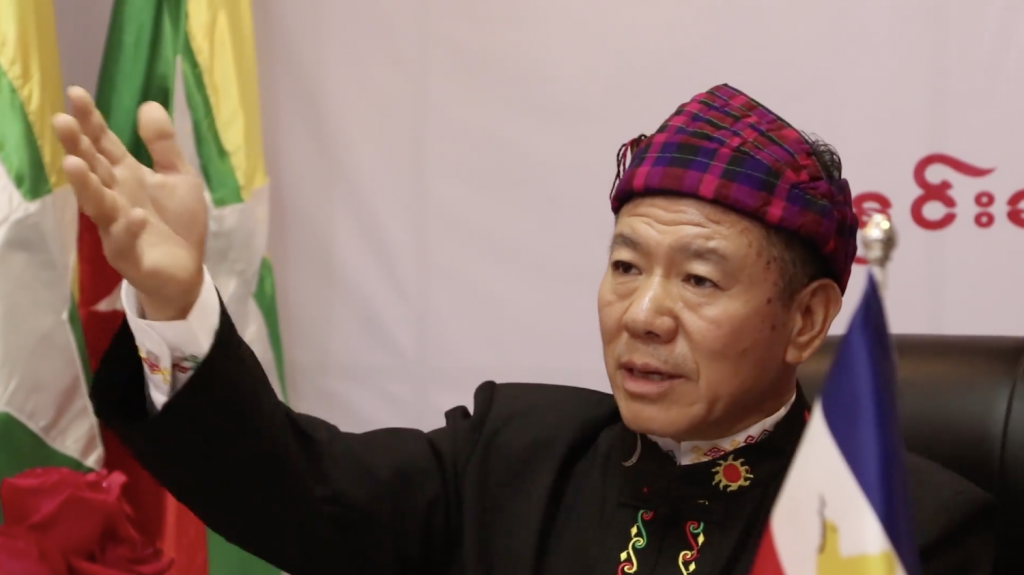 A colourful chairman
In recent weeks, the previously obscure Kyaw Myint has shot to prominence as a result of a Myanmar Now expose that highlighted his shady past, including his links to the United Wa State Army, his arrest for suspected money laundering, his escape from a Myanmar prison in 1999, his resettlement in the United States after apparently cooperating with the Drug Enforcement Agency and an insider trading scandal in Canada that saw regulators permanently ban him and issue a fine of $1.5 million Canadian dollars (US$1.13 million).
Late on September 29, police arrested Kyaw Myint at his home in Yangon's Hlaing Tharyar Township on a charge of absconding. He appeared in a Mandalay court on October 2 and was remanded to Mandalay's Obo Prison, from where he escaped two decades ago. Government spokesman U Zaw Htay said an investigation is continuing, and the politician may face further charges.
Despite the recent publicity, Kyaw Myint has been on the political scene for around a decade. In 2010, he set up the UDP to contest that year's election and three years later quietly returned to the country, before becoming the party's official chair in 2015 and setting up several businesses.
In both the 2010 and 2015 elections, the party fielded scores of candidates, but failed to win a seat. This time, though, it registered 1,130 candidates – behind only the National League for Democracy and Union Solidarity and Development Party – and Kyaw Myint claimed the UDP had grown to 6 million members.
Frontier sought comment from senior UDP officials, including party spokesperson U Kyaw Swar Htet Oo, but our phone calls went unanswered and they did not respond to messages. Local party officials in Mon State declined to comment, citing a recent instruction from Kyaw Myint not to speak to the media.
Although its leader is facing criminal charges, the UDP is yet to face any sanction from the Union Election Commission and, for the time being at least, its candidates are free to continue with their campaign. In Mudon, the party is fielding candidates in all four available seats: one each for the Pyithu Hluttaw and Amyotha Hluttaw and two in the Mon State Hluttaw. The party's signboard in Kalawthut village carries an unusual slogan: if the UDP rules the country and there is no change within five years, then put the party chairman in prison and burn all of the party's signboards across the country.
But in Mudon, the party's signboards might be burned long before it gains power. Anger at the UDP's broken promises suggests that whatever slim chance its candidates had of winning in Mudon has long ago dissipated due to its aggressive recruitment tactics.
The Myanmar Now article quoted a retired military officer, U Zaw Win Htet, who worked for Kyaw Myint from 2016 to 2018 as saying that the UDP had grown its membership base by paying recruiters to find members in village tracts across the country.
The report said one of Kyaw Myint's companies, Myanmar Kyaw Investment, had spent K5 billion to support party members working as recruiters across the country.
Zaw Win Htet said Kyaw Myint spent about K100 million a month on the UDP, with township-level recruiters paid K200,000 and village tract and ward recruiters K100,000.
One party official from Mudon confirmed that village-level organisers are paid K100,000 a month. Using organisers like Mi Nu, the party has managed to recruit almost 600 members in Mudon across 39 villages.
When Frontier met Mi Nu, the party organiser in Kalawthut village who had encouraged residents to apply for jobs, she admitted that she had accepted a K1,000 "job registration fee" from them. She claimed that "some of my friends who brought those locals to me told me to take K1,000 from them as a registration fee", and that it wasn't due to any instruction from the party. She said she was unsure whether those who applied for jobs were now members.
Asked whether she believed the party could really provide jobs as it promised, she said, "What I told locals was what our leaders had told us. I don't know whether it is true or not."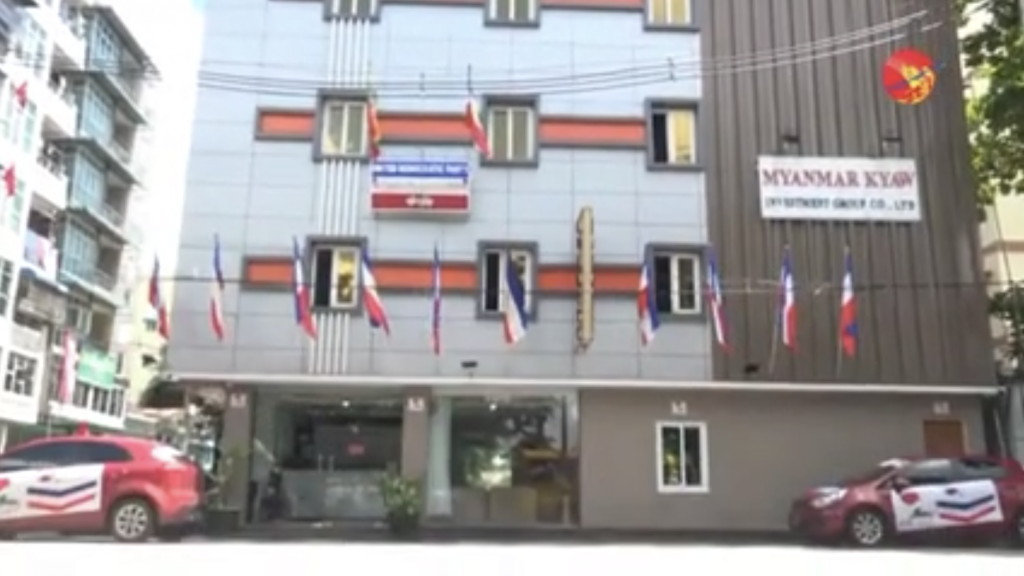 A long-term investment?
Nai Seik Lyi, the Mon Unity Party's general secretary for neighbouring Kyainseikgyi Township, in Kayin State, told Frontier that some UDP leaders in his hometown of Three Pagodas Pass were being paid K500,000 a month. "[Kyaw Myint] has a lot of money – that's for sure. He's spent a lot on his party," he said.
As far as Seik Lyi is aware, the UDP has not been luring people from Kyainseikgyi in with jobs, but he said it would be an easy trick to play. "Many people here do not have a lot of education, so it's easy to cheat them," he said. "But I think it depends on the local party organisers."
Although he didn't think the UDP would succeed in this election, Seik Lyi said that throwing money at voters could have paid off for the party in the long term. He suspects that's why the authorities moved so quickly to arrest Kyaw Myint.
"The UDP was becoming more popular … even if it couldn't win in 2020, his party could have had a big influence on the next election if he continued spending money," Seik Lyi said. "It represented a threat to other parties, especially the NLD … I think this is one reason why he was arrested."
One UDP candidate in Mon State told Frontier that before joining the party she had never been particularly interested in politics, instead focusing on community development activities and charity work. But the candidate had been impressed by the UDP's pledges to deliver roads, wells and other local infrastructure.
"I heard U Kyaw Myint has a huge amount of money that he will use to help poor people," said the candidate, who spoke on condition of anonymity due to party restrictions on members speaking to the media. "I like charity work. The UDP acted like a charity organisation – this is what got me interested in joining it.
"It wasn't because I want to be rich. I'm not hungry for power. I just want to make sure our people have enough food in their stomach, that they have jobs. That's why I joined this party."
The candidate confirmed that despite promising jobs to locals, no one had actually been employed yet. "If we join his party, we can work at his businesses in the future if our work is successful," she said.
Working out exactly what those businesses are is a little difficult, however. No one could provide Frontier with the names of registered companies or concrete details on the party's business activities. None of the job applicants in Mudon really knew who they were applying to work with. Most assumed that it was one of two nearby timber mills run by Chinese businesspeople. It was also unclear whether these "businesses" were supposed to be owned by Kyaw Myint personally, or by the party.
The candidate said she had been told that the party not only had two timber mills, but also a seaport in Mudon, silver and gold mines, and car and motorbike factories. "U Kyaw Myint has a partnership with 10 foreign countries to jointly work together on businesses in Myanmar," she said. "There are 150 foreign businessmen who will work with U Kyaw Myint."
The candidate said she was aware of the media reports about Kyaw Myint's background but claimed that the journalists were getting confused with another Kyaw Myint – a militia leader from northern Shan State known as Pansay Kyaw Myint.
"My U Kyaw Myint is not a bad guy like the other one. He's just a rich man who lived in Canada," she said.
Despite the promises of jobs, she conceded that the UDP has not always found it easy to win over locals in Mon State. In much of the centre and south, the Mon Unity Party – a merger of two Mon parties that competed against each other in 2015 – has strong support and is likely to be a serious challenger to the National League for Democracy.
The candidate said that many people in her village were still suspicious of the UDP, as they consider it to be a Bamar party, even though the leader Kyaw Myint is ethnic Kachin.
Speaking shortly before Kyaw Myint's arrest, the candidate insisted that those who opposed the party would eventually come around. "When our party grows and becomes popular, the villagers here will know about it."
"They look down on me at the moment for working with this party," the candidate said. "Even if they are against our party, they'll all have to work for our company one day."
"And I'll be a company manager one day, too – that is, when the company is set up in Mon State in the future."