Machine-made jewellery is threatening the work of goldsmithing, one of the traditional arts and crafts known as the '10 flowers'.
By KYAW YE LYNN | FRONTIER
JEWELLERY MADE from gold has long been coveted in Myanmar as a secure investment that provides a hedge against inflation and protection from economic instability.
Prominent Yangon goldsmith, U Htone, 95, recalls how people relied on gold to survive during the Japanese occupation from 1942 to 1945.
The appeal of gold also rose after General Ne Win's seizure of power in 1962 led to incoherent economic management under the Burmese Way to Socialism that included demonetisations in 1964, 1985 and 1987.
"Gold never loses its value in any situation; that's why people save gold," the veteran craftsman told Frontier on January 14.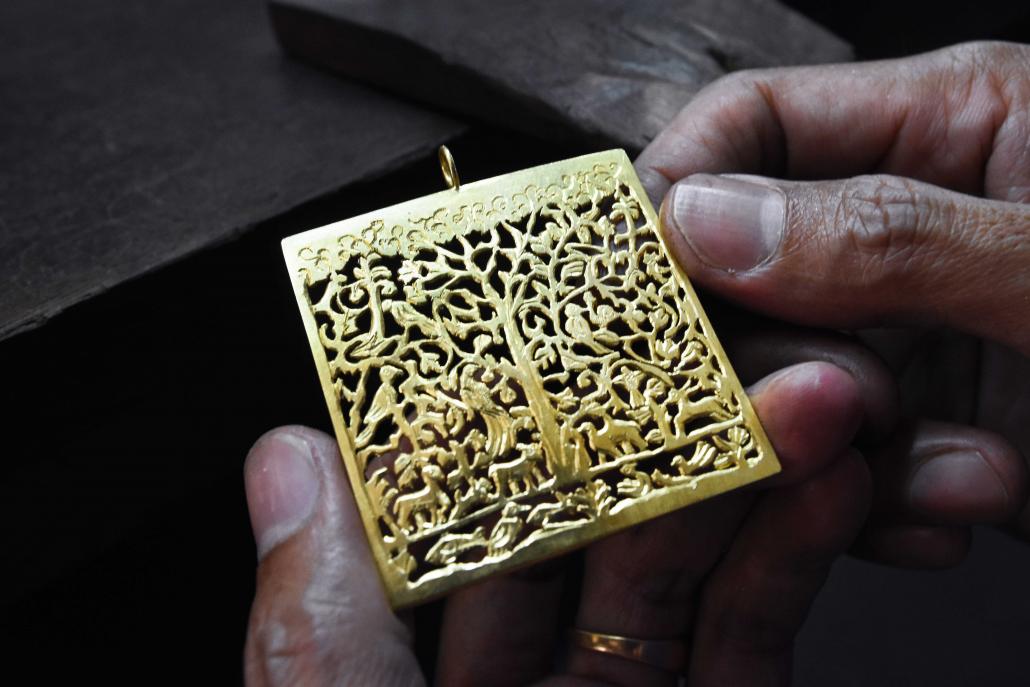 It was during the Japanese occupation that he realised businesses dealing in the precious metal had big potential.
U Htone was born in Yangon in 1923 and worked at various jobs after leaving school, including as a bus driver and waiter. He began learning to become a goldsmith in 1945 after his family moved back to Yangon from Shan State, where they lived for about two years during the occupation.
Pantain, the art of making gold and silver jewellery, is one of 10 traditional arts and crafts known as "pan seh myo", or the "Ten Flowers", that developed during the Bagan period.
U Htone said it took him two years to learn the basic techniques of goldsmithing as he gradually gained the trust of his "master".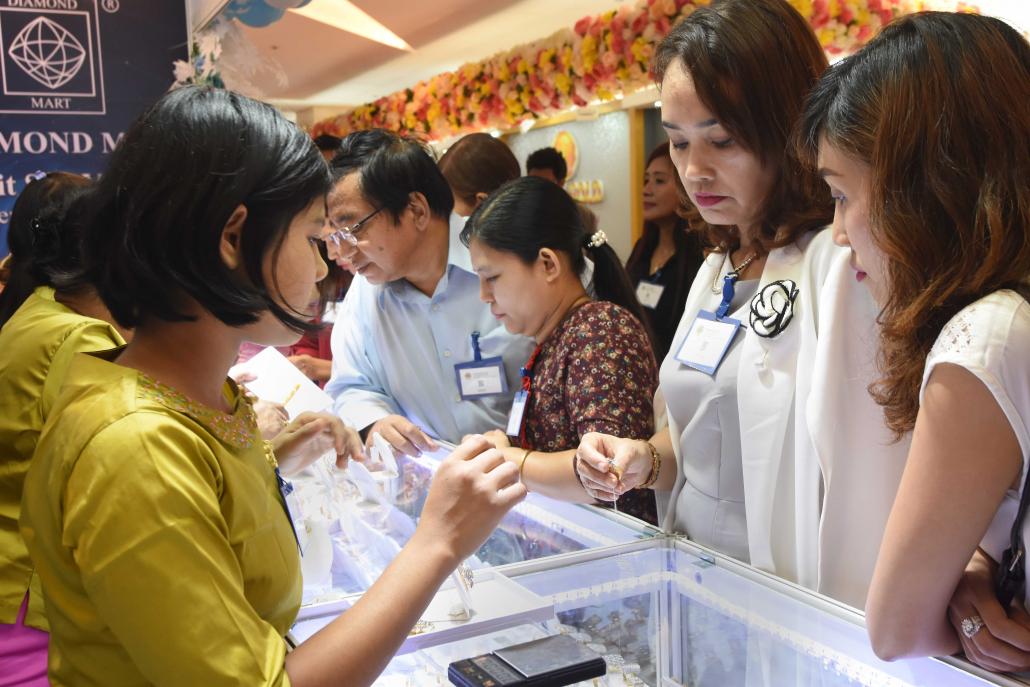 Trust and loyalty are essential for learning goldsmithing, he said. "As the work deals with gold, the master usually takes years to check our loyalty."
After working at his master's workshop he was a goldsmith at several gold and jewellery stores for nearly 50 years.
In 1994, when U Htone was 72, he opened his own gold and jewellery shop in downtown Yangon's Latha Township. "I still firmly believe in the gold business," he said.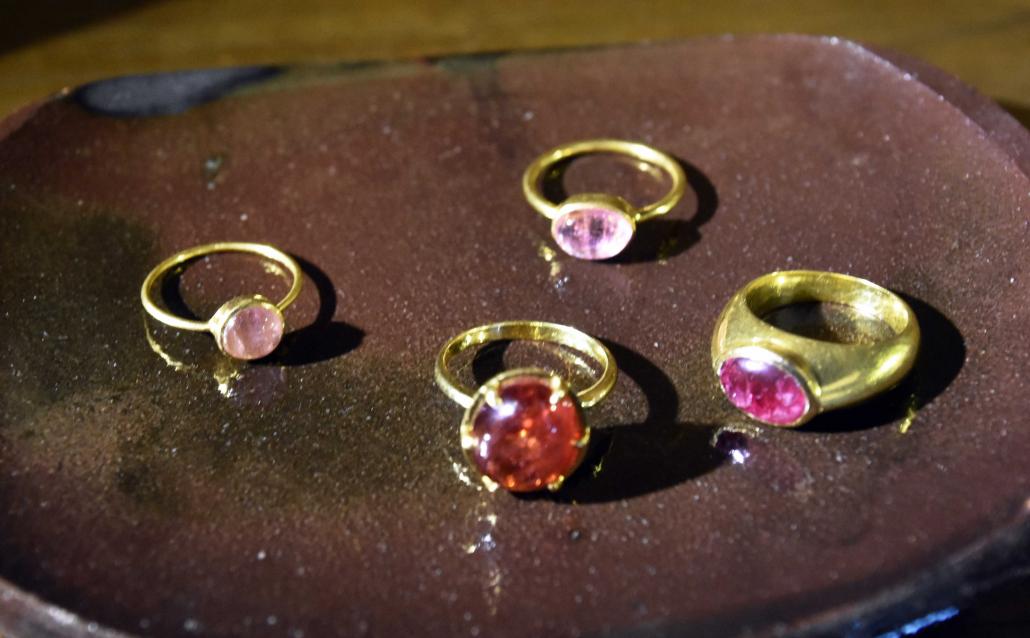 The family business, which has achieved steady growth, is run by U Htone's granddaughter, Ma Theingyi Kyaw, whose position is assistant manager.
"We only have two shops in Yangon, but have expanded the business through online [sales]," she told Frontier on January 14. "Most of our jewellery designs are simple as people are still buying them as an investment."
Theingyi Kyaw said simple designs were best made on machines and goldsmiths were needed for the delicate work required to craft traditional and hand-made jewellery.
Sales of machine-made jewellery had risen in recent years, she said.
"Demand for traditional and hand-made designs is also on the rise, but mainly from online customers," she added.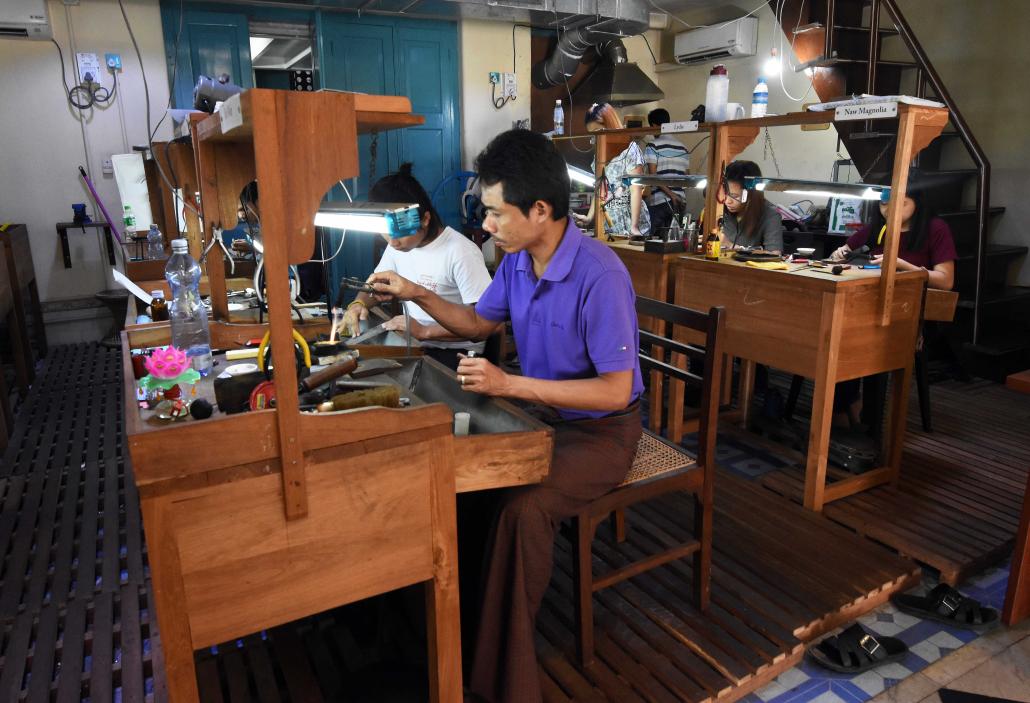 The sales trend showed that machine-made jewellery would never completely replace pieces made according to traditional pantain techniques.
"Hand-made jewellery is unique and machine-made versions are like clones," Theingyi Kyaw said.
U Than Shwe, 51, has been a goldsmith for 27 years. For most of that time he's run his own workshop in Yangon's Sanchaung Township. He said pantain artisans played an essential part in the use of machines to make jewellery.
"A goldsmith first has to create a mould to make jewellery with a machine; the machine can't do the work itself," he told Frontier on 15 January.
"This is why I think our tradition of making jewellery using pantain techniques will never disappear."
However, Than Shwe acknowledged that the use of advanced machinery and moulding presses had affected the production of hand-made jewellery using pantain techniques.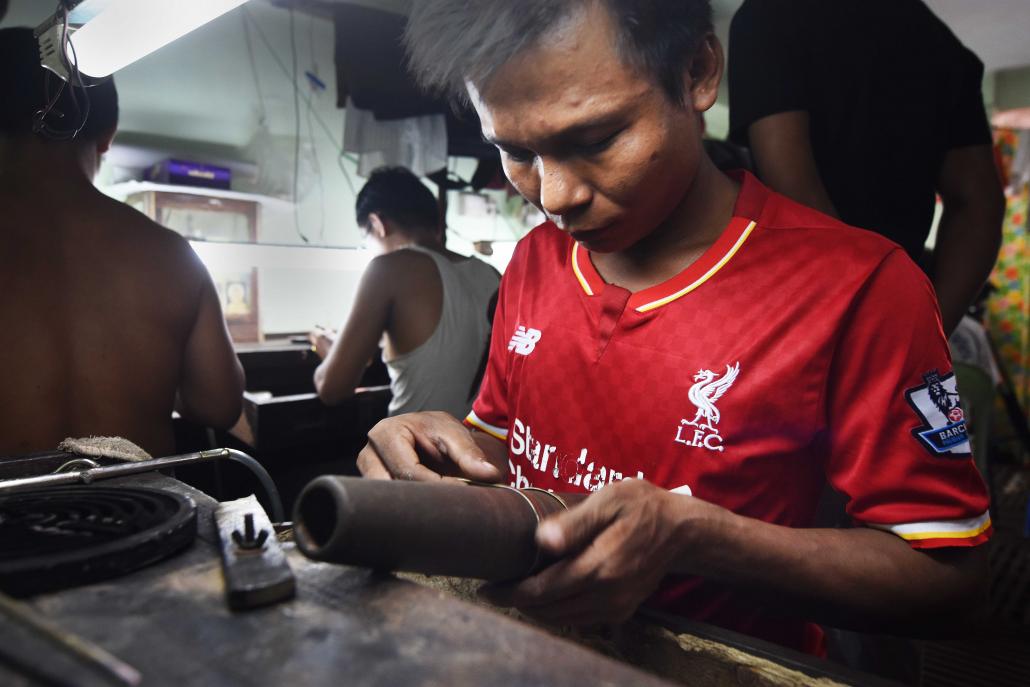 He said sellers and buyers prefer machine-made jewellery because the production process is faster and minimises gold losses.
As an example, Than Shwe said that when the shops commission him to make a piece of jewellery using the pantain technique, they give enough gold for the item plus three yway lay (one yway is the equivalent of 136.075 milligrams or 2.1 grains).
When a customer buys the item, they pay for the actual weight, plus the craftsman's fee and double the loss of gold – typically six yway lay for a handcrafted item.
However, if the item was machine-made, the losses would be just one yway lay, so customers save the equivalent of four yway lay on the purchase price.
"For these reasons, the business is falling," he said, adding that the amount of jewellery made at his workshop was down by about 50 percent since it peaked in 2000.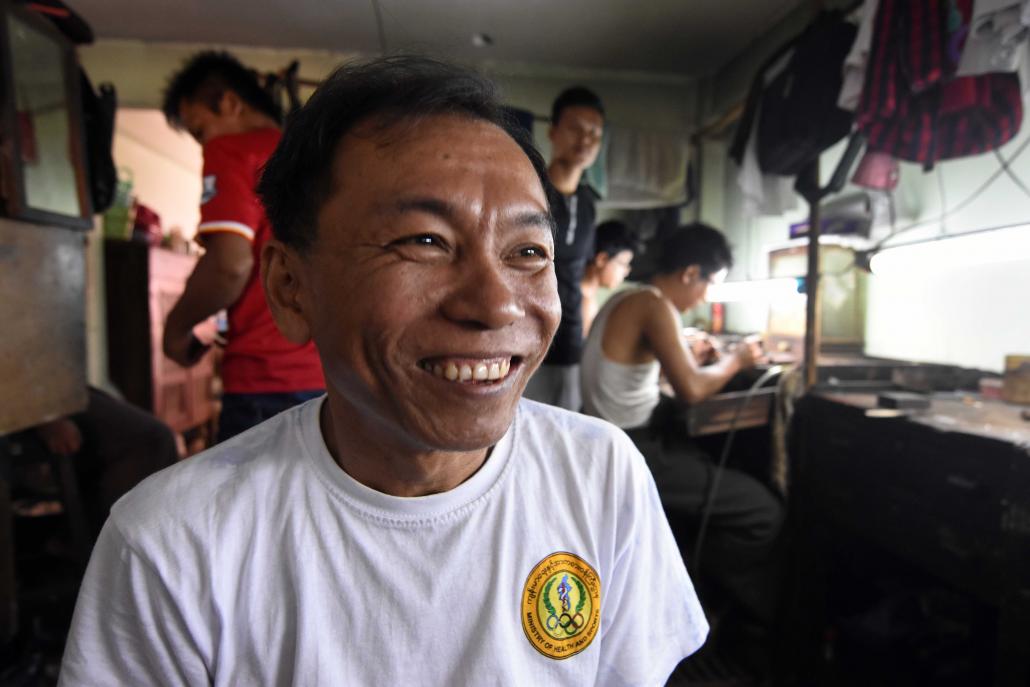 About 90 percent of the jewellery on sale in Myanmar is believed to be machine-made, says Turquoise Mountain, an NGO working in partnership with the Suu Foundation to promote and preserve Myanmar's traditional crafts and heritage buildings.
"Traditional goldsmiths have to learn new skills because machine-made jewellery is killing the middle men," Turquoise Mountain's country manager, Mr Harry Wardill, told Frontier on January 19.
Turquoise Mountain, which has its headquarters in Edinburgh, Scotland, and also operates in Afghanistan and Saudi Arabia, has been training a new generation of goldsmiths in Myanmar, some of whom are women.
Wardill said jewellery made using traditional craftsmanship has a future because younger generations appreciate the value of hand-made jewellery and are demanding more intricate, complex and meaningful designs.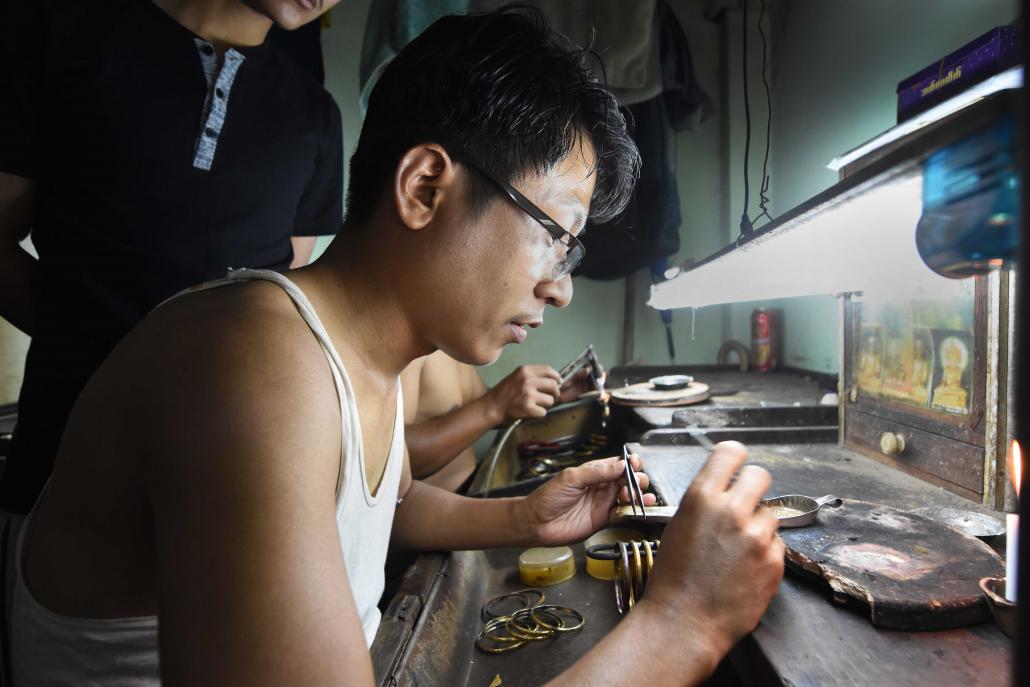 Yangon's inaugural gems and jewellery fair from January 11 to 14 was aimed at creating an international market for finished or value-added products.
U Aung Myint, vice-chairperson of the Yangon branch of the Gems and Jewellery Enterpreneurs' Association, which organised the fair, said the industry needed more skilled goldsmiths.
"There are enough middle-level craftsmen for the domestic market, but for the international market we need more highly skilled people," Aung Myint told Frontier during the fair. "Learning new skills will be vital for the survival of traditional craftsmen."
TOP PHOTO: Trainee Naw Magnolia practises her craft at a Turquoise Mountain jewellery workshop. (Steve Tickner | Frontier)