Weavers of traditional textiles in Mandalay Region have joined forces in an attempt to counter a threat to the industry from cheap copies imported from China and India.
By KYAW YE LYNN | FRONTIER
WEAVERS AT Amarapura have formed an association representing hundreds of small and medium weaving businesses in Mandalay Region to confront a threat from cheap copies of traditional Myanmar textiles being imported from China and India.
The weaving industry based at Amarapura is a leading producer in Mandalay Region of traditional Myanmar attire as well as high-quality silk and cotton fabric for the domestic and export markets.
However, the market is being undermined by cheap imported garments, some of which sell for less than a quarter of the price of the intricately woven silk and cotton creations made laboriously in the traditional workshops.
In response to the threat, a cluster of weaving businesses representing Amarapura Township was restructured on December 9 to form the Mandalay Weaving Businesses Association, said its secretary, Ko Min Swe.
The MWBA's first meeting was on December 15 and it currently represents 670 small and medium weaving firms in the region, Min Swe said.
The main reason for the restructure was to improve engagement with the authorities and industry groups, such as the Myanmar Garment Manufacturers' Association, as part of the effort to keep the industry stable, he said.
He said the idea was to create strength in numbers, so that it would be easier for weavers to secure loans and other forms of assistance.
Min Swe said the weavers mainly make longyi and htamein – traditional sarongs worn respectively by men and women – but added that the MGMA had recently suggested that they diversify and begin making other garments, such as shirts.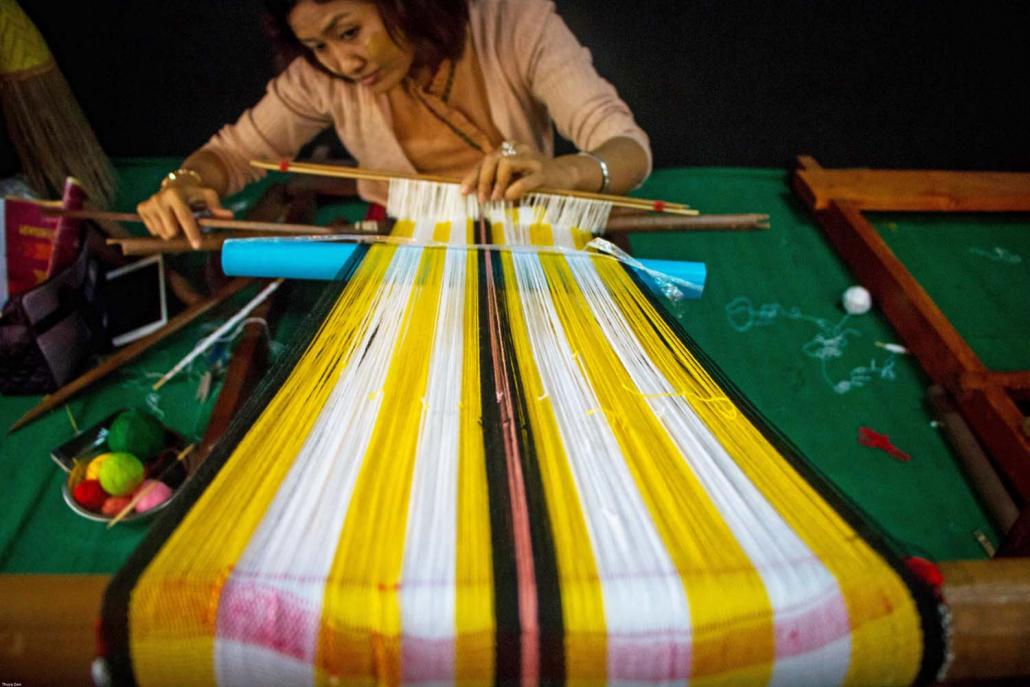 Amarapura and Wundwin in Mandalay Region are renowned for their traditional textiles, including the shimmering, detailed lun yar kyaw silk cloth that sells for between K80,000 to K1.5 million for each sarong-sized piece.
But weavers say the industry has been seriously affected by cheap, low-quality silk copies of traditional Myanmar designs from China and India.
U Zaw Win, who owns the Royal Nadi weaving business at Amarapura, said it takes up to 15 days to create new designs using traditional weaving machines.
"However, we found that the same designs are available on the market a week later," he said, adding that the copies were made in India and China.
Garment factories in India and China can easily imitate the designs of Myanmar traditional silk by using digital weaving machines to make copycat textiles, Zaw Win said.
"They can go from design to mass production in a short time," he said, adding that although the designs were the same, the quality and prices of the imported cloth was low.
He cited as an example the kyo gyi cheik silk that Royal Nadi sells for K120,000 per piece but is competing against copied imports that sell for up to K30,000.
"That's one reason why our business is nearly at a standstill," said Zaw Win.
The weaving industry needed modern machinery to compete against cheap imported copies but it also had a duty to preserve "our traditional crafts", he said. "We need to find a way to expand our businesses."
Daw Aye Aye Than said she always feels a bit guilty when the silk sarongs crafted in her weaving workshop in Amarapura are featured at trade shows in Myanmar or overseas.
"I should be proud of our traditional crafts and designs, but instead I am sheepish," she said.
The reason is that, in common with many other weavers, her business relies heavily on silk and cotton thread imported from China and India.
"Locally produced raw materials don't meet the standard we need to produce high-quality cloth, so we have to use imported raw materials," Aye Aye Than said.
The use of imported thread means that the cloth is not genuinely traditional, she said.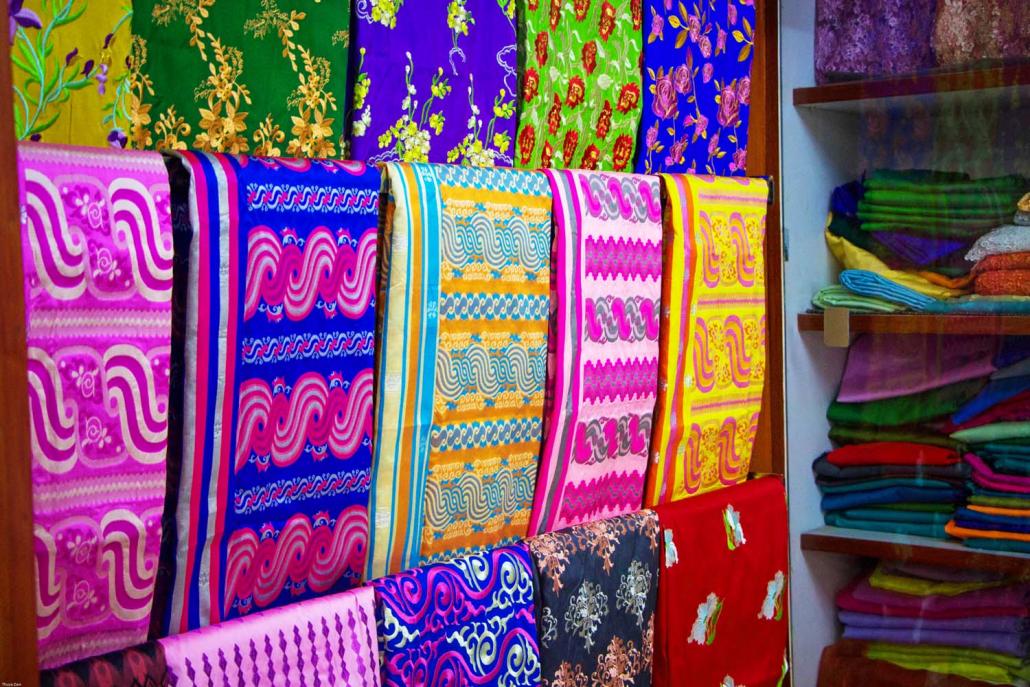 The decline in the value of the kyat had resulted in higher raw materials costs and had also affected buying power in the market, she said.
"The price of silk thread recently reached K200,000 a pack [a medium-sized bag of thread] and cotton thread is about K50,000 a pack," Aye Aye Than said, up from K150,000 and K45,000, respectively, in early 2018.
The government should encourage farmers to grow cotton and invest in cotton production to support the traditional weaving industry, she said.
"Our businesses are totally reliant on China and India for raw materials."
Min Swe supported Aye Aye Than's call for investment in raw materials production.
"A stable raw materials market is vital if we want to expand our businesses," he said.
This article was first published on https://investmyanmar2019.com/. The Invest Myanmar Summit 2019 will be held in Nay Pyi Taw on January 28 and 29.
TOP PHOTO: Thuya Zaw | Frontier