A French fashion entrepreneur has found satisfaction and success designing clothes and accessories made from cloth created by artisan weavers.
By LOREN LEE CHIESI | FRONTIER
IN HER Sanchaung Township studio with its ecru walls and earthy tones, Ms Sandie Guitart's style is effortlessly chic: a basic white tank-top that fits her form and loose, striped pants that she designed.
A visit to a Yangon weaving workshop during a trip to Myanmar in 2014 provided the inspiration that led eventually to Paloma Ya Ya, the clothing and accessories brand line she founded that year, which showcases natural, raw, hand-woven fabrics distinctively crafted in Myanmar.
Like many fashion stories, Guitart's began in Paris. She studied business management at France's leading fashion, design and luxury goods school, the Institut Français de la Mode, and worked as a buyer for high-end European brands. Her studies and experience honed her skill in choosing textiles, as well as the behind-the-seams business of fashion, such as marketing, creating price points and understanding consumer demographics. The experience that Guitart had accumulated proved to be invaluable when she established Paloma Ya Ya.
Fashion is not Guitart's only love. She also has a passion for travel and a special fondness for Asia and the visit to the weaving workshop in Yangon four years ago was a turning point. Women at the workshop were weaving handspun textiles on large looms and Guitart was transfixed by their diligent, artisanal work and inspired by the quality and craftsmanship of their products.
"Their talent and artistry was not lost on me.  I've seen the industrial method of textile making first-hand, but the techniques of the weavers here is very different, very special, and I was very impressed," Guitart recalled.
The workshop visit blossomed into the idea to establish Paloma Ya Ya. The name is a nod to both Guitart's European heritage – paloma is the Spanish word for "dove" – and the brand's home base ("Ya Ya" is a nod to Yangon).
Guitart partners with weaving workshops at Amarapura in Mandalay Region, as well as in Shan and Rakhine states, and uses cotton grown in Magway Region.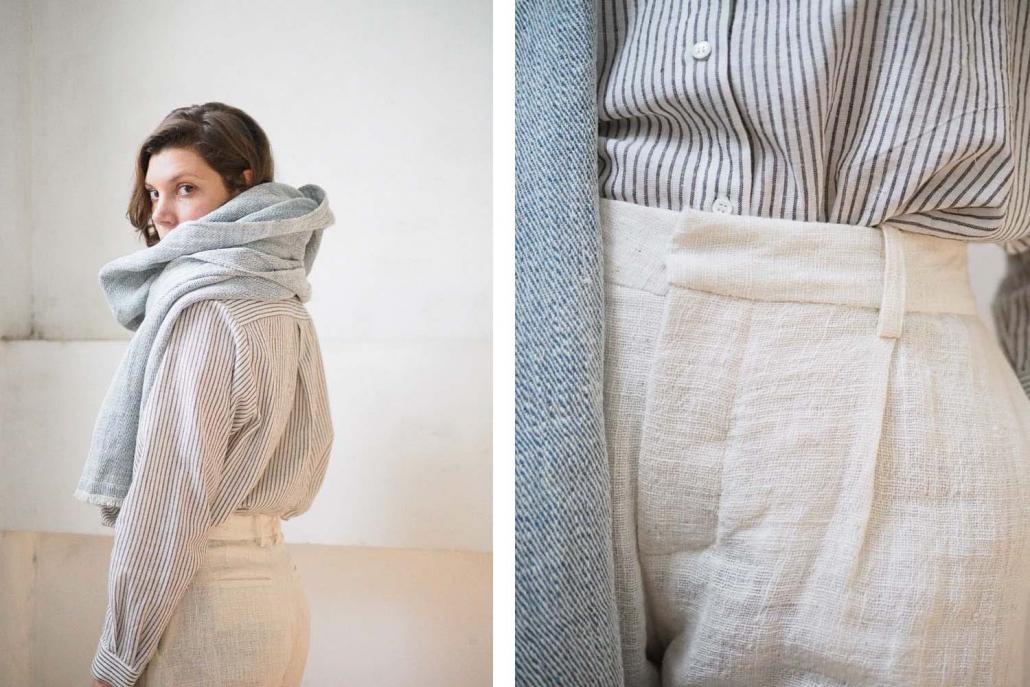 She often incorporates in her designs the intricate weaving patterns of ethnic nationalities, such as the Asho and Sone-Tu, which are Chin sub-groups, and the Mro, a Rakhine sub-group.
Guitart uses mainly cotton and other natural fabrics, such as silk and lotus fibres. Although she admires the form-fitting styles of the htamein, the name for a longyi worn by women, she prefers looser European designs to which, she says, Myanmar textiles are well suited.
"I am not like most designers," Guitart told Frontier. "Most designers think of the shape and design of the clothing first and then find a fabric that they can shape to the design. I am first inspired by the fabric, and then I create my designs to suit the fabric," she said.
A crucial aspect of the brand is Guitart's commitment to using environmentally safe textiles in her designs.
"There is nothing wrong with chemical dyes if you can process and dispose of them safely, but here in Yangon, we do not have the drainage system to do this," she said. "All those chemicals from the dyes would just go back into the rivers and lakes and they are harmful to people and natural ecosystems."
Guitart uses fabric made with natural, plant-based dyes or leaves the cloth untreated to accentuate its natural hues, a signature element of her design aesthetic.  Her commitment to environmental responsibility was rewarded at an event in China last December when Paloma Ya Ya won the "Best Value" prize at the Shenzhen International Ecologic Fashion Design Contest.
Although her passion is apparel design, Guitart is planning to expand her business to include home wares and décor designing. 
Guitart said the idea came from meetings with hoteliers in Myanmar, who told her they had to source fabrics from China, Thailand and Vietnam because domestically made products were not available. "This is my focus now," she said.
Guitart is working on designs for uniforms, bed linen, cushions and other décor accessories for use in the hospitality industry. The project has involved sourcing domestically woven textiles that are more durable than usual because they need to withstand repeated immersion in the big washing machines used by hotels. Guitart says the project has expanded her knowledge of weaving techniques and admits facing challenges, though there's one aspect of her work that she finds very satisfying.
"Although everything in this brand is designed by me, the work and the material is all made in Myanmar, and I'm very proud of that," she said.
Guitart's collection may be viewed at www.palomayaya.com. Visits to her retail outlet in Sanchaung are by appointment and may be arranged by emailing sandie@palomayaya.com
TOP PHOTO: Supplied