In the first of a series profiling Myanmar's leading responsible tourism businesses, Frontier meets enterprising tourist guide Myo Min Zaw, who went to Italy for professional development and returned with an altruistic idea.
By SHA MIAO | FRONTIER
IN 2015, freelance tourist guide U Myo Min Zaw attended a two-month tourism development course in Bologna, Italy. A ride in a gondola during a visit to Venice gave him an idea.
In October 2017, two years after returning to Myanmar, Myo Min Zaw launched the Inle Canoe Lady project; he describes the canoes as the "Gondola of Inle Lake".
The project enables women who work in cheroot workshops at Inle Lake's Pauk Par village to earn extra income in their spare time by paddling tourists around attractions at one of the country's top destinations.
Myo Min Zaw has created an ethical business model that not only provides women with opportunities to earn more, but also reduces the noise pollution, oil leaks and damage to wooden stilt houses on the lake caused by boats with combustion engines.
In early December 2018, the project won the prize for Best Tourism Product for Empowerment at the Myanmar Responsible Tourism Awards presented by the Myanmar Responsible Tourism Institute.
Myo Min Zaw, 41, chose Pauk Par, in the southeastern corner of Inle near Nam Pan, because he had been struck by both its beauty and the lack of economic opportunities for women. "When I see the village, there are only a few people who are benefitting from tourism," he said.
He modified the design of the traditional canoes used by the Intha to make them bigger, safer and more comfortable for tourists. The craft used by Inle Canoe Lady also feature traditional decorative carvings.
With the cooperation of travel agencies, a simple promotional brochure that Myo Min Zaw designed himself and much praise from visitors, more than 800 tourists experienced the Inle Canoe Lady project in 2018.
"Rolling cheroots is the only work for women here, unlike for men, who can be fishermen," said Ma Htwe, 35, who has worked in a cheroot workshop for six years. "Now I can earn good income from the canoe; it is also good for my family."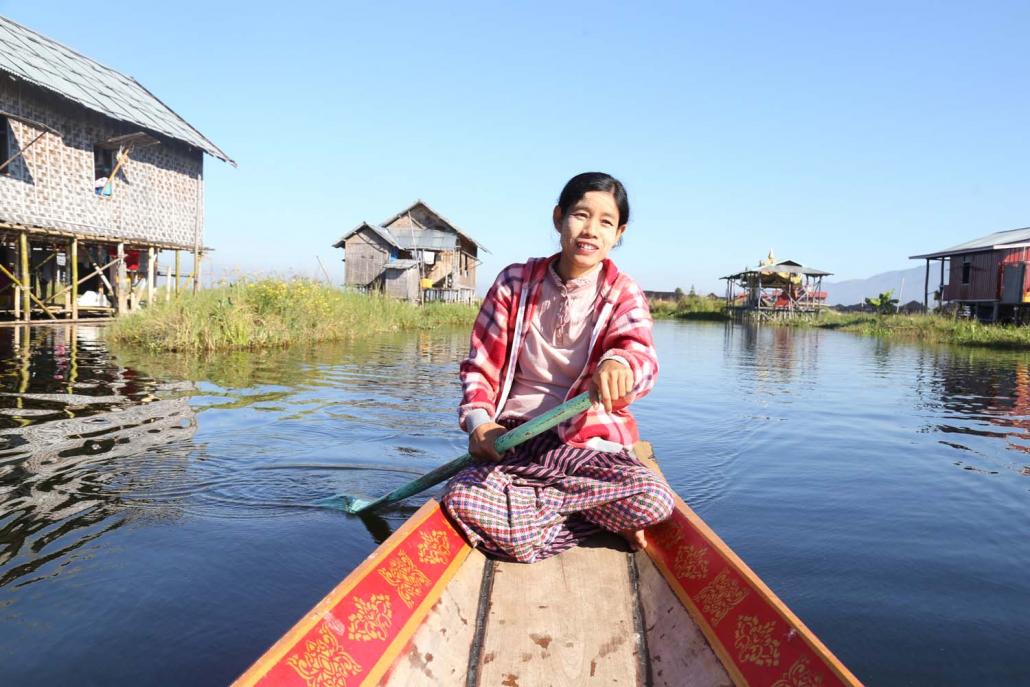 Myo Min Zaw says many tourism products in Myanmar are similar and the industry needs to be more innovative. If products such as the canoe project could encourage tourists to stay longer at Inle Lake, the local people would benefit more, he told Frontier.
Travelling by canoe through Pauk Par village past buildings perched on stilts is a pleasant, soothing experience. There's a kindergarten filled with children's laughter, and further out in the lake, the golden Phaung Daw Oo pagoda. Travellers can also be paddled to another of Myo Min Zaw's innovations.
With permission from the authorities, he has built a floating post office at which tourists can send postcards. He is also building a museum devoted to the various types of fishing nets used in the lake so that visitors can develop an appreciation of the importance of fishing in Intha culture.
The enterprising Myo Min Zaw is also planning to establish a "coffee buffet" in a cheroot shop at which tourists will be able to savour various types of Burmese coffee while enjoying the lake views.
The shop's owner, Ma Thwe Thwe Moe, is impressed by Myo Min Zaw's ideas.
"He has ideas that other people can't imagine," she said. "In the past, people didn't know this place [Pauk Par], but since the Canoe Lady project began being advertised, many tourists come here."
Myo Min Zaw has also founded a non-profit organisation called Tourism for All Myanmar, which mainly comprises local tourist guides. The organisation supports tourism development in rural areas and also arranges free trips to sites such as Shwedagon Pagoda for children from low-income families.
Myo Min Zaw said 90 percent of the profit from Inle Canoe Lady last year went to the women who paddle the canoes.
"We work as tour guides not only for money," he said, " but also to help others."
About this series
This is the first in a series of articles profiling the winning entries at the Myanmar Responsible Tourism Awards, of which Frontier was a sponsor. Each issue for the next three months we'll be meeting the founders of an award-winning tourism enterprise to learn about their approach to responsible tourism and what inspires them to take care of the communities in which they work. The awards were announced on December 11, 2018. For more information visit: https://myanmartourismawards.wordpress.com/
TOP PHOTO: U Myo Min Zaw stands in front of a sign for Inle Canoe Lady, which he was inspired to establish after a visit to Venice while studying in Italy in 2015. (Sha Miao | Frontier)