Yangon's water bus may not yet be a viable alternative to commuting on the bus or train, but it does make for a pleasant day out.
By OLIVER SLOW | FRONTIER
A FEW weeks ago, I left Frontier's office in downtown Yangon at 4.30pm, confident I would arrive for a meeting in Insein Township at 6pm.
I really should have known better.
At 5.45pm, having been stuck at Hledan Junction for 30 minutes, I sent the person I was meeting a courtesy text. "Stuck in a bit of traffic, likely be 10 minutes late or so."
"No problem," came the response.
Fifteen minutes later, I sent an update: "Hardly moved. Make that 20."
Again, the response was sympathetic to my apparent tardiness.
By 6.30pm, we had crawled over the junction at Hledan, but were stuck behind half a dozen buses on Insein Road. The windows on the taxi would only partially close, and we were stopped adjacent to some open bins.
As a point of courtesy, I decided to phone ahead to explain the situation. He laughed and insisted he understood, although I could sense a hint of frustration growing in his voice.
Another 20 minutes later we reached Parami Road. I sent another update: "Nearly there, 10 out."
The response was immediate. "I have another meeting. Best we cancel."
It's fair to say that at this point I was not in the best of moods.
Which explains why I audibly chortled when a few days later a friend suggested spending the following Saturday exploring the sights of Insein.
Besides, what exactly were the "sights" of Insein?
"Well there's the prison," my friend responded unconvincingly (it doesn't do tours, we checked). "And apparently a few nice churches to see."
But my skepticism grew at her next comment. "Plus, there's the new water bus that goes there."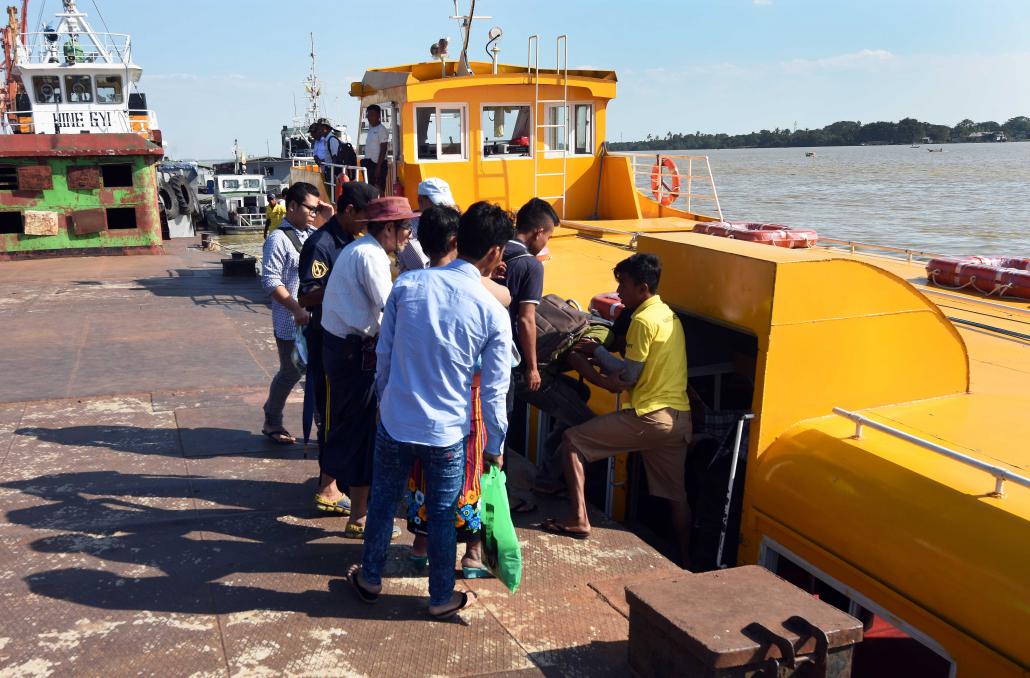 I had read about the launch of the Yangon Water Bus in October – we covered it in these pages – but I wasn't confident it would make for an enjoyable day trip.
After the chaos surrounding the launch of the Yangon Bus Service, and didn't hold out much hope that this new transport offering would fare any better.
Having grumbled too many times that there weren't enough things to do in Yangon at the weekend though, I eventually relented. So, on a recent Saturday morning, I found myself at bustling Botahtaung jetty.
It's not something I like to admit, but my cynicism on this occasion was entirely misplaced.
The water bus has two boat types: smaller ferries that make the journey from Botahtaung to Insein in about two hours and a large, Australian-made "express" vessel that makes the same trip in just over an hour. We chose the latter option, which was due to depart at 9.40am.
Express tickets are K1,400 each way, and the service stops at five jetties – Botahtaung, Pansodan, Lanthit, Kyimyindaing and Shwe Padauk – before reaching Insein. More stops are planned in the the future.
As we boarded, I admit that I was overcome by a child-like excitement. It was clear that the dozen or so other passengers shared my enthusiasm. All those I spoke to were on the boat for a leisurely day out, rather than commuting. They included six elderly Sino-Myanmar men visiting some friends in Hlaing Township, and a young mother taking her children on the short trip to Lanthit jetty, just so they could see Yangon's riverfront for the first time.
The boat was spacious and clean. Downstairs is an air-conditioned lounge with comfortable chairs, while the upper deck is open and has another smaller air-conditioned room. Really, the only questionable element is an advertisement for an Australian tourism destination showing a goofy-looking foreigner in snorkelling gear. A basic selection of food and drinks is even available onboard.
At the opening ceremony for the Yangon Water Bus on October 6, Yangon Chief Minister U Phyo Min Thein said – perhaps overoptimistically – that it would help to alleviate the city's traffic woes by offering an alternative to buses and taxis.
There are plans to expand the fleet, and add services along Nga Moe Yeik Creek in Yangon's east, and from downtown to the real estate developments of Pun Hlaing in Hlaing Tharyar Township and Star City in Thanlyin Township.
Given many passengers seem to be using the service for leisure rather than commuting, there has been some skepticism about the commercial viability of YWB.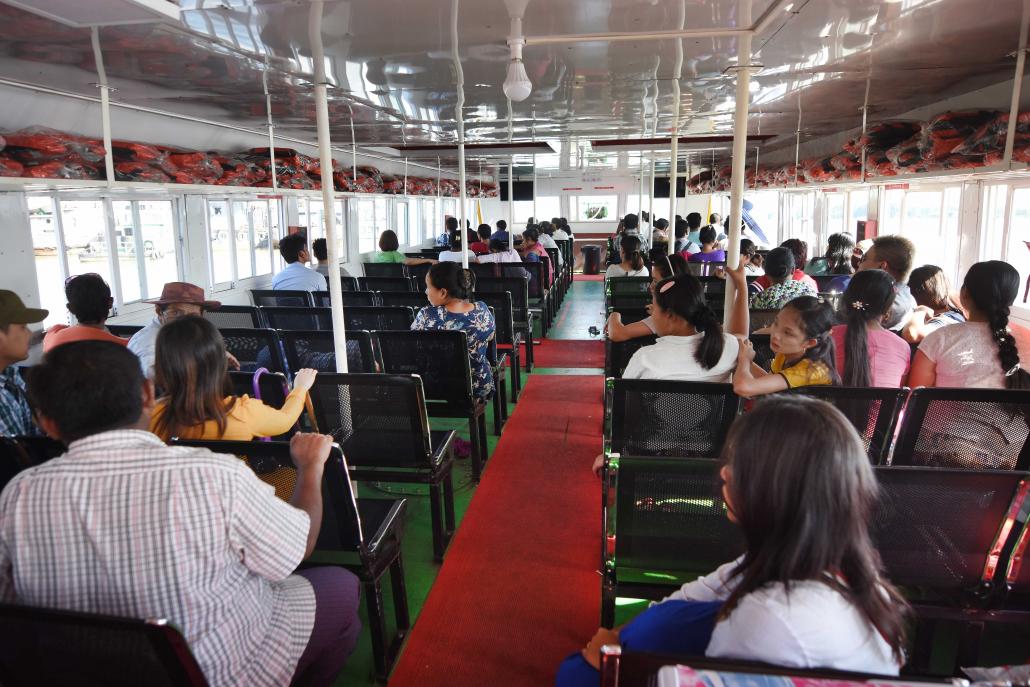 In my experience, it's a pleasant, comfortable and relatively speedy way to travel. An expanded service could offer a real alternative to people wanting to get from Yangon's northern suburbs to downtown.
The plan for our day out was to take the boat to Insein and spend a few hours exploring the area before taking a taxi across the river to get some lunch at Pun Hlaing. After that, we planned to travel across the river again and catch the train back to Yangon Central.
At precisely 9.40am, the engine puttered to life and we departed Botahtaung jetty, rolling westwards and taking in the grand buildings along Strand Road.
After a quick stop at Pansodan and then Lanthit, the commercial buildings made way for shipyards at Ahlone. To the west we could see the paddy fields of the delta – a welcome reminder of just how close rural Myanmar is to the city's edge.
We then cut north past more ports and the thriving San Pya Fish Market at Kyimyindaing, where the hustle of commercial activity and smell of fish wafted over our vessel.
After passing the endless industrial sites of Hlaing Township we reached the jetty at Insein, arriving shortly before 11am – a journey of an hour and 20 minutes.
Another plus about the service is that basic but pleasant cafes have been set up at each jetty; we stopped for a quick drink before planning our next step. I asked my friend where she wanted to begin our Insein adventure and she responded with what can only be described as a mischievous look.
"Shall we just hit the pool?"
Insein would have to wait for another outing. We took a taxi over the river to Pun Hlaing to eat pizza and sip beers poolside – a rather enjoyable way to spend a Saturday afternoon, it must be said.
Some friends of mine who are not as lazy as me have spent a good amount of time in Insein, and I'm reliably informed that the highlights include the market, the prison (for a quick walk up to the walls), and a handful of churches and small parks.
We did complete the final leg of the journey, however, crossing back across the river to take the train to downtown, rolling through the city's western suburbs just in time for a spectacular sunset.