This hilly township in southern Shan State has everything from pagoda-dappled mountains and waterfalls to prehistoric artwork.
By DOMINIC HORNER | FRONTIER
Note to readers: Frontier does not encourage non-essential travel within Myanmar at this time, while the country struggles with a surge in confirmed COVID-19 cases. People infected with the virus may show no symptoms, and travel risks spreading it to communities with limited access to healthcare. This article is for those who plan to travel after this risk subsides, when responsible tourism could aid the country's economic recovery.
Ywangan: a name that typically inspires a shoulder shrug or perhaps a "Ywang-what?" But this criminally underexposed destination in southern Shan State deserves heaps of recognition as a rural beauty brimming with possibilities for unorthodox adventure.
Despite being just two hours north of crowd-puller Kalaw, Ywangan has remained off most travel itineraries, with need-to-know information scattered in dribs and drabs across the web. Yet the eucalyptus-lined lanes that surround this little town lead to blue and white lagoons, prehistoric cave paintings and stunning hill-temples. Its scorching summers and mild winters also make it the source of arguably the best Arabica coffee in the country.
Main Ma Ye Tha Khin Ma Mountain
It can be easy to think you have had your fill of pagodas on sightseeing tours of Myanmar, but make an exception for this hilltop complex. Roughly translated as "Brave Woman Mountain", its steep stairs wind to towering standing Buddhas that offer perches for breathtaking vistas and beautiful sunsets.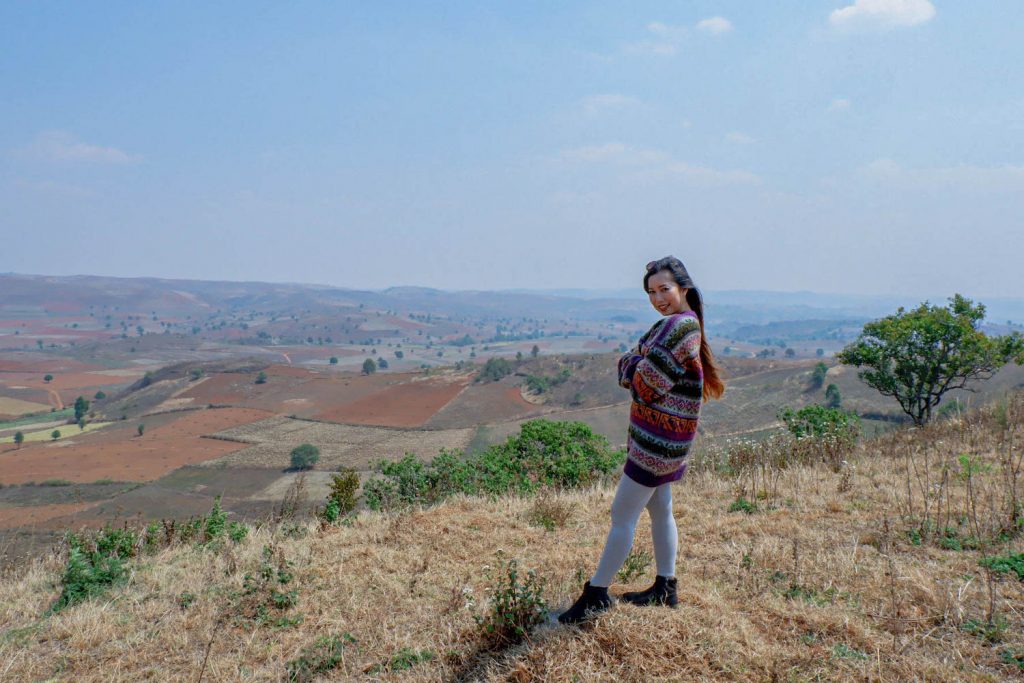 Myin Mu Hill
On route to Main Ma Ye' Tha Khin Ma, consider a quick diversion (turning here: 20.814125, 96.612420) to the top of this hill and take in the sweeping Shan countryside, best viewed after the rains, when the farmlands blossom into a rich tapestry of oranges, yellows and greens. There's not much else to do once you've arrived at the viewpoint, snapped a few arty panoramas and breathed it all in, but what more would you need?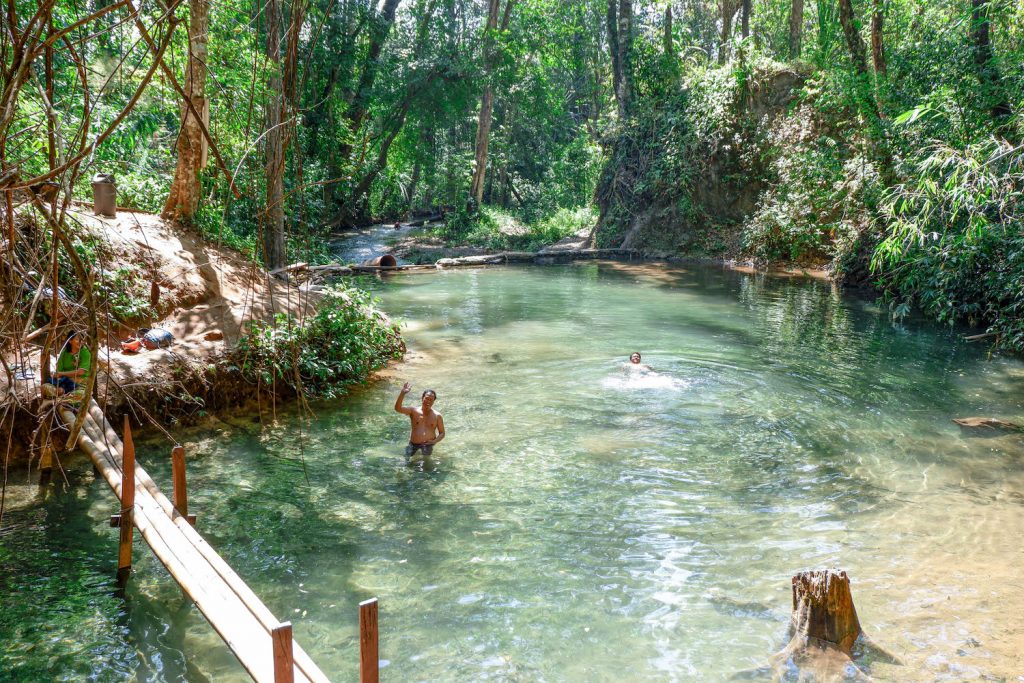 Taw Kyal Waterfall and the blue lagoon
More about the scenery than the swimming, Taw Kyal is a small waterfall off the main road to Ywangan. There's a pleasant lake area with teashops and food stalls near the car park, where visitors begin a lovely stroll past potted flowers down to the falls. Splash around for an hour or two in the fun swimming hole before crossing a bamboo bridge over the main falls.
The blue lagoon is just a few minutes past the lake at the main entrance (the opposite way to the falls). While it's inviting blue waters glow like stained glass, swimming is banned here – perhaps to conserve its beauty or just to avoid drowning incidents. Either way, the ban makes it a five-minute attraction. Have a look, say something to the effect of "ooh very nice" and take a photo. Then leave.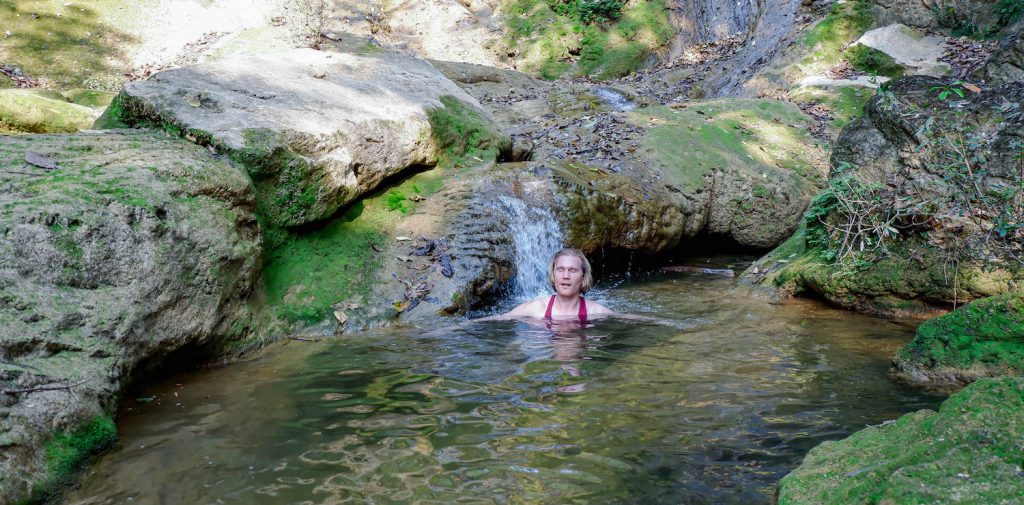 Ale Chaung Waterfall
The 20-minute walk to the falls through the jungle is pretty regardless of the weather, but be warned: during the monsoon months of June to October, when the waters surge down the mountain, it's too dangerous to swim here. At the height of summer (March to May), the cascade turns to a trickle, leaving only a couple of small pools at the base of the falls for bathing. The goldilocks zone exists somewhere between November and February, when the waters will be neither too wild, nor too tame.
Ta Lote Cha Waterfall
Compared to the leisurely countryside ambles of Ale Chaung and Taw Kyal, Ta Lote Cha is more of a hardy, hilly one-hour trek. The road is mostly churned soil and scattered rocks, but the falls are more than worth it for their splendour and swimming. The spring water is bracingly cold – perfect to plunge into after that sticky schlep down the mountain.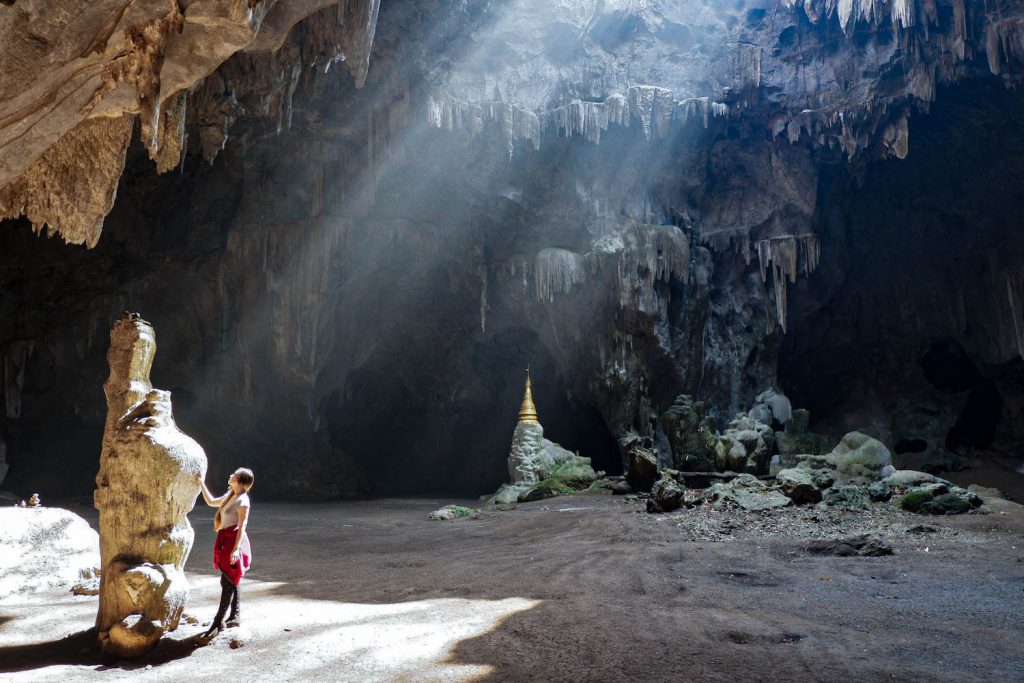 Padah-Lin Caves
Though the limestone caves are fun to explore, and the shafts of light beaming through the openings and onto the rock formations is atmospheric, what truly sets Padah-Lin apart is the prehistoric paintings. Believed to have been made about 13,000 years ago, the red ochre drawings (a sun here, a fish there) provide a rare glimpse of Stone Age Burma. You don't need to be a history buff to get tingles.
Getting to Padah-Lin requires a bone-shaking 90-minute jeep ride down a steep rocky mountain road, including a brief pit stop to allow the engine to cool. It isn't cheap either: expect to pay between K130,000 and K150,000 for a driver (ask at Shwe Gu Gu Hotel in Ywangan).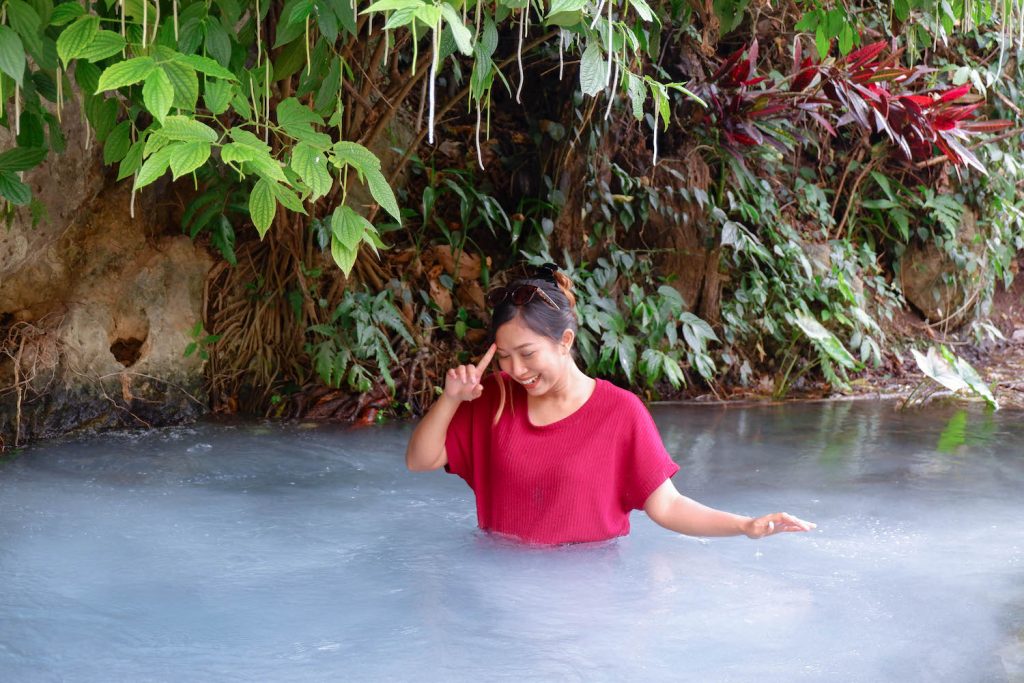 Yay Phyu Kan (aka the white pond)
A half-hour car ride from Ywangan, this creek (21.088403, 96.522328) has become a local attraction because of its white pond. Cream-coloured water flows from a hillside spring offering bathers that classic I-am-one-with-nature photo opp – though the swimming is poor in this shallow pond. If you really want a decent dip, follow the path past the pond to a more secluded bend in the creek, which offers a great picnic and chill spot.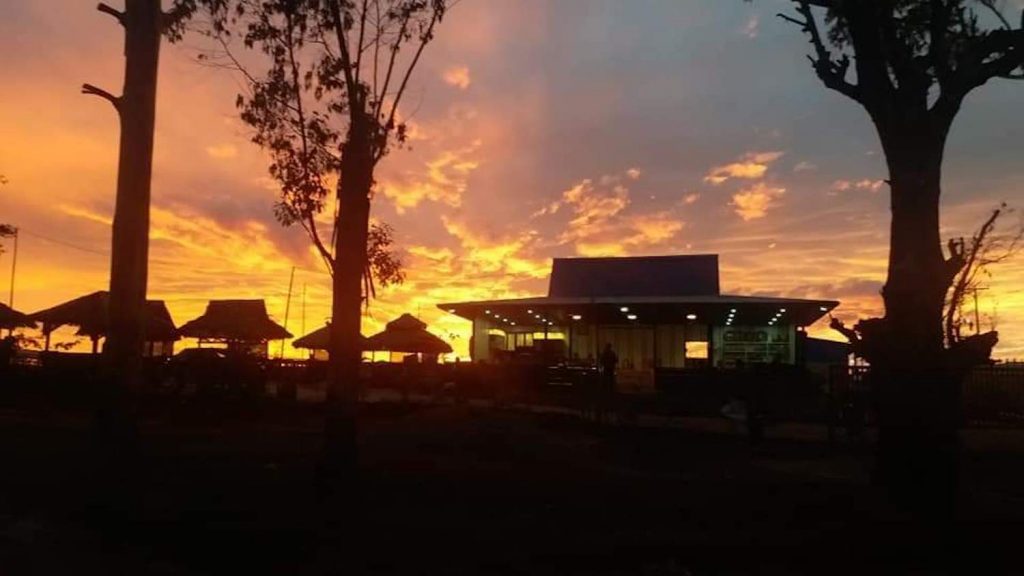 Genius Coffee
One of Myanmar's most recognisable domestic coffee brands, Genius Coffee has a plantation just outside of Ywangan. During harvest season from December to March it's possible to go on a tour that not only takes you through the bean-to-cup process, but also through neighbouring villages, past waterfalls and even to a barbecue at the end. While the tour is seasonal, the coffee shop and Genius Coffee's very own hotel in Ywangan, Genius Coffee Production, are open all year.
How do you get here?
From Yangon, take the 7pm bus to Aungban (it arrives at 5am), and from there take a car for the 90-minute ride to Ywangan. Shwe Gu Gu Hotel can organise a pick up for about K40,000. If time is tight or overnight buses are not your thing, fly to Heho and hire a taxi from there.
From Kalaw it's about 90 minutes by car.
From Heho it's two hours by car.
From Mandalay it's three to four hours by car through the mountains.
How long will you need?
About four days to see and do everything.
Where do you stay?
With attractive well-maintained bungalows and a good breakfast, Shwe Gu Gu Hotel (+9592061051) is a solid option (K30,000). Genius Coffee (+958168079) also has its own digs in town (K40,000). I haven't stayed there myself, so I can't tell you anything about the rooms or breakfast but I'll wager the coffee's pretty decent. For more information on tours and accommodation visit the Genius website: www.geniuscoffee.info
Best place to eat?
Sein Naung So has a very exotic Chinese menu available. Pig's ears, anyone?
Best time to visit?
With the exception of the coffee tours and some swimming spots, everything in Ywangan should be doable year-round.