University students are volunteering to help the National Blood Center in Yangon stem a drastic decline in the number of people giving "the gift of life" during the pandemic.
By NAW BETTY HAN | FRONTIER
Like other regular blood donors, U Kyaw Aye, 45, used to arrive at the National Blood Center in downtown Yangon unannounced, register and then wait to donate. In June, he was surprised to receive a call from the centre to inform him that it had been four months since his last donation, and he could come and donate again.
It was the first time the centre had contacted Kyaw Aye, a taxi driver from Yangon's outer northwestern Shwepyithar Township who has donated blood 22 times since 2007.
The university student on the other end of the phone line told Kyaw Aye about the centre's new online booking system, which meant donors could have blood drawn almost on arrival. Kyaw Aye, who intends to be a donor until he turns 60, immediately realised it would be much more convenient.
"The volunteer offered to register me online, but I did it myself," Kyaw Aye told Frontier on June 30 as he rested outside the centre after his latest donation of "the gift of life".
But the introduction on June 22 of the online system was less about convenience than necessity. The fear of COVID-19 has stopped many people from donating blood, according to the centre, while social distancing rules also make group donations impossible.
---
---
But supplies are still needed for cancer, trauma and other patients. The centre separates donations into plasma, red cells and platelets before providing them to 13 public hospitals in Yangon Region, including Yangon General, Waibargi infectious diseases and North Okkalapa General. Yangon Children's, Yankin Children's and Yangon Central Women's hospitals joined the list early this year.
To reverse the worrying drop in donations, a group of university students is volunteering to raise awareness and encourage regular donors to visit as often as possible.
But they have a difficult task ahead. To the end of May, the number of donors stood at 33,692, a 24 percent decline on the 44,318 donors who gave blood during the same period last year. Unsurprisingly, most of the decline occurred in March, April and May.
The centre announced the numbers in a message to its supporters in May, saying that although patients had received transfusions, some "lengthy surgical procedures" had to be suspended because of a lack of blood.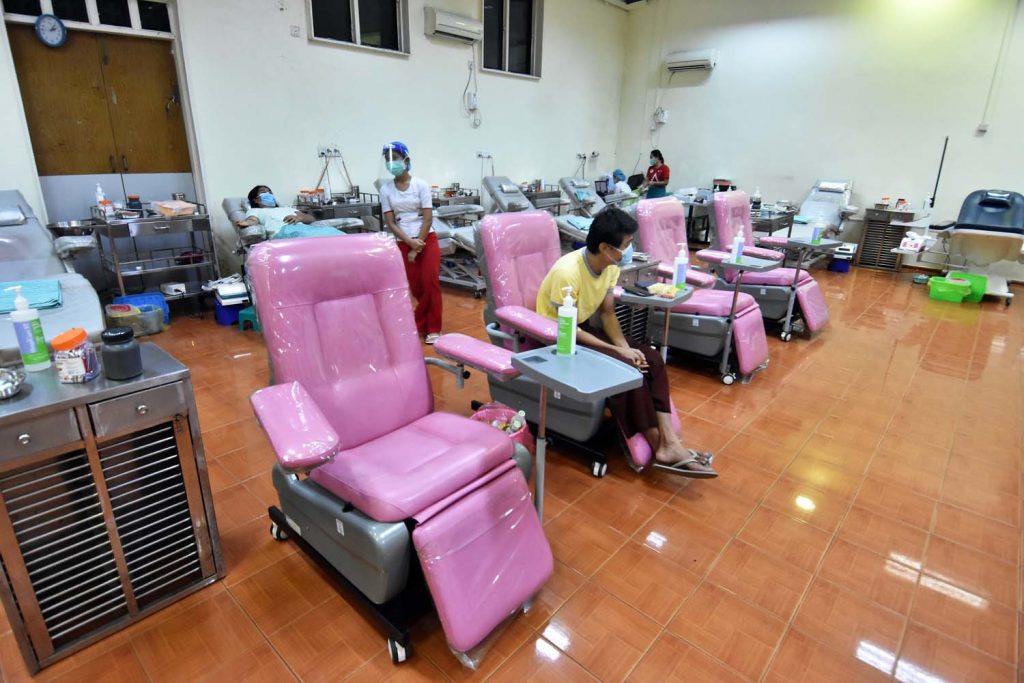 Celebrity power
Measures to combat the spread of COVID-19 have had a significant impact on donations. In April, the government announced a ban on gatherings of five or more people, which meant group donations were no longer possible.
Mr Hiro Konishi, a volunteer IT consultant at the centre, said it was a tradition in Myanmar for celebrities to bring groups of people to give blood. "Their traditional way of thinking is, 'The more people I can bring the greater I am', and it is very difficult to change the culture," he said.
"We were heavily dependent on these group donors, but it is not ideal in a time like this because it fills up the space with people and they would be too close together," he said, referring to social distancing guidelines. "Group donations have basically stopped and we do not recommend that people come in a big group."
Celebrities are still playing an important role in drumming up donations by using their social media pages to appeal for more people to donate as part of the centre's new "ambassador programme".
"Volunteer staff make posts on Facebook about the ambassadors, who already have many followers that we are able to reach through digital marketing to promote the centre and its work," said Konishi.
The centre had the capacity to accommodate 300 people at a time, he said, but this had been reduced to 50 pre-booked donors, who were "spread out" to reduce the risk of spreading COVID-19.
Meanwhile, donations collected by the centre's mobile units had almost stopped during the pandemic, falling from 200 or 300 donations a month previously to just 50, he added.
Aside from social distancing, the centre has imposed its own measures to combat COVID-19, requiring all staff, donors and other visitors to wear a face-mask or face covering.
About half of the centre's staff commute on public transport and were placed on "home stand-by" to minimise the risk of contracting the coronavirus. The other half, who stay at a dormitory at the centre, have been divided into two teams, of about 20 members each.
The teams work 12-hour days on a week-on, week-off basis and are accommodated in different buildings at the centre, where some meeting rooms and storage spaces have been converted into sleeping areas.
The separation means that if one team becomes infected with COVID-19, it can be quarantined and quickly replaced by another team on home stand-by.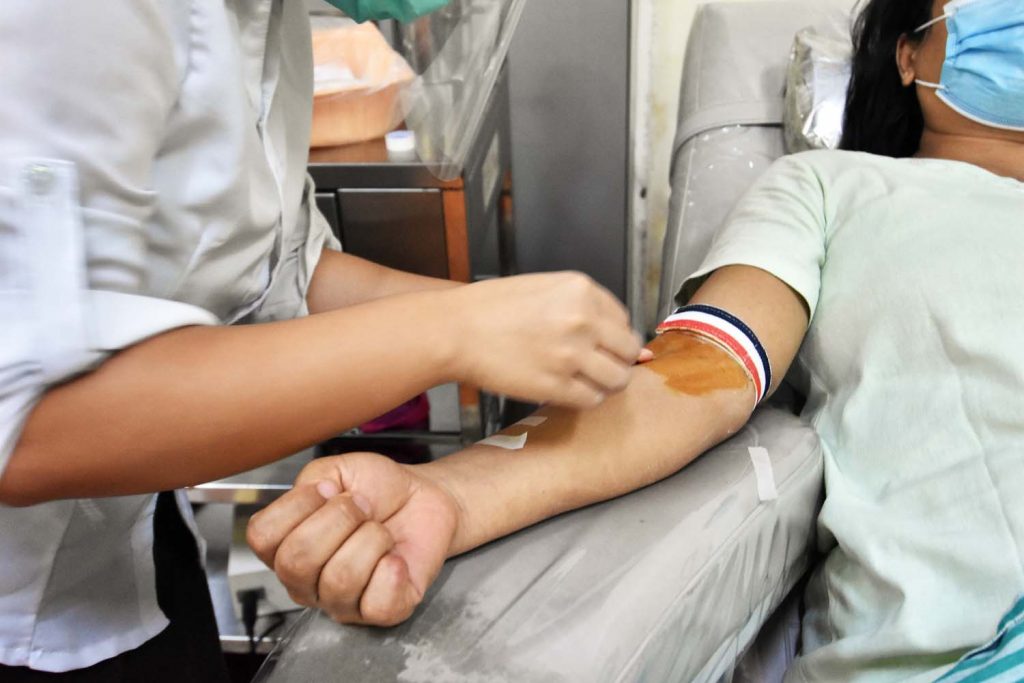 Student volunteers
The blood centre has received help from university students across Yangon, who have answered the call for more blood donations by not only giving blood themselves but also recruiting donors on their campuses.
Volunteers from the University of Medicine 1 Student Union make appointments for donors, and manage and explain social distancing rules.
The student union's president, Ko Sithu Aung, 24, said it was recruiting about 100 donors a week through its Facebook page and connecting them to the centre's booking system.
"We support the centre in two ways. The first is by recruiting donors from among our friends, family members and neighbourhoods,and through our Facebook page. Secondly, we help to manage the centre's online booking system," he told Frontier.
Sithu Aung said student unions at Yangon, Dagon and East Yangon universities also help to recruit donors and make donations to the centre.
University students had previously attended the centre in groups to donate blood once a year but since COVID-19 they were giving blood individually, he added.
Volunteers from his student union were planning to launch a "Red Rose" campaign in the first week of July to recruit more donors, he said, because they want to help patients in need of transfusions during the COVID-19 pandemic. The campaign will run until the COVID-19 threat is over.
"The Red Rose campaign is about love, caring, and having the courage to stand up," said Sithu Aung. "We medical students from the University of Medicine 1 are donating not just our blood but also our courage and goodwill during the pandemic."
Those interested in making an appointment to donate blood can message the National Blood Centre Facebook page or call its hotline on 01-372753. Donors must be in good health, at least 18 years of age and weigh at least 100 pounds (45 kilograms).