A mysterious powder made by spiritual healers in Yangon is claimed to be effective against serious illnesses but there is no evidence it is anything more than a placebo.
By JOSHUA CARROLL | FRONTIER
Photos MARO VERLI
U Win Maung, a shamanistic healer in Yangon, produced a small plastic bag containing spherical, beige pills and flung it nonchalantly on the floor in front of him. These little balls, he proclaimed matter-of-factly, can cure cancer, AIDS and malaria.
It is hard to tell if the 69-year-old believes his own nonsense. But many do, and they are willing to pay good money for the pills, said to contain a mysterious but ultimately useless substance known as Gold Ash Powder.
Up to 15 people a day trickle into U Win Maung's "healing centre" on Yangon's eastern outskirts, with ailments ranging from stomach upsets to diabetes and HIV. U Win Maung dutifully discusses their symptoms, diet and sleeping patterns before prescribing his panacea to each of them.
The centre says the powder is made by heating several metals, including gold, in a complex process that takes years and involves burying the substance underground.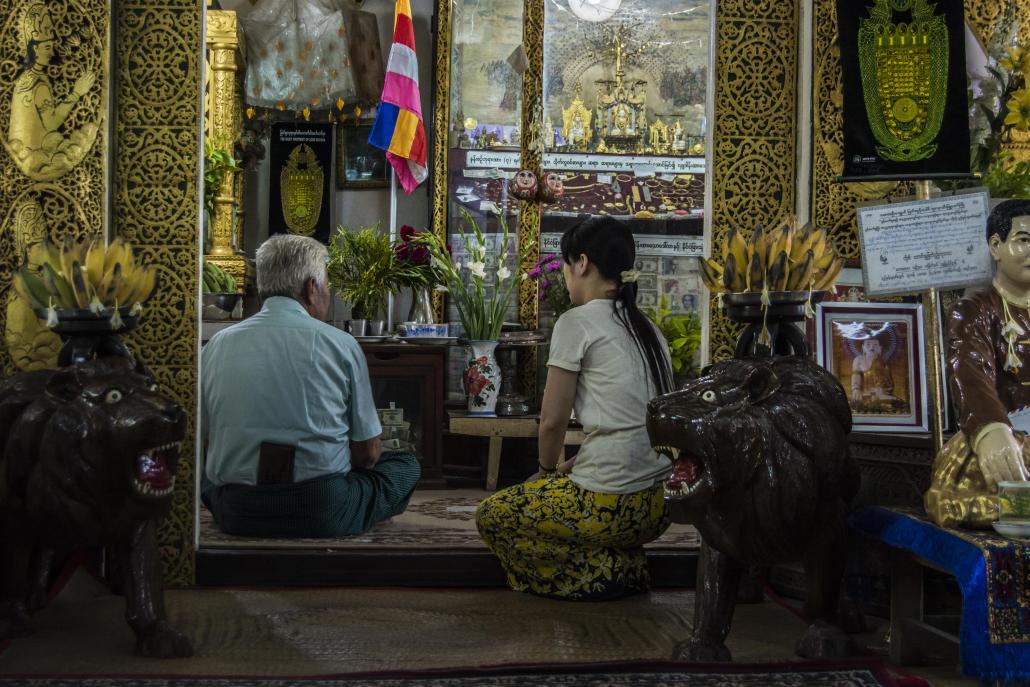 Over the years, the centre claims its patients have included senior military officers. One of them is the current Health Minister, Dr Than Aung, a former brigadier general, who was supposedly cured of diabetes with the powder.
"Don't eat beef or pork," U Win Maung told one patient, before sending her across the room to the centre's pharmacy, a low table where women dole out the remedy in powder and pill form.
It is not enough to take only the Gold Ash Powder. Patients are also instructed to follow a strict regimen that includes abstaining from alcohol and taking laxatives and diuretics. When the medicine doesn't work, U Win Maung and his fellow healers say it is because the patients didn't follow the regimen properly.
The healing centre has gained an international reputation because of western believers in shamanism who have posted videos and articles about Gold Ash Powder online. U Win Maung sees patients from throughout Asia, and occasionally from Europe and the United States.
"We've cured many, many AIDS patients," he said. As evidence he produces a dozen or so tattered "medical records" containing emails and handwritten thank you letters from patients around the world.
"I was completely cured," wrote a patient from Austria who said he had been diagnosed with AIDS in 1982. The letter does not explain how he was able to survive the illness until 1987, when the first antiretroviral drugs became available.
Frontier tried to contact him and some other patients listed in the centre's records who said they had been cured of serious illnesses, including a brain tumour. The phone calls failed to connect and every email bounced back with a "failed to deliver" message.
U Win Maung was asked to provide contact details of other former patients so they could share their stories of miraculous recovery, but he declined. Once patients are cured they never come back, he said, adding that the centre does not remain in contact with them. Asked how he knew they had recovered if the centre did not remain in touch, U Win Maung avoided the question and said he could not provide patients' contact details because they did not want to talk to the media.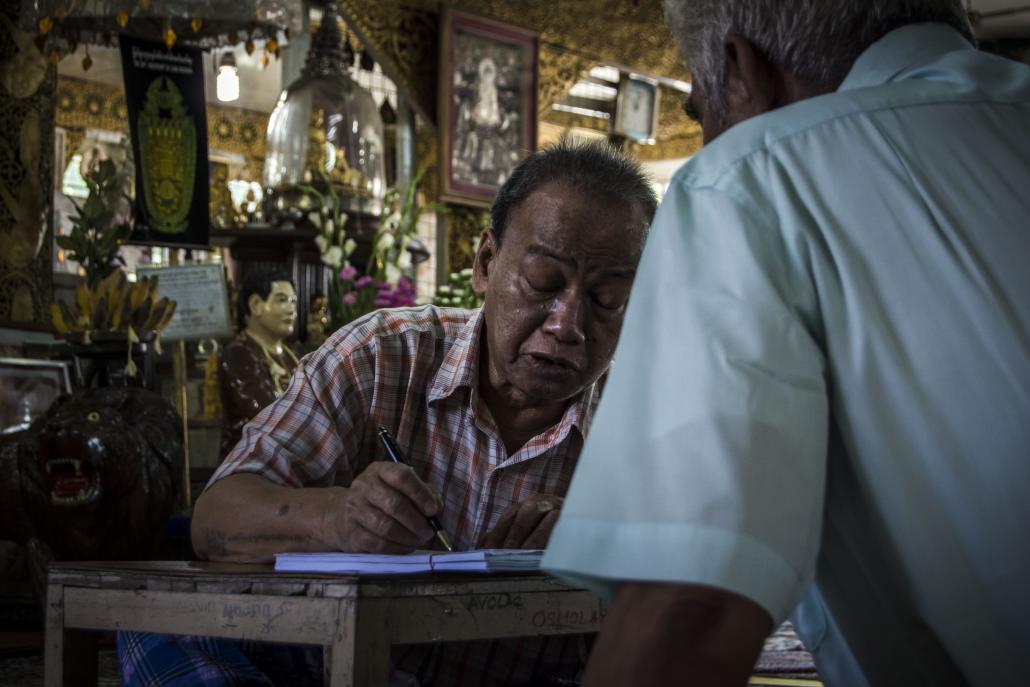 Reminded that he had just said that the centre did not have their contact details, the interview turned a little sour.
"You can come back to take pictures but don't cause any trouble," U Win Maung said as we arranged for a Frontier photographer to visit the centre.
Quasi-scientific tests offered as evidence for the effectiveness of Gold Ash Powder do not stand up to scrutiny. They include a document labelled "test results" headed with the logo of CME Swiss AG, a Switzerland-based company whose website claims to offer "medical and holistic systems … for monitoring the quality of life."
The results conclude the powder has a "general, positive influence on the cellular level and on the functions of the organ systems". Many would query the medical value of CME's testing systems. The company denies responsibility for report.
"Our company didn't do the report," said a man who described himself as CME's chief executive but declined to give his name when Frontier called. He added the result had probably been provided by an employee acting independently and CME had asked the healing centre in Yangon to stop using it.
U Win Maung may be unable to produce any evidence to support his claims, but that hasn't stopped people paying exorbitant sums for his medicine. Foreigners who can't make the journey to Yangon can order Gold Ash Powder from several natural healing outlets online. The price on one US-based website: $100 for a quarter of a teaspoon of the powder. Perhaps more mysterious than the alchemistic qualities of the powder is the question of where the money goes.
A now-defunct German shamanistic organisation used to sell the medicine in Europe on behalf of the centre, U Win Maung said, and sent back up to $10,000 a month. The group also took a cut for itself.
And other foreigners from Europe, Indonesia and elsewhere show up occasionally to buy the powder and pills in bulk, often spending around $1,000, the healer added. The centre also receives donations from grateful patients, he said.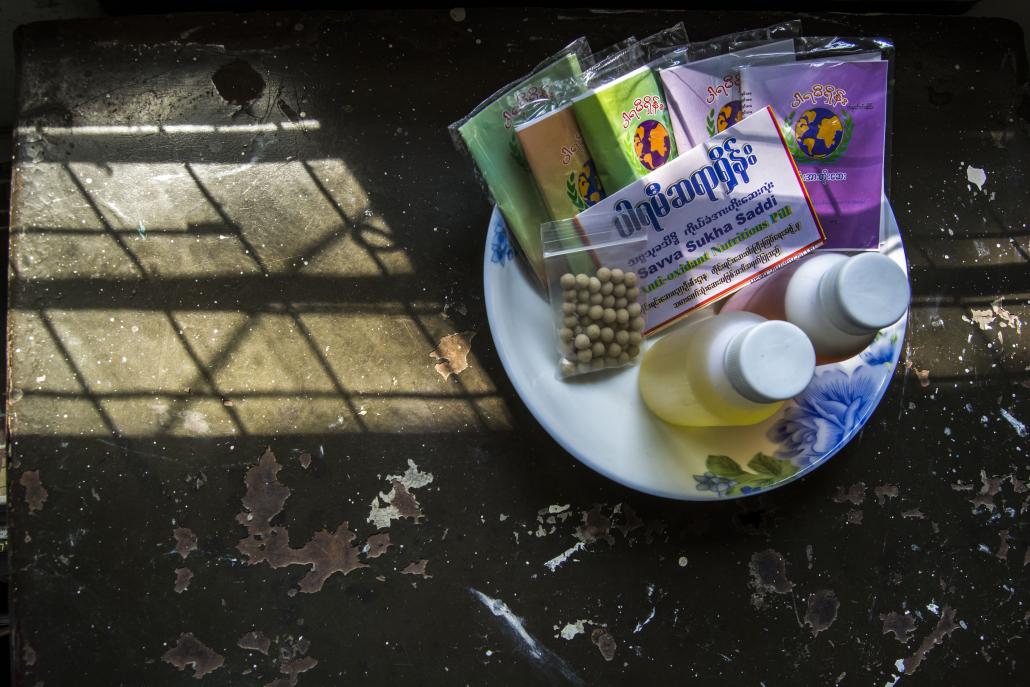 U Win Maung insists he is not running a business. Most of the money is donated to build pagodas, he said, including one called Aung Kyay Thar at Taunggyi, Shan State. After donations are deducted, the balance is used for expenses and upkeep and the staff are paid a modest salary. "I take K70,000 a month," he said.
The man who invented Gold Ash Powder, a self-described 'alchemist' called U Shein Sayagyi, had a more bombastic response to the question of money when I met him before his death in 2014.
The healing centre was lavishly decorated with gold Buddha images, statues of tigers and works of art, I noted, before asking where the money to pay for it all had come from. By way of reply he had an assistant bring a package bulging with donations in several different currencies. Without saying a word he tipped the package upside down and bundles of cash fell to the floor.