People living with HIV are finding it harder to access life-saving care due to civil war and a crumbling healthcare system, while also facing continued social stigma and discrimination.
By FRONTIER
Dozens of patients spill out of a clinic in Yangon's Hlaing Tharyar General Hospital, filling up a nearby corridor. They hold tokens, waiting for their number to be called, some sitting on chairs while others squat on the ground. Many of them look painfully thin and tired.
The patients are suffering from Human Immunodeficiency Virus and are waiting for the Anti-Retroviral Therapy drugs that help keep them alive.
The hospital's ART clinic is open every Tuesday, Wednesday and Thursday and provides the drugs for free. A security guard said that the clinic serves about 80 patients per daily session, which lasts around six hours.
"The clinic opens at 9am, but the patients have to come much earlier than that to get their queue number. Understaffing means the process is slow and they have to wait hours before they receive their ART drugs before the clinic closes at about 3pm," he said.
The long queues have become more frequent since the military overthrew the elected National League for Democracy government in February 2021. Under the NLD, state-run clinics would typically dispense ART drugs in bulk to patients every three months, but now patients must visit the clinics to receive smaller quantities each month.
"During the COVID-19 pandemic, the government even arranged for us to receive six months' supply of medicine at a time," said Ma Saw Mya*, 35, a patient at the Hlaing Tharyar hospital clinic who has been taking ART drugs for five years. She said having to queue every month was inconvenient, especially for those with jobs, because they must take leave.
"We are also anxious about the possibility of a medicine shortage," she said.
Healthcare and education have never been a priority for successive military regimes. The current junta is no exception, cutting healthcare spending to 4.7 percent of the national budget for the 2023-24 fiscal year, down from 6.9pc in 2020 under the NLD.
Medical specialists and volunteers who work with people living with HIV said that, with its meagre budget, the regime's health ministry is struggling to import enough ART medicine because the cost has increased with the depreciation of the kyat against the US dollar.
"The clinic has to calculate how much it can distribute to patients based on the medicine received from the regional level health department," said Ko Mya Thar*, who is HIV positive and volunteers at Hlaing Tharyar General Hospital. "I also rely on ART and we cannot miss taking the medicine even for hours, much less a day."
Crumbling healthcare infrastructure
Myanmar's public healthcare system has been in crisis since about 65,000 government medical personnel walked off their jobs and joined the Civil Disobedience Movement to protest the military's seizure of power in 2021. Some have returned to work, but tens of thousands remain on strike.
Dr Soe Min*, a CDM medical officer who formerly served in Nay Pyi Taw's 1,000-bed General Hospital, told Frontier that the CDM had a huge impact on the health ministry's National AIDS Programme, the public service supporting people living with HIV.
"All ART clinics under the NAP had to stop when hospitals closed because of the CDM. Many HIV patients faced a lack of ART and the junta's health ministry could not provide the drugs when they needed them," he said, although many NAP clinics have since reopened.
The NAP's annual report in 2019 said there were 136 public ART clinics and 37 operated by non-government organisations throughout the country. More recent figures are not available.
With public healthcare in disarray, those NGOs are now taking on even more of the burden.
"Our organisation has clinics in Yangon, Mandalay and Myitkyina. The number of patients increased after the coup because government clinics closed. We believe many patients never received their drugs because they didn't know about the clinics run by volunteers," said a worker with an NGO HIV programme.
Daw Sandar, a 45-year-old resident of East Hlaing Tharyar Township, told Frontier that her 19-year-old son died in December last year because he wasn't taking ART drugs regularly.
"We knew he was gay and we accepted it, but he didn't tell us he had HIV until later. He said he had been receiving ART at a government clinic but stopped when it closed after the coup and didn't know where else he could go," she said.
State-run clinics will only treat patients that are registered with them, and with so many clinics not functioning, or barely functioning, many are trying to transfer to those that remain open. But the bureaucratic process of transferring to a new clinic is unnecessarily onerous, leaving patients in limbo.
Ko Aung Lwin is a registered HIV patient at Maubin General Hospital in Ayeyarwady Region, where he lived before getting a job installing air conditioning units in Yangon. Although there is an ART clinic near the hostel where he lives, he has to travel 50 kilometres to Maubin to receive the medication because he finds the transfer process overwhelming.
His mother, who lives in Maubin, can pick up the drugs for him once a month, but he must present in person every three months.
"If I want to change clinics, the hospital has to write a transfer letter and it will take many days for it to be approved," Aung Lwin said. "It's inconvenient."
If he transferred to Yangon, he said he would still need somebody to pick up the medicine for him, because he can't take leave from his job too often.
"I can designate someone else to collect the drugs for me, but it involves a lot of paperwork, and I don't have somebody in Yangon. If I take leave every month, I could lose my job."
While the situation is bad in relatively stable areas like Yangon, it's even more bleak in conflict-affected areas like Sagaing Region.
Ko Zar Ni*, a Mandalay-based volunteer with the Lan Pya Kyel Association, which offers HIV-related healthcare services, said patients in Sagaing often call and ask for help, but he has to decline because of the security situation.
"Instability in some areas means that patients cannot travel to the ART clinics. Roads are often closed and they don't know where they can go to receive the drugs, so they ask for help on social media or by phone. But all we can do is suggest they go to the general hospitals in Sagaing or Monywa," Zar Ni said, referring to two of the biggest towns in the region.
NAP data shows that more than 13,000 people were receiving ART in Sagaing Region in 2019.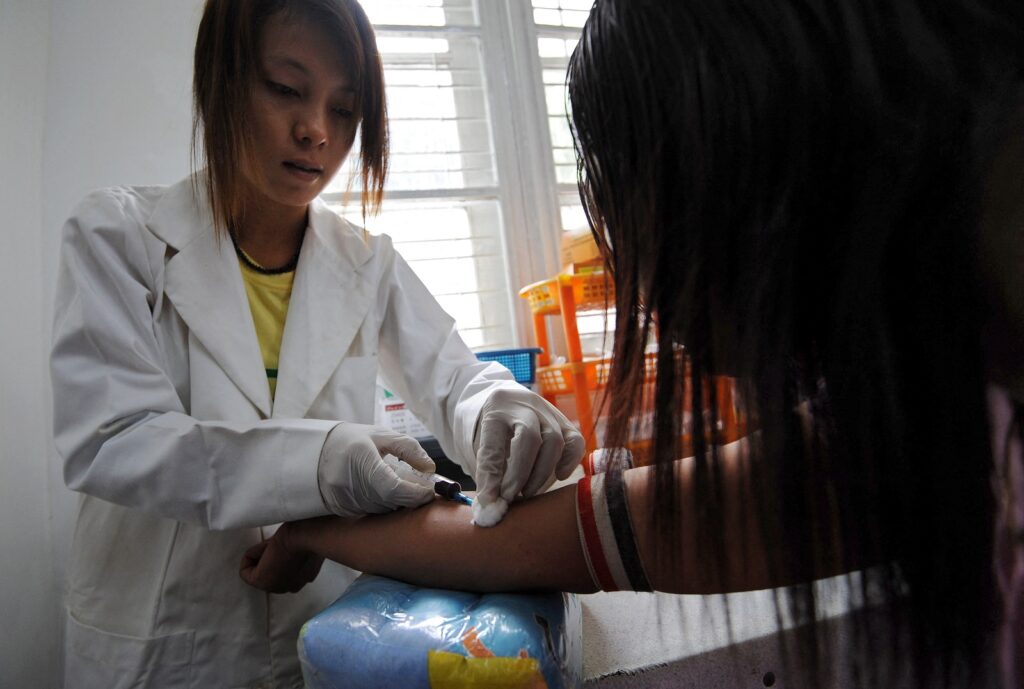 Despite these alarming developments, official data doesn't show an increase in HIV-related deaths since the coup, but Soe Min said the healthcare breakdown means many deaths are likely going unreported. A Frontier investigation found that the regime undercounted the death toll from the third wave of COVID-19 by tens of thousands as many patients died in their homes.
Soe Min said the same thing is likely happening now but could be even more pronounced due to the stigma associated with HIV and the conflict spreading across the country since the coup.
"Families might not want to say their family member died of this disease, because they don't want to face discrimination. So for people who died at home, they might fill in a different cause of death. In rural areas, they often don't even need to register the cause of death," he said.
"No civil society organisations can enter conflict areas, and many people there aren't able to access public hospitals, so I think the data can't cover areas like Sagaing or Karenni."
Anecdotally, domestic NGOs say they have noticed an increase in new HIV infections.
"The number of new infections is increasing every month," said the co-founder of a Yangon-based NGO that assists people living with HIV who asked not to be identified for safety reasons.
Mounting burdens on patients
While public clinics are running a bit more smoothly than in the aftermath of the coup, the financial burden for patients is increasing, in line with reports that public health institutions are increasingly demanding payment and even bribes.
When patients start ART, they need to have their blood tested monthly for six months to check that the drugs are reducing the viral load, after which they need to continue monitoring their condition by having at least two viral load tests per year. Patients say they now have to pay for these blood tests, which were free of charge under the NLD.
"It costs about K10,000 [around US$5] every time we are tested, but we dare not complain," said U Hlaing Myo*, who receives treatment at the ART clinic at Insein General Hospital in Yangon.
Patients live in fear that one day they could be forced to pay for the medicine too, which few can afford.
"We are often verbally abused by the nurses and doctors at the ART clinic, but we tolerate it because the drugs are free and it would cost about K180,000 [$53] a month to buy them. No one can afford to pay that and if the day comes when the government cannot provide us with the drugs for free, we will die," Hlaing Myo said.
Many of the patients are gay, like Hlaing Myo, or sex workers, and say they face routine discrimination and verbal abuse from healthcare workers, who often blame them for their condition.
Meanwhile, NGOs assisting HIV patients are facing new obstacles created by the junta, as well as the moral dilemmas of working in a country ruled by a military dictatorship. The Organisation Registration Law enacted in October last year has created so many bureaucratic hurdles for foreign NGOs and donor agencies that some have decided to leave the country or heavily scale down their support.
Ko Hein Htet Naing, a former project manager of an NGO that provides HIV-related services, told Frontier that due to the fear of funds falling into junta pockets, "Donors don't want to allocate funds to Myanmar anymore and some ended their programmes."
Some have remained, like the Global Fund to Fight AIDS, Tuberculosis and Malaria. A partnership of governments, civil society, technical agencies, the private sector and people affected by these diseases, the Global Fund has been the biggest donor for HIV programmes in Myanmar since 2011. It said it agreed to provide two HIV grants to Myanmar totalling $128 million for the period 2021-2023.
"Our grant implementers have extensive experience in Myanmar and work closely with in-country partners to ensure that life-saving activities are continued. The grants are therefore, despite the complexity of the current context, continuing to support those who need HIV services in Myanmar," a Global Fund spokesperson at its Geneva office told Frontier by email on September 11.
Hein Htet Naing said the heavy new requirements of the Organisation Registration Law, including for all NGOs to register themselves with the authorities, creates unnecessary delays that further discourage and undermine organisations.
"When we apply to re-register, we need to wait for months, during which time we cannot apply for new grants. I think it is intentional. Donors have also made it difficult to operate, by restricting us from using military-related products and services. For example, we are not allowed to use Mytel," he said, referring to a partly military-owned telecommunications provider.
The departure of NGOs at a time when the public health system is in crisis will put the lives of HIV patients at risk, he said.
"Even now, patients worry about their medicine running out. If international organisations ignore Myanmar or if the junta ejects them, it's the same as ending their lives."
* indicates the use of a pseudonym for security reasons