An unrelenting athlete was Myanmar's only competitor in para-cycling at the recent Asian championships in Nay Pyi Taw and he hopes to compete in more international events — but that might depend on whether sporting organisations want to give him support.
By KATRIN SCHREGENBERGER | FRONTIER
YANGON RESIDENT and cyclist U Htein Win, 58, is not easily daunted by adversity.
When he was 25 he lost his right leg in a crash with a car and thought he would never ride a bicycle again.
When he met his cycling friends, he envied them. They teased him about no longer being able to ride. He tolerated their teasing for years, until he decided to prove them wrong.
When he was 40 he resumed cycling and last month he did himself proud by being the only Myanmar among 17 handicapped athletes from five nations who competed in para-cycling events at the Asian championships in Nay Pyi Taw.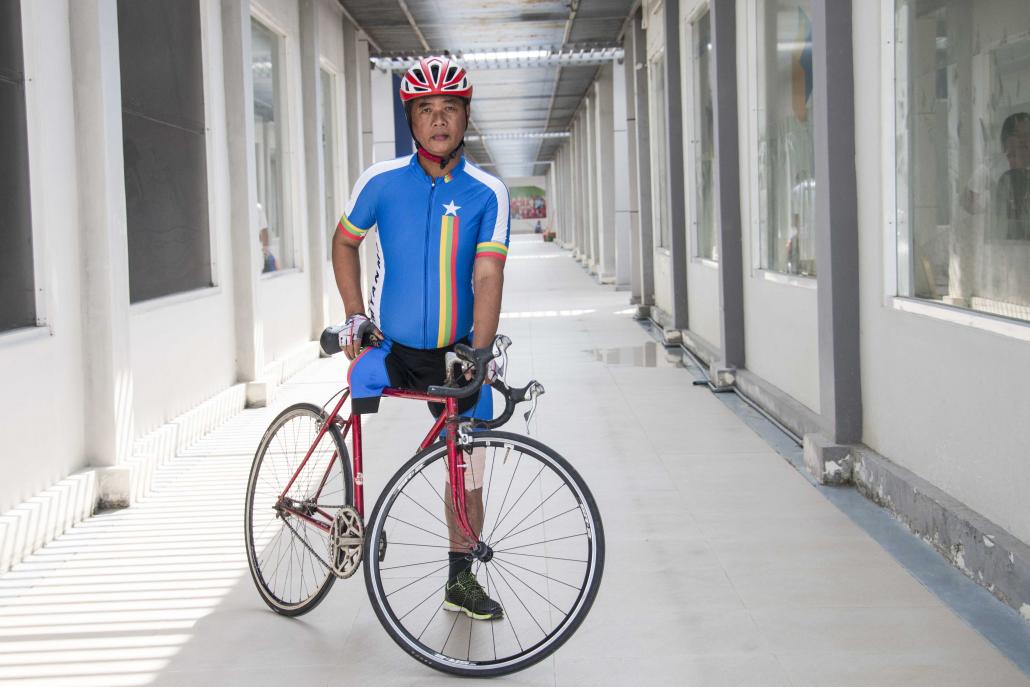 The Asian Road and Para Cycling Championships, from February 8 to 12, were being held for the first time in Myanmar.
The championships were hosted by the Myanmar Cycling Federation and the Asian Cycling Confederation, and para-cycling was included to meet the regulations of Union Cycliste Internationale, the sport's world governing body.
Another Myanmar athlete considered competing in the para-cycling but dropped out after seeing the track. A third could not participate because he was intellectually impaired rather than being physically handicapped.
As well as being the only Myanmar in the para-cycling, Htein Win was also the only competitor without any organisation to provide back-up. His support "staff" were two daughters and a friend.
It was different for the other competitors, especially the teams from India, Singapore and Thailand, with their professional trainers and high-tech bikes. Htein Win, who does not have a prosthesis, competed on an old bike. He wasn't aware of any organisation that could help him.
Asked if he had given Htein Win any training, U Aung Myo Naing, deputy coach of the national cycling team, laughed and said: "I have seen him twice".
The Myanmar Paralympic Sports Federation said it was unable to provide support for Htein Win, despite knowing he was competing in the para-cycling.
"The only official para-cyclist in our federation quit the sport this year," said U Peter, secretary-general of the MPSF. He added that the federation focused on events included in the ASEAN Para Games and para-cycling was not among them.
The federation had no immediate plan to promote para-cycling, he told Frontier.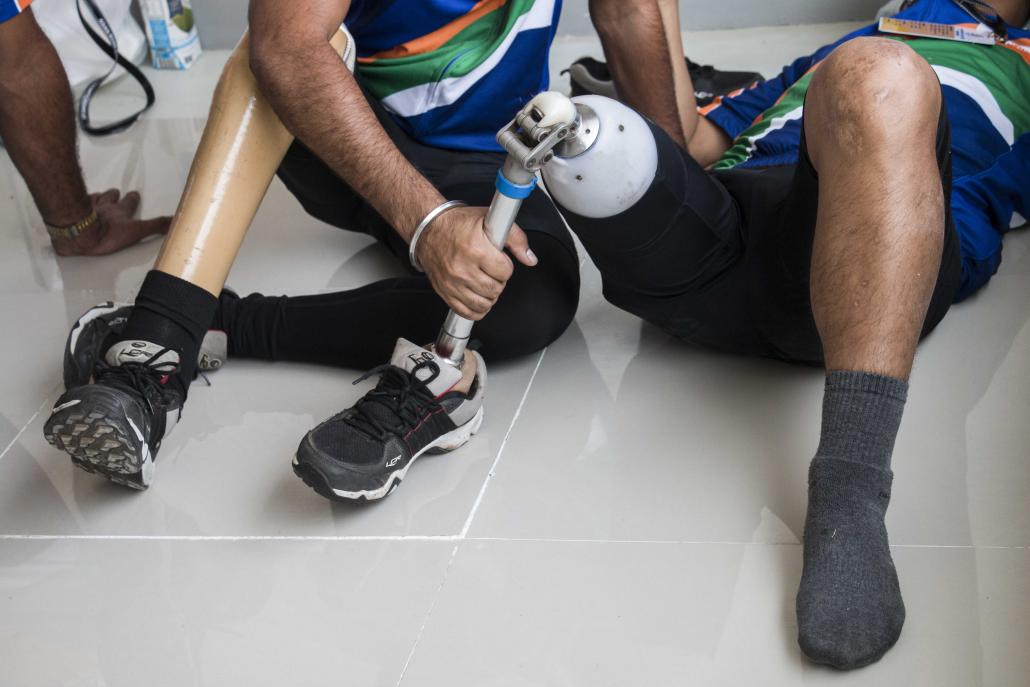 However, Htein Win was not without encouragement at the championships, and received moral support from members of the Indian team, the biggest at the para-cycling.
"I am very happy to see a para-cyclist from Myanmar," said Mr Aditya Mehta, 35, who in 2013 founded an eponymous non-profit foundation in Hyderabad to support disabled athletes, five years after losing his right leg above the knee in a road accident.
He was quickly back on his bicycle after the accident and was inspired to start the foundation, which seeks to make India a force in para sport.
One of Mehta's objectives at the recent championships was to raise awareness in Asia about what disabled people can achieve through training and participating in sport.
"This race is a human cause," he told Frontier, adding that competing in such events helped disabled athletes to regain their dignity.
The federation raises money to encourage and train disabled people to play sport throughout Asia and Mehta said it was prepared to support athletes in Myanmar.
"If you live for yourself you will have your own problems, but if you live for [both] yourself and others … you realise that others have the same problems," he said.
The teams from Singapore, Thailand and Indonesia were supported by their respective cycling federations. Thailand's Mr Pooyin Comnuan, 42, who has no legs, won gold in the handcycling, to which he changed five years ago after competing in wheelchair events.
"New sport, new friends, new experience," Pooyin said, adding that his main objective in competing was to help raise awareness about para-cycling.
Despite not having the same level of back-up as his competitors, Htein Win was happy and confident before the race. "When I am on the bike I don't need the crutches; on the bike I am free," said, but acknowledged he sometimes faced difficulties. "I get in trouble if I have to climb a hill," he said.
As Myanmar does not have a trainer accredited by the UCI to certify para-cyclists, Htein Win had to be approved by a trainer from Singapore a few hours before his race. As a competitor without a prosthesis, he received a "C2" classification, for moderate to severe dysfunction.
Htein Win began the race to applause from an audience that mainly consisted of trainers, organisers, other athletes and cycling organisation officials.
He was at a disadvantage because he had not seen the 11-kilometre course before the event and had to adapt to conditions as the race proceeded.
About 20 minutes after the race began, the road gradient became steep and Htein Win fell, hurting his knee. He decided to withdraw from the event.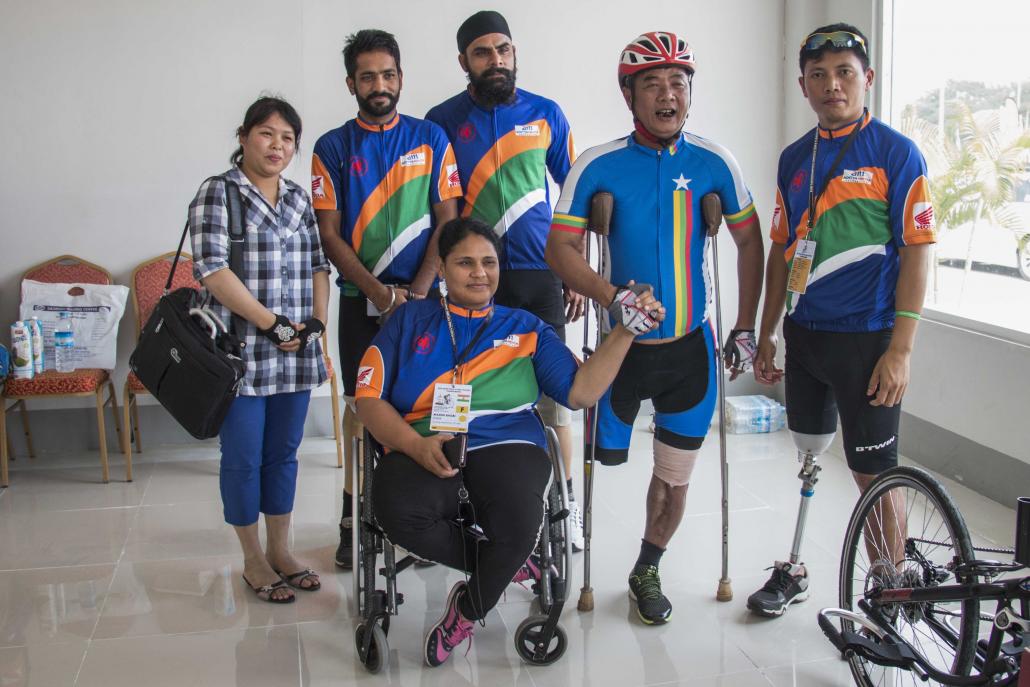 Despite not being able to complete the course, he was pleased with himself.
"It was the first time I had competed in an international event," he said, adding that next time he would be better trained and hoped to race with a better bike.
"It was a good experience for us to host the Para Cycling Championship," said U Khin Maung Win, president of the Myanmar Cycling Federation.  "We would like to support them more if we can," he said, before explaining that para-cycling was not under the MCF and was the responsibility of para sport organisations.
Last month's championships were the second to include para-cycling, after New Delhi in 2013, said Mr Onkar Singh, secretary general of the ACC.
"Para-cycling is very new to Asia," he told Frontier. "In 2013, we only had two handicapped athletes competing, so the number of participants in Nay Pyi Taw is actually good," he said.
It was important to hold the para-cycling championships, Singh said. "It gives the disabled athletes recognition."
U Myat Thu Winn, president of the Shwe Minn Tha Foundation, which helps people with disabilities, said sport offers an effective way to promote social inclusion and provide encouragement to handicapped people.
"Disabled people who are outstanding at sport give moral support and encouragement to the disabled," he said.