When the military attacks, many disabled people are unable to flee to safety. Those that manage to make it out alive find themselves struggling to get the level of care and support they need in rudimentary IDP camps.
By FRONTIER
When artillery shells smashed into the main road at Lwepal village in southern Shan State's Pekon Township in mid-May, most of the residents of its 200 households were able to flee to safety.
One person who couldn't was Ma Mu Lay*, who is blind. Now in her 30s, her mobility is limited because of a neurodegenerative disease she contracted when she was 20. She spends most of her time in bed.
As the artillery pounded the road, a terrified Mu Lay was confined to her room.
"Even able-bodied people had difficulty fleeing, but I am blind and I can't walk properly, so it was harder for me to run. My parents and others waited for me, but I didn't go. I heard the sound of the gunfire, and I resigned myself to being killed at home," Mu Lay said. 
She finally escaped the conflict zone two days later when her mother returned to rescue her. The family now lives in a tent in a camp for internally displaced people (IDPs) on the side of a mountain.
But while she's safer there, Mu Lay still faces serious challenges coping with her disabilities in the rudimentary camp compared to her family home.
"My parents built a separate bedroom, bathroom and toilet for me at our home. Since the fighting started [and we fled] I have had to rely on my parents to supply me with drinking water. I no longer have my own bed and my parents have to dispose of my faeces. I have many difficulties," she told Frontier.
Since the coup there has been intense fighting in Pekon Township and much of neighbouring Kayah State, also known as Karenni State. Under the guidance of the Karenni Army, anti-coup resistance forces have scored surprising battlefield victories, but this has also led the military to deploy troops in large numbers in an attempt to wrest back control.
Like other conflict-ravaged areas of the country, Kayah has been the scene of atrocities committed by the military. The most heinous was a massacre of at least 35 people in Hpruso Township on Christmas Eve of 2021, some of whom may have been burned alive. In a recent report Amnesty International accused the military of "laying anti-personnel landmines on a massive scale" in and around villages in the state.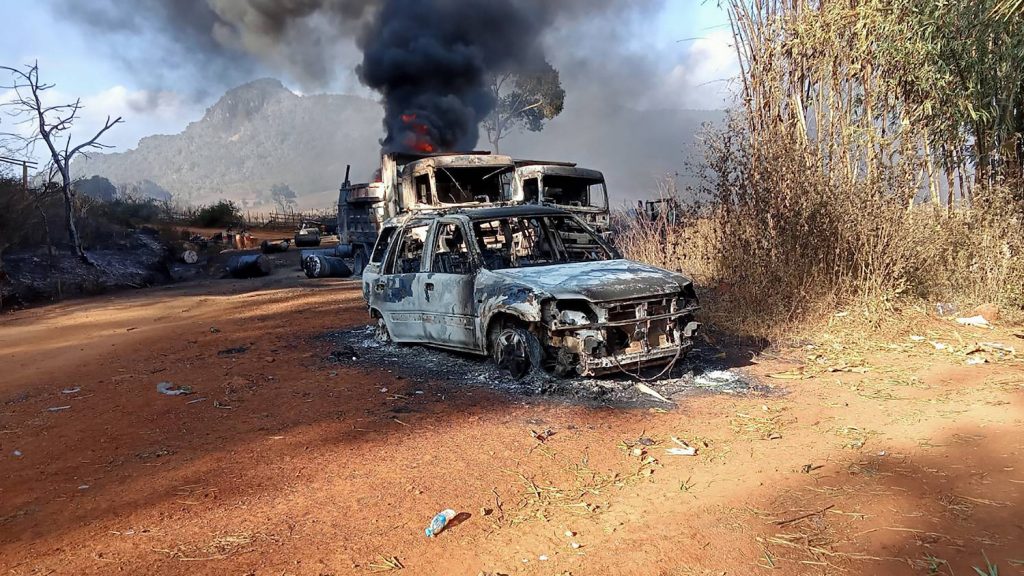 The risk of creating a 'lost generation'
The conflict has also made life a misery for five-year-old Maung Soe*, who is paralysed from the waist down, and lives with his family in a village in Pekon Township.
His parents built a contraption from bamboo that helps the boy to walk, but his mobility remains limited.
When fighting recently reached their village, the family was forced to flee to an IDP camp. As well as helping Maung Soe, his parents also had their hands full caring for two babies and a toddler. They had to abandon their belongings, including blankets and pillows that would have made for a more comfortable existence in the camp for them.
"As he is a disabled child, he has faced many difficulties because of the war. If junta soldiers were to launch a raid on the camp, it would be difficult for him to escape. When he arrived at the camp he became ill and needed to receive injections. He's also been bullied by other kids," said his mother, Daw Dalta*.
The boy's disability creates financial difficulties for the family because of his need for continuous care, which means that only one of his parents can work at any one time. Finding suitable childcare for a disabled child in the IDP camp has not been possible.
The coup and its violent aftermath have badly affected children. Tom Andrews, the UN special rapporteur on human rights in Myanmar, has said that a lack of action by the international community to address the crisis has risked creating a "lost generation".
During a recent visit to an IDP camp in Kayah, Frontier observed that most of the children were wearing old, dirty clothes and were covered in dirt. Access to clean water was limited and there were a number of children suffering from obvious signs of malnutrition. There were also indications of some children being neglected; one child who was blind and non-verbal was being left at home alone all day while her mother went to work on a farm. The girl had no one supervising her care other than a neighbour who would sometimes pop in with food.
The fighting in Kayah and areas just across the border in Shan State has displaced an estimated 200,000 people, of whom about 800 suffer from disabilites, according to Karuna Mission Social Security-Loikaw, a Karenni humanitarian group.
People with disabilities who are unable to flee the conflict in Kayah are among the civilians killed, according to eyewitness accounts provided to Frontier. In a similar incident, two elderly people who were unable to flee were killed in Magway Region's Pauk Township, when the military torched Kinma village in 2021.
A study conducted before the coup by found that about six million people, or 13 percent of the national population, have at least one disability. The study found that children with disabilities were likely to be excluded from the formal education system and as they grew older, often found it harder to find work.
A better deal for the disabled
During the transition to democracy, the government began providing some support to people living with disabilities and after years of neglect under successive military regimes. An important early step was the ratification in 2011 of the United Nations Convention on the Rights of Persons with Disabilities.

However, the devastation wrought by the coup has undone much of the progress achieved in the years of gradual reform following the election in 2010, including the improvements in living standards for the disabled.
Most of the financial support that was available to people with disabilities vanished after the coup when local donors dried up and the junta seized control of government ministries in Nay Pyi Taw.
In Kayah State, there are just four cities where the military's administration operates. Some villages in the state are under the control of people's defence forces and the much of the state is in active conflict.
Disabled people who spoke to Frontier said there was a greater lack of support and services available for the disabled than before, and that living conditions are worse due to displacement.
A representative from Karuna Mission Social Security-Loikaw who spoke on condition of anonymity said the Catholic charity was providing assistance to disabled IDPs as part of its emergency social relief effort out of Loikaw.
"There is no separate organisation to help disabled IDPs, so we have set aside some money to help them," he said, adding that the group was also helping other disabled people in Kayah.
Financial difficulties as a result of disruption to the economy caused by the coup have left many families with no option but to leave disabled loved ones under the care of monasteries, which have long served as providers of social welfare in the face of government inaction.
For many, the situation is dispiriting.
A 70-year-old disabled man from Lahe village told Frontier he wanted to die because he felt like a burden on his family. The former business owner and village head had a stroke over 10 years ago and now relies on his wife and children to take care of him.
For some, the consequences of conflict have been particularly cruel. Ma Moh*, 25, who lives at Mobye village was struck by an artillery shell in February when it landed on her house and exploded. After having her left leg amputated below the knee, she said she was abandoned by her husband. The incident left her depressed and unable to sleep for months, she said.
Mu Lay, who was unable to flee the artillery barrage at her village, said she wants to acquire a radio so she can stay up-to-date with the news. She says she's showing solidarity with those who are suffering and making sacrifices by reducing the amount of rice she eats each day.
"Everyone is facing various hardships due to the country's political turmoil," she told Frontier. "It saddens me whenever I heard that some people are facing a harder time surviving than me. Some resistance fighters have sacrificed their lives in the revolution to end military dictatorship. I sympathise with those who are living in danger because of war, including those whose houses have been torched," she said.
* denotes the use of a pseudonym upon request for safety reasons