For the eighth instalment in our travel series about wild swimming spots, we head to the west coast of Ayeyarwady Region and delight in pristine beaches, idyllic islands and one of the country's best bridge jumps.
Words & photos by DOMINIC HORNER | FRONTIER
THE MONSOON season is over and the end of the rains has upsides and downsides for wild swimming.
On the downside, rising temperatures and clearing skies mean that many swimming holes throughout the country start to dry out.
The upsides? Rivers turn from writhing swampy brown serpents into enticing emerald green eddies, and many waterfalls that were previously inaccessible accident traps become safe for swimming again as water levels fall.
As for the beaches? That's a no-brainer. If you think your options along the west coast of Ayeyarwady Region start at Goyangyi and end at Chaungtha you are in for a pleasant surprise. The region's coast on the Bay of Bengal is home to vast swathes of uncharted territory and pristine beaches, and with a motorbike and some advance planning it's all there for you, waiting to be explored. Here's a guide to some of the best destinations.
Sinma
Sinma beach is nothing special. The small fishing village 45 minutes south of Ngwe Saung spills over onto the sand, along with piles of trash and tangled fishing nets. You don't want to chill and relax there, but it does offer two outstanding mini-adventures.
If you ask at the harbour (16.733433, 94.364678) you should be able to find a fisherman who will take you to Sinma Kyun (16.747458,94.359352), a gorgeous little island 20 minutes from the shore. It has white sand, plenty of shade, and, apart from the odd fisherman, it's pretty much empty. My suggestion: Load your fishing boat with beer and savour it slowly while you unwind on the island.
After you return to the mainland, check out Sinma bridge (16.728436, 94.368717), one of the best bridge jumps in Myanmar. The water is deep on both sides but take the precaution of a test swim before you jump and be sure to wear shoes. The bridge is just high enough to ask yourself, as you clamber up on to the railing, "Is this a good idea?" The answer is: Yes, it is.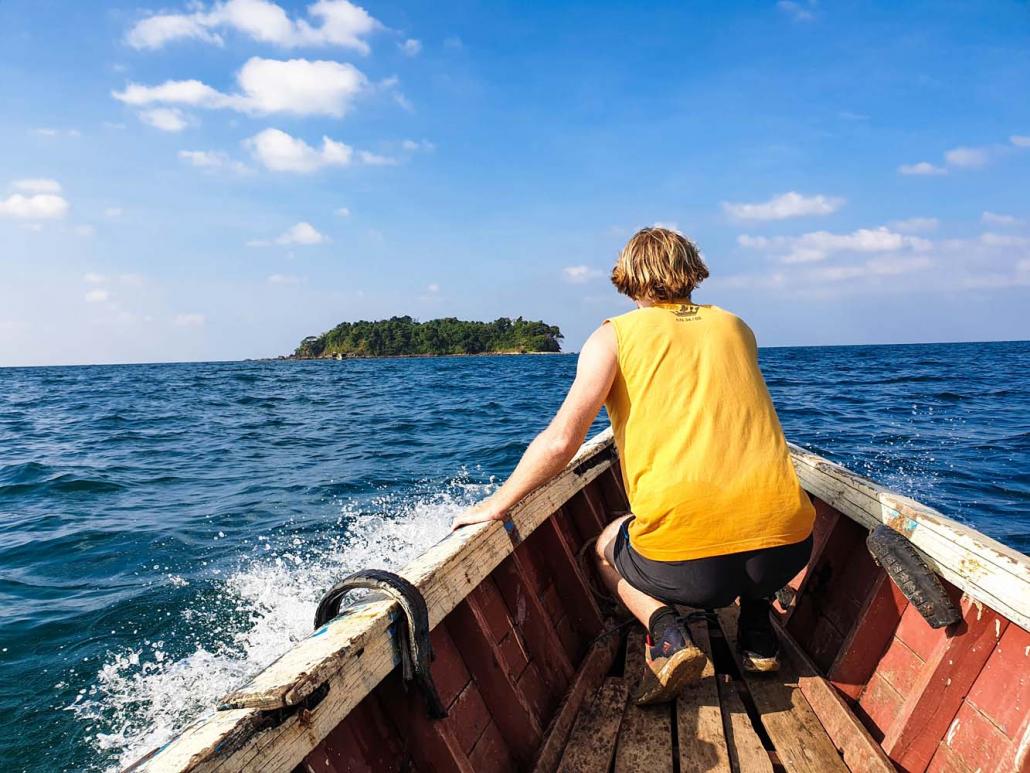 South of Goyangyi
Goyangyi is an underrated destination. It's still an emerging beach resort but there are many good reasons to visit, not least because the coast south of Goyangyi is almost completely untouched. The options for a visit to Goyangyi include either an intensive day outing or a more leisurely two-day trip. I recommend the latter, and that you spend the night at Padamyar resort.
Head south through the hills until you reach the one-two spectacle of Kham Kyay Oo and Nga Pyaw Chaung beaches (16.466724,94.263616): a 6.5-kilometre stretch of unalloyed sandy bliss. The fishing communities in the area are settled comfortably away from the shore, which means almost no trash and enormous stretches of stunning coastline all to yourself.
At the southern end of Nga Pyaw Chaung you'll find Padamyar resort (16.415700,94.252306), the only hotel (so far) south of Goyangyi. Here you can break for lunch and arrange a boat trip to Bagan and Yadanar islands (16.381011, 94.214420/ 16.420734,94.229445). At the latter, you can treat yourself to fresh sea urchins, and when I say fresh, I mean fresh. Twenty minutes after placing an order a fisherman arrived at our table clutching in cold shivering hands a pile of spiky urchins that he proceeded to crack open and pour into glass tumblers for us to neck tequila-style. It looks like a gloopy liquid-brain soup, but it tastes wonderful.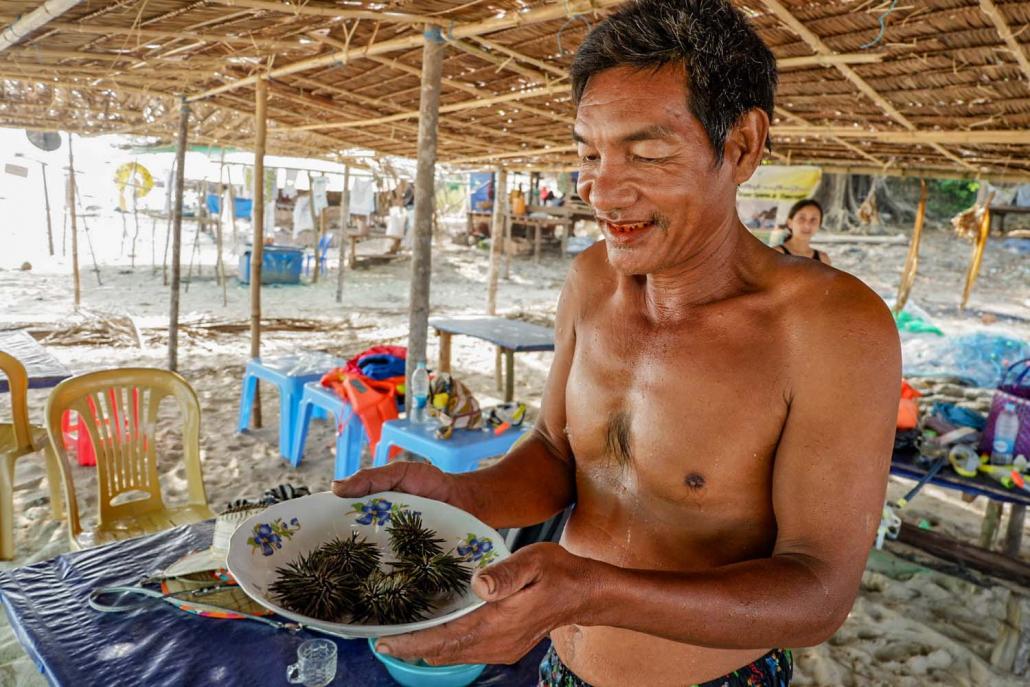 Shwethaungyan and beyond
Less than an hour north of Chaungtha is Shwethaungyan, one of Ayeyarwady's most exciting new resort destinations. On our last visit just over a year ago Hotel Shwe Thaung Yan was the only place to stay, but there are now likely to be more accommodation options.
Doing nothing here all day is a day well spent. Shwethaungyan beach is well maintained, and the hawkers who patrol the short stretch of coast in front of the hotel can arrange exotic seafood snacks such as sea snails. Once you've had enough of relaxing on the beach, there are some excursions on your doorstep that will bump your Shwethaungyan experience up from "pleasant beach trip" to "unforgettable adventure."
First up, a mangroves tour. Shwethaungyan is home to a large protected area of mangrove forest, where there has been no crocodiles since the 1990s. For a small fee, you can arrange a half-day tour during which you can play the role of intrepid explorer as your boat winds its way through a lush, green ecosystem of rich biological diversity. At the end of the tour you have the opportunity of planting a mangrove, with your name on a plaque.
The next day get ready for another amazing adventure by taking a boat to the Jate Lett peninsula. Head to the harbour (17.151706,94.504760) where you can arrange a boat to take you to the peninsula. Long-time readers will know that I'm prone to gushing prose, but it's difficult to describe just how spectacular is this outlying corner of Myanmar. On the way to Jate Lett village you can stop at two almost completely deserted beaches, Mee Linn Gyaing, and Zee Gyaing (17.255664,94.496321/ 17.287688,94.501126), the latter of which is home to the Bay of Treasure Host camping ground. Both beaches immediately call to mind clichés of the white-sand/emerald-green-waters variety and for good reason.
Break for lunch at Jate Lett village where the sole (foreigner friendly) guesthouse (17.298796,94.512344) serves fresh seafood, including succulent lobster! After lunch, it's island hopping time. Named in honour of State Counsellor Daw Aung San Suu Kyi, Lady Island (17.314270,94.503177) is the larger of the two islands. The beach is a bit trashy, but its crystal clear waters combined with a thick jungle canopy backdrop make for a memorable swim.
Last, but by no means least, head for Byine Kyun (17.305532,94.527230), a tiny rocky outpost that you can walk around in less than 20 minutes. The rock formations and panoramic views are a photographers' delight, and the bay – although very small – is squeaky clean and a great spot to soak up some late afternoon sun before the return voyage to Shwethaungyan.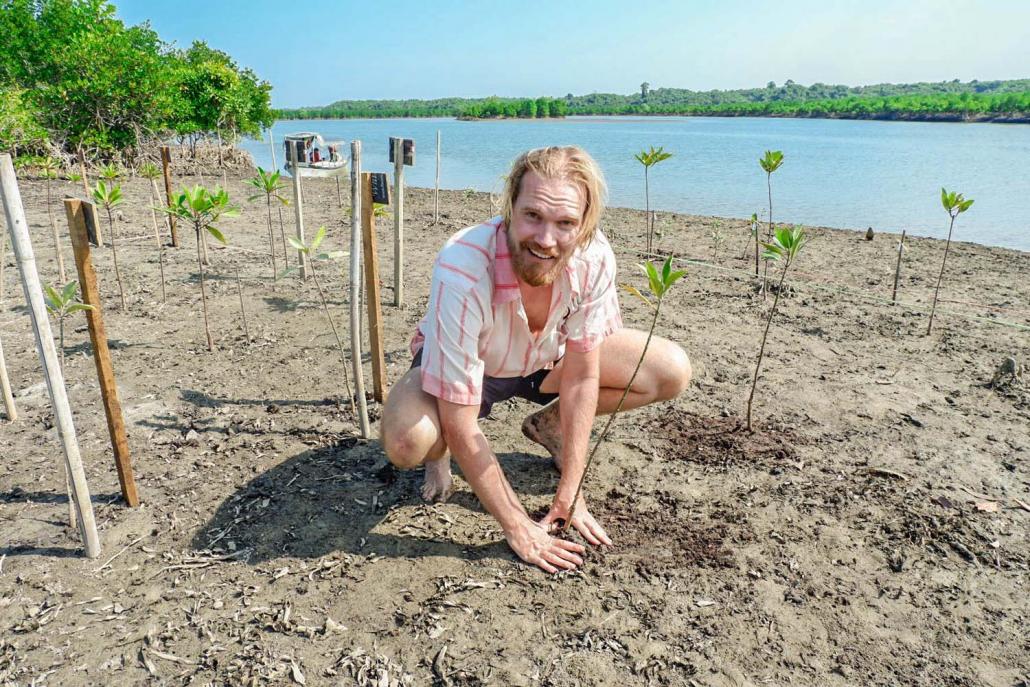 How long will you need?
Allow one day for Sinma, one or two days for south of Goyangyi, and two or three days for Shwethaungyan.
Getting around?
You can reach Shwethaungyan by car, but for Sinma and Goyangyi you'll need a motorbike.
Best time to visit?
Any time outside the monsoon – you should be safe from November to May.
Where to stay?
You can't stay in Sinma – nor would you want to. You'll have to head back to Ngwe Saung. My top pick for Goyangyi is Adventure Paradise (you can't beat a good beach bar), and the Hotel Shwe Thaung Yan is excellent. It has a pool, a decent restaurant, and can help arrange the mangrove tour.
About the 'wild waters' series
This is the eighth instalment in my "wild waters of Myanmar" series, which is taking readers to lakes, rivers, creeks, dams, waterfalls and remote beaches throughout the country.
TOP PHOTO: A mother and a child on Shwethaungyan beach. (Dominic Horner | Frontier)