By FRONTIER STAFF
As was expected in many quarters, there was a low turnout, and level of enthusiasm, as some of Myanmar's voters returned to the polls on Saturday morning.
Myanmar is holding by-elections to fill 19 seats in the Pyithu, Amyotha and State hluttaws that have been vacated since 2015 general election, which the National League for Democracy won by a landslide.
Some of the most high profile seats are Ann Township in Rakhine State, where Arakan National Party leader Dr Aye Maung is vying for a seat in the Pyithu Hluttaw; Chaungzon, Mon State, the scene of a recent controversy regarding the naming of a bridge; and Kyethi and Mong Hsu townships in Shan State, where voting was cancelled in 2015 due to fighting between the Tatmadaw and the Shan State Progressive Party.
Turnout was low in most townships in Yangon. Across Kamayut Township, where an Amyotha Hluttaw seat is up for grabs, the streets were quiet. Residents told Frontier that they lacked interest in the vote, either because they felt the NLD would win comfortably or because they had become disillusioned with politics.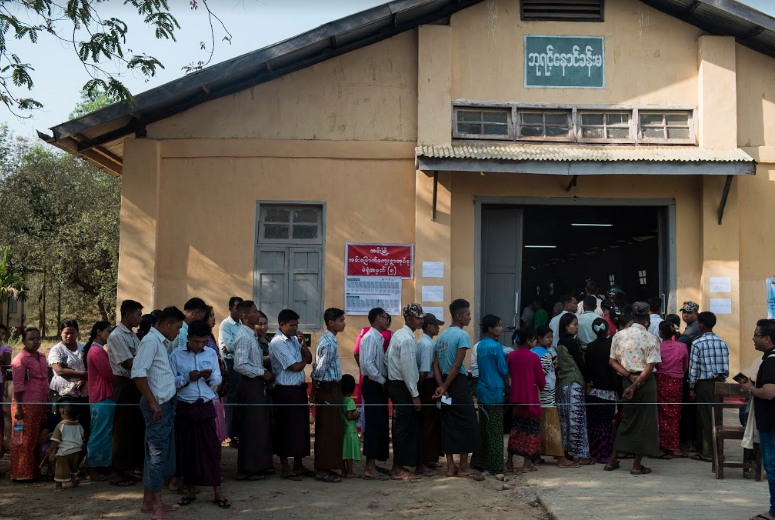 There were accusations of voter fraud in Hlaing Tharyar Township. Local resident U Htain Lin was accused of attempting to vote for the same candidate in two different polling stations. Authorities said they would investigate further, but that their current commitment was towards ensuring that today's vote ran smoothly.
Daw Khin Than Oo, who lives in Hlaing Tharyar's No. 9 ward, told Frontier she had registered to vote, but her name did not appear on the voter list, even though her husband's did – an indication of some of the administrative challenges Myanmar still faces regarding voting.
U Myat Maw, who is in charge of Polling Station 1, 2 and 3 in Yangon's Kyimindaing Township, urged voters to ensure they bring their National Registration Card with them when they vote.
"I don't want anything to go wrong in the by-election process, that's why I asked voters previously to bring their [NRC] cards," Myat Maw told Frontier.
The move sparked some controversy when one female voter, a police officer according to officials, was unable to vote because she didn't bring her NRC with her.
"She had nothing to identify herself, and none of us knew her," said Myat Maw, defending the decision to not allow her to vote.
One voter who witnessed the incident said it was unfair.
"There were no rules mentioned about this before, and if someone is holding a voting card instead of their [NRC], they are supposed to be able to cast their vote."
In Ann Township, Rakhine State, enthusiasm and excitement was also low. Yesterday, residents there told Frontier that they were unsure who to vote for, but that they would definitely vote.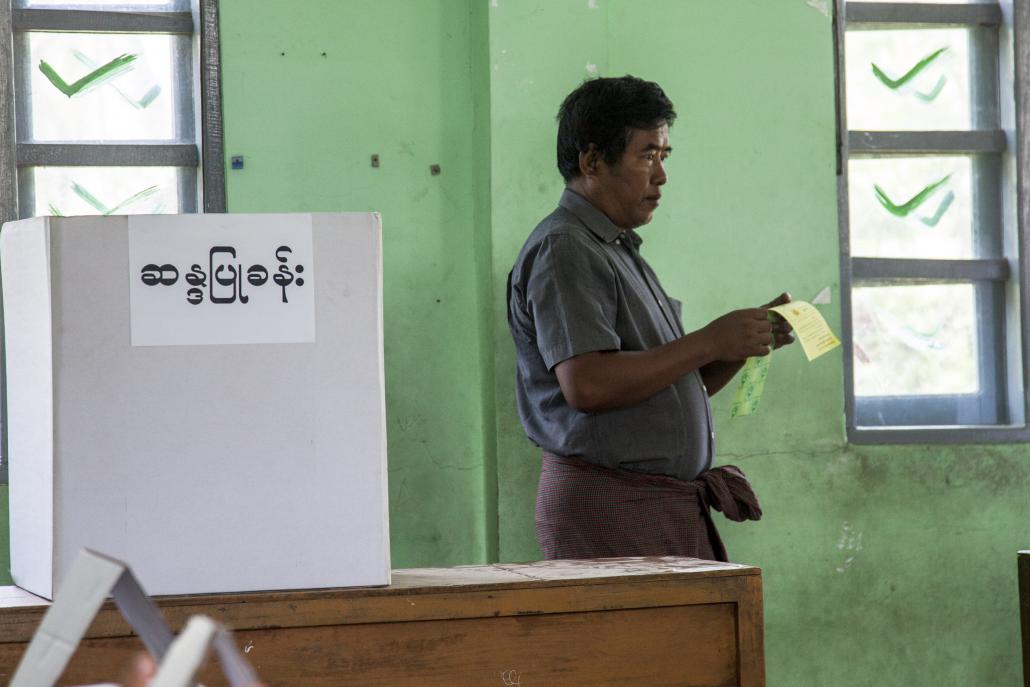 In another incident that represents some of the small challenges the Union Election Commission still faces, elderly residents said they were unable to read the voting card correctly.
"I just crossed somewhere, even though I couldn't see. Whoever I voted for is lucky," said one 65-year-old resident.
A township that emerged as an area of interest recently was Chaungzon Township, Mon State, where a Pyithu Hluttaw seat is available. Last month, the government voted to name a bridge crossing from the state capital Mawlamyine to Chaungzon, after Bogyoke Aung San, an independence hero for most Myanmar people and the father of State Counsellor Daw Aung San Suu Kyi. Thousands of local residents protested the decision, saying it the views of ethnic minorities in the country.
Despite the controversy, the NLD is expected to win there, said Nai Layi Tama, secretary of the Mon National Party.
"Among Mon people, some don't agree about the NLD's naming of the bridge, but some think they should be patient as the government has only been in power for one year," he said.
Another factor for NLD's likely success there was the fact that two Mon parties, the MNP and All Mon Region Democracy Party, are competing in the same township, he said.
There were also tensions in Shan State. In Mong Hsu, in the heart of territory controlled by the SSPP, representatives from the NLD accused the SSPP of trying to pressure residents to vote for the Shan Nationalities League for Democracy.
In a press release, the People's Alliance for Credible Elections said that all of its 600 observers had been able to observe the process without impediment. PACE said it had received some reports of observers not being able to enter polling stations earlier today, but that these issues had been resolved.
"We hope the remaining process – voting, closing and counting – will be as open and transparent as the opening process, and all the eligible voters go to the polling stations to cast their votes," said Sai Ye Kyaw Swar Myint, the founder of PACE.
Reporting by Su Myat Mon, Hein Ko Soe, Kyaw Phone Kyaw, Victoria Milko and Oliver Slow in Yangon, Htun Khaing in Mong Hsu and Mratt Kyaw Thu in Ann.