Identified by yellow construction helmets, volunteer traffic attendants are doing their best to keep Yangon roads free of jams in places not served by an under-resourced traffic police force.
By HTUN KHAING | FRONTIER
TRAFFIC JAMS regularly clog a narrow street at Myitta Nyunt Ward in Yangon's Tarmwe Township, partly because its footpaths are crowded with vendors and pedestrians have to share the road with vehicles.
When that happens, 45-year-old trishaw driver Ko Naing comes to the rescue. He's a volunteer traffic attendant.
"If there's a traffic jam, it creates problems for motorists; if motorists are having problems, it's a problem for trishaw riders," he told Frontier.
It's the responsibility of Yangon's overwhelmed and under-resourced traffic police to keep the city's roads flowing smoothly. However, they concentrate on major thoroughfares, so it's up to volunteers to provide this much-appreciated service in side streets.
They are not paid and buy their own equipment, such as whistles. Volunteer traffic attendants wear civilian clothes but can be identified by their yellow construction helmets. "If I see a trishaw driver wearing a yellow helmet, I can be sure he's a volunteer traffic attendant," said Ko Naing.
He often intervenes to help clear the junction of Le Yar Shwe Myay and Thamardi streets in Tarmwe's Myitta Nyunt Ward – a busy area near schools, work places and apartment buildings.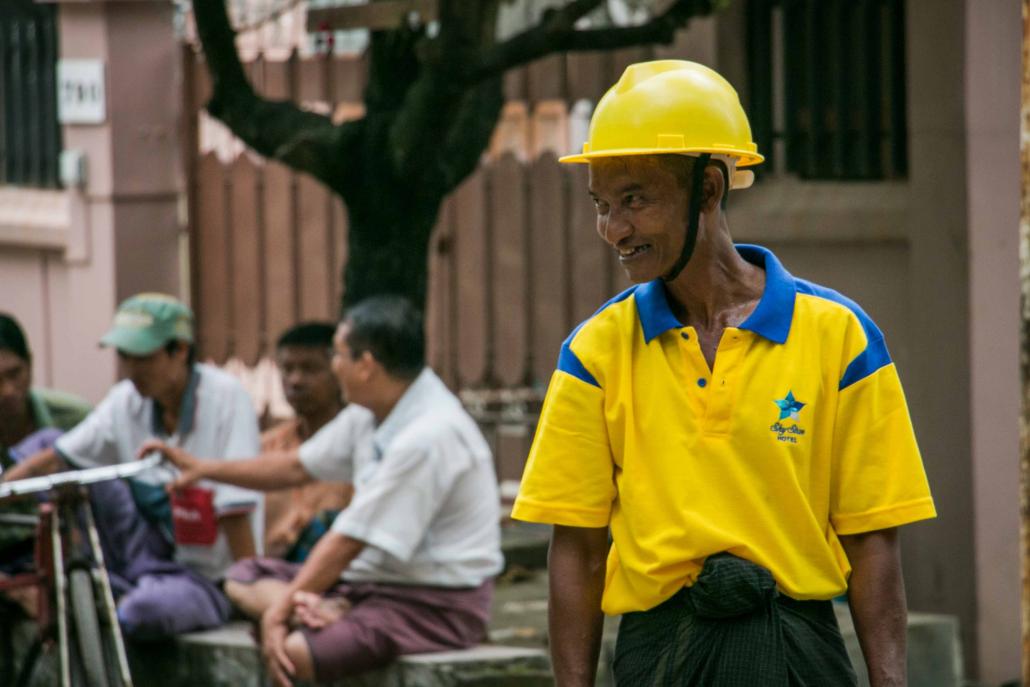 Traffic is especially bad on the last week of the month because there's a government bank near the junction where retired public servants collect their pensions.
A check by Frontier over three days showed that an average of 40 vehicles a minute pass through the junction at about 10am and about 54 a minute at 5.30pm.
Traffic police are rarely seen at the busy junction, said Ko Zar Ni, a trishaw pedaller whose stand is near the intersection of Le Yar Shwe Myay and Thamardi streets.
Official figures show that there are 2744 traffic police in Myanmar – one for every 300 cars and trucks, according to Road Transport Administration Department figures from June 2016. Of the 818,931 registered cars and trucks, 516,176 – almost two-thirds – were in Yangon, which has about 900 traffic police.
Ko Naing says he has been spending up to eight hours a day disentangling traffic jams since he became a volunteer traffic attendant about four months ago.
"Some traffic police don't work very well and I see them sitting in their booths," said the trishaw pedaller, whose ambition to become a traffic policeman was thwarted because he lacked the minimum education standard.
"Some drivers have no discipline, including where they park, and contribute to traffic congestion," he said.
Ko Shwe Htay, 46, a trishaw driver and former policeman, has been a volunteer traffic attendant in Tarmwe for the past four years.
"When I saw people stuck in traffic jams while pedalling my trishaw to make a living I wanted to help them," he said.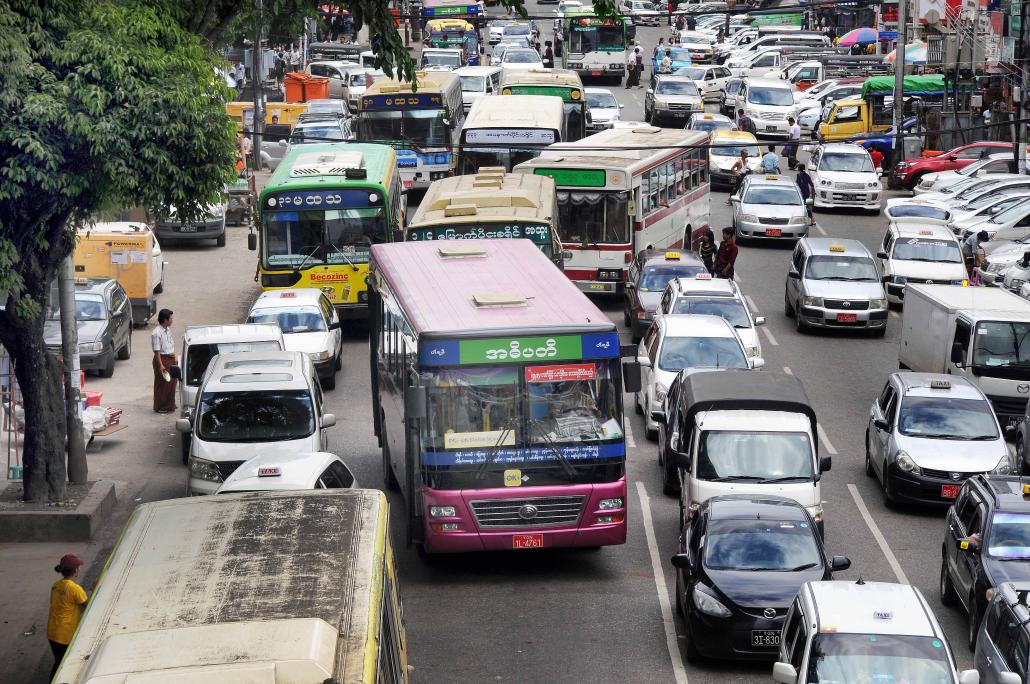 Not all motorists welcome the altruism of the volunteer attendants and their efforts to keep traffic flowing as smoothly as possible.
Some drivers show them no respect because they have not been formally trained and are quick to shout abuse, said Shwe Htay. Some drivers even try to stop them.
"We have to watch each other in case some drivers become hostile," said Ko Zar Ni.
The rewards for the volunteers are the drivers who express appreciation for what they are doing by giving food, drinking water and reflective jackets to wear at night, but not money.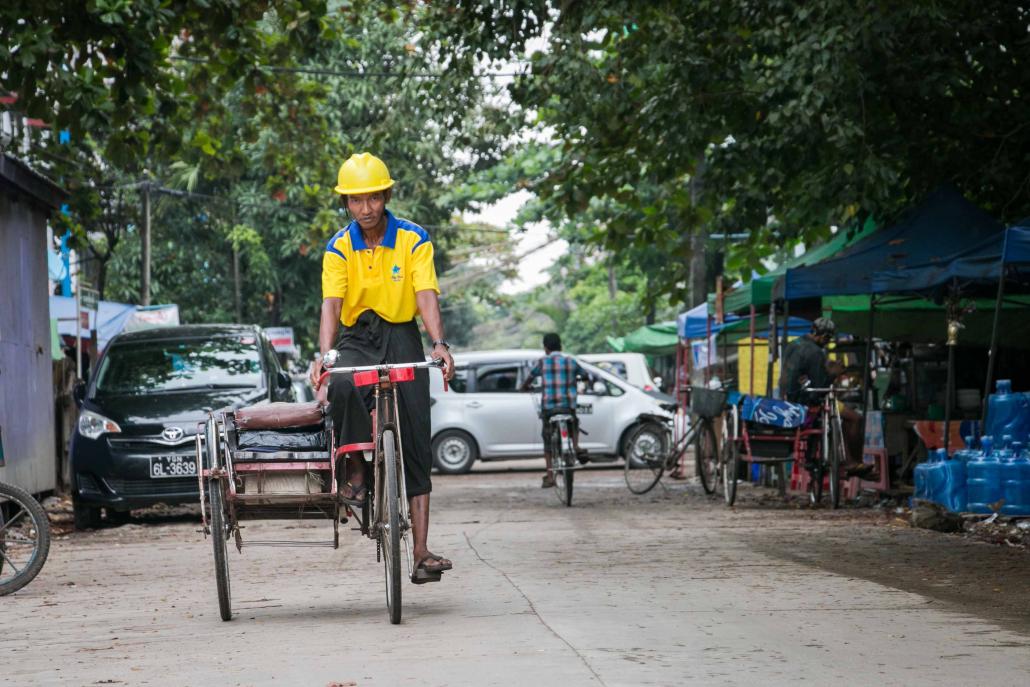 Asked why they perform their roles without being paid, all of the volunteer traffic attendants interviewed by Frontier said they were motivated by community spirit.
"We are happy to do it regardless of whether we are fed or not," said Ko Naing.
As their efforts become more widely known by the public and the government, officials have begun to acknowledge them. On October 1, Ko Naing was invited to a traffic police ceremony in Yangon and presented with a certificate of appreciation.
The volunteers have families to support and cannot always take time off from their work to help clear traffic jams. But most of the time, they feel compelled to help.
"At first, I didn't know how to use the whistle," said Ko Naing. "Now I can blow it better than a traffic policeman."