Across rural Myanmar, villagers who once volunteered to help stop the spread of COVID-19 are instead fleeing from military crackdowns or joining armed resistance.
By FRONTIER
As the third wave of COVID-19 spread through Myanmar last year, locals in Hnunsarkyin village in Myaing Township, Magway Region, banded together to try to stem the tide. A group of volunteers formed a committee dedicated to preventing the virus from spreading through the 250 households that make up their village.
The grassroots response depended largely on volunteers, who assisted healthcare workers at clinics and quarantine centres, screened new arrivals into the village, assigned them to quarantine facilities, and organised transportation to send suspected patients to hospitals or clinics. Patients in a serious condition would receive treatment at hospitals in the nearby towns of Pakokku or Myaing.
Now, as the fighting between the military junta and anti-coup forces intensifies, that grassroots response has fallen apart. Despite the fact that a number of the villagers are suffering from symptoms of Omicron, people have not been able to reconstitute the volunteer group to control what may be the beginning of a new outbreak, residents said. One young man from Hnunsarkyin village told Frontier that sick people have had to resort to seeking treatment from people without formal medical training or licences.
Regime health ministry statistics show 73,458 new COVID-19 cases and 115 confirmed deaths between February 1 and March 20, with the Omicron wave peaking just before the end of February.
The true number of cases is likely in the millions, however; these figures only include data from government hospitals, with many people choosing instead to receive treatment outside the public system. Despite this, the death toll still seems to have been relatively small – in contrast with last year's Delta wave, which a Frontierinvestigation found likely killed hundreds of thousands of people.
A man from Linkadaw village, also in Myaing Township, told Frontier that the country was lucky that the new variant didn't seem to be as severe as previous waves.
"It's a great relief for the people that the symptoms of the new Omicron variant are not as severe as old [variants]," he said. "If not, many people will get into trouble again in such a bad political situation."
One woman from Kyi Kan village said that the junta's Omicron numbers also don't include the many suspected COVID-19 cases that went untested or unreported.
"In the COVID-19 third wave, volunteer health staff used to test for COVID-19 if a villager suspected that they were infected," she said. "Now no one is able to do anything, even though people are suffering from [COVID symptoms]."
While the Omicron outbreak has been less deadly than the devastating Delta wave, the collapse of community response systems underscores the severity of the growing conflict and leaves the country susceptible to potentially more dangerous variants in the future.
Things fall apart
The grassroots COVID-19 response across rural areas of Myanmar has been disrupted by military attacks, government healthcare workers going on strike in defiance of the junta, young people joining the armed resistance, and the mass displacement of those fleeing armed conflict.
"Now, in the time of Omicron, there are no volunteers here, mainly because of the unfavourable political conditions," said a 20-year-old man from Hnunsarkyin village who had volunteered during the last wave and asked to speak anonymously for safety reasons. "We have to run away often, because the area is no longer peaceful. Some young people have decided to join the [People's Defence Force]."
PDFs are loosely affiliated anti-junta armed groups that emerged following violent crackdowns by security forces on peaceful protesters. Many PDFs are at least nominally loyal to the National Unity Government, an administration appointed by lawmakers elected in the 2020 polls. The military has refused to recognise the results of the election and declared both the NUG and PDFs terrorist organisations.
Because of the unstable political situation, the former volunteer said, it is difficult to travel the 58 kilometres (36 miles) to Pakokku to receive medical treatment. Local people told Frontier that the public hospital in Myaing, which is just 16km (10 miles) away, is no longer open because many healthcare workers are on strike and even those who continued working are now too afraid to travel to the hospital due to unrest in the area.
"In normal times, it wasn't difficult to go to town to get checked for COVID-19 and get treatment," said one woman from Hnunsarkyin, who spoke on condition of anonymity. "But the current political situation makes it dangerous to go from place to place."
Since November 2021, violence has intensified in the area. Military raids designed to crush anti-coup militias have become more frequent, but only encouraged more people to join the resistance. Hnunsarkyin residents said they have had to abandon their village eight times as of February due to raids by junta forces. Since September last year, mobile internet connection has also been cut in Myaing Township, making it difficult for people to access media reports and regime announcements, and to coordinate a grassroots response. Rampant inflation, a contracting economy and disrupted supply chains due to the conflict have only made matters worse.
"During the third wave of COVID-19, local people managed to survive on their own basically without any assistance from the military council," a Hnunsarkyin resident told Frontier. "In the current fourth wave, we can't do anything because of the bad political situation. Everybody is struggling just for their own survival. Day by day, people are finding it more and more difficult just to meet their basic human needs."
The man from Linkadaw village told Frontier that villages had been hollowed out by the fighting.
"I served as a volunteer in the village in the third wave," he said. "Now there are only old people in the village, because people are fleeing in fear of [junta] soldiers. I don't dare stay in the village either, so I couldn't serve as a volunteer to prevent and control the COVID-19 pandemic."
One resident of Matupi Township in Chin State who had previously volunteered to transport COVID-19 patients to clinics and hospitals said that the ongoing violence made it difficult to help those in need.
"These days, we cannot give any assistance regarding COVID-19, mainly because of the bad political situation," he said. "During the third wave, we did not have to run away and hide. The political situation is getting worse during the fourth wave."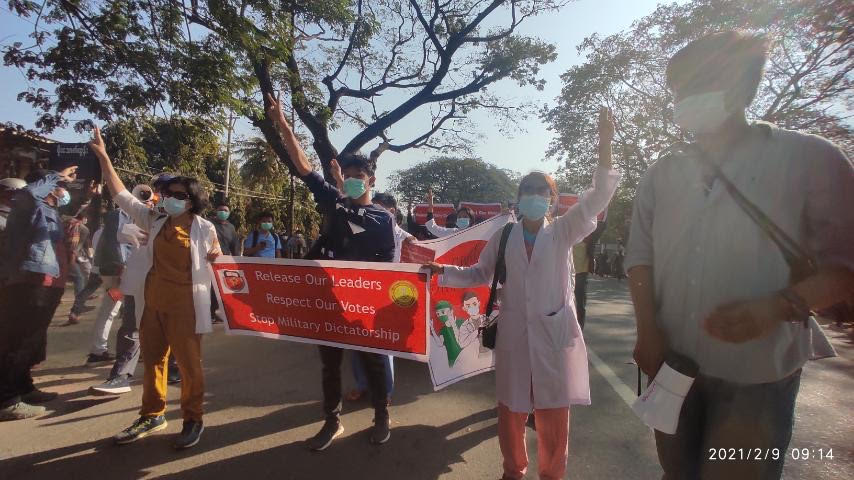 Putting cities first
Dr Than Naing Soe, the spokesperson for the military council's health ministry, said that the junta has focused its response to the fourth wave of the pandemic on large cities with a high population density.
"Seventy percent of COVID-19 cases were found in Yangon," he said. "And during the third wave, Yangon was the place where there were shortages of oxygen, shortages of hospital beds and difficulty in getting the people tested for COVID-19. So, this time, we are giving priority to Yangon."
In February, the junta health ministry launched a 24-hour emergency hotline for people to call to get tested for COVID-19, with those who test positive sent to either hospitals or COVID-19 treatment centres. Elsewhere in the country, the health ministry said teleconsultation teams made up of specialist doctors and medical scientists are available 24/7.
But locals question whether the regime's response has lived up to these promises. The woman from Kyi Kan village said the helplines have been of little use to people in rural areas, particularly where the regime has shut down internet access to undermine resistance groups.
"Because we don't have internet access, it's difficult to know what they [the health ministry] announce," she said, speaking anonymously for fear of being punished by the military. "As far as I know, nobody has ever made a phone call to those teams. People here have to make do with what is available around here."
Dr Than Naing Soe said that although the regime's ministry of health is capable of vaccinating the whole population, some areas were still lagging behind.
"Vaccination coverage is much lower in Sagaing Region, the northern part in Magway Region and Chin State," he said. "Some other regions and states have already achieved 70 percent vaccination coverage."
As of March 13, state media said 21.4 million of Myanmar's 55 million people are fully vaccinated, while another 3.39 million have received their first shot. Vaccine hesitancy in Myanmar has been driven by distrust of the junta and a desire to avoid legitimising the regime by engaging with state-run health institutions.
The most widely available vaccines are made by China and Russia, the junta's main backers, compounding the trust deficit. Studies have also shown these vaccines to be less effective against the virus, especially the newer strains that now make up the majority of new infections.
Although vaccination rates appear to be lowest in areas that have seen high levels of armed resistance to the regime, the ministry spokesperson was cagey about drawing any link between the COVID-19 vaccination efforts and the political crisis caused by the coup.
"These areas receive smaller coverage of vaccination because of, let me say, various reasons," he said. "Health workers found it difficult to do their jobs there. But we are doing our best to get the people vaccinated."
A woman from rural Mingin Township in Sagaing Region said that very few people were going to get vaccinated – and those who did would have to travel across dangerous territory to get it.
"None of our family has been vaccinated, since we would have to go to Mingin town," she said.
The 20-year-old former volunteer from Hnunsarkyin village said that they had seen little sign of the junta's vaccination programmes.
"No one from our village has gone to get vaccinated," he said. "The military council doesn't come to our village to vaccinate us, and we don't want the military council to vaccinate us anyway."