A free arts education program in Yangon is teaching children how to see and think creatively.
By THI RI HAN | FRONTIER
KO MIN Thant Kyaw sat quietly on the floor, working away at a drawing while his mother watched with pride. Now 15 years old, he was diagnosed with autism at a very young age, and his family said they were pleasantly surprised to learn that he had artistic talent, which he has been able to foster at the New Zero Art Space in downtown Yangon.
He is one of a small group of youths who benefit from a free arts training course offered by the gallery, an annual program lasting about three months from March to May. For the past eight years, the program has helped young people of various age groups learn creative skills and concepts. At the end of the training, the kids show off their work at an exhibition in the gallery, where the drawings are sold to support the students' families.
"On the first day of the show, an artist bought one of his pictures," Daw Mya Hnin Si, Min Thant Kyaw's mother, an educational consultant, told Frontier. "I didn't expect that he would reach this stage at all … I was so happy that I shed tears."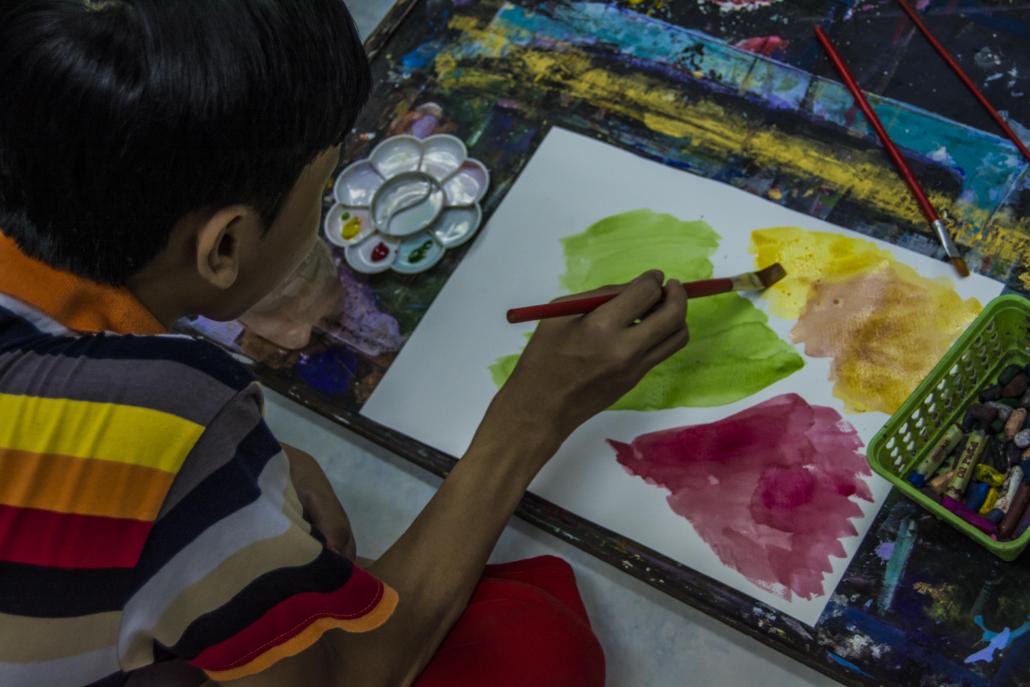 His instructors said that Min Thant Kyaw is one of the most promising young artists in his class. During their most recent exhibition, which ran from June 4-8, his paintings were among the most popular sellers of the 56 on view.
Though most of the young artists-in-training are not living with disability as Min Thant Kyaw is, they all seem to benefit from the social aspects of arts education. Trainers said their way of teaching was meant to encourage imaginative ways of thinking and seeing the world, offering children an alternative to the rote learning methods of many primary education schools in Myanmar.
"We train children to enable them to create things in their minds, instead of driving their thoughts into a frame," project director and gallerist Ko Aung told Frontier. "We don't teach them how to draw a picture or how to write an 'A', we teach them that they can make their own decisions with their own qualifications."
Ko Aung, who also runs a few other creative centres around town, including the Pansodan Art Gallery and its sister space, Pansodan Scene, said this approach to learning helped to socialise young people and boost their confidence in decision-making scenarios.
"Unlike children whose thoughts are driven into a frame, they don't have to worry about whether they will be scolded if they do something one way or another," Ko Aung said. "They come to know how to solve a problem, like if they cannot go on in the middle of drawing a picture. Other children might give up on the drawing, or cry."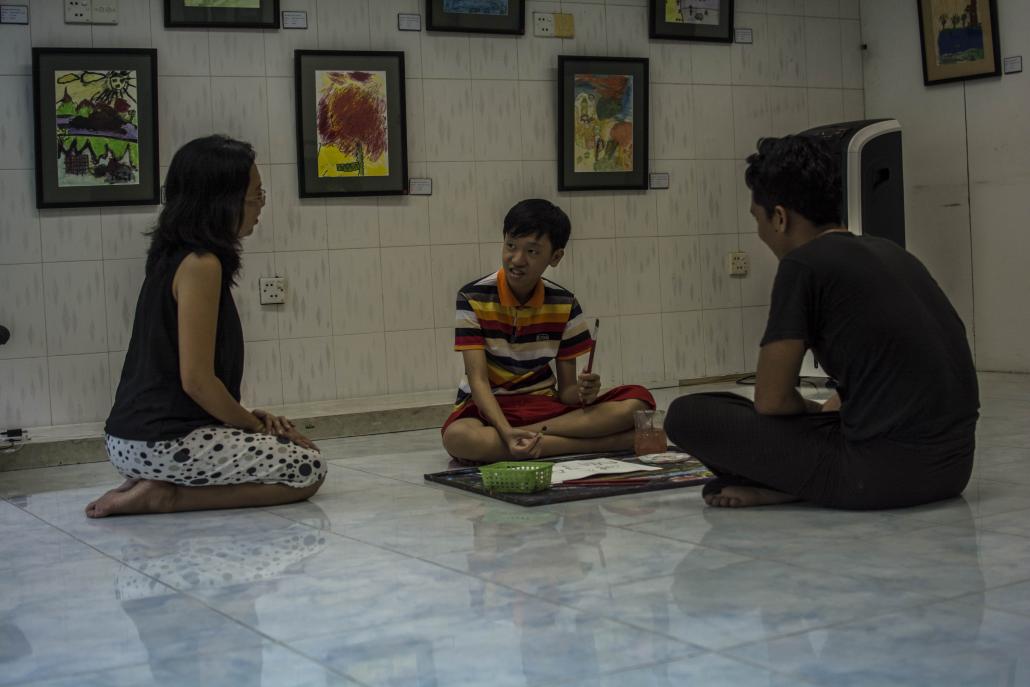 Ma Hayman Oo, an assistant to the curator, said that creative thinking was prioritised in their curriculum by giving students guidance, rather than instruction. "We train them in how to use different mediums and how to handle a brush, all the rest is up to them," she said.
Children of different ages trained together, because age and grade level didn't mean much in terms of creative development, she said.
"Despite being young, some children are very creative while some older kids aren't, so we train young children to become better [at the arts]," Hayman Oo explained. "Some children were very clever; their creations were very impressive."
A few enjoyed the program so much that they came back time and again, up to four years in a row. Those who returned to the program began to show strong aesthetic sensibilities, though not everyone could keep coming back. Many students, as they grew up, had to devote more time to their formal education. Some parents believe that arts education is less important for their child's development than formal training, and many are led to believe that more expensive schools equate to better outcomes.
"Some people look down on this type of training because it is free, but it is much more effective than other programs that are not free," said Mya Hnin Si, urging parents not to "regard every expensive training as good."
Her son occasionally glanced up at us as he was drawing, while rain came down in a steady drizzle on the streets outside. He started speaking at a late age, his mother explained, and he is not a very loquacious child. But as I knelt to speak with him while he worked, he made one firm declaration: "I will be an artist when I grow up."
The New Zero Art Space is located at 202 Ah Lan Pya Pagoda Road, 2nd floor of United Condo, Dagon Township, Yangon. More information about the gallery's free arts training program can be found on their website.