With roots in the 1988 uprising against military rule, the Shan Nationalities League for Democracy is seeking to break ethnic barriers – something that's easier said than done in Myanmar politics.
By HEIN THAR | FRONTIER
On the morning of September 18, 1988, a group of Shan youth – catalysed by the political uprisings that year – met at a private home in Yangon to form a Shan national union that would represent the Shan in the various democratic movements then beginning to coalesce. For most of them, it was their first political meeting. They chose a chairperson and other office bearers. Then they went home.
That evening, the military seized power from the decrepit, one-party regime of General Ne Win in a bloodless coup and declared martial law. Political organisations first went underground, but the following month the State Law and Order Restoration Council, as the junta called itself, announced it would hold an election and allowed political parties to register.
The group met again shortly after and Khun Htun Oo, a nephew of Sao Kya Seng, the last Sawbwa of Hsipaw, suggested forming a political party for the Shan. On October 26, with an initial membership of just 1,600, they registered the Shan Nationalities League for Democracy with the election commission.
Of the 17 ethnic nationality parties that contested the 1990 election, the SNLD did best, winning 23 seats and finishing second to the National League for Democracy, which won 392 of the 492 contested seats. The military-backed National Unity Party won just 10.
The SNLD was to become one of the most important political movements to emerge from 1988. With Khun Htun Oo as chairman, it was firmly allied with the NLD. The party's current objectives of federalism and self-determination were reflected in its inaugural slogan: "Without equality we cannot have peace; without peace we cannot build a democracy."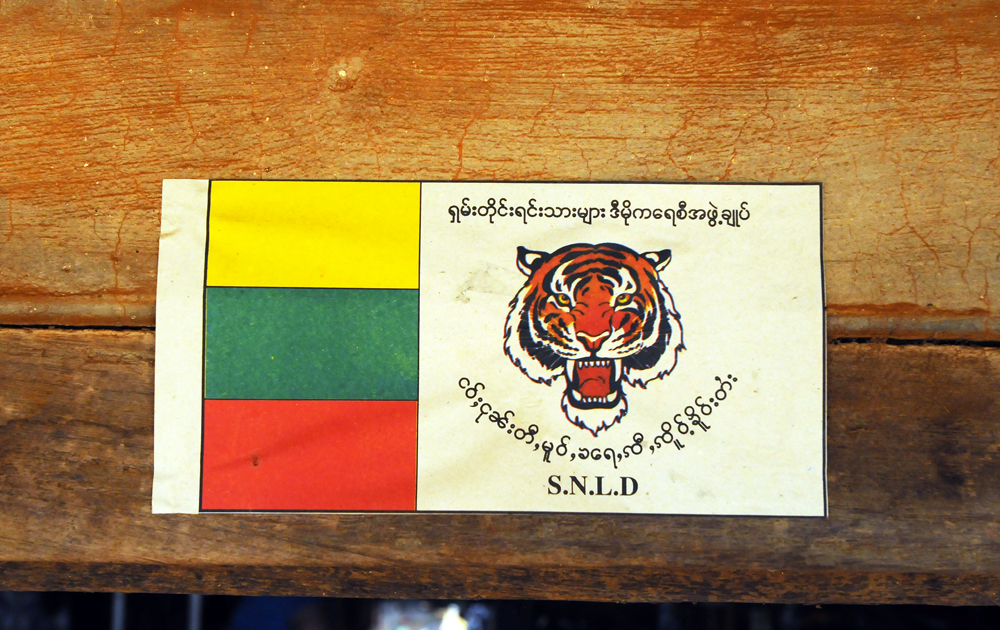 The limits of ethnicity
SNLD vice-chair-1 Sai Nyunt Lwin told Frontier that, at its formation, the SNLD was able to quickly build its membership by recruiting from the many Shan culture and literature associations in townships across Shan State and elsewhere. These associations were permitted under military rule as ostensibly apolitical vehicles for cultural expression.
Along with the NLD and several other dissident parties, the SNLD boycotted the 2010 election because of its opposition to the military-drafted 2008 Constitution. By 2013, having re-registered, it claimed to be the biggest party in Myanmar's largest state, Shan, with more than 30,000 members, though it remains headquartered in Yangon.
In the 2015 election it fielded 151 candidates and emerged as the fourth largest party in the Union parliament, with three seats won in the Amyotha Hluttaw and 12 in the Pyithu Hluttaw. It became the second largest in the Shan State Hluttaw, winning 24 of the assembly's 103 elected seats – behind the military-backed Union Solidarity and Development Party's 33 but ahead of the NLD's 23. It added six seats to its count in the 2017 by-elections – two in the lower house, and four in the Shan assembly – and added another Pyithu Hluttaw seat in a further set of by-elections the following year.
While it maintains strongholds in northern and parts of southern Shan with majority-Shan townships, the party has never won seats in the state's east, and Nyunt Lwin said he doesn't expect it to this year either. There are just too many militias there, he said, referring to armed groups of varying sizes that are allied to the Tatmadaw, and are mostly from non-Shan ethnic groups. "They outnumber even Shan people," he said.
The party will only win in the east, said SNLD secretary-1 Sai Lek, when elections can be held freely and fairly there, without militias bullying voters to cast ballots for the USDP, which swept eastern Shan in 2015. "Our political parties do not have weapons, so they are always at a disadvantage compared to the militias," he said.
"In some townships [in 2015], voting continued until the day after the election. It's unfair to count those votes, but that is what the militias did," he added.
Frontier could not verify this claim and it was not featured in any reports by election observer groups. USDP representatives in eastern Shan did not answer repeated calls for comment.
As in 2015, the SNLD is again contesting seats in Mandalay Region and in Kachin and Kayah states, mostly in areas with ethnic Shan populations. But at a conference last year the party declared its intention to transform itself from an ethnic and state-based party to a national one based on federal policy.
Nyunt Lwin said a sharper focus on policy would also help to distinguish the SNLD from national parties that are defined by personalised leadership. "There are many parties in our country based on individual leaders, but when those leaders become old and are unable to lead, their parties need to be able to move forward without them," he said. "We can't always produce heroes, so a strong policy foundation is necessary."
The party's 125-page platform, published in September (and analysed by Frontier here), outlines detailed plans for constitutional reform consistent with the federal principles contained in the 1947 Panglong Agreement – in which independence hero General Aung San pledged autonomy to several ethnic nationalities, including the Shan, on independence from Britain – but it also calls for the emergence of "collective leadership" in Myanmar.
This is a critique of the NLD's unilateral approach in government to resolving the country's problems. The SNLD says this has been a disaster for building peace and federalism, and that only a "multi-ethnic national reconciliation government" could achieve these goals.
Nyunt Lwin said the principle of inter-ethnic cooperation also applies to his own party, which he says has broadened its candidate roster to draw on a more diverse base of support. Its candidates this year include members of several ethnic nationalities, including Maw Htun Awng (who was earlier interviewed by Frontier), an ethnic Kachin who is vying for the Amyotha Hluttaw seat of Shan-5, which encompasses Muse District in northern Shan, where many voters are Kachin. Other candidates are Karen, Kayah and Lahu. The party is also fielding an ethnic Bamar candidate for the position of Bamar ethnic affairs minister in the Shan State government.
However, the SNLD's commitment to diversity does not appear to have been applied where it arguably matters most – the party's top leadership. The USDP and NLD running ethnic nationality candidates in the ethnic states, both in 2015 and in this year's election, has not enabled these parties to dodge charges that they are Bamar-dominated. Sai Lek confirmed that the SNLD's apex decision-making body, the 31-member central executive committee, is entirely ethnic Shan. This, alongside the party's continued preference for Shan symbols and language, may make voters from the many non-Shan communities of Shan State, such as the Pa-O, Ta'ang or Lahu, doubt its claim to have transcended being an ethnic Shan party.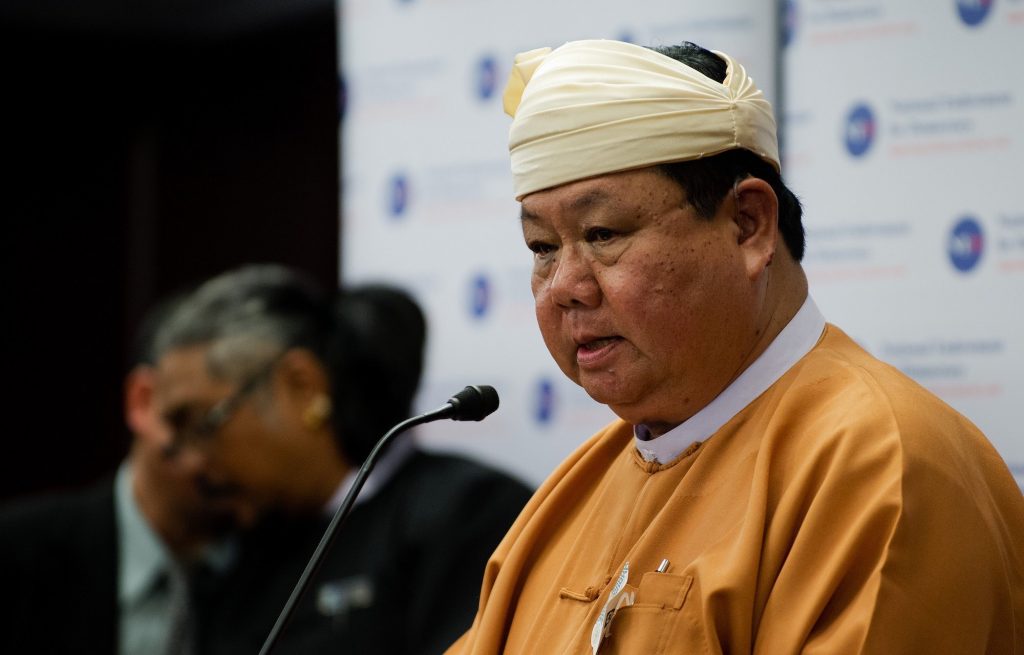 Changing of the guard?
But as any seasoned observer of Myanmar politics knows, the leadership of any institution can be among the last things to change – and the SNLD has recently thrown up some drama in this regard.
On September 27, Khun Htun Oo, who is 77 and has served as the party chair for 31 years, suddenly announced his resignation in a letter sent to 7Day News. In the letter, he said he wanted to make way for the younger generation, and that he wanted to rest and to take care of his family.
The move seemed to align with the party's professed desire to diversify its ageing, ethnic Shan leadership. But just a few days after the letter was published, Khun Htun Oo withdrew his resignation following a request from the party's central executive committee.
He and party spokespersons are not speaking to the media about the resignation or its reversal, but the move invites parallels with the ruling NLD, which youth activists have criticised for privileging elders that have served jail time in the past at the expense of younger members.
Like many other ethnic leaders, Khun Htun Oo has paid a high price for his activism. Two days after attending a political meeting on Shan National Day, February 7, 2005, he and eight other Shan activists were arrested by the military regime and charged with high treason and sedition. After a closed trial held later that year, he was sentenced to 93 years in prison. Nyunt Lwin was sentenced to 85.
Khun Htun Oo was released with Nyunt Lwin during a mass presidential pardon in January 2012, but the chairman has since been dogged by health problems that partly stem from neglect in prison.
But the party has been spared much of the criticism directed at the NLD. In the eyes of many observers, it still retains the strident idealism of both the 1988 uprising and the federal vision that underpinned the 1947 Panglong Agreement. In the last parliamentary attempt at constitutional reform, which Tatmadaw MPs vetoed early this year, the SNLD authored 1,112 of the 3,765 changes submitted for debate, the most of any party.
"I see the SNLD as a party that has always pursued the goal of federalism and whose members are not greedy for seats," San Yu Kyaw, a political columnist and co-founder of the Mandalay School of Journalism, told Frontier.
"We are Shan, and because our party is strong in Shan State, people think we're working only for Shan State. But that's not so. It is clear that our party is the most active in the peace and constitutional amendment processes," said Sai Lek, the SNLD secretary-1.
The party, which now boasts a membership of nearly 50,000, is fielding nearly 130 candidates in this election, down from 157 in 2015, according to Shwe Kyu, who manages the party's Yangon headquarters. Nyunt Lwin said the party is fielding fewer candidates this year to focus its resources on constituencies where it's sure it can win under the first-past-the-post system.
He said it expects to win more seats than in 2015 on the strength of its diverse slate of candidates and because its main rival in Shan, the USDP, appears to have lost support over the last five years and has campaigned less this year.
The truth of this prophecy will be revealed in just a matter of days.