High land prices and a shortage of low-cost housing means that many Yangon residents can only ever dream of owning a home of their own.
By HEIN KO SOE | FRONTIER
"I will never own a house in my lifetime," Daw Ngwe Ngwe Win, 46, said sadly in the small bamboo shack in Yangon's Dagon Seikkan Township where she has lived for 20 years. "Land and housing are too expensive; I don't think I belong in a house," said the divorcee, her skin darkened from years of toil as a farmer.
Ngwe Ngwe Win, who supports a son and daughter still at school, lives in one of 18 "houses" similar to her own, all inhabited by farmers and day labourers. The shacks they call home are in a field and their occupants are all effectively homeless.
Census results released last year showed that Myanmar has a population of 51.5 million, of whom 70 percent live in rural areas.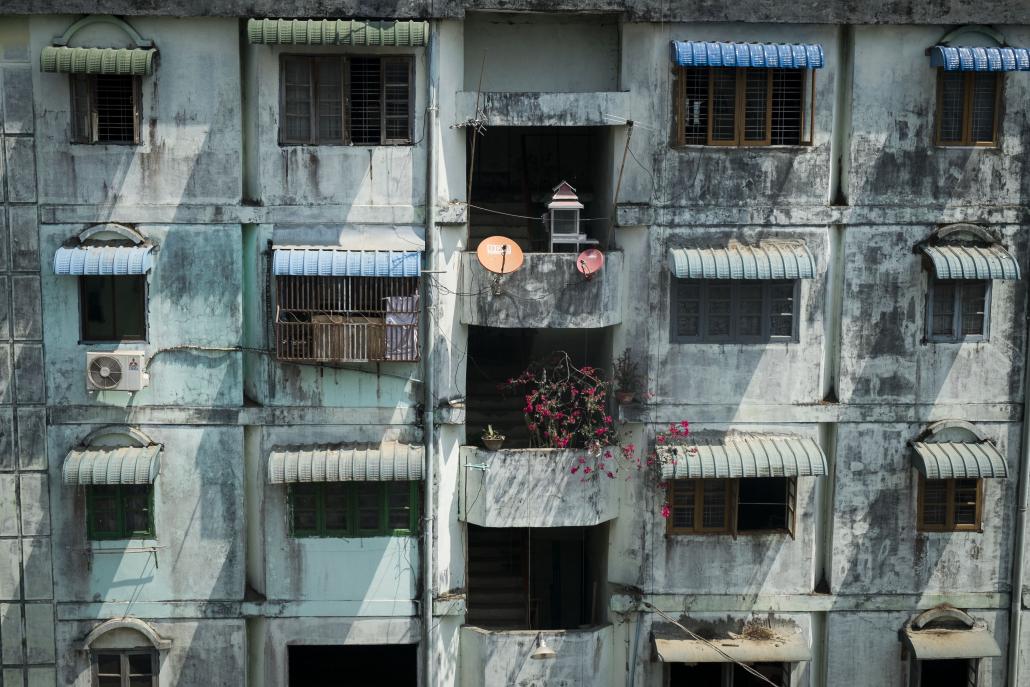 As the nation's biggest city, Yangon is a magnet for internal migrants from rural areas seeking work and many of them, such as Ngwe Ngwe Win, live in slum areas.
Yangon Region is the most densely populated of the 14 states and regions, with 723 people per square kilometre, followed by Mandalay Region, with 206 people/km2.
Almost 20 percent of Yangon's seven million people have migrated from other parts of the country, said U Win Htain, the former MP for Tarmwe-1 constituency in the Yangon regional assembly.
"In 2014, more than 100,000 people were living in slums in Yangon, but that number is increasing now. We can see so many people living in slums on Yangon's outskirts, in places like Dagon Seikkan, Hlaing Tharyar, Shwepyithar and other places," he told Frontier.
Win Htain said the government should help these people by providing low-cost housing.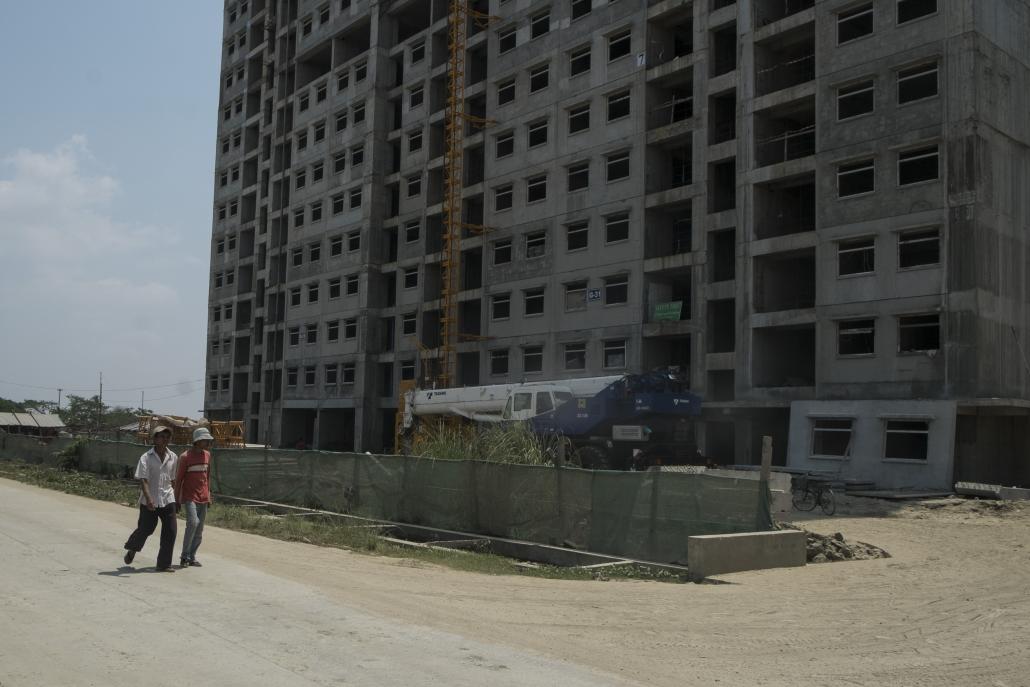 Addressing the situation will be among the many challenges facing the National League for Democracy government when it takes office on April 1.
In its manifesto for last year's election, the NLD promised to "establish, as quickly as possible, a program for the rehousing of homeless migrants who have moved to the cities as a result of natural disasters, economic opportunities and land confiscation".
The Yangon government should make more housing available in urban areas by acquiring property to rent or sell, said Ma Aye Kyi, 20, who lives in Dagon Seikkan.
"I would like to buy a home but I can't because land and a house are very expensive for me," Aye Kyi told Frontier. "I have a low income and a son, but no job. I depend on my husband who is a general worker, so we cannot think about a home," she said.
On Yangon's outskirts, rooms can be rented for between K60,000 and K100,000 a month, and it costs at least K150,000 to rent a house or apartment in areas closer to the city centre, said a real estate agent who asked not to be named.
In Myanmar, 25.6 percent of the population live below the poverty line and 85 percent of the poor live in rural areas, shows Asian Development Bank data. The United Nations Development Programme says Myanmar's per capita income is US$702.
In 2015, the Ministry of Construction's Department of Urban and Housing Development provided low-cost housing for slum dwellers and the homeless to buy through hire-purchase, said U Yu Khaing, the department's Yangon Region director.
"We have already done low cost housing for those living in slums and other homeless people," said Yu Khaing. "Ten thousand rooms will be released, which will cost nearly K10 million through hire-purchase," he said, adding that the department was awaiting approval from the outgoing Construction Minister.
Yu Khaing said the department was building nearly 30,000 single-room units throughout the country, of which nearly 10,000 in Yangon were sold during the term of the outgoing government, in Hlaing Tharyar, Dagon Seikkan and South Dagon.
The cost of housing is high in downtown Yangon, at more than K100 million, and prices on the city's outskirts start at about K20 million, said a real estate agent in Dagon Seikkan.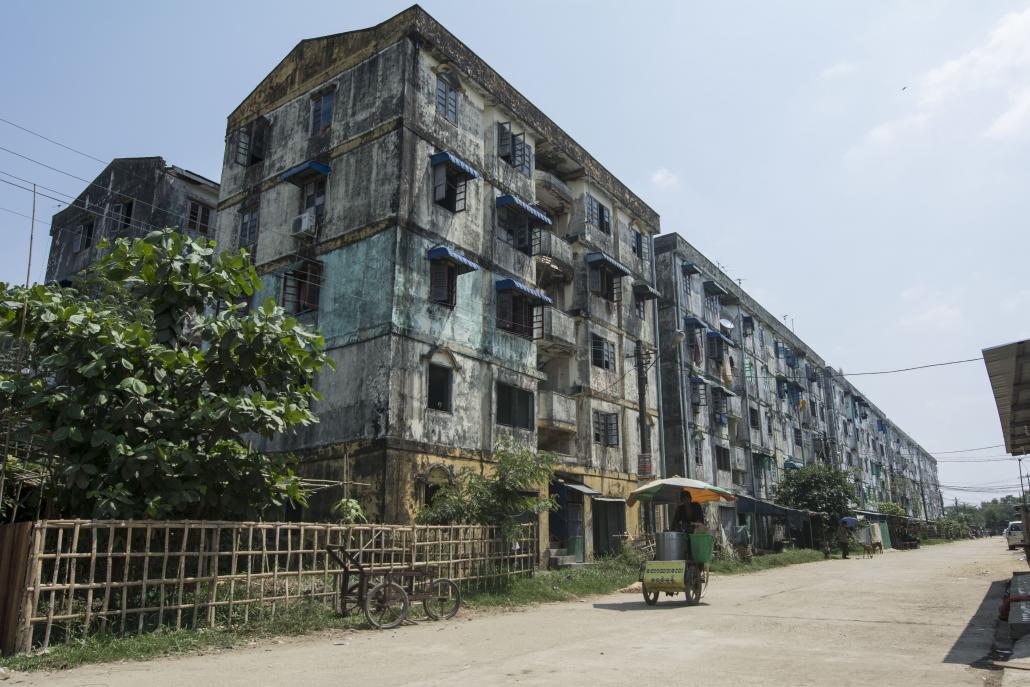 "I can't buy a house and land, so I live beside the street in a hut," said Ko Agyi Kaung, referring to the shack in South Dagon that he's called home since moving from Tarmwe 17 years ago.
"I am a motorbike driver; I earn K5,000 a day and I have two children to support," he said, adding that he could not even afford to rent.
Many migrant workers moved to Yangon in search of jobs after the political transition began in 2011 and the rise in population has created a housing problem, said U Khing Maung Sai, a retired construction industry executive.
The problem could be solved if the government had an urban development plan and built more low-cost housing for sale by hire-purchase, he said.
Hire-purchase was essential to enable those on low incomes to acquire their own home, U Khing Maung Sai said.
"Yangon does not have much housing for those at the grassroots," said Ma Wai Phyo, an office worker at a private company who earns K150,000 a month.
The high cost of real estate meant that few people could afford to buy their own home, a situation that was especially disappointing for those who were married, said Wai Phyo, who moved to Yangon from Magway Region in 1996 to find work.
"My dream is to own my own home but it remains just a dream," she said.