While the civilian government largely turned a blind eye to people illegally living on designated farmland, the junta is threatening to crackdown on them, which could leave thousands in Mandalay Region homeless.
By FRONTIER
On June 26, local authorities in Mandalay Region's Patheingyi Township ordered the removal of buildings from farmland, including residential homes. Accusing the owners of constructing them without proper permits, the junta-controlled Township Farmland Management Body gave them a couple of weeks to remove the buildings.
"It has already passed the deadline for removal, and there haven't been any further notices from the authorities," said a local resident whose building was listed for removal on July 10. "Most people haven't moved yet because it isn't so easy, and we're still waiting to see what happens. Only those who have another place available have moved."
The resident added that the owners of the buildings listed for removal have signed an appeal requesting the authorities not to proceed with the evictions.
Many people in Myanmar buy land designated as farmland, which is cheaper than residential land, but build homes on them anyway. This violates section 12(g) of the Farmland Law, which prohibits using farmland for "non-agriculture purpose without permission".
Although illegal, the practice was largely ignored by the elected National League for Democracy government, which was overthrown in a military coup in February 2021. Now the military regime is threatening to follow the letter of the law, which could leave thousands homeless.
Article 19 of the Farmland Law gives the management body, under the agriculture ministry, broad authority to levy fines, evict people from farmland or even demolish buildings. The management body also has the authority to take non-compliant landowners to court, where they can be sentenced to six months to two years in prison, or fined between K300,000-500,000 (around US$140-240).
Patheingyi is a peri-urban township on the northeastern outskirts of Mandalay city where the urban sprawl meets rural farmland. Residents said the order covers East Kan Kau, Gwae Gyi Kone, Tae Kone and Mae Kin Kone villages, which are all part of the Nang Oo Lwin village tract. There are over 7,000 households affected by the removal order in East Kan Kauk village alone.
They say the buildings ordered to be removed include solidly built houses with access to government-provided electricity, some belonging to residents who have lived there for more than 20 years.
A raw deal
Ko Kyaw*, from East Kan Kauk village, said the land he bought for K100 million in January already had residential buildings on it.
"Building a house takes time, there's no way officials were unaware of it. A house can't be built discreetly. If this was illegal, they should have taken action right from the beginning," he said. "I believe the officials turned a blind eye to these situations or received bribes from the previous landowners."
Ko Kyaw said he knew the property he bought wasn't supposed to be used as a residency, but he's tried to get the proper paperwork for a residential home to no avail.
"As per my ownership, I currently reside on farmland. While I was aware that it may not be entirely valid for residential purposes, I had hoped to get permission to use it for that purpose in the future," he said.
"However, when I approached the respective department to apply, I was told that the application procedure is currently closed," he added, referring to the Department of Agricultural Land Management and Statistics.
U Myo Tint Tun, deputy permanent secretary of the junta's agriculture ministry, said authorities are currently not granting the kind of permit Ko Kyaw was seeking.
"Since the second half of the government's first administrative year, they have discontinued granting permission to use farmland for other purposes," he said.
However, Ko Kyaw alleged that people with military connections who bought land after him have already gotten permission to build residential homes, and there are others who have no permits but aren't being threatened with eviction.
A resident from Gwae Gyi Kone village said when he bought his farmland in 2008, it was in a rural village, but the area has since been urbanised.
"Over time, the area has transformed into a ward due to the growing number of houses, and there is also public electricity. If such actions were illegal, the officials should have conducted inspections and taken action earlier," he said.
Those facing eviction claim living on farmland is a common and harmless practice that wasn't punished in the past, but others are less sympathetic.
"Personally, when conducting business, I explain to prospective buyers that the land being sold is farmland and specific procedures are required if they intend to reside on it," said a real estate agent from Nay Pyi Taw's Zabuthiri Township.
A resident of Madaya Township, a roughly one hour's drive north of Mandalay, also said land buyers are usually aware it's illegal to build in designated farmland, but do it anyway to save money. "They are willing to take the risk because the price is lower than the more reliable land and the location is good for building a home," he said.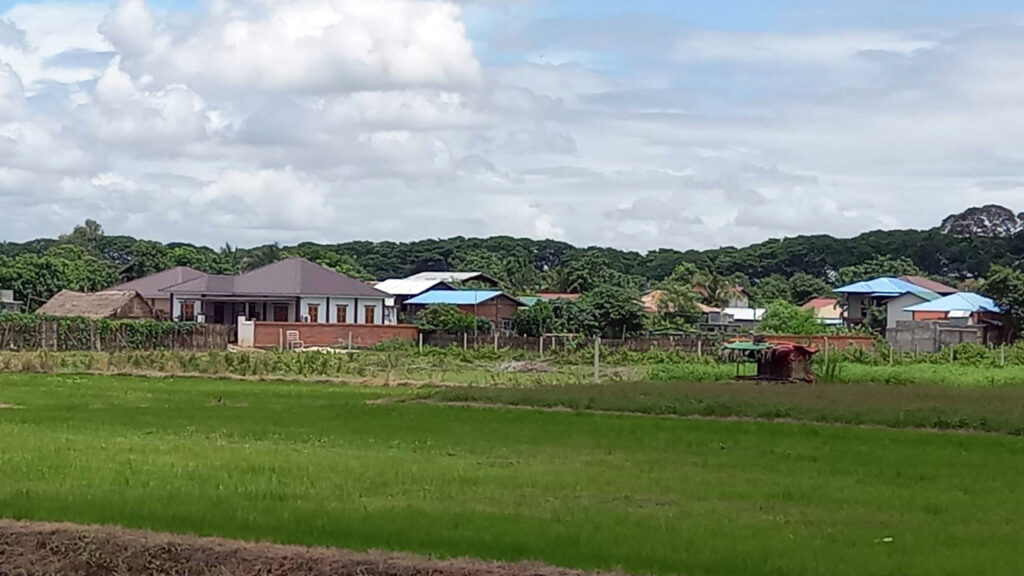 Left in limbo
The owners whose buildings are included in the removal list complain they've been left in a constant state of anxiety because they fear they could be evicted from their land at any moment, despite the deadline passing with no enforcement. They have created a Facebook support group where they share information and advice.
"I would like to express, on behalf of everyone, that the officials should show empathy and consideration in their actions," said Ko Kyaw.
"The majority of us aren't wealthy, but invested everything we had in order to buy our own place. Despite being aware of the situation, I bought the land because it was the best I could afford," he added. "We are willing to pay appropriate land taxes and household taxes."
A lawyer in Nay Pyi Taw said landowners have little recourse, because these disputes aren't resolved in court, but through orders made by government committees.
"The only thing lawyers can do in these cases is to assist clients in applying for a permit to use farmland for other purposes. If the houses are forcibly destroyed, we can inquire for proof from the authorities that they were authorised to carry out such demolitions," he said.
In April, local regime authorities also issued a statement that similar malpractices were being investigated in peri-urban parts of Mandalay's Pyin Oo Lwin Township, and warned that action would be taken against those who failed to comply with regulations.
The statement said that many people are interested in buying land in the township because of its good infrastructure and status as a tourist destination, but advised prospective buyers to be more cautious in the future to avoid potentially significant losses
So far, no further action has been taken in Pyin Oo Lwin.
The real reason?
Myo Tint Tun, from the agriculture ministry, explained that the regime has been inspecting farmland to check whether it follows regulations, and has paused granting permission to convert farmland to other uses, because it aims to maintain the country's food production.
"There are some conducting businesses on farmland without permission and without growing any crops. The constant decrease in agricultural land areas is the main reason for these inspections," he said.
Myo Tint Tun, who held the same position in the NLD administration, said there were a handful of evictions then, but nothing like the recent mass orders in Patheingyi.
In May, junta leader Senior General Min Aung Hlaing said there are over 5 million acres of agricultural land nationwide that aren't being used for cultivation.
"Those violating the law will face legal action. All cultivable land should be used with full capacity," he said during a meeting on July 13.
But the regime's explanations are unsatisfactory. In April, the United States Department of Agriculture said farmland acreage had declined due to widespread conflict, but was expected to rebound because of the rising cost of rice. It did not mention people living on farmland as a significant factor.
The military also has a long history of seizing, rather than restoring, farmland. Those facing eviction, therefore, have other theories for why the regime may be eyeing their property.
"The junta is using the excuse of improving the agricultural sector to conduct these inspections, but they have other motives," said U Zaw Naing* from Patheingyi, who speculated the military may use the land for its own commercial enterprises.
Since seizing power, the junta has evicted thousands of squatters from urban neighbourhoods, often in areas near military installations or businesses. In November, more than 10,000 homes were demolished in Yangon's Mingaladon Township, home to various military facilities and a factory owned by a military conglomerate. Hundreds more were evicted in Pyin Oo Lwin, home of the military's premier defence services academy.
Three of the Tatmadaw's light infantry battalions are based in Patheingyi.
"Our township is close to Mandalay city," said Ko Kyaw. "If your land ownership is secure, the real estate could be very valuable. The junta could also implement various commercial projects. I believe they issued this removal order because of the potential financial benefits."
* denotes a pseudonym for safety reasons