Widespread conflict has had a devastating impact on paddy farmers in war zones, but the slump in production is driving up prices for farmers in more stable areas, despite new onerous export restrictions.
By FRONTIER
Farmer U Kyaw Naing was once able to grow enough crops to feed his family and sell the surplus from his five acres in Sagaing Region's Khin-U Township. But since his home and about 400 other households in Myo Thit village were burned down in a military raid, he has been forced to rely on rice donations from charity groups.
"I can't even think about growing monsoon paddy this year because my house was burned down. All of my paddy seeds for planting and the rice we reserved to eat are gone. Nothing is left," he said. "Last year, I could only grow one-and-a-half acres of paddy because we had to flee the military council's troops."
But one man's loss is another man's gain. With conflict affecting large swathes of Sagaing and Magway regions, which are major agricultural hubs, the supply of the staple food has dropped. This has driven up prices and allowed farmers in more stable areas to capitalise.
"It's the nature of the market that if demand is higher than supply, you get a good price," said the owner of a rice brokerage in Magway's Pakkokku town.
After the military violently cracked down on protests against the February 2021 coup, Myanmar's formerly peaceful central Dry Zone became an unlikely stronghold of armed resistance. Many residents of the area, which includes Magway and Sagaing, formed new anti-coup militias called People's Defence Forces, initially armed with little more than homemade hunting rifles.
As the PDFs grew in strength, the military launched brutal counter-insurgency operations, burning down entire villages and bombing residential areas with fighter jets.
Grain merchants say the fierce conflict – and mass displacement of civilians – has reduced the area available for rice production. Meanwhile, an economic downturn and a depreciating kyat, combined with a heavy reliance on imported fertiliser, have drastically raised production costs.
Devastation in Sagaing and Magway
Many farmers in this part of the country have either had their homes and farms destroyed or been forced to abandon their property.
The Institute for Strategy and Policy-Myanmar, a think tank, said in January that 43,216 buildings in Sagaing had been destroyed since the coup, nearly half of which were targeted between November and January alone. Another 11,000 buildings have been torched in Magway since the coup.
"In Khin-U Township, more villages were torched and destroyed this year," said Bo Lynn Yaung, a member of the Khin-U PDF in Sagaing.
"The junta's Ogre Column burned the houses. Paddy seeds and bean and pulse seeds were burnt to ashes, so the acreage of cultivation might decrease this year. Last year, villages close to where military troops were deployed were unable to grow any crops," he explained, referring to soldiers from the Light Infantry Division 99, infamous for its brutal methods against the civilian population.
Kyaw Naing, the farmer whose home was destroyed in Myo Thit village, called for the parallel National Unity Government to support farmers in conflict-affected areas by providing them with seeds in time for the growing season.
"Rice is our staple and I want to grow it if possible. Even if I can't produce a surplus that could be sold, I would be content with enough for my family to eat," he said.
Most PDFs are nominally loyal to the NUG, which was appointed by elected lawmakers deposed in the coup, and have tried to roll out affiliated local administrations in areas where the junta's governance has collapsed.
Even those who could grow some crops last year had to cut back on production due to rising costs and security risks.
"I couldn't afford enough fertiliser, so an acre only yielded 40 baskets," said Ko Phyo from Khin-U's Inn Pat village, who was only able to use enough fertiliser to grow on three of his six acres.
"This year junta troops are stationed in many areas, and I worry that I may not be able to grow as much as last year."
Daw Htar Htar, a farmer in Kanni village in Magway Region's Myaing Township, said military raids made it impossible to produce a surplus.
"Farmers couldn't produce a surplus for sale and could only grow enough for their own households last year," she said, predicting more of the same this year.
"We have to flee our villages regularly."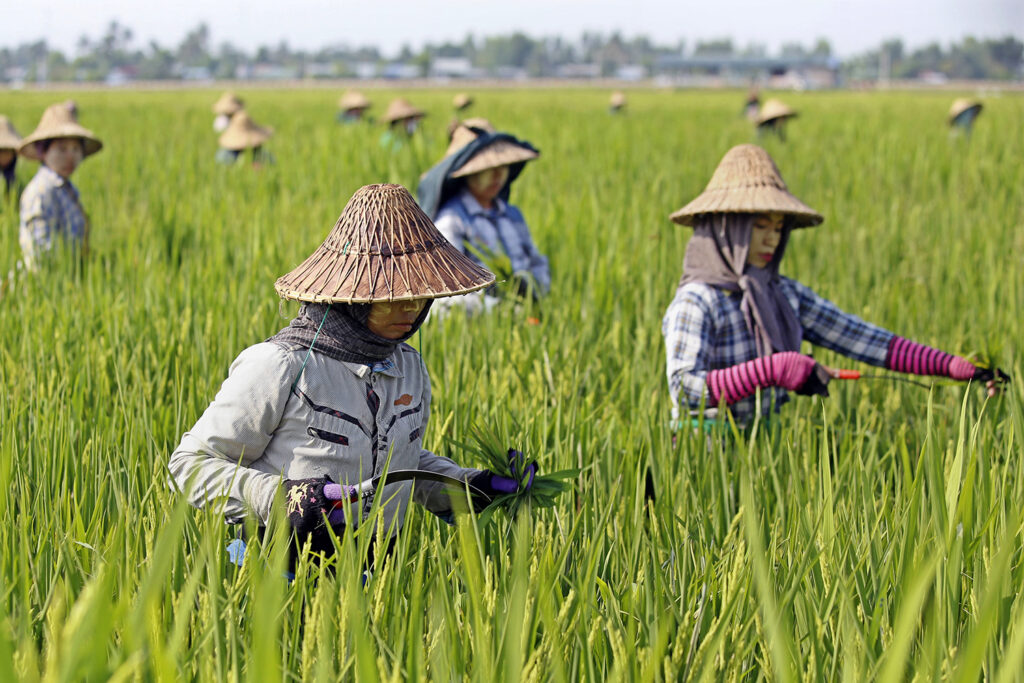 Higher prices push up production
There are two rounds of paddy planting and harvesting each year. The monsoon crop is planted in June and harvested a few months later, while the summer crop is planted in November or December and is being harvested now.
Prices are already on the rise for the summer crop, and there's speculation this will incentivise farmers in more stable areas to devote even more land to monsoon paddy.
An April report by the United States Department of Agriculture forecasted that "attractive market prices… will encourage farmers to increase rice acreage despite higher production costs and changing export and foreign currency regulations".
The USDA forecast for rice production in 2022/23 was down 3 percent from the year before, largely due to lost acreage in conflict areas, but the report said market prices in March more than doubled from the reference rate of K315,000 per metric tonne to K750,000-850,000.
Traders told Frontier that the paddy being harvested this year was fetching up to K1.8 million for 100 baskets (or about K540,000 per tonne), compared to only around K1 million the year before. This is lower than the USDA figure, but industry sources said prices were continuing to rise.
"The current price is for newly-harvested and milled paddy, and it might rise after the paddy is drier," said a farmer in Ayeyarwady Region's Maubin Township, an area largely devoid of conflict.
A farmer who sells paddy seeds in Mandalay's Patheingyi Township said he had a surge in customers for this year's monsoon paddy crop because of the expected increase in profits.
"Farmers will grow the most profitable crops. If paddy fetches a good price this year, they will grow paddy," said U Myo Tint Htun, deputy permanent secretary of the junta's agriculture ministry.
The prices of beans and pulses are also up, according to U Kyaw Thwin, vice-chair of the Mandalay Region branch of the Union of Myanmar Federation of Chambers of Commerce and Industry. He said three baskets of beans and pulses are fetching K100,000-300,000, a roughly 60pc increase compared to last year.
U Myint Lwin, who farms 15 acres in Mandalay Region's Madaya Township, said current paddy prices were good for farmers but acknowledged that they squeezed consumers at a time of economic hardship. He said in the long run, both producers and consumers would benefit from a more stable market and lower production costs.
"While it's true that all people work in the hope of making a profit, it would be good if we can sympathise with each other," he said.
Currency policy collapses exports
Economic policies under the junta have been erratic, often changing suddenly and typically aimed more at shoring up political control or replenishing the regime's dwindling foreign currency reserves than creating healthy markets. The rice industry has been no exception.
On March 1, the junta rolled out a new policy that 65pc of border trade earnings from rice and rice products must be converted into kyat at the exchange rate set by the Central Bank of Myanmar. The remaining 35pc can be converted at the market rate, which is significantly more favourable.
Exporters said the new policy, which forces them to accept huge losses on their foreign currency earnings, has resulted in an extraordinary decline in exports via land borders.
"Rice exports to China have nearly stopped because of the policy change, but crops such as beans, sesame, maize, rubber and marine products are being exported as before," a rice trader told Frontier on May 4.
The Myanmar Rice Federation says the overland trade in rice products hit 46,000 tonnes in January and 53,000 tonnes in February, but collapsed after the new regulations, dropping to just 270 tonnes in March and around 2,000 tonnes in April. State media corroborated those figures for April, reporting 2,228 tonnes exported.
Traders said rather than exporting through land borders, they're sending the rice by sea or selling it domestically. State media said over 85,000 tonnes were exported by sea in April. These shipments are subjected to the same 65pc policy, but traders say they make more of a profit on maritime trade.
The Myanmar Rice Federation has set a target of exporting 2.5 million tonnes of rice this fiscal year, which ends in March 2024, an increase from the 2.26 million tonnes exported last fiscal year. But USDA projects the new policies will depress exports. Using April's figures as a reference, Myanmar would fail to reach even half of that goal.
A rice exporter in the town of Muse, a trade hub on the Chinese border in northern Shan State, said traders were too afraid to publicly oppose the regime's policies but were trying to raise the issue in meetings with lower-level officials.
"We might get into trouble for opposing their policy," he said. "[The junta] did this because they want foreign currency."