With most charity groups in hiding and regular blood donors afraid or unwilling to donate at state-run facilities, illegal "blood brokers" are increasingly preying on those in need amid a blood shortage.
By FRONTIER
Instead of resting, 60-year-old U Maung spent the days before his heart surgery in a frantic search for five units of A-positive blood. His cardiologist at Yangon's Ar Yu International Hospital said he needed to secure the blood before his operation, planned for February 2.
Since last year's coup, blood donations at public hospitals and at the state-run National Blood Centre in Yangon have dropped dramatically. Supplies had already been declining throughout the pandemic, but with the junta targeting humanitarian groups that collect blood donations and frightening people from interacting with any state facilities, supplies are now critically low, blood donation associations and regular donors say.
Due to the low supplies and a lack of donors, U Maung's family was still one unit short on February 1. Desperate, they turned to Ko Hla Oo, a close family friend whose father is U Maung's best friend.
Hla Oo contacted friends of his at independent charity blood donation groups and at Yangon monasteries, where Buddhist monks often serve as emergency donors. By the end of the day, however, he was still empty-handed.
"I was at a loss," Hla Oo told Frontier.
In the end, U Maung and Hla Oo lucked out. Less than seven hours before the operation, a close friend of Hla Oo's posted an appeal on a Facebook blood donation group. Just four hours before U Maung's surgery, a 28-year-old male from Yangon's Thingangyun Township finally contacted Hla Oo with good news: he was A-positive, fully vaccinated and ready to donate.
"All I could do was sigh with relief," Hla Oo said.
The man came immediately to Ar Yu.
"We got the unit of blood in time for his surgery," Hla Oo said. "It was a narrow escape indeed."
For many others, however, that last minute donation never comes – or it comes at a high price. Low supplies and resistance to working with junta-run institutions have led many patients and their families, like U Maung's, to rely on word-of-mouth and online social networks for critical blood donations. These informal networks have opened cracks for nefarious "blood brokers" to game the system, gouging desperate families in their times of greatest need.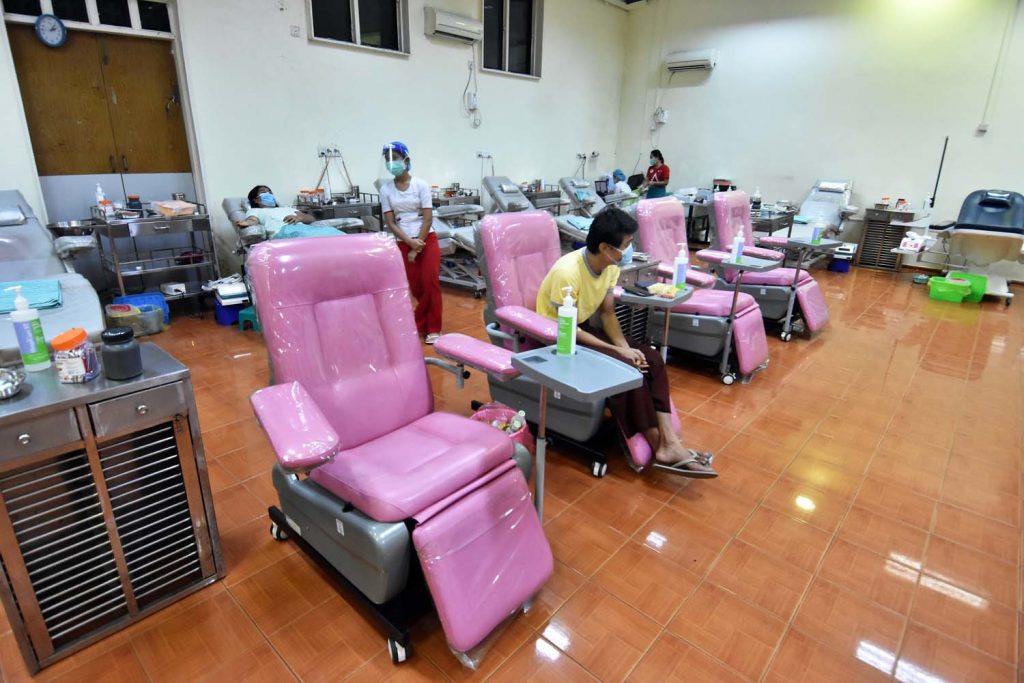 Donorship down
In 2019, the NBC received nearly 300 donors a day and sent more than 9,000 units of blood to hospitals across the city every month, according to records it has made public online. During the pandemic, these numbers both dropped by more than half. Throughout 2020 the centre issued urgent appeals for healthy adults to donate amid a sharp decline caused by the COVID-19 pandemic, often spreading the message through the press.
The centre is no longer publishing donation numbers and since the coup, NBC Deputy Director Dr Thida Aung has refused to speak to the media. Regular NBC donors, however, told Frontier they've witnessed donations drying up, dropping significantly from what was already a low point.
"The number of people who donate blood at the NBC decreased when COVID-19 began spreading in the country, but that number has fallen dramatically since the coup," said Ko Aung Ko Ko, a regular donor from Yangon's Tarmwe Township.
Aung Ko Ko said he has donated 26 times in his life, including 14 times at the NBC. He said when he went in August 2019, there were nearly 70 other donors at the NBC. He saw only 11 when he went in September 2021 and only four when he went in January this year. Multiple other donors also told Frontier the number of donors dropped during COVID-19 and dropped again after the coup.
"We're having a hard time because the military has been targeting humanitarian groups," said Ko Zaw Zaw Aung, a regular donor from Yangon's Thaketa Township.
In previous years, as much as 70 percent of the centre's blood supplies had come from such charity groups. Since the coup the military has reportedly arrested charity workers on multiple occasions, either for providing healthcare to wounded protesters or for trying to treat people for COVID-19 outside of state-run institutions.
Even in the midst of Myanmar's devastating Delta wave in 2021, security forces cracked down on parallel health institutions, going as far as arresting doctors while as many as hundreds of thousands died.
"Before the coup, it was possible [in an emergency] for people to donate blood 24 hours a day, but now, with the junta's nightly curfew, this is not the case," Zaw Zaw Aung added. "We can no longer donate blood to patients who need blood units urgently [at night]."
U Aung Soe, the leader of a charity blood donor group in Yangon's Thingangyun Township, estimated some 70pc of the 100-plus blood donation groups that operated before the coup have ceased operating.
"Junta soldiers arrest every young person that tries to donate, accusing them without reason of having ties to the People's Defence Forces," he said, referring to the armed groups that have sprung up across the country in armed resistance to military rule. "As a result, their parents don't dare let them donate blood – which has led to the current crisis."
His own group has seen its pool of regular donors dwindle from 500 to just 75.
"The unmet need for blood at hospitals increased after the coup d'état, after most donation groups and associations stopped operating," said the leader of a different donor group that is still operatingin Yangon's Thingangyun Township who spoke on condition of anonymity due to safety concerns.
While most donors are avoiding junta-run facilities, some are still attracting a few donors. Ko Tin Maung Oo, a 35-year-old South Okkalapa donor, said he doesn't want to wait the four or five hours it usually takes to donate at private hospitals.
"Drawing blood at the NBC takes about just 30 minutes," he said. "Donating blood at hospitals takes a long time – sometimes we'd wait the whole day to donate."
The time discrepancy has to do with different methods of testing blood for infectious diseases. Private hospitals typically test the blood first, and donors can wait hours for their results. If they are clear, only then do they collect more blood to donate. In contrast, the NBC takes the blood first, allowing the donors to leave, and then tests it before delivering it to the patients.
Of the 20 regular blood donors Frontier spoke to in the first two weeks of February, 10 had only donated directly to someone in need, five had only donated to the NBC, three had donated to both and two had stopped donating altogether after their parents forbade it.
"The number of individual donors is declining, and the number of blood brokers around hospitals is increasing," the Thingangyun group leader said.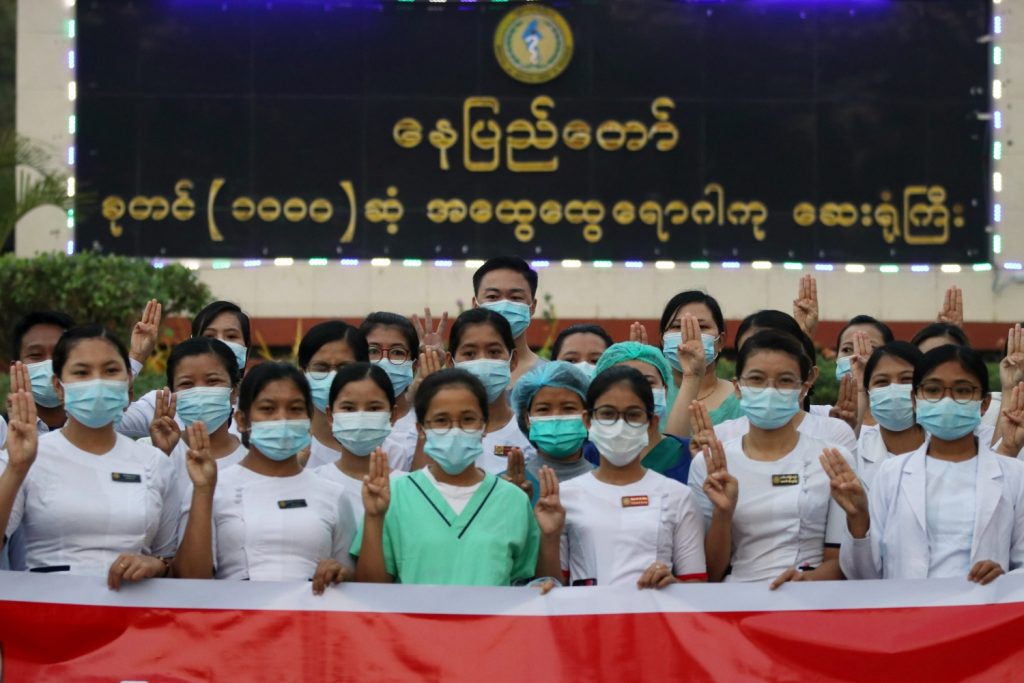 Finders' fees
Though numbers are hard to come by because of the practice's illicit nature, individual blood donors and charity donation group volunteers told Frontier they've seen the number of "blood brokers" increase since the coup.
These brokers hang out around hospitals and establish a rapport with staff, searching for information on patients and what blood types they need. They then secure blood from donors they find online while posing as patients and sell the supply on to the real patients at exorbitant prices.
Sources say one unit – about a pint's worth – of common blood types like O, A, B and AB-positive sell for just under K100,000, or about US$56.62, while rarer blood types like AB-negative, can sell for between K500,000 and K700,000. But prices can also rise if brokers sense they can get more.
"The broker sells at a price depending on the family's need and means," said U Thura Aung, a member of a donation group in Thaketa. "They'll raise the price if the family can afford it, or if the patient is wealthy."
In Yangon, sources said, brokers are generally concentrated around the city's remaining popular private hospitals. This is in part because many public hospitals have shut down due to a lack of staff over the past year as a result of the nationwide Civil Disobedience Movement following the coup, in which hundreds of thousands of public servants walked off their jobs.
The issue of blood brokers is not a new problem. The National League for Democracy government that was ousted n February 2021 had, in its previous term, investigated and prosecuted blood brokers, said U Htay Kyi from a North Okkalapa donation group. He said this crackdown led to a reduction in the practice, but it has surged again since the coup, with many acting even more brazenly than in the past.
"Now, no one arrests them, so they do whatever they want," he said.
While Frontier could not independently verify that claim, multiple other charity groups also confirmed that the practice was being reformed under the NLD but seems to have revived under the junta.
Aung Soe, the leader of the Thingangyun group, said these brokers often impersonate members of legitimate donation groups by wearing counterfeit badges or clothing misrepresenting themselves, then use the disguise to glean information about those in need.
"They persuade staff at private hospitals. They used to say, 'tell us how much blood you want, and we will search for it and return," he said. While some hospital staff are being hoodwinked, Aung Soe also believes some are now working with the donors and taking a cut of the profits.
In December, a broker contacted Thura Aung, from the donation group in Thaketa, pretending to be a patient in need of one unit of AB-positive blood for an impending surgery at a well-known private hospital in Hlaing Tharyar Township. When Thura Aung and a volunteer donor met the broker at the hospital, he was unable to verify that he was a patient, and they realised it was a scam. They soon found the real patient, delivering the blood to him directly.
Thura Aung said the broker was planning to sell it for K450,000.
"We met directly with the patient who was urgently in need of blood at the hospital and we donated the AB (RhD Positive) blood unit that he needed. No need to pay money," Thura Aung said.
But while this transaction was stopped, the broker never faced legal consequences. Thura Aung said he believes hospitals are reluctant to report brokers because the media attention it might bring could hurt their reputation. Frontier tried to contact officials from four private hospitals and from the Myanmar Private Hospitals' Association. Only one answered their phone, the managing director of the hospital where Thura Aung encountered the blood broker. She said the hospital has pursued no legal action against blood brokers and refused to answer more questions about the issue.
The lack of action from hospitals and lack of faith in the police means that some charity groups are attempting to take justice into their own hands. Aung Soe said his blood donation group temporarily detained a broker for a few hours after catching him at a private hospital in Sanchaung last year. They warned him not to return and to stop price gouging but saw him at the hospital again just one month later.
Frontier tried contacting five blood brokers, whose phone numbers were provided by charity groups. Three of the numbers were disconnected and the two others hung up as soon as the reporter asked about the blood broker issue.
This problem does not seem to be going away, either. Donors and would-be donors that Frontier spoke with overwhelmingly said they feel more comfortable donating directly to individuals in need and their families than to junta-run institutions.
"They no longer believe that blood given at the NBC or at public hospitals are reaching the patients who need it, so they only donate directly [through Facebook groups or word-of-mouth networks]," said Ko Min Aung, a donor from Sanchaung Township.
This will continue to expose donors and recipients to unscrupulous brokers taking advantage of the breakdown of rule of law, but many donors seem willing to take that risk.
"Most young people are determined never to donate blood at military hospitals," Min Aung said.