Boat repair is the main occupation of many residents in a poor township across the Yangon River from downtown and some of them have a precarious existence.
By SU MYAT MON | FRONTIER
Photos STEVE TICKNER
IT TAKES about 20 minutes to travel by skiff from Yangon's downtown area to Seikgyikanaungto Township, a poor and undeveloped area where the main occupation of many of its 34,000 residents is repairing boats.
Waterway travel is an essential part of life for the people of Seikgyikanaungto, an island bordered by the Yangon River, Twante Canal and Twante Township, and also a source of income for the operators of its boat ferries.
The cost of a ride across the river from Seikgyikanaungto to the downtown area starts at K2,000 for a skiff, and rises to K3,000 for a bigger boat.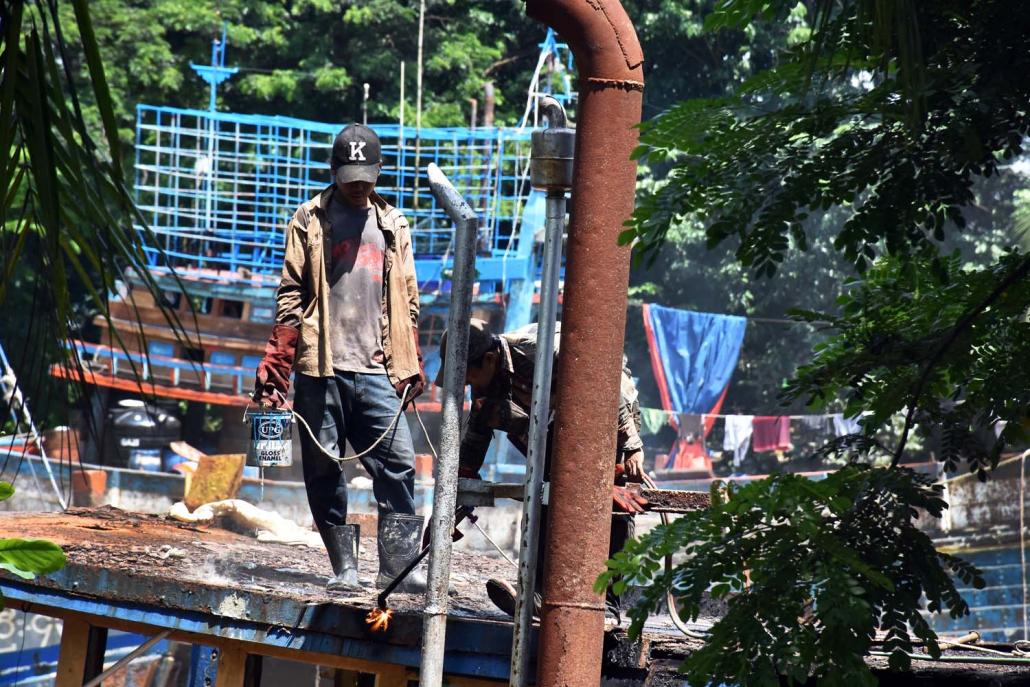 Steady demand for trips across the river to Yangon and downstream to neighbouring Dala Township keeps the ferry operators busy.
Not far away, along the riverbank in Seikgyikanaungto's Chanmyay Yeiktha 3 ward, dozens of workers are busy repairing or rebuilding vessels, including fishing boats and cargo ships.
The ward is one of 15 locations in Seikgyikanaungto where boats and ships are careened, or turned on their sides, for repair or maintenance work.
The careenage sites are surrounded by high walls for security and resound with the sounds of machinery and the clang of tools on metal.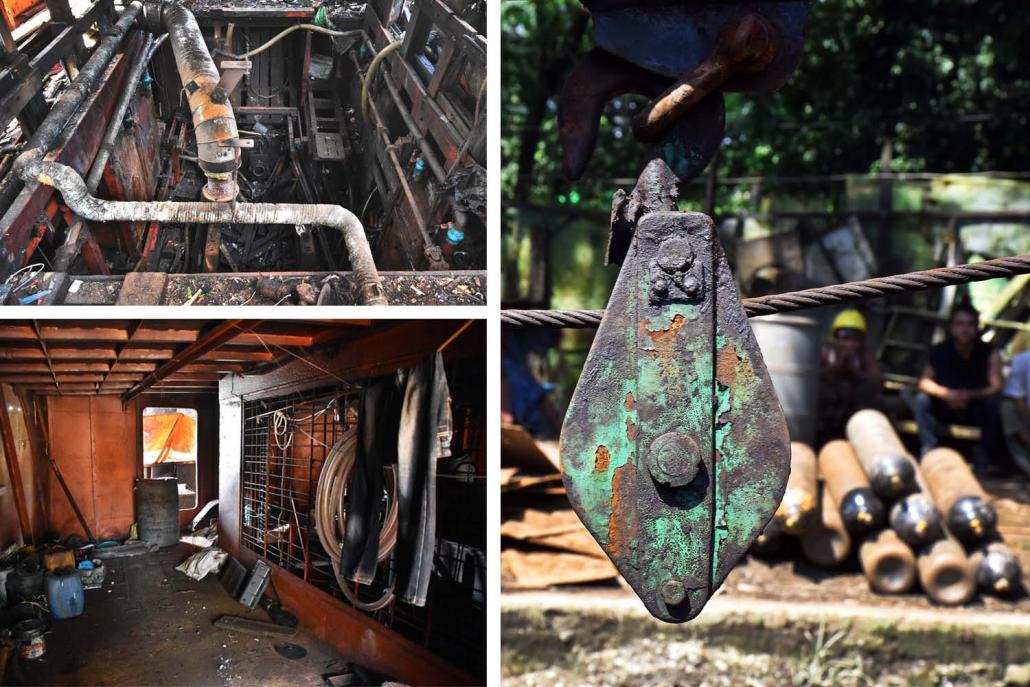 Ko Kyaw Zaya, 29, has lived at Chanmyay Yeiktha 3 ward since the careenage site was built in 1999, when his parents moved there from Kyonpyaw in Ayeyarwady Region in search of work.
Kyaw Zaya works as a carpenter repairing fishing boats, though it was not his first choice of occupation.
"I wanted to become a mechanic but it was too expensive," he told Frontier, as his wife, Ma Than Than Htwe, 27, breastfed their daughter beside him.
Kyaw Zaya said his daily income was K18,000 and could be as much as K36,000 if he was required to work at night. However, illness and the threat of injury are a constant worry.
"When a family member is not well, we cannot save money and we have to live from hand to mouth," he said.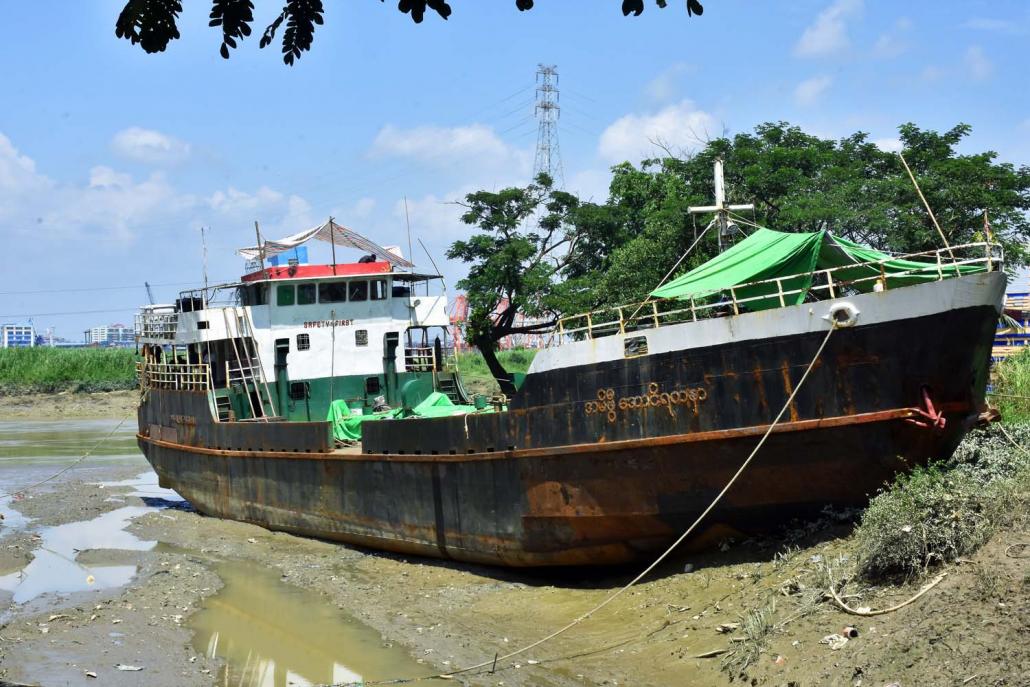 The most dangerous time for workers is high tide. Certain maintenance tasks can only be completed in the hour or so when the water level is at its peak, and accidents sometimes occur because they are rushing to complete the job.
"I've had many minor injuries, but nothing too serious," Kyaw Zaya said.
A small boat with minor damage takes about two weeks to repair but badly damaged vessels can require up to four months of work.
Daw Than Than Myint, 44, also from Kyonpyaw, came to Seikgyikanaungto in search of work 19 years ago. Her husband is a dock worker and the plot of land on which they built their house was provided to them by his employer.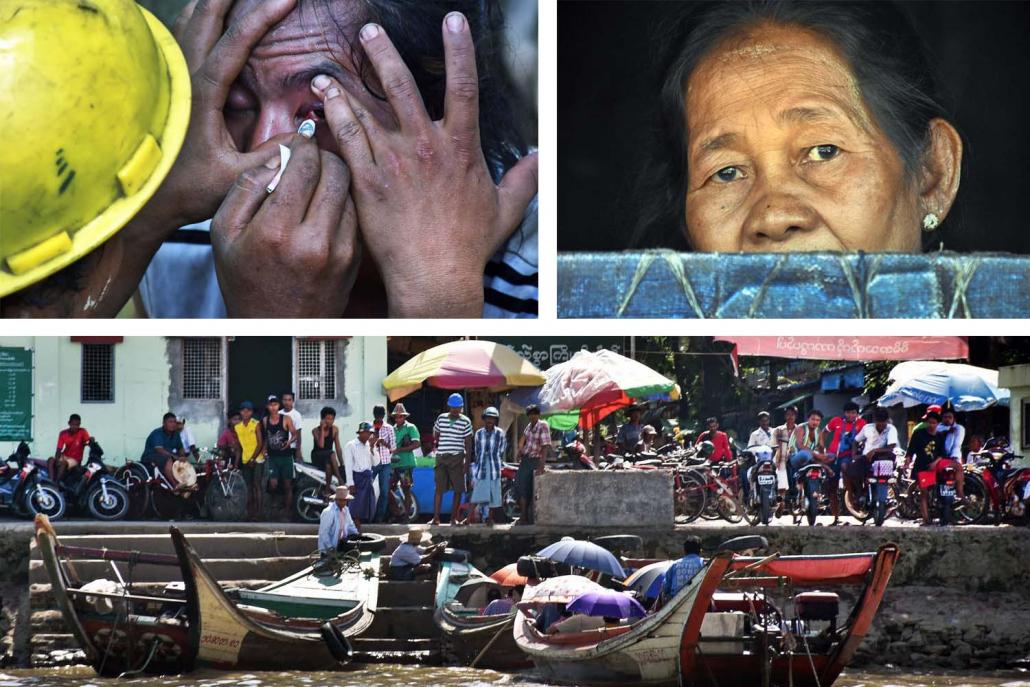 Than Than Myint said her husband earns K90,000 a month but it is not enough to cover living costs for the family of 10.
Some of their adult children help Than Than Myint to sell betel as well as doing manual labour in the boat yard.
"The only season when we have the opportunity to save a little money is summer because there is more work repairing boats," Than Than Myint said.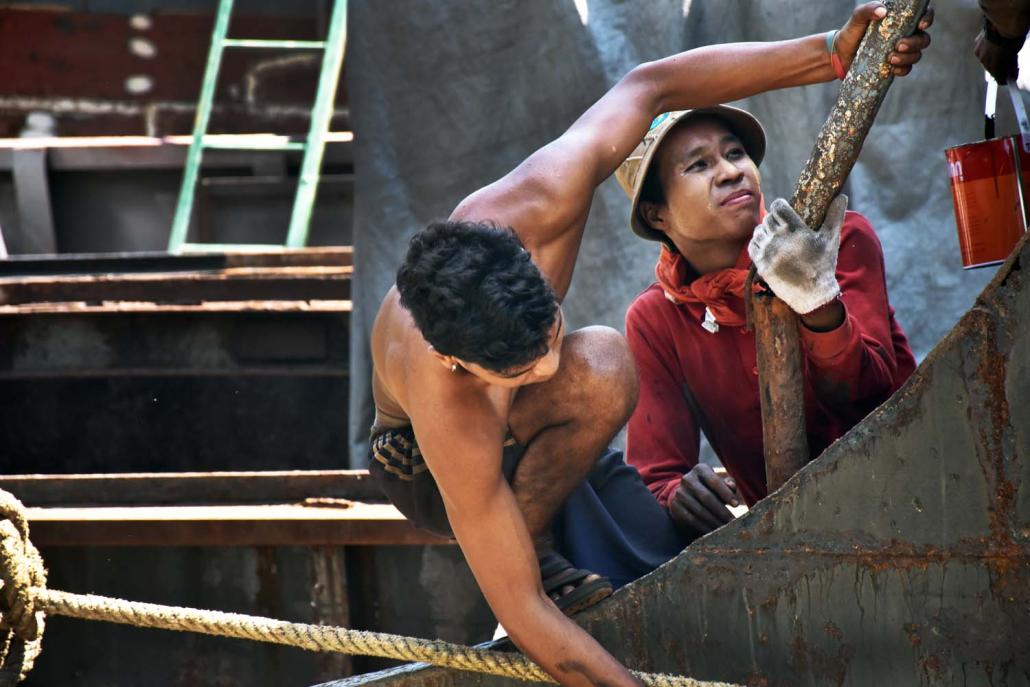 Ko Aung Myo Thu, 27, has been working as a solderer in the boat yards since he left the family farm near Bogale Township in Ayeyarwady three years ago.
"I enjoy what I do because I didn't want to work as a farmer in muddy fields," he told Frontier.
Aung Myo Thu admitted the work is dangerous. He knows of about ten people who have died in accidents while doing soldering work, some of whom were electrocuted.
He earns K15,000 a day, which he prefers to receiving a monthly wage.
"I know it's a dangerous job, but I have no choice because I have to work for a living."