Myanmar has one of the world's highest landmine casualty rates. Three organisations are helping survivors by providing them with prosthetic limbs.
By THI RI HAN | FRONTIER
IN 2001, Ko Aung and two farmer friends were walking home after a day in the fields near a village in Bago Region's Phyu Township.
"Suddenly, there was an explosion," said Aung. He did not immediately realise he had trodden on a landmine. "My friend told me, 'Don't look down.' But when I looked down I saw that I did not have a right foot anymore. It was severed at the ankle."
Aung was unable to work as a farmer after losing his foot and moved to Yangon to make a living as a beggar. He spends most of time on Pansodan Road, near Yangon Central Railway Station, a prosthetic limb by his side.
The blast shattered the bone to the knee and Aung had to have the lower part of his right leg amputated. After the incident, while he was still in Bago, Aung said an organisation that he did not know the name of provided him with the prosthesis and covered the cost of travelling to and from hospital.
Behind its office in Yangon's Sanchaung Township, MPHA has established a factory that makes equipment for people with disabilities, including wheelchairs, crutches and prosthetic limbs.
About a third of MPHA's members are landmine victims, said its secretary, U Aye Ko Ko. They include former members of the Tatmadaw and ethnic armed groups, as well as villagers.
There were 251 reported landmine fatalities in Myanmar in 2014, the third highest in the world that year after Afghanistan (1,296) and Colombia (286), according to Landmine Monitor 2015, the annual report of the International Campaign to Ban Landmines.
The report said more than 3,700 landmine casualties were reported in Myanmar between 1999 and the end of 2014. More than 50 townships across more than half of Myanmar's 14 states and regions have some form of landmine contamination, it said. However, there is no humanitarian mine clearance programs in Myanmar, and it remains one of a handful of countries yet to ratify the Mine Ban Treaty that entered into force in 1999.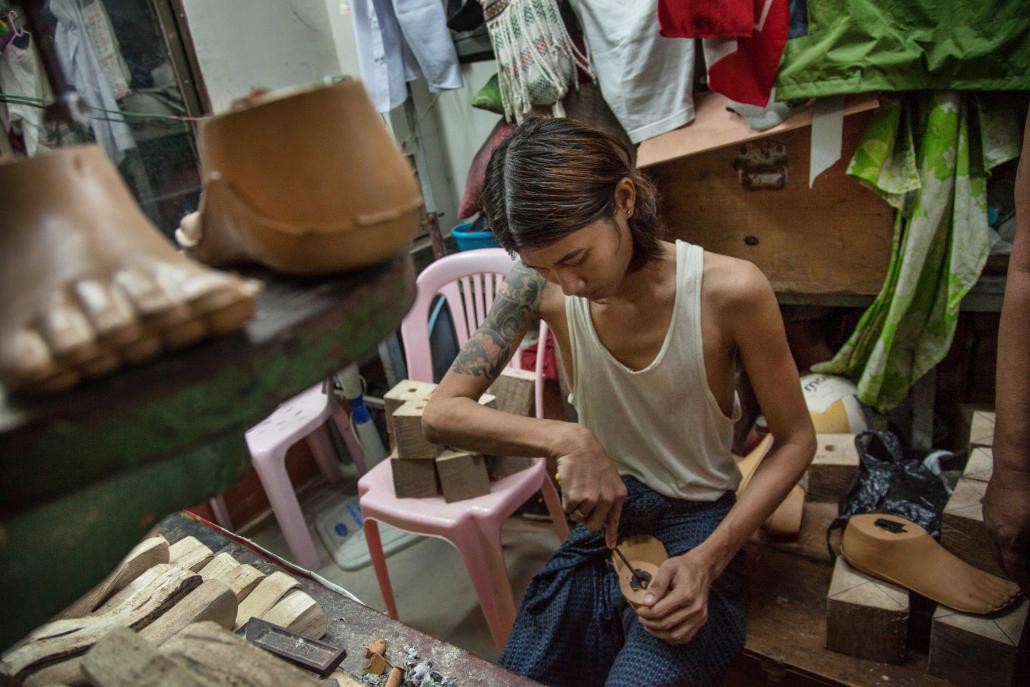 Most landmines in Myanmar are found in border or conflict areas of Kayin, Kachin, Shan and Mon states and Tanintharyi Region, said Aye Ko Ko.
Landmines have been used for decades by the Tatmadaw and ethnic armed groups. Many of the victims are villagers who live in or near conflict areas.
Among landmine victims, Aung is one of the lucky few in Myanmar who has received a modern prosthesis and follow-up support.
Mr Jason Bender, a technical consultant for The Leprosy Mission Myanmar, said the current capacity for prosthetic care is estimated to be less than a tenth of the total need in the country.
His organisation provides prosthetic devices in east Bago Region and southern Shan State. About 60 percent of those needing a prosthesis have lost limbs in landmine-related incidents, but other common causes of amputation include traffic and work accidents, limb defects and diseases including leprosy, vascular disease and diabetes.
"There are a handful of clinics spread across the country, and while there are plans for expansion both in clinics and local prosthetic education in Myanmar, the need is still very overwhelming," Bender said. "Therefore, it's going to take a lot of additional investment from all sectors — public, private, and charity — to begin to tackle this issue in a meaningful way."
Another organisation that provides prostheses is the International Committee of the Red Cross. Its disability support project targets those who have lost limbs because of armed conflict, said senior ICRC communication officer, U Moe Myint Aung.
The ICRC works closely with the government and provides assistance to the National Rehabilitation Hospital in Mayangone Township, he said.
The ICRC also operates health centres for handicapped people who need prosthetic limbs. "Everything is free of charge, including transportation to and from the centres," he told Frontier.
"Wearing a prosthetic limb is not a take-away business after it is fitted," said Moe Myint Aung. It takes at least two or three weeks to adjust to wearing a prosthesis, particularly when walking and negotiating stairs, he said. The centre provides food and accommodation for prosthesis patients. "For invalid children, a guardian is allowed to accompany the children and the guardian can also stay free of charge."
The ICRC currently supports orthopaedic centres in Hpa-an and near Mandalay, with a further two centres to be built in Kengtung and Myitkyina in partnership with the Ministry of Health. The ICRC does not discriminate among those needing prosthesis, Moe Myint Aung said.
"We give priority to victims of landmines and gun shots. We also give aid to victims of ordinary accidents such as road and railroad accidents. But 40 percent of those provided with prosthetic limbs were victims of war," he told Frontier.
"A prosthetic leg lasts at least three years. The most easily worn-out part, due to walking, is the sole. We provide replacement soles and belts," he said. Children need to have prosthetic legs replaced every six months to keep pace with their growth, he added.
Bender from The Leprosy Mission Myanmar said it usually takes about six months for a limb to heal after amputation to the point where a prosthesis can be fitted. The fitting and training process for someone having their first prosthesis can be between six and eight weeks, he said.
"Walking with a prosthesis is very different and takes a very long time to master," Bender told Frontier. "A prosthetic wearer can be competent after four to six weeks, but it often takes six months to a year for them to really feel comfortable on the device."
A prosthetic limb typically lasts between two to three years, but those who are active, such as labourers and farmers, often require a replacement every six months, Bender said.
Although a prosthesis can make life easier for those who have lost limbs, he warned that they should not be regarded as "miracle devices".
"It takes a long-term commitment from both the client and the care providers for someone to be successful with a prosthesis," Bender said. "As providers, we need to continue to find new ways to follow-up with clients on a regular basis if we really want to see them be successful with their prostheses."
"On a social level, I think we also need to be careful of thinking that prosthetic limbs should help people hide their disability so they can look and function 'normally' in a society that may not otherwise fully accept them. We shouldn't use these devices to avoid stigmas, rather than deal with stigmas themselves."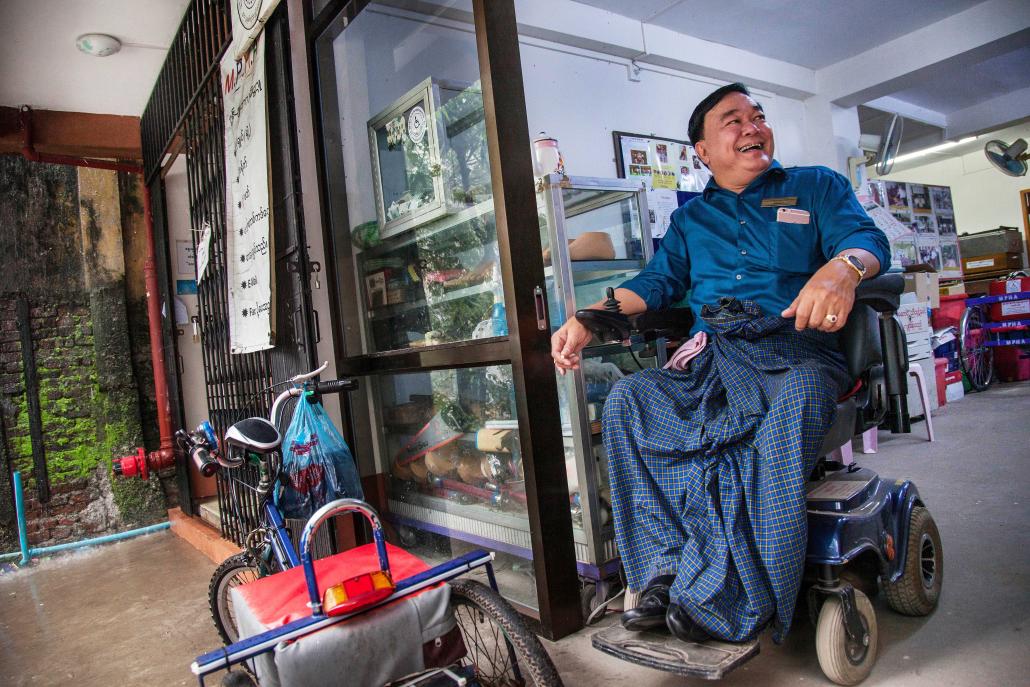 U Kyaw Myint Oo is a Tatmadaw veteran who lost his left leg after standing on a landmine during fighting in Kayin State, near the border with Thailand, in 1999. He stood on the mine while carrying back to camp an officer who had also trodden on a landmine.
"We called in an army medic who had to cut off my leg; it was terribly painful," said Kyaw Myint Oo, who is wearing his third prosthesis since the incident. "After retiring from the army, I tried to earn a living by selling books or selling seasonal fruits such as lemons and limes."
"When I was in the army, I didn't feel it so much because there were many other people handicapped like me. But when I was out of the service and tried to live, I was a little worried. When people didn't buy from me, I felt sad. But later people started to buy from me and I was encouraged."
Today, Kyaw Myint Oo works at MPHA's factory and supplements his income by selling lottery tickets. He leaves home at 6am, sells lottery tickets at Hledan until 8.30am and works at the MPHA factory from 9am to 5pm. He spends a few more hours selling lottery tickets in the evening.
As an independent organisation, MPHA has to raise its own funds and receives no support from the government, said Aye Ko Ko.
"Maybe because the country is poor. Later, when the situation becomes better, the government may have a budget allocation for disabled people. I hope they will," he said.
Kyaw Myint Oo said he was inspired to work at MPHA because he wanted to help others who are disabled.
Looking down at his prosthetic limb, Kyaw Myint Oo tapped it, smiled and said: "It is my girlfriend, my sweetheart."
Oliver Slow contributed to this report. An earlier version of this article mistakenly reported that the ICRC worked in partnership with the Ministry of Defence to provide prosthetic legs to patients at military hospitals in Mingalardon and Pyin Oo Lwin. Frontier apologises for this error.