English is the most popular foreign language taught in Myanmar, but among young people hoping for a higher-paying job, there's also strong interest in learning Japanese, Chinese, Korean and Thai.
By NATALIE WONG | FRONTIER
PRIVATE language schools in Yangon are attracting increasing numbers of young Myanmar who want to benefit from the experience of working or studying overseas.
One of the reasons why enrolments are rising at the schools is the job market advantage of being able to speak a foreign language – in many cases, a third language after Myanmar and English.
"I think the most popular language to learn is English, then it is Japanese or Chinese, then Korean," said Daw Su Mon Win, the marketing manager of Better Life Education and Career Supporting Centre, in Yangon's inner Dagon Township.
"I think Japanese will become the second language in the future," she said.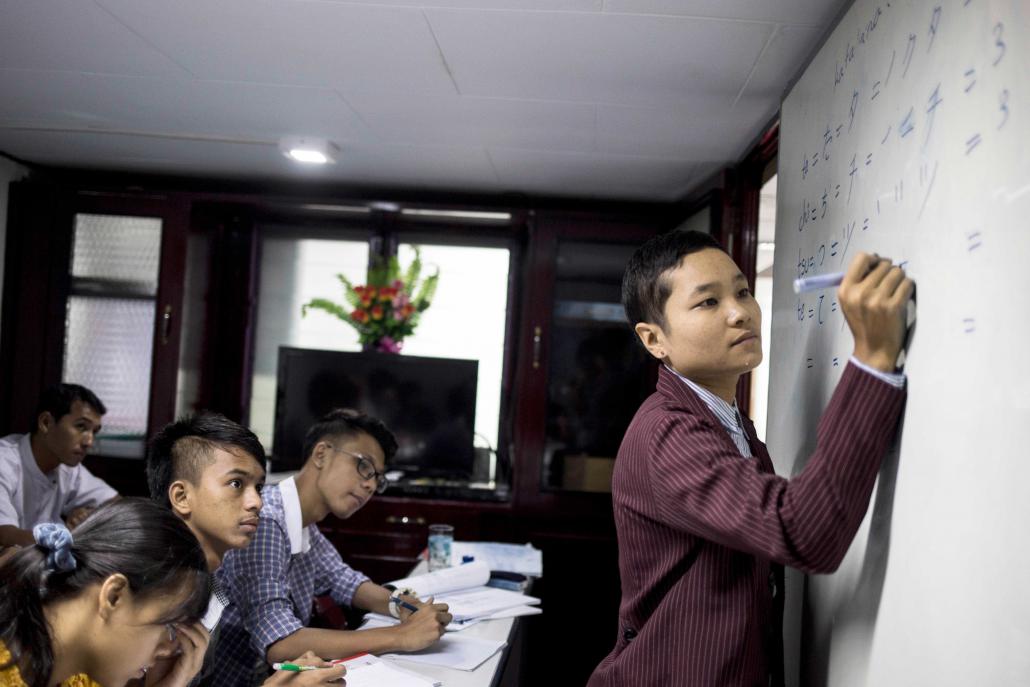 Better Life is one of many Japanese language tuition schools in the township's Yaw Min Gyi ward. Most of its students are learning the language because they want to work or study in Japan.
Some also learn Japanese in the hope of getting a job in Myanmar with a Japan-based company. "It is easier for IT workers," said Su Mon Win.
Japanese companies have long had a presence in Myanmar, but the economic and political reforms since 2011 have attracted a surge in investment from Japan. Tokyo also provides significant development assistance through the Japan International Cooperation Agency. JICA's office is in the Sakura Tower, a 20-storey building in downtown Yangon erected by a Japanese company in 1999 that also houses the offices of some big Japanese firms, including All Nippon Airways and Mitsubishi Corp.
Myanmar who want to work in Japan must be able to converse effectively and need to focus on refining their speaking and listening skills. Students who want to pursue a tertiary education in Japan often begin learning Japanese after matriculation. Su Mon Win said students hoping to gain admission to Ritsumeikan Asia Pacific University, at Beppu City on Japan's southern Kyushu Island, should also take English courses. The international university is dual language, she said.
Better Life was founded in 2004 and has an annual intake of between 80 and 100 students. After completing the 150-hour course, students take the basic, N5 level Japanese-Language Proficiency Test (JLPT).
Su Mon Win said there has been a steady increase in the number of Myanmar learning Japanese, including teenagers who want to learn the language because they are interested in anime and cosplay.
"The Japanese language has a similar grammar structure as Burmese so they find the language easy to learn, except for kanji [the Chinese characters that are one of the three scripts used in Japanese] because they didn't learn it before," said Su Mon Win.
Korean, which shares some of the characteristics of Japanese, is also a popular language for Myanmar to learn. Their main motivation is job opportunities in South Korea or with one of the many South Korean companies in Myanmar.
In common with Japan, South Korea has also been working to promote development in Myanmar.
However, unlike Japanese, the number of people learning the language has declined since the South Korean government changed examinations for the Test of Proficiency in Korean (TOPIK), which made it harder to pass. TOPIK is a test for non-natives whose first language is not Korean.
For the first two grades, which are the easiest, the test involves multiple-choice questions on a computer. "It is very easy," said U Ko Ko, the instructor at the Han Guk Korean Language Center in Pazundaung Township.
Han Guk's students range in age from 18 to 39 and most hope to work in South Korea. They include Ko Aung Naing Soe, 31, who has been learning Korean for five years and is attending classes to enhance his reading skills.
Ko Ko, who been learning Korean for 10 years, has been teaching the language since returning from South Korea a year ago. To help his students pass the first two grades of TOPIK, he focuses on listening and reading skills.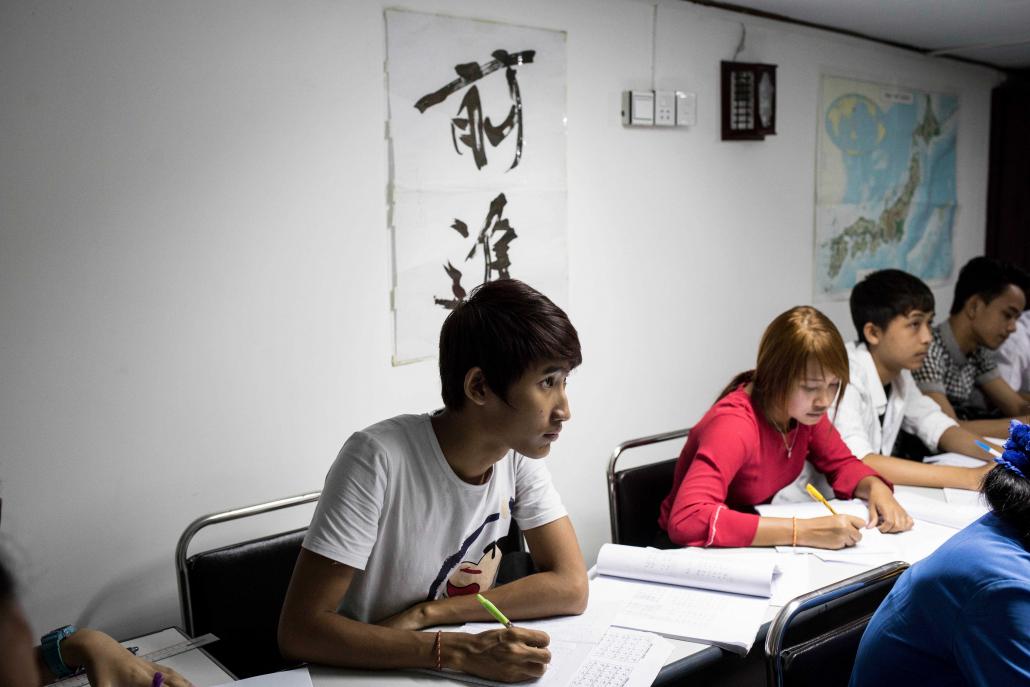 Myanmar who want to work in South Korea need to go through its Employment Permit System and pass an EPS-TOPIK test, of listening and reading skills. Those who pass the test are eligible to apply for a non-professional employment visa that enables them to work in the manufacturing, construction, farming and fishing industries.
While Korean students tend to look overseas for jobs, Myanmar who can speak Chinese will find plenty of opportunities at home.
Ma May Oo Zin, an instructor at Gao Shang Chinese Learning Hub in Kamaryut Township, said Chinese speakers could command a much higher salary than their monolingual counterparts.
The institute has been offering Chinese language courses for 14 years. In that time, Chinese business interests have come to play a very significant role in Myanmar's economy. While Myanmar has become less dependent on Chinese investment since the transition in 2011, the Chinese government is encouraging its firms to invest in neighbouring countries as part of the "One Belt, One Road" initiative.
But thanks to the large Chinese diaspora, proficiency in Chinese is useful right throughout the region. May Oo Zin said this appeared to be driving interest in learning the language.
"I think the number of people learning Chinese is increasing because more and more people would like to work in Singapore or Taiwan," she said.
Students at Gao Shang take at least six months to learn the basics of the language, May Oo Zin said. After attending the courses, they can take the Hanyu Shuiping Kaoshi, the official Chinese-language proficiency test.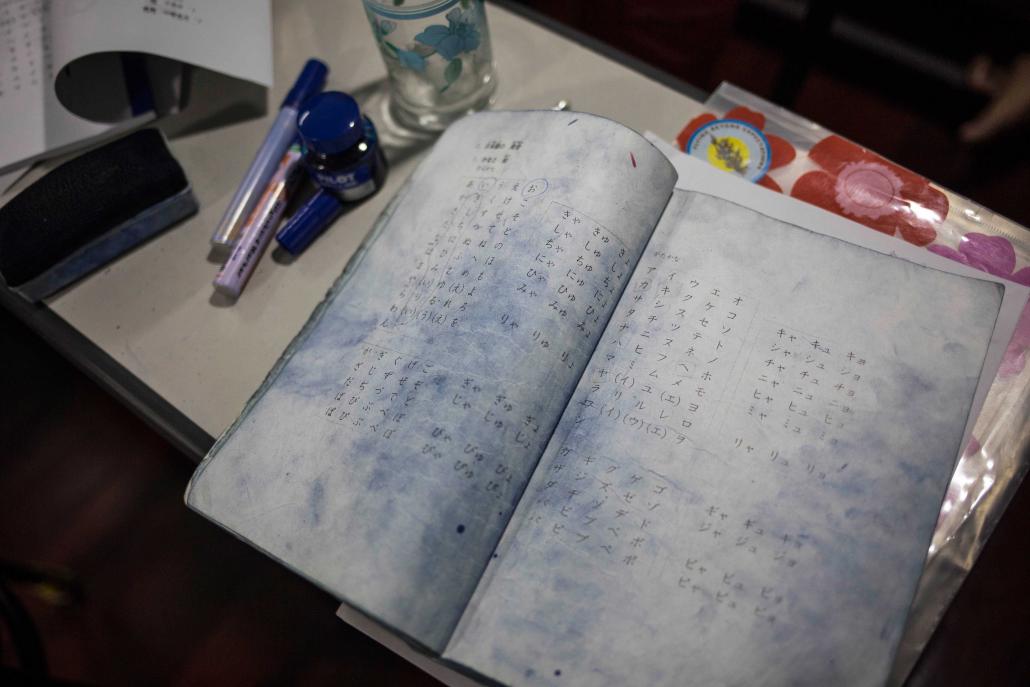 It's not surprising that there is also interest in learning Thai, as neighbouring Thailand is the preferred destination of many Myanmar who want to work abroad. Dealing with the red tape necessary to work there legally can be challenging, though. There are also employment opportunities with the increasing number of Thai companies establishing operations in Myanmar.
Among the private schools offering courses in Thai is the Advanced Vocational Training Centre in Yangon's outer Thingangyun Township.
It can be very difficult for Myanmar to learn Thai, said U Htet Paing Oo, the business consultant at AVTC.
"Most people who come to learn Thai start from zero," he said.
Students at AVTC are aged from 20 and 30 and most want to work in Thailand, though some hope to seek jobs with Thai companies in Myanmar.
The centre offers weekend courses for the convenience of those working full-time.
AVTC also provides classes for those who want to refine their business communication skills in English and is planning to offer classes in other languages.
Htet Paing Oo says knowing another language can be the first step toward building a more successful career.
While learning a foreign language is an enriching experience that can create cultural understanding and open minds to the world, teachers interviewed by Frontier said that nearly all students were studying for economic reasons.
"Most of the people come here to improve their lives and get better job opportunities," said Htet Paing Oo from AVTC.
Ko Ko from Han Guk echoed this view. "For most people, the purpose of learning the Korean language is to work in Korea," he said.