A Chinese firm involved in a planned US$2.5 billion redevelopment of Yangon Central Railway Station appears on the brink of collapse, with creditors launching legal action to recover loans made to the company.
By THOMAS KEAN | FRONTIER
ON OCTOBER 30, 2018, Mottama Holdings invited journalists to a high-profile "topping-out" ceremony for its M Tower project, a 26-storey office building near Hledan junction in Yangon that used prefabricated steel structure from the company's factory in the city.
After putting in place the final steel beam – complete with gold-coloured bolts – more than 100 metres above Pyay Road, company chair U Yang Ho hailed a "new era" for Myanmar's construction industry, one in which steel would replace reinforced concrete as the building material of choice for high-rise projects. M Tower, he added, "will become a prominent landmark in Yangon".
Behind the scenes, though, there was less rosy news. Twelve days earlier, one of Mottama's key partners, Chinese firm Sino Great Wall, had received notice from regulators in China that it was under investigation for suspected violations of information disclosure rules.
Sino Great Wall won the US$80 million engineering, procurement and construction (EPC) contract for M Tower in January 2016, shortly before its share price peaked at 14.4 yuan, giving it a market capitalisation of 23 billion yuan ($3.4 billion). At the time, Sino Great Wall was winning billions of dollars of foreign EPC contracts and billing itself as a "leading private enterprise along the Belt and Road" – a reference to President Xi Jinping's signature trade and investment initiative launched in 2013.
Today Sino Great Wall's share price is just 2.29 yuan. The company's debt-to-net-asset ratio is more than 120 percent, and it is facing litigation from nearly a dozen creditors due to 2.7 billion yuan of overdue loans. Rather than a poster-child for BRI, Sino Great Wall has become a cautionary tale of debt-fuelled overexpansion.
Since the company's financial problems came to light in the second half of 2018, Sino Great Wall has been forced to scale back its international ambitions considerably. It is unclear whether this has affected M Tower, which is due for completion in 2020. A crane atop the building's steel frame sat idle earlier this month and there were few workers at the site, but Mottama did not respond to multiple requests for comment.
Sino Great Wall's Yangon office – just 100 metres from M Tower – was locked when Frontier visited, but nearby residents said the office was more of a dormitory, and staff were still living there and working at the M Tower site. The company also did not respond to emailed questions.
However, the Chinese firm's problems appear to have affected several other projects in Myanmar, including Min Residences, a high-end condominium development in Yangon's Mayangone Township comprising more than 600 apartments.
Sino Great Wall corporate filings show that it won a $120 million EPC contract from Mottama and Singapore-listed Oxley Holdings to build the project's three towers in January 2016, at the same time as the M Tower contract. Despite assurances from Mottama and Oxley that work would begin in September 2017, little progress appears to have been made.
Sino Great Wall has also won three contracts from Oxley totalling nearly $500 million for property projects in Cambodia.
But the three firms had even bigger plans in Myanmar.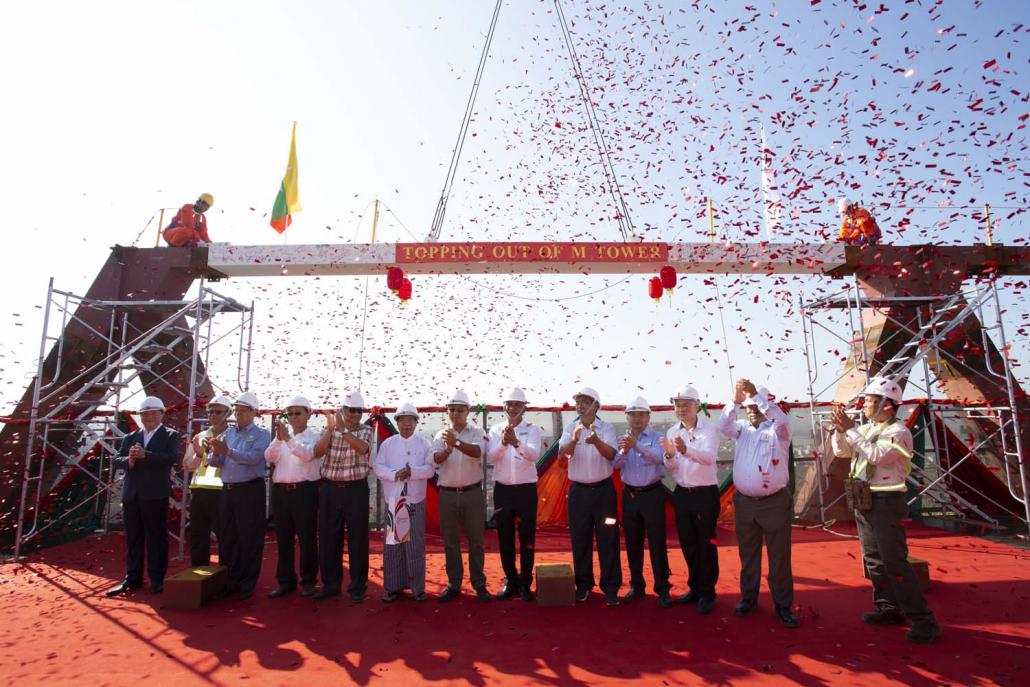 The railway project
In February 2018, the Myanmar government selected the Central Transport Development Consortium – comprising Oxley, Sino Great Wall and Min Dhama Co Ltd, a Mottama subsidiary – as the preferred bidder for a $2.5 billion redevelopment of Yangon Central Railway Station.
Myanma Railways began seeking expressions of interest for the 25.7-hectare (63.5-acre) site in downtown Yangon in August 2015, after an earlier tender was cancelled due to lack of suitable bids.
Proposing to develop the site in eight years, CTDC beat a consortium comprising Singapore-listed Yoma Strategic Holdings and Myanmar-listed First Myanmar Investment, both companies connected to Myanmar businessman Mr Serge Pun.
Under the CTDC proposal, Mottama would hold a 40 percent stake and Sino Great Wall and Oxley 30 percent each.
Shortly after announcing the selection of CTDC, officials from Myanma Railways, under the Ministry of Transport and Communications, said they hoped to finalise the contract with the consortium by the middle of 2018.
Their bullishness may have been based on the fact that Myanmar was planning to propose the railway station redevelopment as a priority project under BRI, according to documents seen by Frontier.
The Yangon station redevelopment was included on a list of BRI private-sector priority projects put forward by the Myanmar government before the signing of the China-Myanmar Economic Corridor memorandum of understanding in September 2018.
This could potentially have enabled the Central Transport Development Consortium to attract concessionary financing from Chinese policy banks, but it is unclear if the project was ever approved for inclusion. China has reportedly proposed 30 projects for development under BRI, of which Myanmar is said to have approved nine, but these have not been publicly disclosed.
At the M Tower topping out ceremony last October, Mottama director U Tin Maung Htun told Frontier that the consortium was still preparing a draft concession agreement with Myanma Railways.
Once the draft concession agreement was signed it would be submitted for review to the Union government, including the Attorney General's Office, Tin Maung Htun said, adding that the project would also require Myanmar Investment Commission approval. "Because this is a national size project there are a lot of stakeholders involved, maybe six to 10 different authorities … there are so many steps," he said.
Six months on, no agreement has been reached and Sino Great Wall's financial problems appear to have only added to the delays. A senior Myanma Railways official told Frontier on April 25 that the Chinese company was "finding it very difficult to carry on with the procedure of the tender".
U Htun Aung Thin, Myanma Railways' general manager for lower Myanmar, said the other members of the consortium, Oxley and Mottama subsidiary Min Dhama Co Ltd, were seeking a new partner to replace Sino Great Wall.
This would entail significant negotiations, he said, but Myanma Railways was willing to give them more time. Changing the make-up of the consortium would not invalidate the US$4 million bond the companies have already paid, he added.
"We have passed already 1,300 days [since the start of the tender]," Htun Aung Thin said. "We would like to develop our station. For that, we have to proceed not slowly but gradually."
If it became clear that Min Dhama and Oxley were unable to proceed, however, Myanma Railways would consider calling a new tender, Htun Aung Thin added.
In March, the Myanmar Real Estate and Construction Monitor reported that Japanese conglomerate Mitsubishi was rumoured to be joining the consortium. Mitsubishi did not respond to repeated requests for comment to Frontier.
Mitsubishi Corporation and Mitsubishi Estate are also involved in Yoma Central, a large mixed-use project on an adjoining site also owned by Myanma Railways. The $500 million project is led by Serge Pun's Yoma Strategic Holdings.
Oxley, meanwhile, is facing its own challenges. Since January 2018 its share price has almost halved, in part due to concerns over its high debt levels, with Singapore's Business Times reporting that it was one of several companies on the Singapore exchange that analysts were watching closely for potential debt stress.
Citing Bloomberg figures, Business Times said Oxley had SG$500 million of debt maturing in the next few years, including SG$300 million this November. In recent months the company has tried to deleverage by selling a number of assets in Singapore. While a proposed deal in March for two hotels fell through, on April 29 Oxley announced that it had sold a 32-storey office tower in central Singapore for SG$1.025 billion ($750 million) in cash and assumed debt to Golden Compass (BVI) Limited. Oxley bought the building for SG$660 million in December 2017.
Oxley did not respond to multiple requests for comment. It has not recently disclosed any information to shareholders about the Yangon railway station project or Min Residences.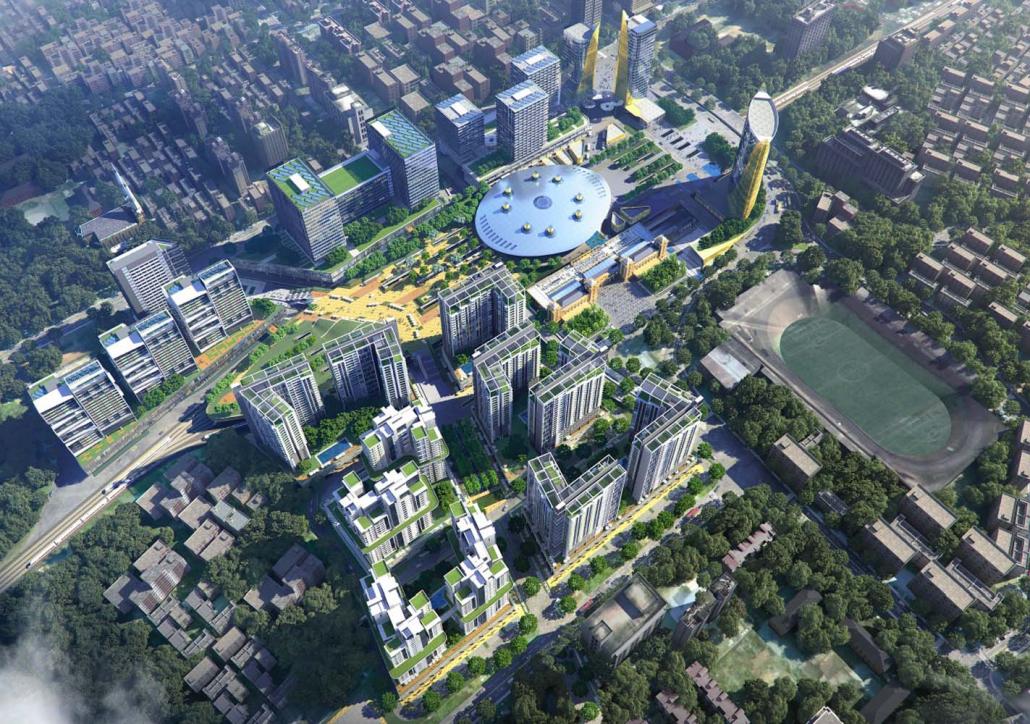 A debt-fuelled expansion
When President Xi hosted the Belt and Road Forum in Beijing last month, he took the opportunity to address concerns that the scheme was a debt trap for developing countries.
These concerns centre on participating countries taking on large amounts of debt to finance unnecessary and costly infrastructure projects that are usually undertaken by Chinese firms.
But this is only part of the BRI story. Many BRI projects are actually funded by Chinese firms taking on domestic debt. Chinese banks have always been somewhat reluctant to lend to private companies pursuing BRI projects, said Mr Andrew Collier, a China analyst at Orient Capital Research, preferring to lend to or through state-owned enterprises. This aversion has become more pronounced as the risks of the scheme become clearer, he added.
So while the debt trap for developing nations grabs the headlines, less discussed – at least outside China – is the potential debt trap for Chinese companies that have sought to capitalise on BRI. Sino Great Wall embodies at least some of the pitfalls, having taken on large amounts of debt from Chinese banks to fund its rapid expansion overseas. When the Chinese authorities introduced a deleveraging policy and tightened access to credit in 2017 and 2018, Sino Great Wall as caught out.
Sino Great Wall made a name for itself in domestic construction and interior decoration. But as China's economy began to slow, it started focusing increasingly on winning contracts abroad. This overseas business began to accelerate from late 2015, when Sino Great Wall listed in Shenzhen through a reverse takeover of a textile manufacturer. It soon won dozens of contracts in countries such as Cambodia, Sri Lanka, Indonesia, the Philippines, Kuwait, Algeria and Myanmar. According to company filings in 2018, it had secured international orders totalling 40 billion yuan.
Its foreign growth aligned closely with the rollout of BRI. In its 2017 annual report, Sino Great Wall noted that of the $168.59 billion in revenue that flowed to Chinese companies in foreign engineering and construction contracts, more than half was generated from 61 countries partnering on BRI. While overall revenue from these contracts was 5.8 percent in 2017, in BRI countries it was 12.6 percent. This prompted Sino Great Wall to note that the "implementation of the National Strategy of 'One Belt, One Road' will provide a good opportunity for the company's overseas business development". 
For the first few years business seemed good, but signs of trouble began to appear last year, when its revenue and net profit fell for the first time. In June 2018, the company's share price halved almost overnight, and shortly afterward it revealed in its mid-year financial report that its overdue debt stood at 653 million yuan. By September that figure had ballooned to more than 1.6 billion yuan and the shares of founder Mr Chen Lu, 34 percent of the company's total stock, had been frozen, along with some company accounts. Soon banks were filing legal action over unpaid debts.
Sino Great Wall's major problem seems to be an inability to secure payments from companies giving it EPC contracts, which in turn forced it to seek short-term financing to fill the gap. In its 2018 annual report, it lists more than 5 billion yuan of accounts receivable, or money owed. Five debtors account for 46.5 percent of the total, including China Harbor Engineering Company, Powerchina Construction, Oxley Gem (Cambodia), Henan No.1 Thermal Power Construction and Cambodia Petrochemical.
But Sino Great Wall was not just a victim of government policy changes and bad debtors. An investigation by the China Securities Regulatory Commission also uncovered a range of breaches at Sino Great Wall, including a failure to properly update investors about major projects and transactions with companies that appeared to have no real business. In its 2018 annual report, Sino Great Wall said it was still under investigation for "suspected illegal information disclosure". If found to have committed a "major illegal act", it could face suspension or delisting, the company said.
Collier from Orient Capital Research said Sino Great Wall appeared to have made some "pretty bad choices" and taken on projects in countries where it could not be sure of receiving payment.
"Unless they've got guarantees from state banks and state contractors, a company that gets involved with shoddy projects overseas is on the hook for them," he said.
"They probably believed that BRI would be an opportunity because banks would lend to them. If that's the case then they've miscalculated," he said. "[Chinese] banks have got increasingly concerned about these so-called BRI loans and … they've tightened up a lot of the lending."
TOP PHOTO: In February 2018 the Central Transport Development Consortium was selected as the preferred bidder for a US$2.5 billion redevelopment of Yangon Central Railway Station. (Thuya Zaw | Frontier)