Much-loved sniffer dog Sergeant Michael touched the hearts of Yangon residents and a newly formed group has honoured his memory by establishing a special canine welfare fund.
By SU MYAT MON | FRONTIER
THE DEATH of the much-loved Sergeant Michael has inspired a group of dog lovers to establish a lasting legacy to his memory that will benefit all canine members of Myanmar's bomb squad teams.
The For Brave Dog group, formed after Michael died prematurely on April 15 during the Thingyan traditional new year celebrations, plans to provide a supplementary allowance of K30,000 a month for each of the country's sniffer dogs.
The government provides a monthly allowance of K40,000 for the dogs; K30,000 a month for food and K10,000 a month for veterinary care.
Sniffer dogs need more food and veterinary care than other dogs, however, and the K40,000 monthly allowance is not enough, said filmmaker Daw Kyi Phyu Shin. She founded For Brave Dog together with Dr Tin Htun Aung and songwriter Ma May Thaw after Michael, a German Shepherd, died of a stomach ailment.
The allowance would be provided to all dogs that complete the six-month training course at the Central Military Dog Training Academy in Yangon's Mingaladon Township that is required to serve with the MPF and the Tatmadaw, Kyi Phyu Shin told Frontier.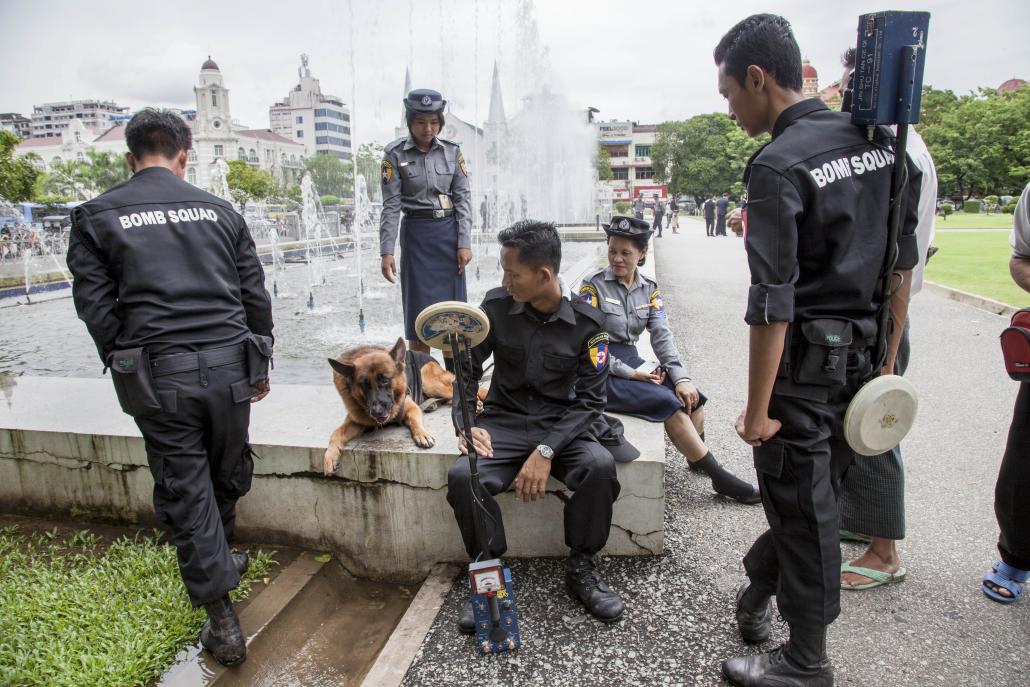 Michael, Yangon's only sniffer dog on duty when he died, touched hearts because of his good-natured personality.
"He had chitmhway – an adorable face – that made everyone love him," said Michael's handler, Police Lance Corporal Aung Phite.
As well as the allowance, For Brave Dog also honoured Michael at a poignant ceremony at his tomb in the pet section of the Pyindaung Chaung cemetery in Thanlyin Township on May 15, a month after he died.
The cost of the tomb was funded by Tin Htun Aung, who has a clinic in Thanlyin and played a key role in the establishment of the pet section of the cemetery after a beloved dog died in 2016.
Tin Htun Aung arranged for the tomb to be built at the cemetery after learning that Michael had been buried in a grave next to a creek behind Aung Phite's MPF living quarters in Yankin Township.
"Michael deserved the dignity of a better last resting place because he was a sergeant," Tin Htun Aung told Frontier.
Myanmar Police Force chief Police Major-General Zaw Win honoured Michael earlier this year by making him the only bomb squad dog to be given a rank after he sniffed out four bombs planted at various locations in Yangon in 2016.
At the May 15 ceremony in Thanlyin, FBD members placed a wreath on Michael's tomb, which stands out against the white graves of the pet cemetery because it is in the colours of the MPF.
Aung Phite, accompanied by two bomb squad colleagues, called for silence. "Salute the late Sergeant Michael," he said in a solemn voice, as his colleagues and the FBD members paid their respects with a few minutes' silence broken only by the barking of stray dogs.
Aung Phite thanked the FBD for the respect shown to the dog who had been his constant companion for five years.
Freelance editor and writer Mr Joe Freeman encountered Michael once at an event several months ago and said the outpouring of grief for the canine may seem odd to some, but that he was not surprised.
"Police dogs often form bonds with their handlers and the community, and being one of the only canines on the job, Michael was probably called into service more than once. He also left an impression," Freeman told Frontier, recalling his experience meeting Michael at an event at Yangon's Sedona Hotel. "He was friendly, sweet, and perhaps a little worn out. It's sad he didn't get to enjoy some form of retirement after years of service."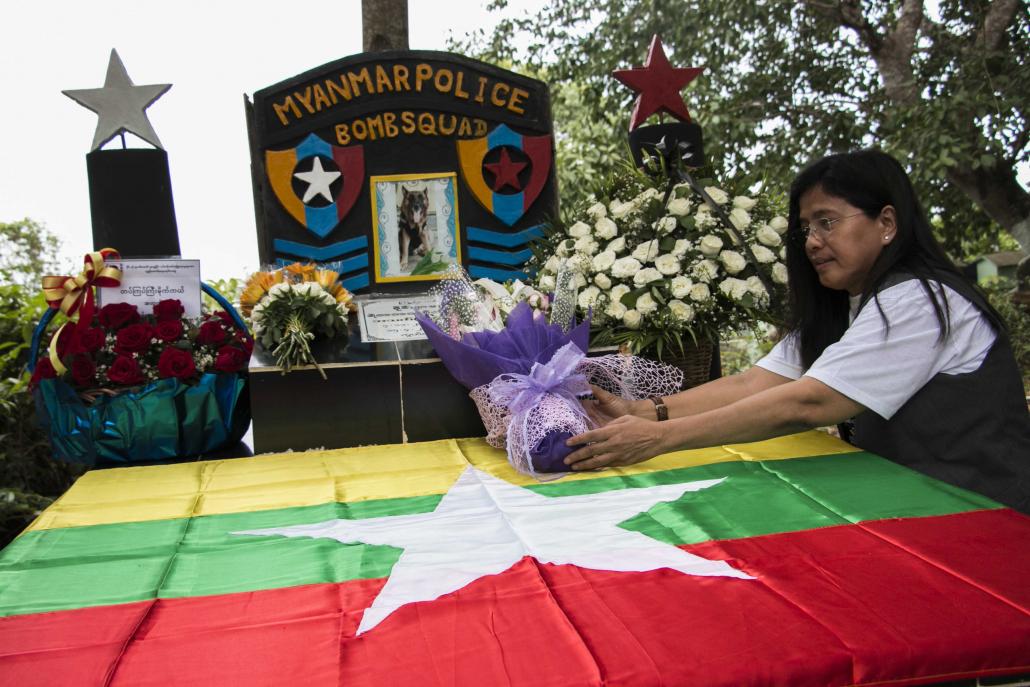 Myanmar became home for Michael in May 2012 when, aged five months, he arrived with five other dogs as gifts from Germany.
Aung Phite says Michael was like a member of his family.
"Michael used to get angry if I came home without a buying him a snack," he recalled.
"He would sulk and ignore me until I said, 'My son, your father will go and get you something.' When I returned with a snack of chicken or quail eggs he would run happily around inside the house."
Michael's death leaves a Myanmar-born black Labrador named Rambo as the only sniffer dog with the bomb squad in Yangon. Others serve in Nay Pyi Taw and Mandalay.
Rambo's handler, officer Aung Thu said he tries to avoid working his dog too hard because he has heartworm disease, a potentially fatal ailment spread by mosquitoes, and needs to take medicine every day.
However, as the only sniffer dog on duty in the country's biggest city, the workload on Rambo is tiring, Aung Thu said.
"Even though the dog is sick," he said, "we have to work when needed because we have to follow orders."
TOP PHOTO: Sergeant Michael with his trainer in the weeks before he died from a stomach ailment. (Theint Mon Soe aka J | Frontier)