There are nearly half a million squatters living in and around Yangon, most of whom are unaffected by power blackouts because they have never been connected to the country's creaking grid.
By KYAW YE LYNN | FRONTIER
DESPITE A NOTICEABLE improvement in power supply in Yangon in recent years, disruptions caused by regular blackouts are a fact of life for those living in the country's biggest city.
The commercial capital accounts for nearly half of the country's power consumption, but disruptions to supply create no inconvenience for thousands of Yangon residents because they have never been connected to country's overloaded, dilapidated grid.
Some Yangon residents have lived without electricity for decades. Most are squatters, although some are government employees.
Daw Ohme Thein's husband works for the Ministry of Health and Sports but her family has never had electricity since it moved into a government compound in Yangon's inner northern Hlaing Township about 20 years ago.
"This compound was designated to be used for two big septic tanks for nearby universities but the project was cancelled without any specific reason," she told Frontier on October 11.
"We are still unable to connect to the grid," said Ohme Thein, whose family is one of two living in government housing in the compound, not far from the Thiri Myaing station on the City Circle train line. On each side of the compound are power lines supplying the surrounding areas.
It is not clear why government housing in the compound does not have electricity, but a possible reason is that squatters began moving on to the site after the septic tank project was abandoned. More squatters settled in the compound in 2004 after a big fire tore through surrounding areas.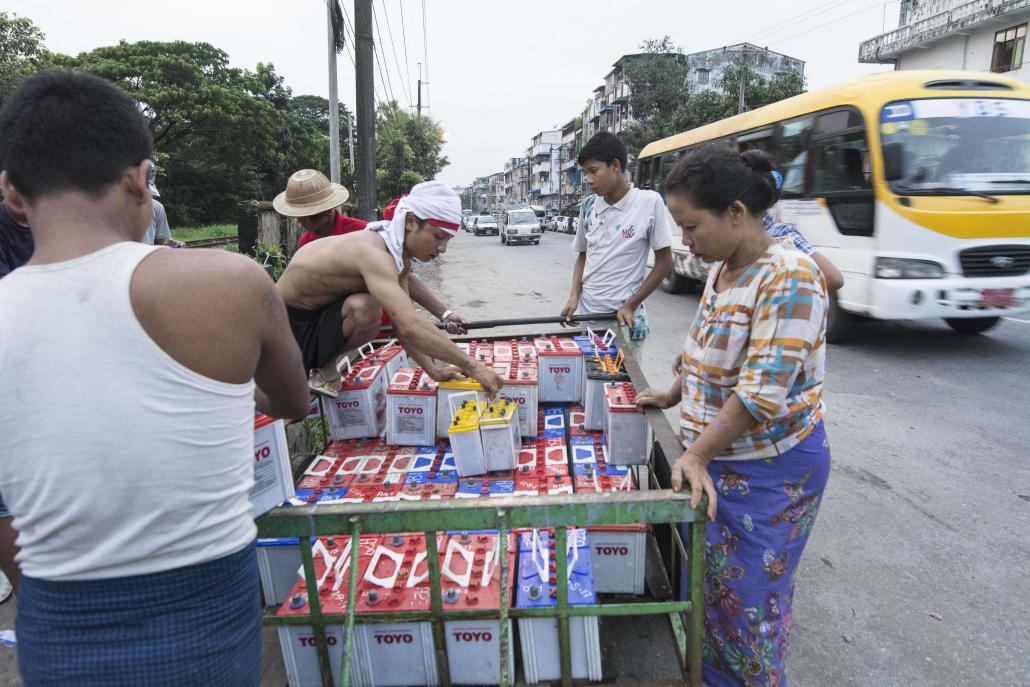 Ohme Thein said about 80 families were still squatting in the compound, despite being ordered to leave in 2014.
Her family relies on a rechargeable battery for its power supply. The battery is recharged every three or four days at a nearby shop for K400.
"Sometimes, we have to hire a battery to keep the lights on, which is what the squatters do," she said.
Only about two-thirds of Yangon Region's population of 7.3 million is believed to be connected to the grid. The rest, many of whom are squatters, rely on batteries or diesel generators.
Batteries cost between K60,000 and K150,000. Those who cannot afford to buy them use battery rental services.
Ko Htike Thu Soe, 32, rents batteries from a small shop in Hlaing, which was established by his father in 1988.
The business had grown after more squatters moved into the compound where Ohme Thein and her family lived following the fire in 2004, he said.
"Homeless people moved to the compound and they became my customers," Htike Thu Soe told Frontier, in his small, simple shop, where about 80 batteries were being recharged.
He charges K600 a night to rent a battery and says his customers do not need to pay a deposit.
"I've known them personally for years," he said, as employees of his pushing a cart loaded with batteries left for a rendezvous point with customers near Thiri Myaing station.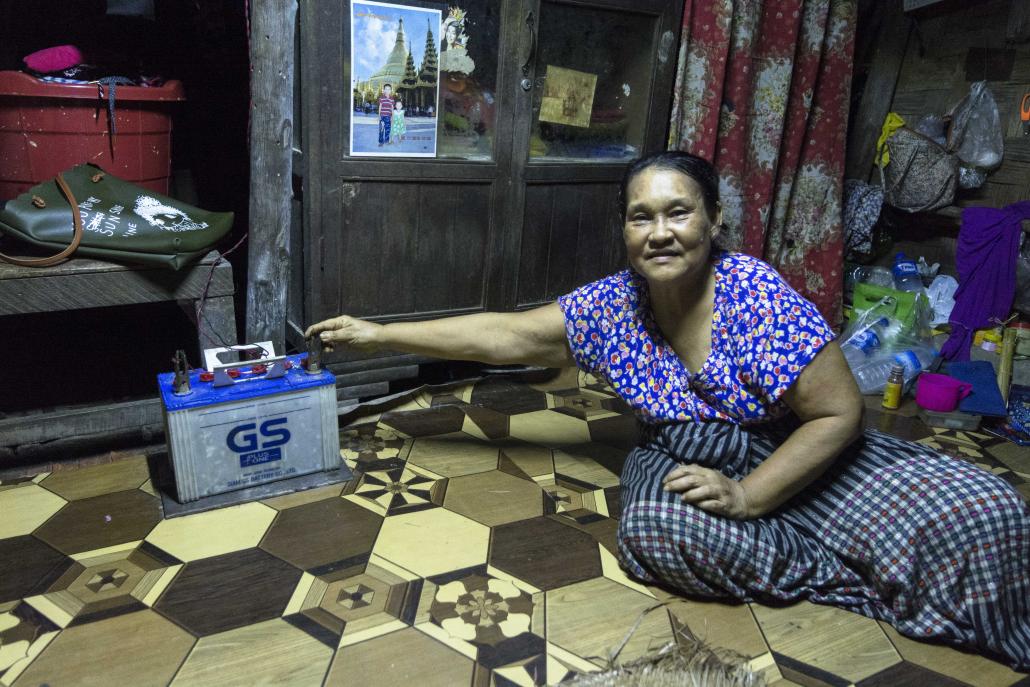 Daw Gwet, a vendor whose family squats in the compound, is a regular customer.
"For one night, a battery provides enough power for a light, watching an episode on TV and charging the phone," she told Frontier, adding that some days her family rents two batteries.
Daw Gwet said her family spends an average of K25,000 a month to rent batteries, an amount she thought was exorbitant compared to the cost of electricity from the grid.
"I know that amount is not small; some of my friends with government-provided electricity spend less than K10,000," she said.
Daw Gwet is among the squatters in the compound whose hopes of owning an apartment have been raised by government promises to build low-cost housing.
"I have a smart card," she said, referring to cards issued by the Yangon Region government as part of its plan to eventually resettle "real squatters". More than 160,000 smart cards have so far been issued to eligible squatters.
"I can afford about K100,000 a month for government housing, but I don't think we will have that chance in 20 years," she said.
The regional government estimates there are more than 450,000 squatters in 110,000 households in Yangon, most of whom live in outlying townships, such as Dagon Myothit (Seikkan) and Hlaing Tharyar.
Many squatters arrived from Ayeyarwady Region after it was devastated by Cyclone Nargis in 2008. The former capital's population has continued to rise in more recent years because of steady migration from rural areas of families seeking job opportunities. They often endure grim living conditions on the city's edges, far from the bright lights and high-rises that are turning on and sprouting up in and around the downtown area.
Squatters at Hlaing Tharyar told Frontier they had no government services, such as electricity and water supply, or maintained roads.
U Bo Myint, 47, who moved from Ayeyarwady's Bogale Township after Nargis destroyed his property, has been running a small power supply business in Hlaing Tharyar for about seven years.
A squatter with no access to the grid, Bo Myint decided to start the business after working in a factory for two years.
He bought a diesel generator and sells electricity to other squatters, charging K200 for enough power to illuminate one light and K500 to watch TV between 6pm and 10.30pm.
"The business is good enough to support my family," the father of four said on October 13 while checking connections on his mini-grid.
Hlaing Tharyar suffers blackouts more often than other areas, said U Thein Htike, an employee at the Hlaing Tharyar office of the Yangon Electricity Supply Corporation, which is responsible for maintaining the grid and distributing power in the urban area.
Illegal connections to the grid overload the system and disrupt supply, he said.
"Some squatters install illegal connections to the grid and we are always busy removing them," Thein Htike told Frontier. It was a constant problem, he said.
"We always have to keep an eye out for them."