NGOs are filling healthcare gaps in one of the country's poorest regions, but building trust and navigating bad roads remain formidable challenges.
By VICTORIA MILKO | FRONTIER
HIGH IN the Naga Hills, at Hay Khun village, less than 25 kilometres from the border with India, women and children wrapped in traditional handmade blankets gather at a small wooden schoolhouse where a mobile medical clinic has been set up for the evening.
By the morning, the doctors and nurses will have treated 27 people for ailments ranging from sore eyes to minor wounds, and provided pregnancy tests, all for free.
The clinic is one of the several initiatives by international and domestic non-government organisations to help the government provide healthcare in one of Myanmar's poorest areas, the Naga Self-Administered Zone, in Sagaing Region in the northwest of the country.
The remote location of the Naga SAZ, which was established under the 2008 Constitution, has meant that the development of infrastructure, such as roads and telecommunications towers, has been slow.
Its remoteness has also majorly limited the provision of healthcare. Many villages are accessible only by footpaths, and contact with health professionals is infrequent. Villagers speak of following practices rooted in their animist past before the arrival of missionaries and their conversion to Christianity, such as livestock sacrifices and drinking animal blood, when seeking cures for illness.
A measles outbreak in 2016 that killed more than 40 people put the healthcare gaps in the Naga SAZ and their impact on its 62,000 residents in the national spotlight.
Staff of the Ministry of Health and Sports claim they are doing what they can.
"We have seven rural healthcare centres in the region that work to provide immunisations, maternal and child healthcare information, and provide disease control services," said Dr Htet Phyo Wai, the township medical officer in Lahe, the capital of the SAZ. "But we need partners to help us implement these services."

Filling gaps
Médecins Sans Frontières, or Doctors Without Borders, is one such partner.
Mr George "Chip" Hunter, MSF's project director for the Naga SAZ, told Frontier in February that the Geneva-based humanitarian organisation had been operating for a year within the SAZ.
"We've been providing primary health care, through mobile medical clinics via car or motorcycle. We also work in the Lahe town area on maternal and child health, [and] in the hospital and […] tuberculosis clinic. Really, we fill gaps in the Ministry of Health's efforts in the area," he said.
MSF's activities in the SAZ have also included assisting with vaccination campaigns, building hand-washing stations in villages and helping to build a medical waste disposal facility at Lahe hospital.
Hygiene and health education provided by the organisation has been accompanied by the creation of "safe" zones for disposing waste in rural areas that prevent the contamination of water sources.
"The creation of safe waste zones has been very important," said Eno John Saw Hlaing, an assistant field coordinator with MSF, who is from the Naga community.  "Previously people have just thrown their waste into the river, which is the same water people drink. It was very unhealthy for people."
Villagers have also benefitted from MSF's mobile clinics, which involve the use of motorbikes and four-wheel drive vehicles to reach remote parts of Lahe Township.
The clinics provide free health examinations, medicine and pregnancy tests, among other services. If necessary, the doctors and nurses on the mobile clinics can provide referrals to hospitals at Lahe, or in Khamti, outside of the Naga SAZ.
"There have also been instances where our staff ended up providing emergency transportation to villagers who needed immediate care," said Hunter. "The alternative would be that they would have to walk or be carried for days to reach a hospital."
Hunter says many people in the region are in good health because of lean diets and high fitness attributable to hard agricultural labour. However, eye and lung ailments are common because of the burning of fields required by shifting cultivation and the tradition of cooking inside homes with little or no ventilation.
Medical Action Myanmar, a domestic NGO started by Dr Frank Smithuis and Dr Ni Ni Tun, has since 2017 operated mobile clinics in the SAZ that provide health and nutrition services.
"Most people in the region don't typically have the financial means to meet a doctor," Smithuis told Frontier. "So when we set up a visiting clinic in the village, people often wait outside while the doctor sleeps so that they can get an appointment. In general people seem really pleased we're there."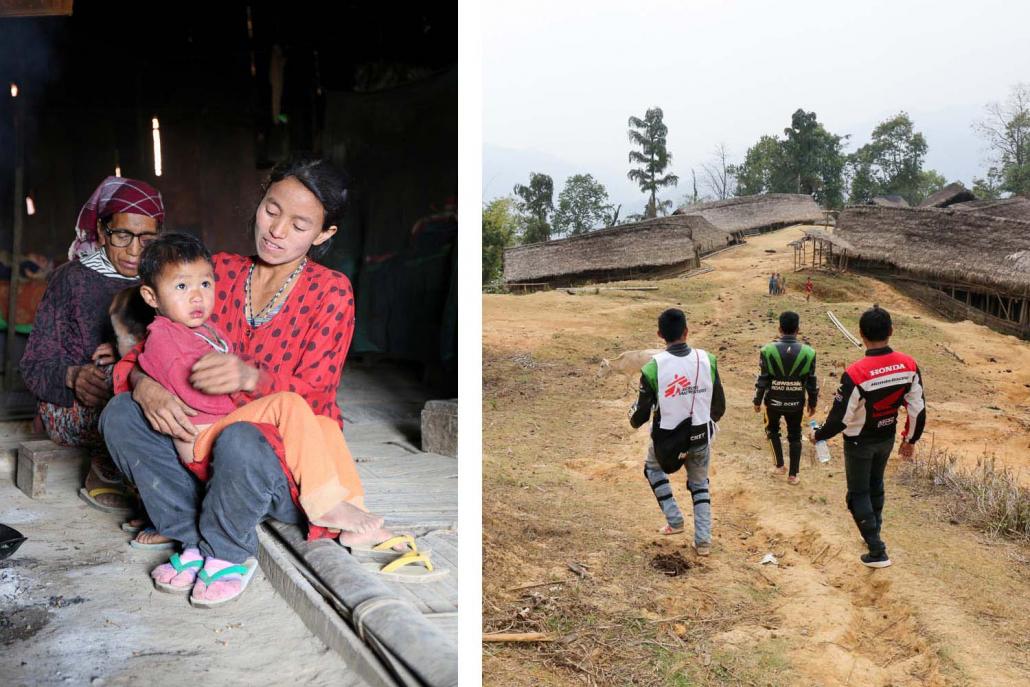 Barriers and bridges
Groups working in the SAZ face challenges that will take time to overcome. The shortage of roads, for instance, makes some villages hard to reach.
"The 'roads' really aren't roads in many cases," Hunter said. "For example there is a village where we would like to do a lot of work, but the road was destroyed and it will be another year before the town is accessible by car or even motorbike."
Other obstacles concern communication and trust.
"People here often have very little knowledge about health, but are also wary of outsiders or people they don't know," said Daw May Sandi Aung, a nurse working with MSF in the SAZ. "It takes a while for them to trust people. That's another reason I want to help provide healthcare here."
The language barrier can be steep, too, because many Naga do not speak Burmese and the different Naga dialects are mostly not mutually intelligible. NGOs without staff fluent in the relevant dialect often have to rely on village-level government administrators to translate for them.
A new bridge over the Chindwin River has brought the promise of accelerated development – and better access to healthcare – because it links Lahe with Khamti, which is connected by air to Yangon and by highways to the rest of Myanmar.
But for the time being, villagers will continue to receive healthcare at largely threadbare government facilities or at mobile clinics set up at schoolhouses and community centres throughout the SAZ.
TOP PHOTO: Medicins Sans Frontieres has been working in the Naga Self-Administered Zone for more than a year. (Scott Hamilton | MSF)