Pathein is as famous for its halawa as its hand-made umbrellas, but inferior products have prompted manufacturers to agree on production standards aimed at protecting the quality and image of the sweet dessert.
By KYAW YE LYNN | FRONTIER
Photos NYEIN SU WAI KYAW SOE
IN A BIG compound in the Ayeyarwady Region capital, Pathein, sheens of sweat glisten on the muscled bodies of dozens of young men toiling to make halawa – a dessert with distant origins for which the city is famous.
Equipped with wooden paddles, the workers knead and stir a sticky paste in 10 big iron vats sitting on wood-fired stoves. The temperature inside the room is stifling.
"Keeping the heat at the correct levels is one of the most important things in making halawa," said U Kyaw Aye, 69, who owns Shwe Myin Pyan Pathein Halawa, one of the biggest and best-known producers in the busy river port city.
"You can't use constant heat when kneading halawa," he told Frontier earlier this month. "If you don't get the timing right, you can't make halawa."
Kyaw Aye has been in the business since his mother, Daw One Narr, launched the Shwe Myin Pyan brand 46 years ago. It has since expanded to three shops in Pathein and is recognised as one of the top brands of halawa, a popular gift and one of the city's two most famous products – the other being its hand-made umbrellas.
Kyaw Aye added that the taste and aroma of halawa also depend on the quality of the seven raw materials used by Pathein producers: sticky rice; high-grade, aromatic Paw San rice; ghee; groundnut oil; Shan sesame oil; sugar; and coconut.
"All halawa brands use these raw materials," he said, adding that variations in taste and aroma depended on the proportions of raw materials used.
Asked why Shwe Myin Pyan was one of the most popular of the 33 brands made in Pathein, Kyaw Aye said there was "no secret" to its distinctive flavour; he adjusted the original recipe to create a less sweeter product in response to market demand.
"In the past, people liked sweet too much. But it must not be too sugary nowadays," he said. "Our brand is one of the pioneers and we always try to give the best quality to customers."
Halawa, also known by such names as halewah, halava, helva, halwa, aluva and chalva, is believed to have originated in the Middle East before spreading throughout Europe, north Africa, Asia and the Jewish diaspora.
The name of the dessert – which many countries claim as their own – is derived from the Arabic halva, meaning "sweet confection". One of the earliest, written halawa recipes was included in the 13th century Arabic cookery book, Kitab al-Tabikh, or Book of Dishes.
Pathein is Myanmar's fifth largest city, with a population of about 287,000. Formerly known as Bassein, the city is on the Pathein River, a distributary of the Ayeyarwady River, and has long been the most important Ayeyarwady Delta port outside Yangon. It's likely that foreign traders introduced the dessert to the city, but Kyaw Aye says no one in Pathein knows when halawa production began.
"All I know is that halawa has been associated with Pathein since I was a teenager," he said.
However, both the halawa and hand-made umbrella industries in Pathein are facing challenges. A shortage of a special variety of bamboo is hurting the makers of "Pathein hti", as the umbrellas are called, and the halawa industry is struggling to maintain its reputation because of unscrupulous producers.
In recent months, health authorities have found that some producers were using inferior quality ingredients. The discoveries have raised concern among responsible producers and residents about the possible impact on the industry if the image of Pathein halawa is damaged.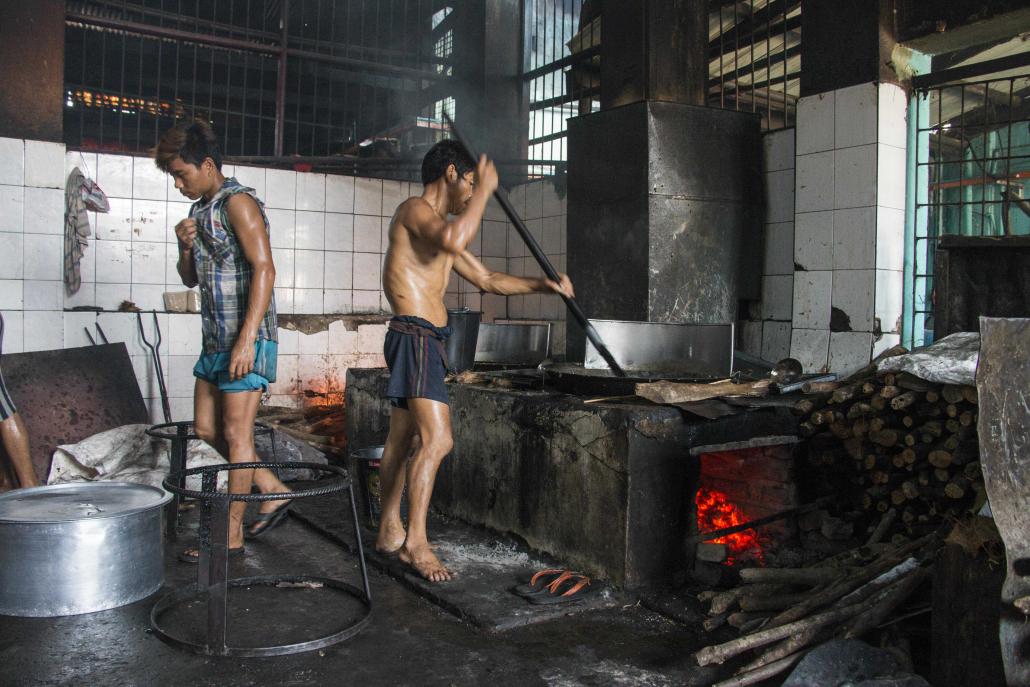 Ma San San Aye is among the consumers who have been disappointed by poor quality halawa.
A resident of Pho Kyar Ai village in Ngaputaw Township, south of Pathein, San San Aye shops regularly in the regional capital and on a recent visit bought some halawa as a treat for her sons.
"I was busy and did not have time to go to the halawa shops, so I bought it from a vendor on the jetty," she told Frontier in a telephone interview. "At the first bite, I knew something was wrong because of the taste and the smell. So I threw it away."
Complaints about halawa quality posted by a group of Pathein residents on Facebook prompted action by the Food and Drug Administration, said Ayeyarwady Region MP U Aung Tun Htwe (National League for Democracy, Pathein-2).
A surprise visit by FDA inspectors to markets in Pathein last month found that some manufacturers were using tapioca instead of sticky rice.
"Low-quality sugar and rice are also used in these brands," Aung Tun Htwe told Frontier on November 18. He declined to name the offending brands, but said one was being sold at highway bus stops and jetties, and was much cheaper than well-known halawa products.
The FDA inspectors also found that some manufacturers were failing to provide essential consumer information on packaging, such as a list of ingredients, manufacturing and use-by dates, and their contact details.
Aung Tun Htwe said although the use of alternative ingredients such as tapioca presented no threat to consumers, the problem was being taken seriously.
"We believe this can harm the industry as well as halawa's image," he said.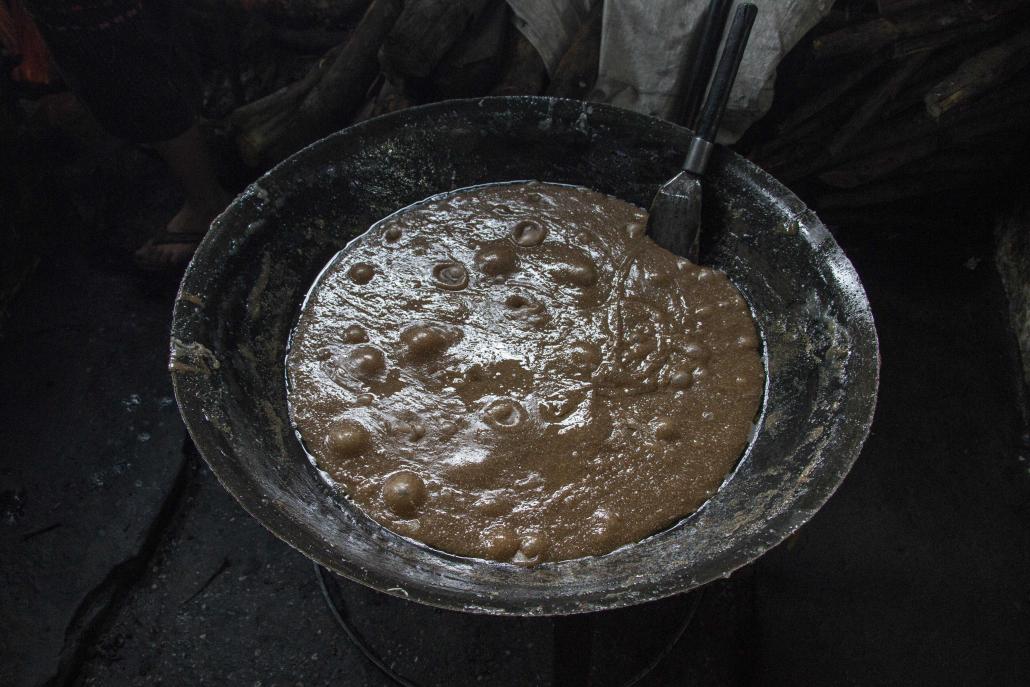 The Department of Consumer Affairs under the regional government's Ministry of Commerce invited 35 halawa producers to a meeting last month to discuss the issue.
Department head U Soe Oo said those at the meeting included five or six producers who were using low-quality, non-traditional ingredients, including tapioca.
"Some of them claim that they are being innovative but most producers disagree with this," Soe Oo said.
The meeting produced agreement that only products made from the seven traditional ingredients were entitled to be called halawa.
The meeting also agreed that from January 1, 2018, packaging must display a list of ingredients, manufacturing and use-by dates, and manufacturers' contact details.
The moves to protect the product's image "shows how Pathein residents love halawa", said Soe Oo, adding that legal action would be taken under section 19 of the Consumer Protection Law against offending manufacturers.
Frontier encountered vendors on Pathein's Shwe Zedi Road selling cheap halawa to passengers waiting to catch early morning buses to Yangon.
A vendor with a bicycle was selling packets of "Shwe Nan Daw" brand halawa for K2,000, about K3,000 cheaper than top brands. The packaging was basic and the taste, smell and colour of the halawa was unappealing.
Soe Oo said he was not aware of the brand, but guessed that unregistered producers were dumping their stocks on the market in response to the agreement on manufacturing standards.
"The rules set by the meeting of halawa producers are clear: Register your brands and follow the standard production procedures," he said. "If they don't follow the rules we will shut down their businesses."