Residents of an Ayeyarwady Region township are being forced to choose between joining the military or paying an onerous fine, with the large cash payments seemingly being used to lure more young people into joining up.
By FRONTIER
In May 2022, an anxious Ko Than Win* and his family hurriedly left their Ayeyarwady Region village in Myaungmya Township. Than Win had good reason to flee his village, southeast of the regional capital Pathein, where he worked as a day labourer on farms: he did not want to be conscripted into the military.
Weeks before Than Win fled with his wife and six children, able-bodied men in villages across the township had come under heavy pressure from military officers to enter a draw that would decide if they had to join the junta's army.
The decision to introduce the conscription lottery in the area, which has a large Karen population, came after military officers summoned elders and community leaders from 10 villages in the area to a meeting in February.
They were told that each village would have to provide 10 army recruits, who would be decided by lottery. Every household with at least one adult male was expected to enter the draw. Anyone selected who was unwilling to serve in the military was required to pay K100,000 (US$54); households without adult males had to pay K15,000 ($8) a month for six months.
Than Win could not afford to pay K100,000 and he didn't want to go into the draw.
However, the move to another village proved to be in vain, because soon the conscription lottery was introduced there, too. In the first week of June, Than Win and his family moved to yet another village. When the system followed them there as well, Than Win reluctantly decided that he had no choice but to go into a draw.
"I didn't want to be a soldier but I didn't want to relocate again. I dared not return to my home village. I didn't have K100,000 and I didn't know where I could borrow it," he said.
"I talked to my wife and children about the situation and they told me not to become a soldier, and to borrow the money. Our children said it would be more embarrassing if their father became a soldier than if we borrowed money and went into debt – they said we had to find the money," Than Win said.
The recruitment drive comes as the military sustains growing losses in its battles against ethnic armed groups and resistance forces established since the coup, as well as a wave of defections and desertions among its rank and file.
But replenishing its forces is a major conundrum. The military has never been so unpopular among the general public, as reflected in Than Win's comment that serving would be an "embarrassment". Many traditional recruiting areas, such as rural Magway and Sagaing regions, have also become battlegrounds in which young men who would have perhaps considered joining the military are instead joining resistance groups to fight against it.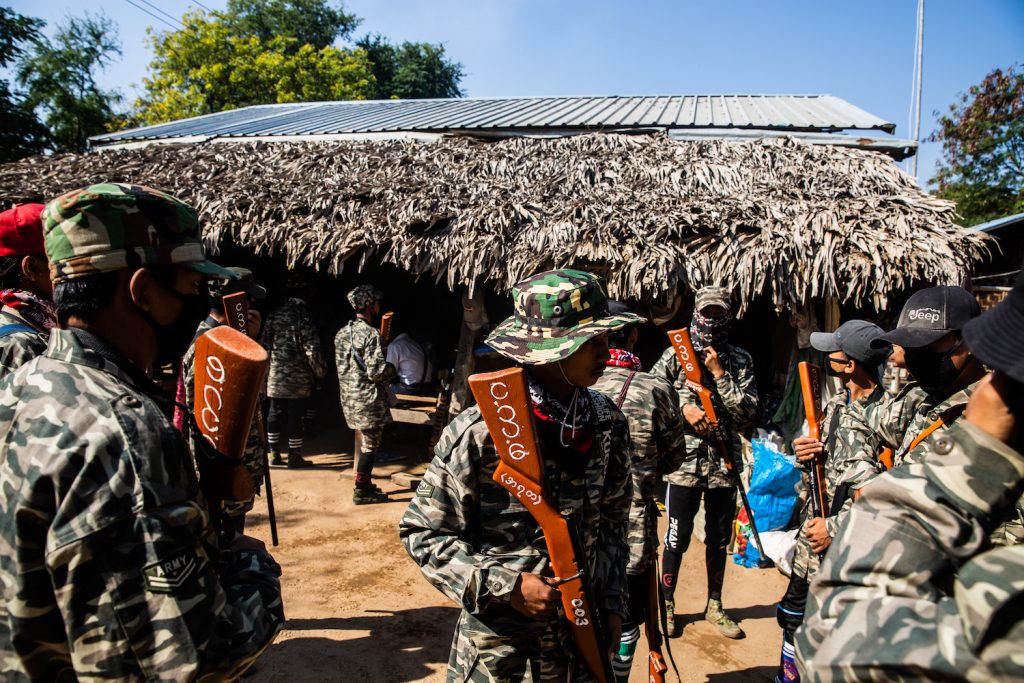 'I didn't dare to oppose them'
Than Win believed that the military officers had broken the law when they gave them the "choice" of going into the draw or paying to avoid it. But he didn't dare to speak out.
"They are armed and I didn't dare to oppose them. We are scared. I don't know for sure that villagers haven't been killed over this, [or] that they won't set our village on fire," he said.
Than Win said he worried about not being able to repay a loan because it would require a continuing payment of K15,000 a month, which he can't afford on his earnings as a farm labourer. Facing the grim prospect of forever being in debt, he agreed to go into the lottery.
Than Win said a consolation of his decision to submit to participating in the lottery was that the Ayeyarwady Region has not been as affected by fighting since the coup as other parts of the country.
"Our situation is better than the people in other areas who are suffering because of the civil war," he said, adding, "I want this life of fear and injustice to end as soon as possible."
Ma Naw* lived in one of the villages Than Win moved to, but fled Myaungmya Township with her two year-old daughter and elderly mother to live with relatives in Yangon after her husband was recruited in a lottery draw in May. He had not wanted to serve in the military but couldn't afford to pay K100,000 to opt out of the draw.
"Some soldiers and community elders came to tell me that my husband had been drawn in the lottery. They said he must pay K100,000 if he did not want to become a soldier, but we couldn't afford to pay so my husband said he would go," Ma Naw said.
"Two days later, I heard from the village elders that my husband and others were sent to Pathein. Since they took my husband away I have not been able to contact him. We don't know when he will be allowed to come home," she said.
Another shock came after her husband left. Even though her husband was conscripted, Ma Naw was told she would still have to pay K15,000 a month to the military after his first month had passed.
Ma Naw's husband was a daily wage labourer on farms and he would sometimes supplement his income by catching fish that his wife sold in their village.
"Without my husband, we had no income, so I asked a relative to help me to move to Yangon, where I can get a job in a factory to support my family while we wait for my husband to return," said Ma Naw.
"Without any income it is impossible to pay K15,000 to the army every month. I have already given my man. I have never experienced such a situation and I am not sure our family will ever be reunited," she said.
"When my husband is able to return, I have decided to bring him to Yangon. This situation where men are forced to become soldiers only happens in villages far from cities and I don't want to face it again."
'He said it was democracy'
Among the community elders at the February meeting in Than Win's village was U Aung*, 52, who said the military had initially demanded that each of the 10 villages represented must provide 10 recruits.
"Even though we are elders and community leaders, we have no power to force villagers to become soldiers. I told the military that the villagers would be unhappy but they didn't want to listen," U Aung said.
"The military didn't accept what we said and insisted that each village had to provide 10 soldiers and we had to make sure they signed up. We felt strongly that this was unacceptable but we dared not object. They can arrest us because they are military soldiers with weapons."
However, the military eventually relented on the forced recruitment plan and opted instead for a conscription lottery.
"They said that any villagers who drew the lottery but did not want to serve in the military would be fined K100,000. Households that did not have to participate in the draw [because of a lack of eligible men] would also be asked to pay K15,000 a month for at least six months," U Aung said.
Most of the villagers are farmers and couldn't afford to pay, so they had no choice but to go into the draw, he said. But then the military officers decided that those households with eligible men who took part in the draw but were not selected would have to pay K15,000 a month anyway, as a kind of tax on non-serving households.
"The military officer said that if they can't pay they will have to serve in the military. He said it was their choice whether to pay or serve in the military. He said it was democracy. I wanted to kick him in the face but I was afraid of being arrested," U Aung said.
A resident of one of the villages represented at the February 2022 meeting said the military had in March threatened to burn the village down if they refused to participate in the conscription lottery or pay the K100,000 penalties.
"They said that if we were chosen in the draw but didn't want to serve in the military we would have to pay an initial K100,000 and then K15,000 a month," the villager said, speaking on condition of anonymity. He was worried that the amount might be increased. "I don't know how much I might have to pay in the future," he added.
"Soldiers told us to regard the payment for not wanting to serve as a tax, and not to spread any news about it on Facebook," the villager said.
He said his village has more than 180 households and if each had to pay K15,000 every month it would amount to a considerable sum.
"We have been paying since March, more than four months. At least if the money was thrown into the water, it would still make a sound," said the villager, invoking a Burmese saying to describe losing a large sum of money.
"Paying money to not be soldiers is embarrassing and useless," he said, adding that those drawn in the lottery were told by soldiers that they would have to undergo military training in Pathein, where the headquarters of South Western Command is based.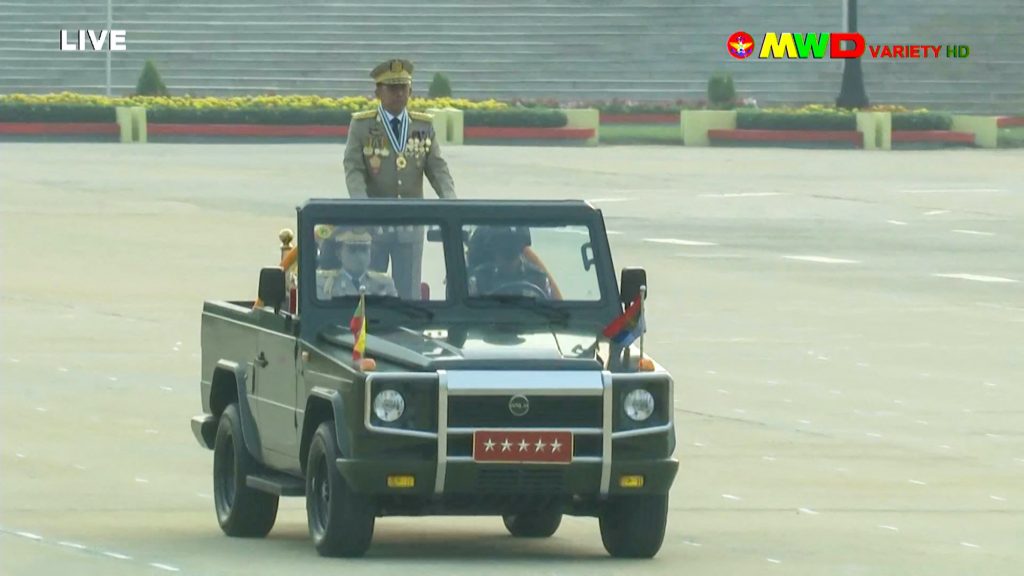 Buying recruits
Residents believe that the cash being raised from all the penalties and monthly payments is being used as an inducement to support the recruitment drive.
Soldiers manning a checkpoint at the entrance to Myaungmya town are trying to entice young men to join the army by offering them the relatively large sum of K1 million ($538) along with a bag of rice, said a resident, U Tun Tun Oo*.
"When I first heard about it, I didn't believe it," Tun Tun Oo said. "But my son and I had to go to Labutta and we had to pass through the checkpoint … A soldier on duty asked if I was interested in having my son become a soldier. When I answered no, the soldier told me that if he joined the military now, I would get money and rice. I just answered no."
Tun Tun Oo speculated that it was likely many residents in Myaungmya town were unaware of the conscription lottery and forced collection of money.
"The villages are far away and the residents are scared, so it is possible that people in the town may not be aware of this news," he said. "They also don't know if the money being raised by the military is being used as an incentive to recruit soldiers in the town. In the beginning, they didn't say that they would offer incentive payments to get people to join; the military seems to be in dire need of recruits."
The recruitment drive got underway shortly after coup leader Senior General Min Aung Hlaing said in a speech to senior military officers in Nay Pyi Taw on February 2 that every citizen has a responsibility to serve in the military for two or three years under the People's Military Service Law.
The law was enacted on November 4, 2010 by the previous junta, the State Peace and Development Council. It stipulates that eligible male citizens aged between 18 and 35 and eligible female citizens aged between 18 and 27 are required to serve in the military for up to two years, while those eligible to serve as technicians or experts are required to serve for up to three years.
Section 4 of the law says that compulsory military service can be extended to up to five years during a state of emergency, such as that imposed by the junta when it seized power on February 1, 2021. On July 31, the junta extended the state of emergency for a second time, to February 2023. But while the conscription has some legal basis, authorities don't appear to be referencing the law on the ground during forced recruitment drives.
Min Aung Hlaing's comments followed reports about a sharp decline in recruitment numbers since the coup, as well as reports of military defections and casualties from armed conflict with anti-junta groups and ethnic armed groups. There have been frequent references in the press and on social media to problems in the military and a lack of personnel, but junta leaders declined to respond to Frontier's request for comment for this story. They have also not commented on the veracity of the multiple reports of forced recruitment and large fines. The true picture of the military's strength and capacity is not clear, but based on these reports it suggests they have shifted to desperate measures as they try to win a civil war they were clearly unprepared for.
A step back in time
This is not the first time the Myanmar military has resorted to forced military recruitment, according to Dr Mary Callahan, an academic and researcher who has written extensively on Myanmar's military and government systems. In the early 1990s, the former junta embarked on a dramatic expansion of the armed forces, and the pressure on recruiters to meet targets led to an increase in forced recruitment.
"The last 30 years saw a shift in responsibility for recruiting to local platoons and battalions, where young officers and non-commissioned officers became responsible for wrangling boys into uniform. Eventually that led to considerably common practices of forced recruitment," Callahan said, noting that "the army was not alone here, as some EAOs also force families to hand over sons."
Forced recruitment was not initially such a problem. In the early 1990s, skyrocketing poverty rates in rural areas made joining the military a necessary option for many poor families; but as conditions improved, alternatives like migration for work became a more attractive choice, and the military responded by using more aggressive tactics to get men into uniform.
Callahan recalls a visit to Sittwe, Rakhine State in 1998 where a township official told her of battalion commanders sending trucks to the jails to collect anyone in custody, who would then be marched to the truck and forced into the army. "Not surprisingly, discipline was utterly lost," she said, and even prior to the coup "few if any battalions [were] at required strength".
Callahan said the coup reflected a "massive breakdown in intelligence" among the military leadership about both the conditions of the rank and file and how much the society had changed in recent decades.
"It seems that the army has not traveled far at all from its social, political and institutional arrangements of 20-40 years ago, while all the rest of Myanmar society – rural and urban, young and old, lowland and upland, Bamar and non-Bamar– has undergone dramatic changes in norms, cultural assumptions, and expectations of governance."
*Denotes use of pseudonym upon request for safety reasons