Striking truck drivers, bureaucrats and bank workers have brought international trade through Yangon's ports to a standstill, with exports estimated to be down as much as 90 percent since February 1.
By FRONTIER
When he bought millions of dollars of pulses back in January, Madhu never imagined they would still be sitting in a Yangon warehouse two months later.
But the February 1 military takeover has wreaked havoc with Myanmar's international trade, largely due to the Civil Disobedience Movement that has seen tens of thousands of workers – if not more – in the public and private sectors go on strike until democracy is restored.
Truck drivers, Customs agents, port workers and staff from various government and semi-government agencies that issue documents needed to import and export goods have all stopped working, bringing sea-bound trade to a halt.
The effect has been most keenly felt in Yangon, which handles nearly all of Myanmar's sea-bound trade and close to 70 percent of total recorded trade flows.
"No one is willing to even load the cargo," Madhu told Frontier in late February. "Our local suppliers aren't loading and there's no container trucks to take them to the port."
Loading cargo is only the first hurdle, though. Workers at the Union of Myanmar Federation of Chambers of Commerce and Industry are on strike, which means exporters can't get a certificate of origin. The closure of private banks due to rank-and-file workers joining CDM has made it difficult to send or receive payments. Those like Madhu who are exporting agricultural products also need a phytosanitary certificate from the Ministry of Agriculture, Irrigation and Livestock, but the staff who issue them are refusing to work, too.
"Everyone is facing the same problem and there's no one to turn to for help," he said. "We don't know when the resolution will come. If you ask me, are we worried, of course we are … I've never seen anything like it."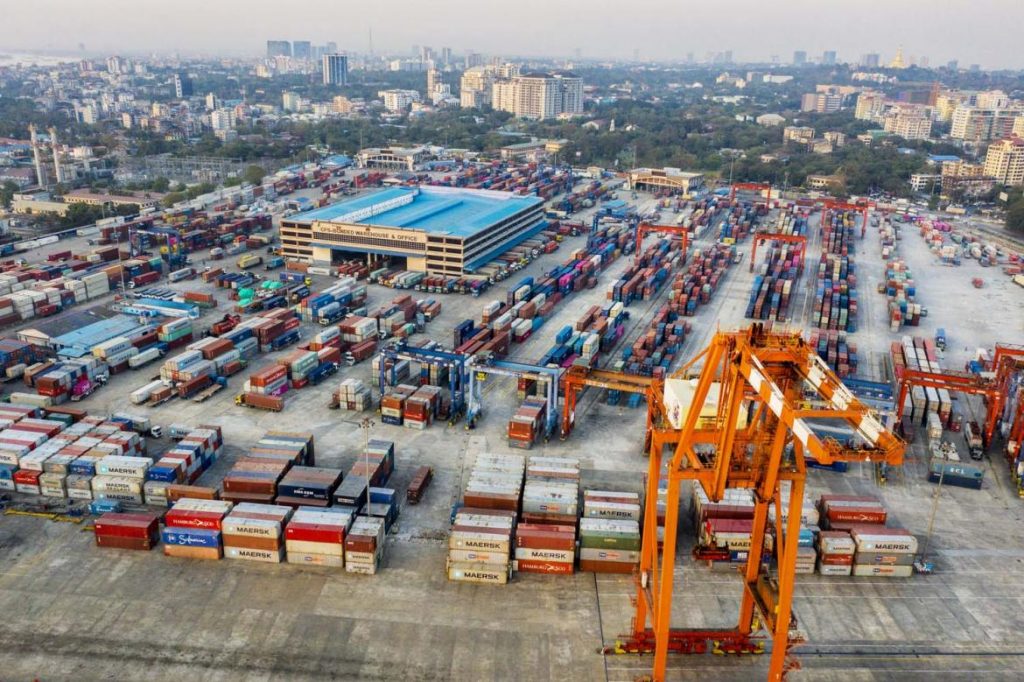 Port paralysis
Customs clearance agents and officials from the Myanmar Container Trucks Association told Frontier earlier this month that export volumes through Yangon's ports were down as much as 90pc, while imports coming through Customs were down about 80pc.
The first problems began to emerge on February 8, when staff at private banks joined the CDM en masse, forcing the closure of virtually all branches. This brought international money transfers to a halt, and also made it difficult to pay Customs duties on imports.
Four days later, many container truck drivers joined the movement, putting the brakes on the movement of goods destined for export and also imported items that had been unloaded at the port.
Almost all of the 2,800 trucks under the MCTA joined the strike, accounting for about 70pc of all container vehicles.
One senior official from a Customs clearance company said that almost the only container trucks that have been running are those owned by the Tatmadaw-linked company Myanma Economic Holdings Limited, and prices had risen from K10,000 to K80,000 a trip.
"At the moment you can only hire trucks from MEHL and the drivers demand exorbitant prices. As a result, a lot of goods are piling up at the ports, unable to move," he said.
Customs clearance agents also said some workers at both Yangon Port, which includes several privately run and military-owned jetties in the downtown area, and Myanmar International Terminals Thilawa in Thanlyin Township, had joined CDM. Although the ports are still moving to some extent, they are well below full capacity due to a lack of workers.
Meanwhile, many Customs agents, who typically handle all the documents for importers and exporters, are also refusing to work. One industry source estimated around 70pc of agents were on strike.
To get around the lack of agents, Customs has allowed importers to process paperwork directly at Custom House.
Although relatively few Customs staff initially joined the CDM, their ability to work has still been severely disrupted. Protesters have regularly targeted Custom House and as a result police are now a permanent presence around the building on downtown Yangon's Strand Road. But clearance agents said these seemed to have been placed there more to ensure that Customs staff don't join the CDM than to ensure their security.
Instead, many Customs staff have taken leave and the department is badly understaffed, an agent with 20 years' experience and other industry sources told Frontier.
"In this situation it's really hard for us to do our work," the agent said. "Most of us have stopped working now."
Another agent added, "The Customs department is struggling to meet demand because many employees are on leave, even though most have not officially joined CDM."
Adding further to the bureaucratic backlog, Customs has stopped using the Myanmar Automated Cargo Clearance System, an online system that was developed with US$40 million in support from the Japan International Cooperation Agency and launched in January 2017, and has returned to processing paper documents.
The reasons for this are not entirely clear, but it now means that a small number of Customs staff are laboriously processing documents by hand.
Shipping Agency Department data provided to Frontier shows that there was actually only a small decline in imports in February, with around 73,000 TEUs, or 20-foot equivalent units, compared to around 76,000 in January.
However, much of the cargo that ships disgorged in Yangon remains at the docks, unable to get through Customs and out into the market.
The pile-up of goods and lack of exports has exacerbated pre-existing space problems at the ports that were due to an excess of containers.
Meanwhile, warehouses are also filling up rapidly because garment factories are continuing to produce goods but are unable to send them abroad, said sources in the logistics sector.
The Customs clearance agent said the only goods he was moving were from the port at Thilawa to the nearby industrial zone, because it doesn't require payment of Customs duties or the use of banks.
"If you need to do anything that involves the Customs office, banks or hiring container trucks," he said, "it's almost impossible right now."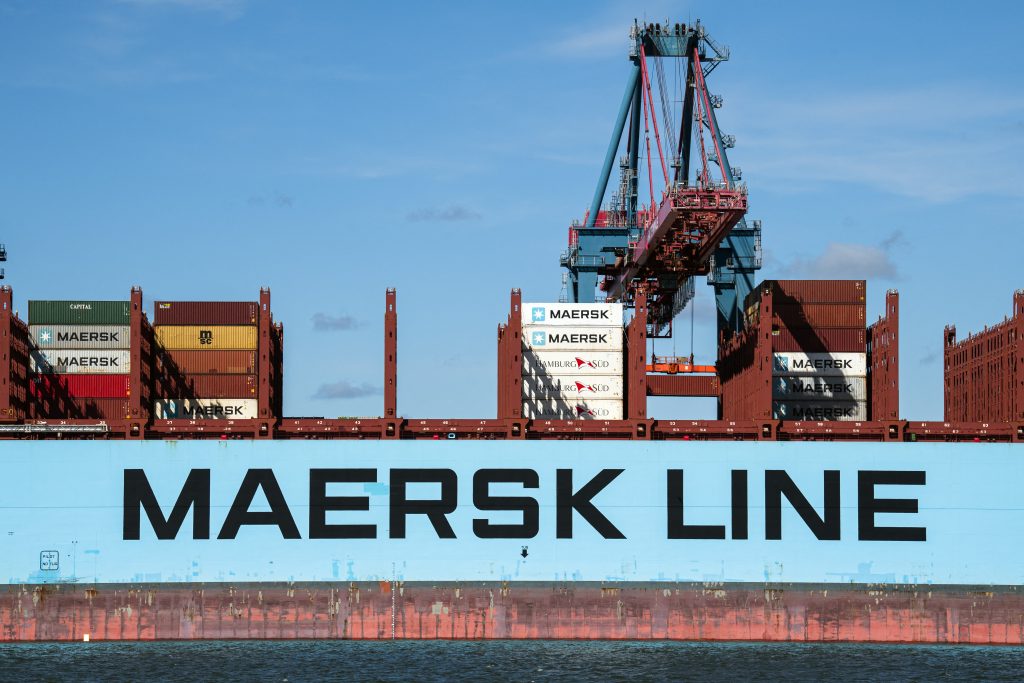 Shipping woes
Long delays in unloading and loading cargo – particularly because of paperwork problems at the ports – have caused headaches for shipping lines that regularly call at Yangon.
In February some vessels were stuck in port for several weeks waiting for containers to be loaded before eventually leaving empty, something that exporters said almost never happens.
From February 12, when truck drivers joined CDM, to March 7, data from marine tracking websites shows that 24 vessels left Yangon Port without any cargo, while nine left partially laden and just five left fully loaded.
It's a similar story downriver at Thilawa, where 28 vessels left without any cargo over the same period, two left partially laden and two left fully loaded.
Due to these difficulties, fewer cargo vessels have been calling to Yangon ports and the number of arrivals is expected to fall further from the middle of March, industry sources say.
German shipping line Hapag-Lloyd told customers on February 19 that it was suspending import bookings into Myanmar "with immediate effect" due to the disruption caused by the February 1 coup.
"With continuous daily protests in Myanmar, the situation is becoming more and more tense. Operationally, the terminals in Myanmar are close to full capacity and feeder services, road transportation is limited, and with a number of factories and depots working with a skeleton labour force," the shipping line said.
But Hapag-Lloyd is far from alone – Frontier understands that nearly all major lines have suspended services to Yangon. Industry site Container News said Taiwanese carriers Wan Hai Lines and TS Lines have stopped calling, while Nikkei Asia reported that Danish giant Maersk had suspended services until at least March 14. "The ongoing unrest in Myanmar is becoming a disaster," Maersk was quoted as saying in a March 5 statement. "Therefore, we need to take actions accordingly, to ensure the safety and mental health of people."
Already, the lack of imports is having visible effects. Garment factories in Yangon have begun running out of raw materials, while some foreign products have disappeared from supermarket shelves.
But there are fears the shortages could extend to more essential goods, particularly palm oil and fuel. Dr Soe Tun, a prominent businessperson involved in rice exports, said that if trade in these two commodities is disrupted, "bigger problems may occur".
"A shortage of fuel will stop industrial machinery, construction machinery and transport," he said. "The consequences could be really alarming."
Dr Win Myint, general secretary of the Myanmar Petroleum Traders Association, said Myanmar consumes 200,000 gallons of petrol and 400,000 gallons of diesel a month, and has reserves for around two months.
"We don't have the storage tanks to keep more than that," he said. "We must import fuel continuously to ensure there are no shortages."
This was the subject of a meeting of the State Administration Council on February 25, at which Senior General Min Aung Hlaing stressed the need to reduce reliance on imported fuel and cooking oil.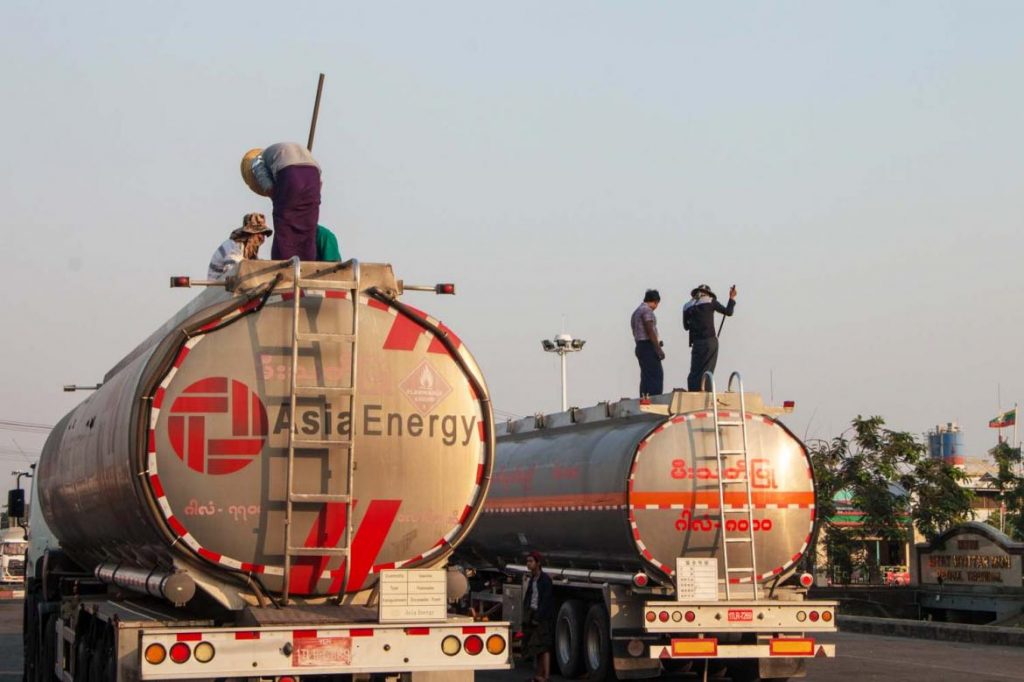 Emergency measures
The military government has taken some steps to alleviate the blockages and ensure trade continues to flow – including strong-arming foreign banks to help alleviate payment problems.
On February 26, the Central Bank sent a directive to all foreign bank branches and subsidiaries, as well as local banks with foreign exchange licences, with the subject line, "To cooperate in order that there are no fuel shortages".

The directive said they were required to cooperate with fuel importers on trade financing and opening Letters of Credit, and to report daily to the Central Bank on what they've done to assist fuel importers.
"This directive shows that bank services for the trade sector in Myanmar have stopped," commented one Customs agent.
Central Bank deputy governor U Win Thaw told Frontier on March 4 there would be "negative consequences" for banks that failed to follow its instructions, but added that the announcement was "more like a warning for banks to carry out their responsibilities".
"If there's any shortage of fuel, people will suffer. Banks have an important role to play in preventing shortages," he said.
It seems to have worked, with twice as many tankers docking in the 10 days following the order to the banks than in the 10 days that preceded it.
On March 1, a committee was also formed at Yangon Port including Myanma Port Authority, Customs, the banks and police, in order to speed up trade.
Two days later, the Department of Trade issued a temporary exemption on export and import licences for a range of products, effective from March 8 to April 9. Exempted exports include onion and garlic, rice, cotton, raw rubber and sugar, and imports include flour, cooking oil, cement, petrol and diesel, pharmaceutical products and fertilisers.
In recent days, Customs has also resumed using MACCS, the online clearance system, one agent said.
At the same time there has been a slight softening from the Myanmar Container Trucks Association, which at a March 1 meeting decided to allow the movement of emergency goods and medicines. Some drivers have also left CDM and resumed work, and trucks have been leaving the ports at night under armed guard.
But industry sources say this hasn't made a whole lot of difference so far; recent truck movements around the port are thought to be mostly related to military-linked businesses, and trade is still at a fraction of its pre-coup levels.
"Volumes have collapsed, basically … nothing is moving," said one source in the logistics sector, estimating a 95pc decline in business from the ports since the coup. "There's just an incredibly limited amount of stuff coming through the port."
In some ways, the situation has got even more difficult in recent weeks. Truck drivers have become more reluctant to move goods around Yangon in the wake of deadly violence from security forces, and as blockades and traffic disruptions by protesters has become more common.
"Truck drivers are hard boys; tough, resilient – they're a breed of their own," the logistics source said. "But a lot of them are getting worried – or their families are getting worried – about things like roadblocks, personal safety, having to endure social shaming or even getting attacked."
MCTA assistant secretary U Myo Htut Aung told Frontier that the association's members were determined to continue their strike against the military government.
"On March 1 we decided to allow our members to return to work if they wanted to," he said. "But most of them – about 70pc – want to continue with CDM."
For Madhu, the window of opportunity to send his pulses is closing. From mid-March few ships are likely to call at Yangon Port until CDM ends, so he has just days to load his cargo or face a prolonged wait. Asked whether there had been any improvement in recent days, he responded simply: "None … it's getting worse."