Commercial flower growers are being squeezed by imports from China and there are allegations that Chinese nationals are selling blooms wholesale at a Yangon market.
By KYAW YE LYNN | FRONTIER
Photos NYEIN SU WAI KYAW SOE
THE RAINY season has almost ended and winter will arrive in the coming weeks. Most Myanmar are preparing to celebrate the Thadingyut festival of light, which marks the end of Buddhist Lent and falls this year on October 5.
Festivals are a feature of what's known as the open season, which begins with Thadingyut and is followed by a series of religious and cultural events until the rains return in July. The offerings at the festivals will include bouquets of flowers.
Many of the blooms will be imports and that's a concern for commercial flower growers such as U Zaw Naing, who has a three-acre (1.2 hectare) farm at North Chawgone village, in Hmawbi Township, about 60 kilometres north of Yangon.
Zaw Naing has been busy planting roses.
"Roses don't like too much rain and they need hours of sun a day, so winter is best for them," the father of three told Frontier.
"These newly-planted roses are called the Chinese perfumed rose, but I am not sure if they will grow well here," Zaw Naing said, as he added humus and fertiliser to a garden bed.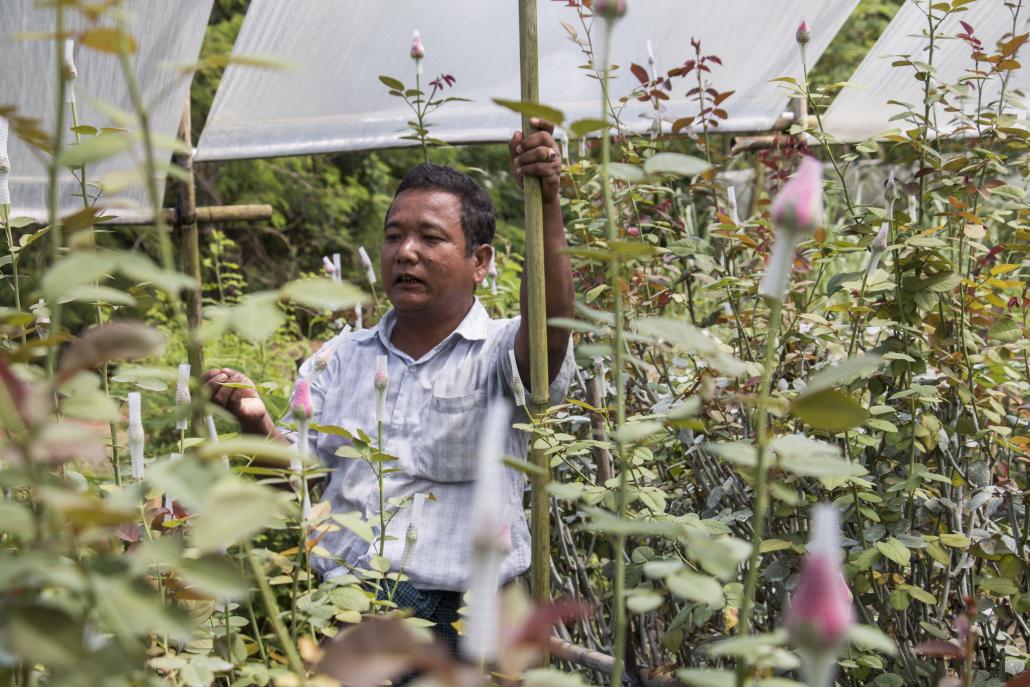 Most of his farm and those nearby are devoted to growing Eugenia – thabye pan in Myanmar – an auspicious plant offered daily to Buddha images and often seen tied to the front of cars.
Zaw Naing grows two varieties of Eugenia on his farm, one of several accessible only by motorbike along a muddy track near the Myaung Dagar industrial zone.
"ASEAN Thabye and Aung Thabye don't need much care, but they provide us with a daily income," he said.
Although flowers are cultivated around Yangon and Nay Pyi Taw, most of the country's commercial flower farms colour the cool, rolling hills around Pyin Oo Lwin, known in Myanmar as Pan Myodaw, or "City of Flowers".
However, most of the flowers sold in Yangon are imported from China, which locally-grown blooms cannot match in volume or quality.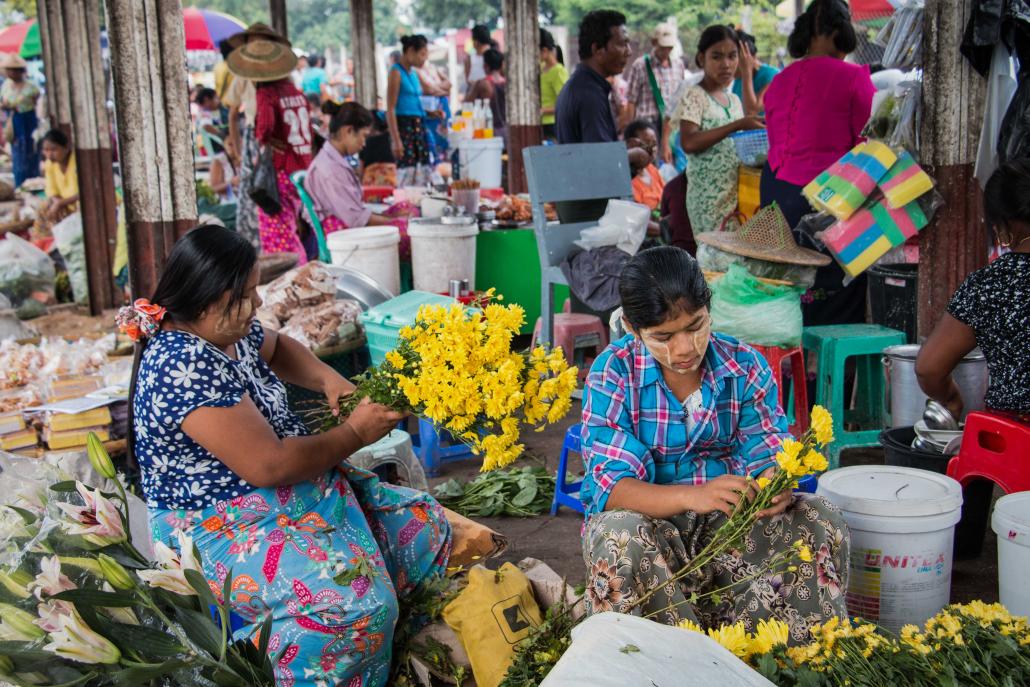 Ko Soe Thu, a flower wholesaler at Thiri Mingalar market told Frontier last week that about half of the blooms on sale were imported from China through border trade.
The imports have a price advantage, he said.
"Chinese flowers are more beautiful and colourful, but the price is the same as locally-grown blooms," said Soe Thu, who established his wholesale outlet 10 years ago.
"Some species are expensive, but only by about K20 or K50 a bloom," he said of the imports, adding that some Chinese flowers do not grow in Myanmar for climatic reasons.
"We were happy when we first started selling imported flowers and were able to attract customers, but now the market is under threat," said Soe Thu.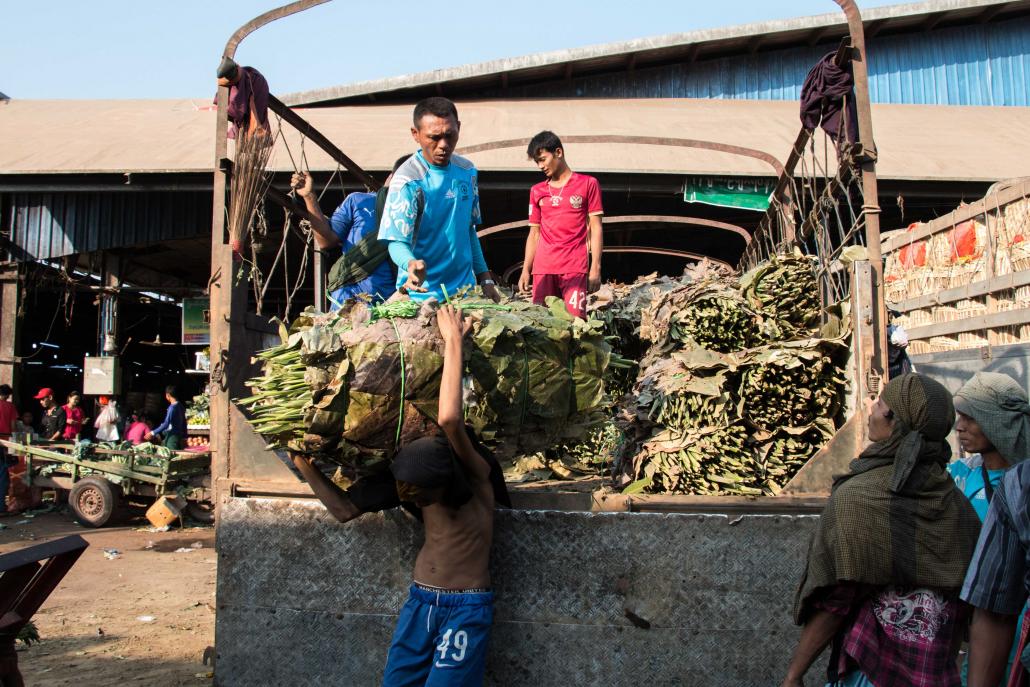 He claimed that Chinese nationals had begun opening wholesale outlets at the market in recent months.
Another wholesaler at the market Chinese nationals were running four wholesale outlets and it was unclear if they were licensed, he said.
"They are selling flowers at lower prices, so we cannot compete against them," he said.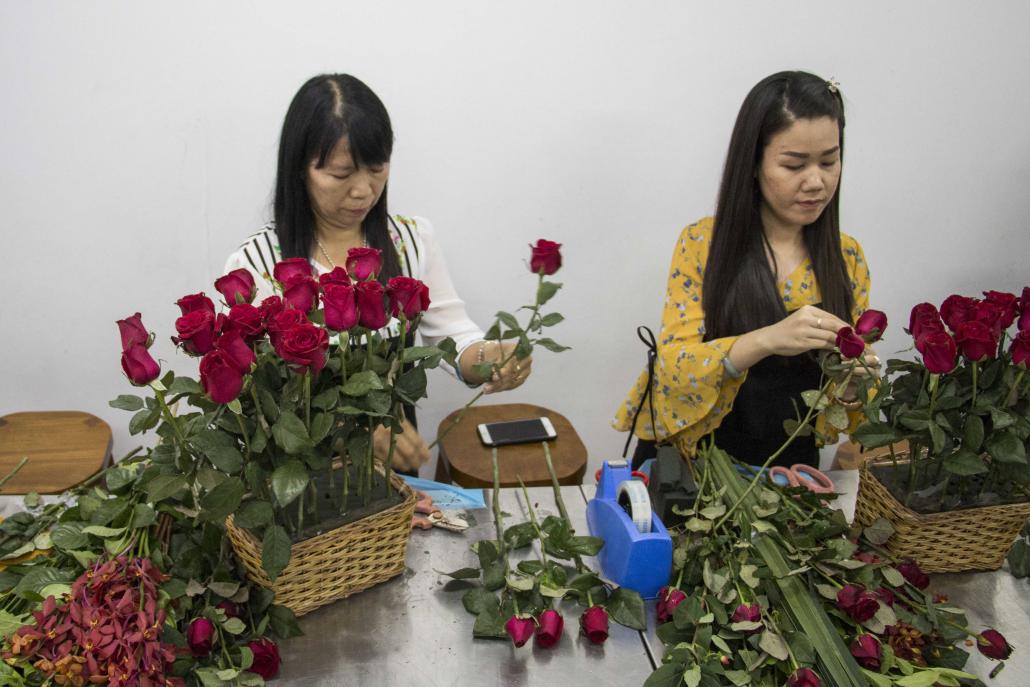 When Frontier tried to interview a person of Chinese appearance at one of the wholesale outlets, a Myanmar woman in the shop who identified herself as Ma Thandar Lwin intervened.
"I am the shop owner and he is my friend who is importing flowers from China," said Thandar Lwin, indicating the man beside her. Questioned further about the ownership of the business, she declined to comment about what she called "accusations".
Although imported flowers were more popular because of their quality and appearance, the quality of blooms cultivated in Myanmar had improved this year, said Ma Thet Yu Hlaing, one of the four founders of the Khloris Flower School in Yankin Township.
"We mainly use flowers imported from China and Thailand," she said, adding that the increased use of flowers for decoration had seen demand rise since the business was launched nine months ago.
"More and more people are using flowers, both artificial and natural, for various occasions, and we hope we can use locally-grown, high-quality flowers in future," said another co-founder of the business, Ma Pyone Pa Pa Win.
She said the school was also attracting people who wanted to open their own florist's shop and there were plans to offer a floral decoration class in the Shan State capital, Taunggyi, next month.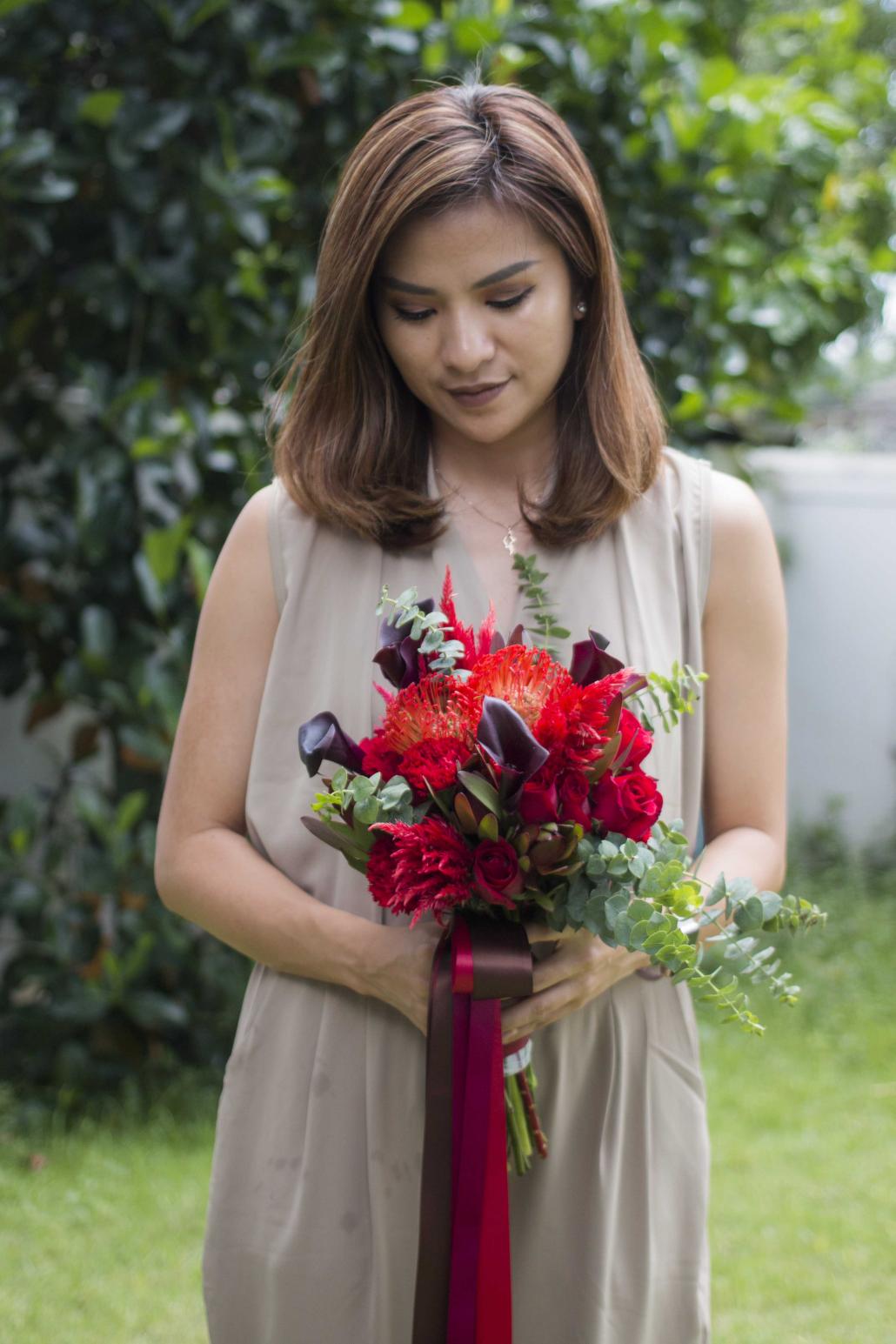 Zaw Naing is among a number of commercial flower growers who are trying to cultivate Chinese varieties to meet the rising market demand.
They include a near neighbour, Ko Kyaw Thein, who has four acres at Hmawbi and is growing a Chinese rose variety on his 11-acre farm at Nay Pyi Taw.
Kyaw Thein acknowledged that it would be difficult for flowers grown in Myanmar to compete against imports because it lacked the technology needed to produce consistently high-quality blooms in large volumes.
"Imported flowers will continue to dominate the market," he said.
TOP PHOTO: Zaw Naing's rose farm in Hmawbi Township. (Nyein Su Wai Kyaw Soe | Frontier)