The woes of war in western Myanmar have been exacerbated by Cyclone Mocha, with already-struggling residents saying they have still received no assistance, and even accusing the military of launching fresh attacks during the storm.
By FRONTIER
On May 14, as Cyclone Mocha caused widespread flooding and devastation in western Myanmar, the military launched an assault on Lingadaw village.
"Lingadaw is only about four miles away from our village," said U Zaw Htun* in Magway Region's Myaing Township, which has been wracked by conflict since the 2021 military coup. "So we had to run away in the heavy rain at night."
This isn't the first time Zaw Htun, his wife and two adult children have had to flee a military crackdown, typically hiding in a makeshift hut he built about a mile from the village. But while it was a suitable shelter in normal times, it was a terrifying place to hide as the winds howled and the rains poured.
"We were so afraid," he said. "They have no mercy, even in the middle of a cyclone."
While Cyclone Mocha hit Rakhine State the hardest, it also made landfall in Magway and Sagaing regions and Chin State on May 14, exacerbating months of brutal conflict. All three administrative divisions have emerged as hotspots of armed resistance to the coup, and have subsequently been subjected to military airstrikes, arson and raids, displacing thousands of civilians.
Across multiple villages, residents alleged that the military launched fresh attacks as the weather grew severe, displacing residents and disrupting essential preparations for the storm.
"In Pauk Township, rather than sending a ground assault, the military fired artillery blindly at night from the south of the town," said a member of the Successful Force-Pauk resistance group, which operates in the Magway Region township.
He estimated that 200 of the 273 villages in Pauk Township were affected by the storm, destroying nearly 800 acres of crops and killing hundreds of livestock. He said due to the shelling, some people had to flee their villages, staying in flimsy small huts where they were at the mercy of the weather.
In Sagaing Region's Yinmabin Township, a resistance fighter said the military launched a ground assault on May 14, even as fields and houses in 15 villages were flooded by the storm.
"We suffered attacks from both the storm and the military," said Ko Khant, a member of the North Yama People's Defence Force, which operates in Yinmabin. He said residents of 10 villages were forced to flee during the storm.
The Khin-U Township True News Information Group, a Facebook page affiliated with the resistance, said another column displaced some 3,000 residents in the Sagaing Region township, also on May 14.
"It's simply an inhumane act," said Duwa Lashi La, acting president of the National Unity Government, said of these raids during a May 17 address. The NUG is a parallel administration appointed by elected lawmakers deposed in the coup.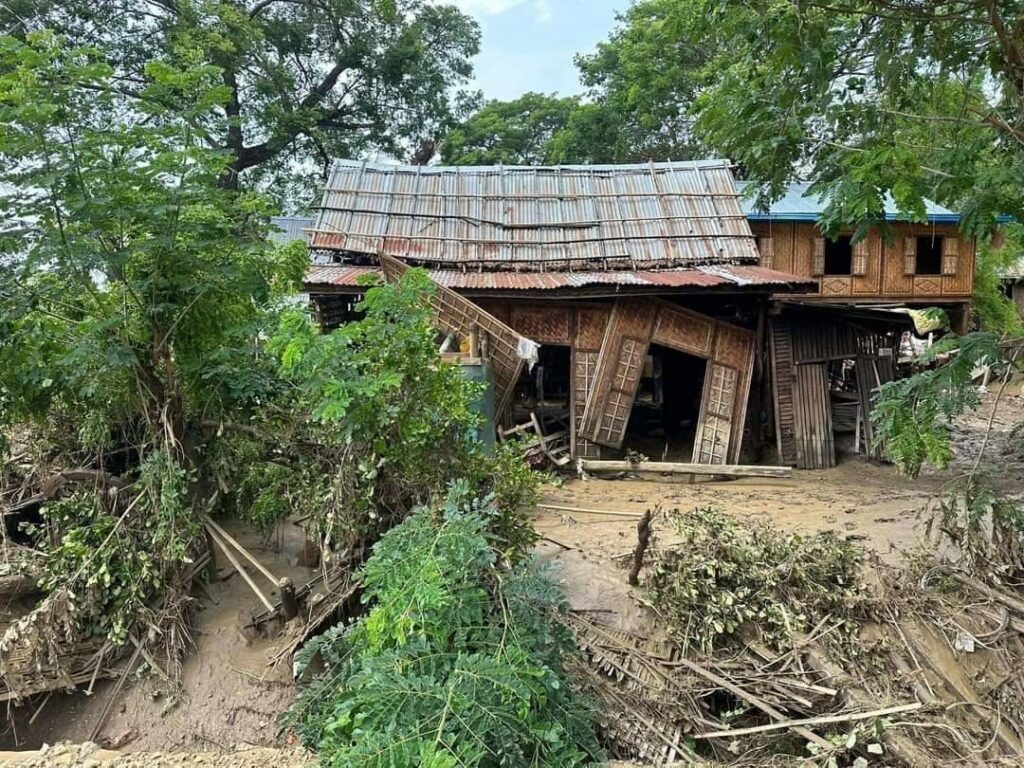 'All their shelters were blown away'
The storm also brought more misery for those already displaced by the conflict and living in camps or makeshift shelters, as well as for farmers who have struggled to harvest crops amid the chaos.
The Institute for Strategy and Policy-Myanmar, a think tank, said in January that 43,216 buildings in Sagaing, and another 11,000 in Magway, had been destroyed since the coup.
"Because of the storm, livestock on higher ground died, while on lower ground, displaced peoples' tents near the banks of the Yaw Chaung and Kyun Chaung rivers were washed away," said the member of Successful Force-Pauk. "We thought there would only be strong winds, but the river flooded."
In Chin, which has been especially terrorised by military airstrikes, around six townships were devastated by the cyclone. A woman from an emergency response team established by the Interim Chin National Consultative Council estimated that nearly 1,000 homes were destroyed in the state.
The ICNCC was established after the coup by various armed Chin groups, politicians, civil society organisations and protest groups.
"Even before the storm, displaced people were living in ramshackle huts and some had only a roof," she said. "All their shelters were blown away. Mocha destroyed even some firmly built houses [but] the displaced were hit the hardest."
She estimated that over 100,000 people have been displaced in Chin since the coup, with 60,000 fleeing to India while another 50,000 still live precariously in the state.
One woman from Nwe Ta Mae village in Magway's Salin Township said a man in his 20s drowned and livelihoods had been ruined.
"Four and a half acres of my sesame plantation were completely destroyed," she said. "I also have a phone shop that was flooded, so I lost about K5 million worth of phones. I was trying to recover my phones amid a torrent of water."
She said most people in the village of around 400 households are farmers, who were preparing to harvest mung beans, green gram and sesame in about a month's time. Many lost crops and seeds, and livestock were also swept away and killed when the Salin River, a tributary of the Ayeyarwady, overflowed.
"It's heart-breaking that our crops were destroyed so close to the harvest," said another farmer from nearby Uyinsu village, who lost two acres of mung beans. In total, around 20 villages in the township were affected, he said.
Ko Nway Oo, a member of the Civil Defense and Security Organization resistance group in Sagaing's Myaung Township, told Frontier on May 23 that around 3,000 acres of crops were destroyed in the township.
The NUG's ministry of humanitarian affairs told Frontier that, as of May 18, over 42,000 acres of farmland had been destroyed across Sagaing and Magway regions, adding that at least 15 people died in Magway and nine in Sagaing. The ministry also estimated that over 2,300 livestock were killed and around 150 homes destroyed in the two regions.
But the costs are still being counted. A senior official from the regime's agriculture ministry told Frontier that, due to communication difficulties, "we have not made a list of the ruined acreage of cultivated crops yet".
However, Nway Oo said he didn't expect the economic devastation to have a major impact on resistance fundraising.
"Local people in Myaung haven't been able to financially support the PDFs since the junta burned down their houses. We get support in other ways," he said.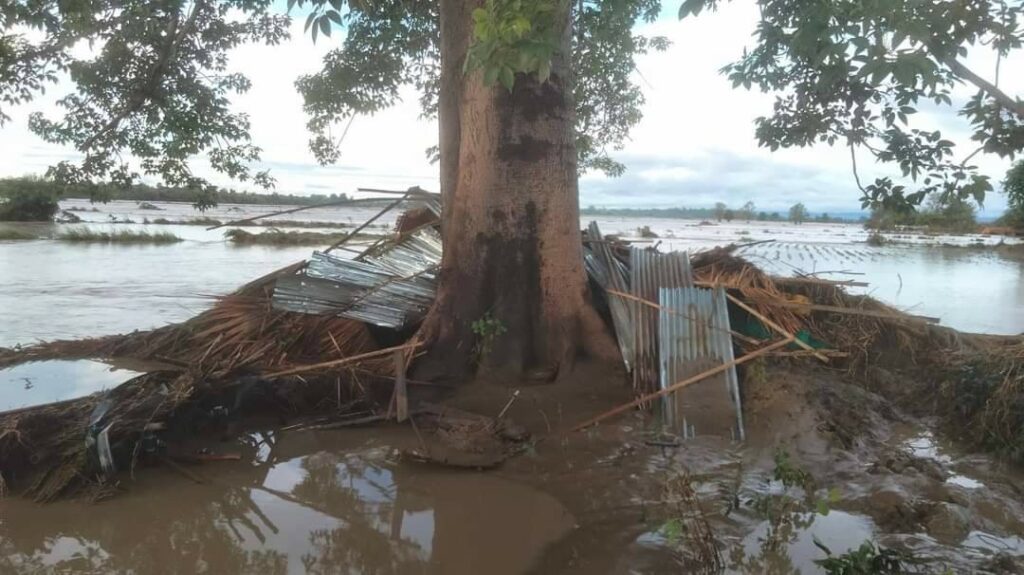 'We will struggle on our own'
Residents in rural areas said they're still waiting for outside help.
Many villages have had their transport routes cut. A man from the Magway Social Welfare Team, an independent civil society organisation, said his group has been unable to deliver aid to rural areas because major roads were destroyed by the cyclone.
Meanwhile, while the regime has trumpeted its humanitarian response in state media, resistance groups say it has not reached those who need it most. The groups say this is due to the junta's limited control of the countryside in Sagaing, Magway and Chin and its long-running strategy of blockading resistance strongholds.
A spokesperson for the Chin National Front said the State Administration Council, as the junta is known, is only delivering aid in major towns and cities.
"The SAC can only control the urban areas of Chin. Most of the cyclone hit areas are rural. I don't think SAC aid programmes can reach here," said the ethnic armed group spokesperson.
"We've heard the military council made donations in the town. Maybe they don't dare come to rural areas because of the PDFs," said the member of the Successful Force-Pauk. "For the people in rural areas who are suffering from the storm, there has been no aid or relief. We're struggling to help each other with whatever we have."
He said people need temporary tents for shelter, basic medicine and food.
Another barrier is the deep hatred and distrust of the military, which has only grown stronger with every new airstrike or ground raid. The woman from the ICNCC's response team said although the regime hasn't delivered aid to those most in need, they might reject its help anyway.
"I doubt the local people would accept aid from the SAC. All of their money is blood-stained. [But] it's unclear how the SAC programmes could even reach those areas. They can't even send rations to their troops in [remote] outposts," she said.
In Rakhine, the Arakan Army has said it's open to working with anybody to deliver aid, including the junta. However, the ICNCC's spokesperson told The Irrawaddy that Chin resistance groups were concerned the military would use aid delivery to regain control of areas that had slipped from its grip. He said this put resistance groups in a "dilemma", because "their image will be marred" if they're perceived to be obstructing aid.
Resistance groups in Sagaing and Magway took a harder line in interviews with Frontier. Spokespersons for PDFs operating in Tilin, Saw and Pauk townships in Magway and Khin-U in Sagaing all said they wouldn't even consider accepting assistance from the military.
"If the military did come here, local people and revolutionary organisations wouldn't accept their aid. They wouldn't have the chance to give aid," said Ko Kyaw, from the PDF-Tilin in Magway Region.
"We would accept aid if it's from a group officially approved by the NUG," said the spokesman from Successful Force-Pauk, adding they would allow a "purely humanitarian" independent organisation only after careful screening to ensure it's not affiliated with the military.
"The military council won't come to us, and we wouldn't accept them. Local people won't accept their aid either," he said.
But in the absence of outside support, grassroots groups are struggling to meet needs.
The PDFs in Khin-U, Tilin and Saw townships said they are working on road and bridge repair in cooperation with NUG-affiliated local administration teams and are taking stock of lost crops.
"The NUG has received a list of ruined crops, but assistance hasn't come yet," said Ko Kyaw on May 28.
A man from Pha Naing village in Chin's Matupi Township said he's only received support from wealthier Chin individuals.
"There has been no aid from any organisation – not the NUG or the military council," he said, adding that he's heard about preparations for the junta to distribute aid out of Matupi town.
A woman in Khin-U, who lost two acres of green gram in the storm, said she understands the NUG is limited in the support it can provide and must prioritise funding armed groups. The woman also scorned the prospect of aid arriving from the junta.
"I don't want or expect aid from the military council," she said. "We will struggle on our own."