A small community of female bodybuilders are powering through stigma to lift the sport to greater heights.
By JARED DOWNING | FRONTIER
MA THET THET WAI'S parents never liked her spending so much time at the gym, but they tolerated their daughter's hobby.
Posing on stage at the VX Classic 2017 Grand Bodybuilding Competition, on the other hand, was completely out of the question.
But the 21-year-old – just over five feet tall (152 centimetres) and weighing in at 42kg (93 pounds) – had spent a year's worth of evenings and weekends at the gym, and she wasn't going to blow her big debut. So she packed her bikini suit, slipped out of the house and made her way to Yangon's Myanmar Plaza on November 12 to strut her stuff.
As it happened, sneaking out was the easy part. Although the contestants were supposed to arrive early for rehearsal, Thet Thet Wai received basically no instruction on what to do on stage.
"I thought maybe it was a trick, I don't know," she said.
She had to fall back on her own research (mainly YouTube videos surreptitiously viewed on her office computer) and the guidance of the other women at the contest, of whom there were only a handful.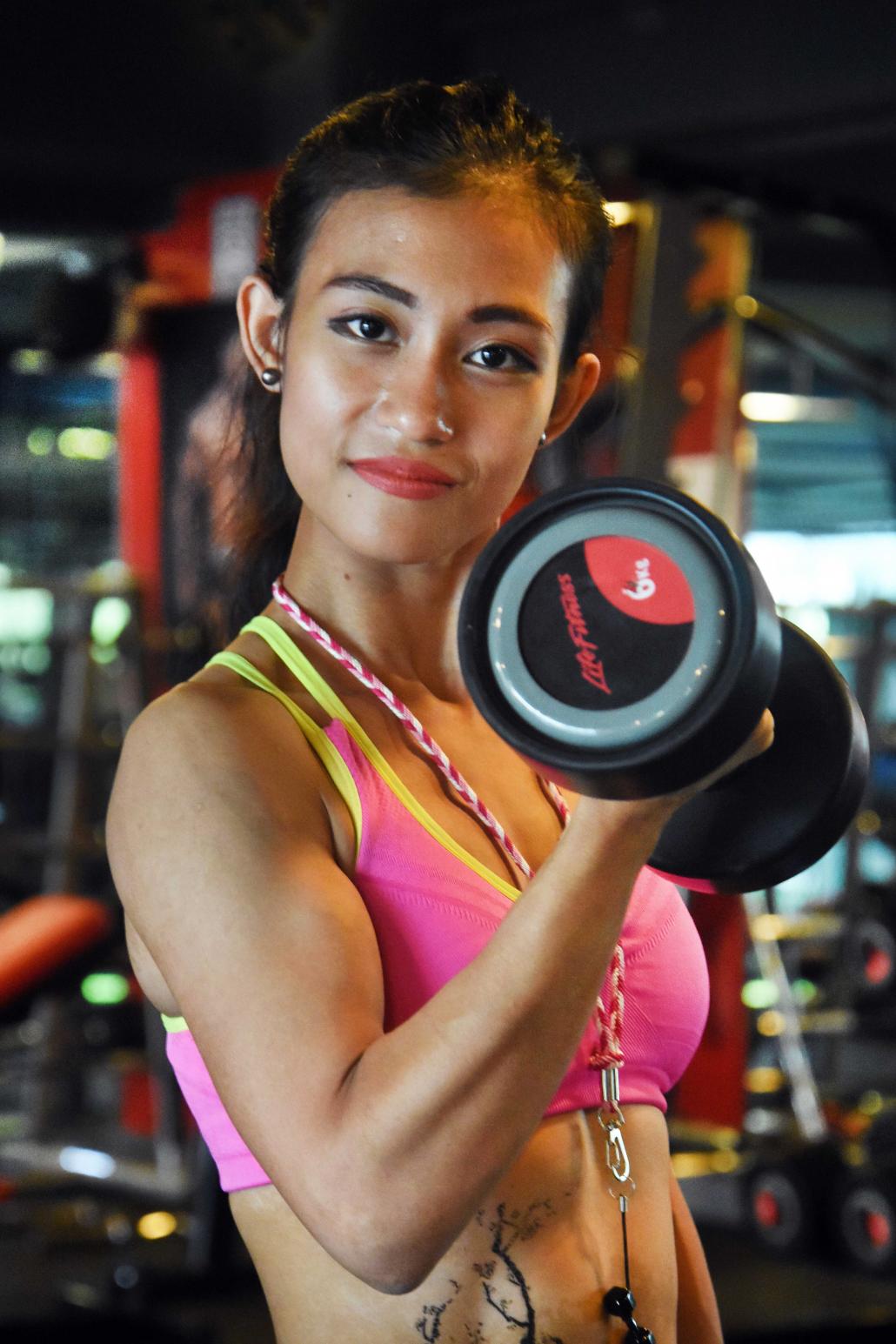 But while competitive bodybuilding in Myanmar is still overwhelmingly male, the sport's female contingent is growing, passionate – and viciously competitive.
Veteran bodybuilder Ma Nang Lao Kham took up weight training in 2013. She said she almost quit the hobby when her father threatened to kick her out of their house.
"However I tried, I could not give up this sport," said Nang Lao Kham said. "So I kept doing it in secret."
Nang Lao Kham said competitive bodybuilding has seen a relative surge in popularity among women in the past two years. More women are taking part in official contests organised either by the Myanmar Bodybuilding and Physique Sports Federation or private sponsors.
The trend, she argued, is a side effect of a growing fitness culture in general, with more modern and female-friendly gyms opening and more women slinging steel for health and beauty.
At competitive shows, however, their audiences do not always admire. Some view them as a bizarre curiosity, or even a disgrace.
Not all stories involve threats of familial exile, but there is a clear stigma against women who train as bodybuilders, said Thet Thet Wai. Technical lift routines, macro-nutrient tracking, protein shakes and the other trappings of the hobby are foreign to Myanmar culture, she argued, and putting one's oiled-up muscles on display flies in the face of gender norms on both sides.
"Even the boys' parents don't like it," Thet Thet Wai said, adding: "But for the rich people, it is normal because they already have an international mind."
Yet Myanmar society is slowly coming to tolerate the pairing of women and muscles, argued Ko Aung Swe Naing, who was one of the charter members of the Myanmar Bodybuilding and Physique Sports Federation when it was created in 1990. He retired from the sport after representing Myanmar in the 2013 SEA Games at the seasoned age of 37.
"In the old time, [women] competed with a longyi," Aung Swe Naing said. "Their [look] was so ugly; it didn't look international. Lots of people were laughing. I think you would laugh if you saw it."
Fortunately, the sport has progressed since then. In major shows such as the Mr Global Myanmar event, female contestants have been allowed to doff the awkward longyi in favour of typical bikini-style garb. Furthermore, women have had more opportunities to compete with and learn from foreign competitors in international events, such as the Thai-organised VX Classic.
In Aung Swe Naing's opinion, Myanmar contestants seem a bit less relaxed, more bashful and stiffer in their movements than their contemporaries from Singapore or Malaysia. But the sport is still young and Myanmar's ladies are catching up to the rest of the region, he said.
More worrying for him is how competitive the sport has become as it has grown over the years.
"Nowadays trainers just want their competitors to win, and their styles and their ideas are wrong," he said. "They don't know how to make their life and health beautiful."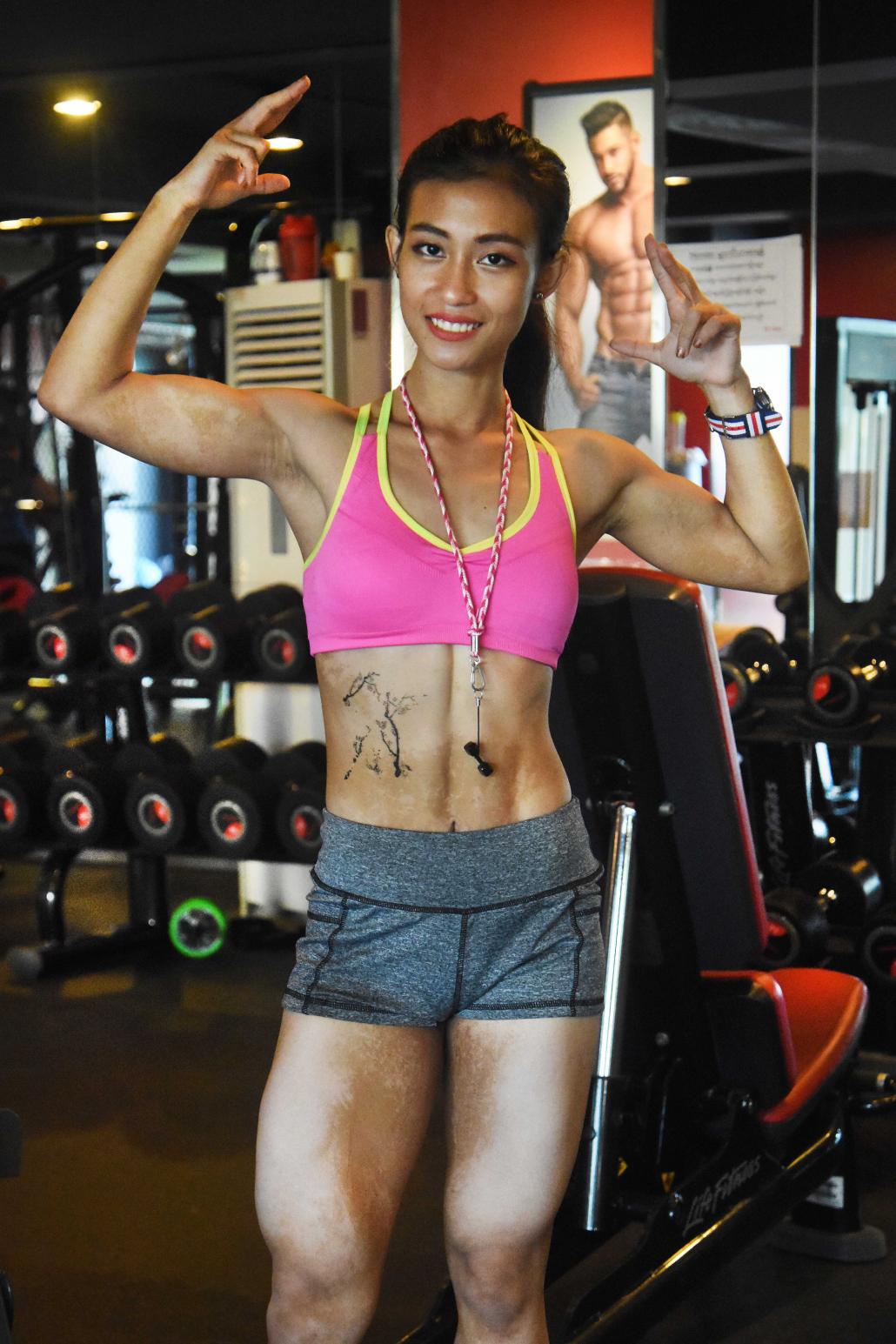 Some competitors – whether on their own or at the urging of their trainers – push their bodies to dangerous limits with steroids and other banned substances, or through the overuse of permitted supplements. The end result, he said, is neither attractive nor healthy.
As a current name in female bodybuilding, Nang Lao Kham is more optimistic than Aung Swe Naing about the prevalence of steroid use among her peers. She claims that the expensive and hard-to-get substances are far more popular abroad.
Nevertheless, she admitted that there is a growing emphasis on raw strength at any cost.
"Most of the women are afraid to train with weights because they are afraid their muscles will get too big," Nang Lao Kham said. "But that's wrong. … Of course the muscles are getting stronger, but they are still good looking with the feminine shape."
Without the stage lights and gobs of tanning oil that accentuate her angles, Thet Thet Wai looks like any ordinary woman, if a rather athletic one.
In fact, she regrets her small frame.
"I wanted to have muscles because there was no girl who has muscles," Thet Thet Wai said, "And I wondered, how will it feel if I have muscles?"
In the end, her size did not make a difference. The judges of the VX Classic saw something special in the rookie, and awarded her third place. The prize was a free membership at Fit Way Gym on Pansodan Street, which she has since made her training headquarters.
She won't be able to quit her office job yet, but eventually Thet Thet Wai would like to open her own fitness centre. Although more people of both genders are hitting the gym, she fears many of the new fitness centres are merely trying to cash in on the booming hobby: she describes them as understaffed and poorly managed.
"Sometimes the trainers don't even know each other even when they are [working for] the same gym," she said.
But even without a gym of her own, Thet Thet Wai plans informal events and meet-ups to connect and develop the fitness community. And until Myanmar gets used to the idea of women pumping iron, she said, "the important thing is believe in yourself, shut up, and train".
Additional reporting by Kyaw Lin Htoon