Whether for business, pleasure or to acquire a deeper understanding of Myanmar's culture and society, an increasing number of foreigners are learning Burmese.
By THI RI HAN | FRONTIER
Myanmar's opening to the world after reforms began in 2011 generated enormous international interest in the country and saw an influx of foreigners keen to pursue opportunities in one of the world's last frontier economies.
The surge of interest in Myanmar has been accompanied by an increase in the number of foreigners eager to learn Burmese. Enrollments are up at language schools that teach Burmese in Myanmar and throughout the world.
For those who make the effort, the rewards of learning Burmese range from the satisfying pleasure of conversing with Myanmar friends in their mother tongue to the deeper understanding of a country that comes from knowing its language.
"The most interesting thing is that this language is very ancient and unique in the world," Mr Oscar Para, former US Air Force major, told Frontier in an email interview.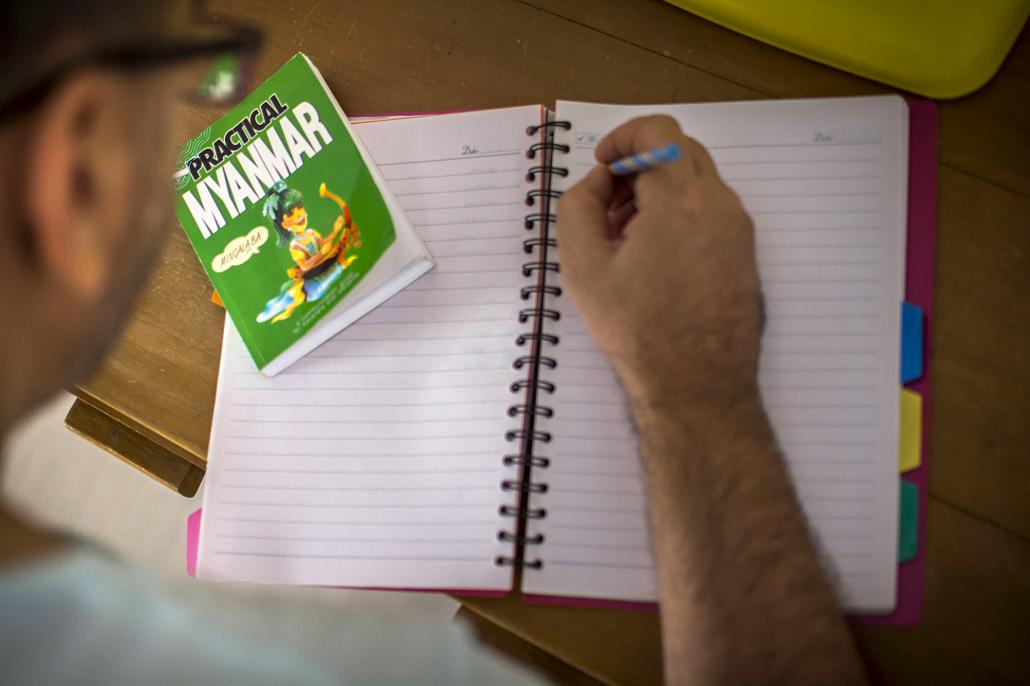 Para is learning Burmese at Diplomatic Language Services, a company based at Arlington in the American state of Virginia that has been providing language training to US military personnel and government agencies for more than 25 years.
Para's mother tongue is Spanish and his second language is English. He hoped that he could learn Burmese easily by combining Burmese and Spanish syntaxes.
"Learning the alphabet was challenging. But … after three months of learning the language I felt very confident in reading any Burmese script," he said.
Ko Paing Thu Zaw is the Myanmar name chosen by a Chinese student, Mr Xuang Bin, who is studying for a diploma in Burmese at the University of Foreign Languages in Yangon, the country's leading institution for foreign language studies.
"In the beginning I found it difficult," said Paing Thu Zaw, who has also been studying Myanmar transliterations of Pali, an ancient Indian dialect that is the sacred language of Theravada Buddhism.
Pali scriptures and Buddhist literature were a little confusing, he said. Paing Thu Zaw has an interest in the Jataka, the tales of the former lives of the Lord Buddha, especially his 10 immediate past lives. He is also interested in the murals depicting Jataka tales found at many temples.
"Writing is not so bad but I don't understand some Pali phrases," said Paing Thu Zaw, who said his Myanmar name was chosen traditionally using the first consonant of the word for the weekday on which he was born.
Although he enjoys the formal lessons at UFL, he takes every opportunity to learn and speak outside class and is quite proficient in spoken Burmese.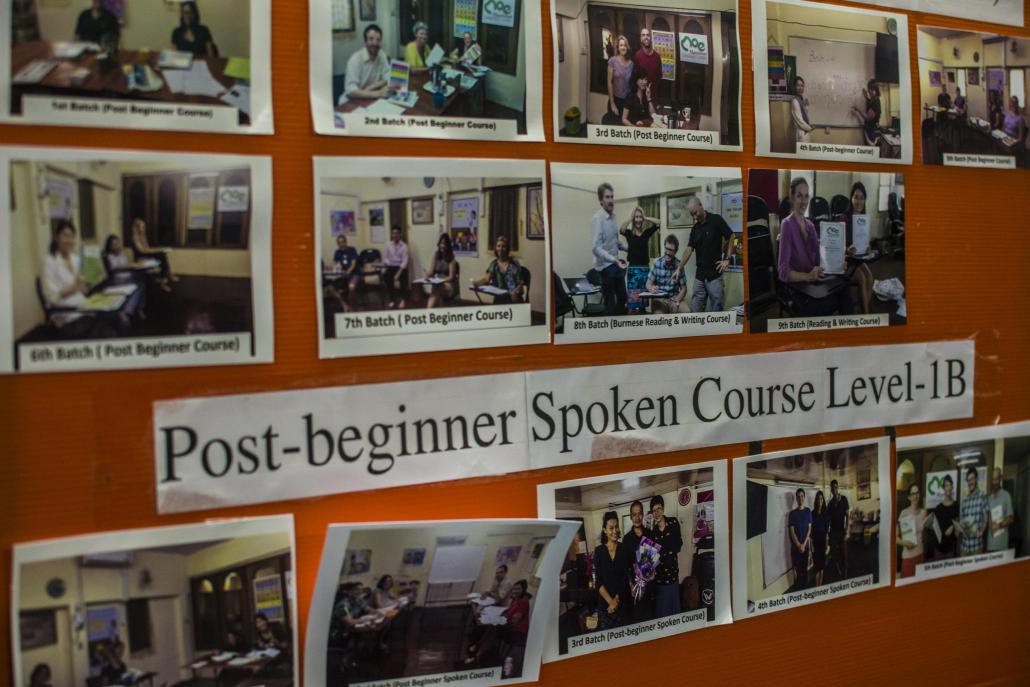 The foreign institutions where Burmese is taught include the School of Asian and Oriental Studies in London, where a renowned specialist in the language, Mr John Okell, retired in 1999 after 40 years. Okell, an octogenarian, continues to run short courses in Yangon and Chiang Mai.
Other institutions where Burmese is taught include the Australian National University in Canberra, where classes in the language were first offered in about 2004. ANU also offers intensive introductory courses in Burmese. A two-week course beginning this month is being presented by Dr Yuri Takahashi, a Japanese specialist of Burmese who has lived in Australia for many years. Takahashi worked at the Japanese embassy in Yangon as a Myanmar language expert in 1991.
"The purpose of these courses is to introduce students to the Burmese language, and provide them with beginner level communicative commands, with an emphasis on conversation in everyday situations," said Mr Anthony Chan, a project officer at the School of Culture, History and Languages at ANU's College of Asia and the Pacific.
Ma Htar Htar Myint teaches US government employees at Diplomatic Language Services in Arlington, where Para is a student. Most of her students are diplomats.
"They are very polite and well-educated. They have known several languages before learning Burmese. They open the car door for me although they are older than me," she told Frontier by email.
"My most memorable student is a Spanish woman. She likes playing jokes. She likes Myanmar traditional snacks very much. She tends to eat bread with fried fish sauce," she said.
The teaching methods in the US are much different to those in Myanmar, said Htar Htar Myint, who has been teaching Burmese for four years.
"We need to make students accept our teaching method. Despite getting an outstanding salary, you may be dismissed if two or three students don't like your method. I had to attend many teaching training classes," she said.
Htar Htar Myint said one of her students who had been difficult to teach was now working at the US embassy in Yangon.
The student could speak many languages but found Burmese unlike any other language he had studied.
"I had to write exclusive curriculums for him and taught him Myanmar culture and its characteristics," she said.
"Every night I had to watch Myanmar films and videos and I looked for words and phrases and plots in them which could make him feel like learning. Since then I've become a big fan of Myanmar videos," she said.
"When he finished his studies, he sent a letter of congratulations for me to the school."
Para said one reason why he found learning Burmese easy was the many words created from two or more easy-to-remember words.
"An example is the Burmese word for 'movie', which is composed from the words 'look' and 'live', which makes sense and makes it easy to remember the words," he said.
"I am proud and honoured to have been given the chance to learn this unique and emerging language."