A group of Myanmar workers is among 46 crew stranded on a gambling ship in Hong Kong after the owner stopped paying their wages six months ago.
By ECHO HUI | FRONTIER
The air onboard is stifling and the stench of decay fills every corner of the vessel. For more than six months, Ko Maung Yin Maung has been stranded on a casino ship in Hong Kong, enduring awful living conditions. It has been six months since he last spoke to his wife in Yangon, with a heart full of guilt and just a few dollars in his pocket. It was about six months ago that his employer stopped paying his monthly wage of US$450 (about K524,000).
Maung Yin Maung, 38, has been working on the New Imperial Star for eight months. He had previously worked on another casino ship for six months.
"The owner told the Burmese crew that they will be receiving a portion of their wages before Burmese new year," said Maung Yin Maung. "I promised my family that I would come back home in the new year."
It was not long after he was finally able to send some money to his wife, whom he had told at the last minute about his decision to work on a ship in Hong Kong, that his pay stopped.
The 46 crew members – 18 from Myanmar, 20 from Ukraine and eight from mainland China – have been stranded in limbo for more than six months, Frontier was told.
Their ordeal began on October 6, when Hong Kong marine authorities detained the New Imperial Star in waters about a mile off the Chinese territory's Kai Tak Cruise Terminal after finding deficiencies in the vessel's safety system.
The ship's registered owner, Arising International, a single-ship shell company registered in the British Virgin Islands, was ordered to rectify the safety problem and pay a fine before the vessel could operate again.
The company, that reportedly ran into financial difficulties because of a slump in the gambling business, has paid neither the fine nor the several hundred thousand dollars in back pay owed to its employees.
Mr Wong, an owner of Arising International, said he had been trying to find new investors to resolve the situation but raising cash was difficult because of the economic slowdown in China.
"I have been trying my best to raise funds in mainland China to pay off the workers, but it is harder than I thought," he told Frontier.
Meanwhile, life on the gambling ship is difficult for the unpaid workers.
"I have no money and food is served three times a day," said Maung Yin Maung. "It is like we are in prison; we can't get out [easily] and even if we can, we don't have any money."
Maung Yin Maung's financial situation was made more difficult by having to pay a hiring agency and the Myanmar authorities "to be able to work on this kind of ship". It took him nine months' work to pay off the hiring agency's $1,000 fee. The training he needed to qualify for his job on the gambling ship took another two months of his salary.
When Maung Yin Maung was 17, his seafaring father died in a shipwreck off Japan. "But I still chose this job because I remember being able to spend money as much as we wanted [when his father was working] and I want that for my son," he said.
The first time Maung Yin Maung worked aboard a boat he hoped to make good money but the experience left him bankrupt. A middleman introduced him to an agency that arranged a job on a fishing boat off Malaysia, for only $100 a month. He quit before his two-year contract expired and had to pay the agency $1,000 to be able to return to Myanmar.
Unable to find satisfying work at home, Maung Yin Maung decided to work again on a ship, this time in Hong Kong.
Crew members on the gambling vessel were promised a monthly salary between $1,500 and $2,500, but the workers from Myanmar were paid $450, which is below the minimum wage in Hong Kong.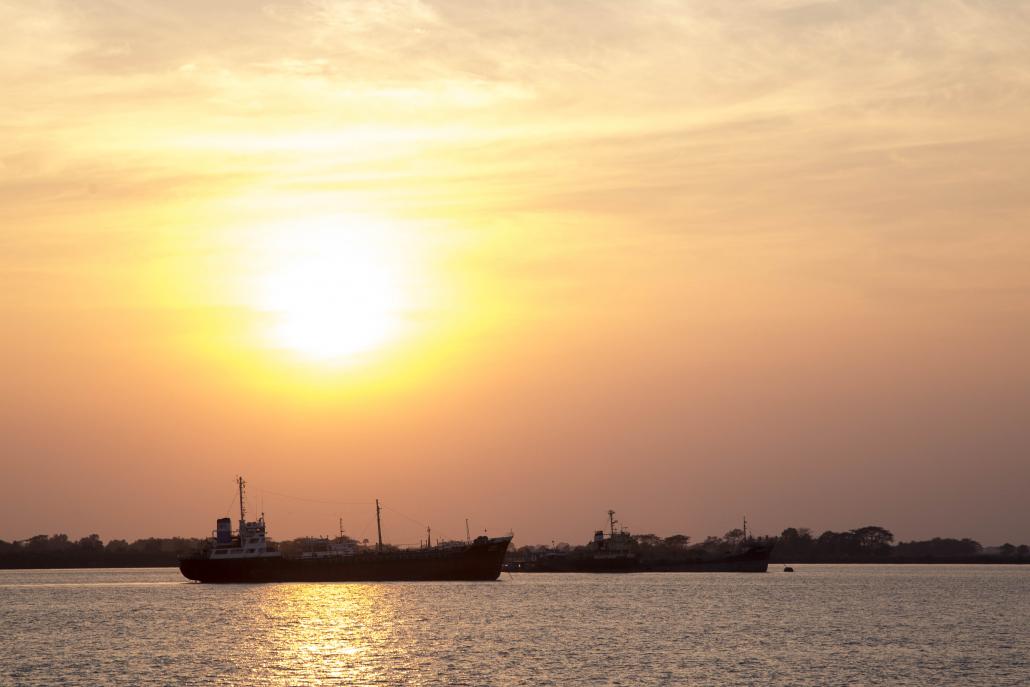 "There is no legal protection for Burmese working [in Hong Kong] as seafarers, only as domestic helpers," said Amyotha Hluttaw MP U Okkar Min (National League for Democracy, Tanintharyi-8), a member of the Upper House internal and external labour affairs committee.
Maung Yin Maung accepted the job despite knowing he would be underpaid because he hoped the work experience would help him get a better position in the future.
"In Myanmar, if you say you are a seafarer, starting from nursery students to elders, they will think about the dollar sign," he said. "They think we make a lot of money but they do not know the real cost."
The plight of the stranded workers in Hong Kong comes at a time when there is growing demand in the Special Administrative Region and in countries throughout Asia for labour from Myanmar.
Some of the Myanmar crew are eager to return home but are unwilling to leave Hong Kong without being paid. Others are concerned they will be blacklisted by Myanmar's Seamen Employment Control Division because they lacked the documents needed to work on a ship.
Maung Yin Maung has his own concerns. "It is very difficult to get work on another ship if you return to Myanmar without completing a contract. It means you did not go all the way with your previous ship and the hiring agency will lose trust in you," he said.
Okkar Win, who has vowed to speak out in parliament about migrant workers' issues, issued a plea to the Hong Kong authorities on behalf of the gambling ship workers.
"I would like to request the Hong Kong government, as well as international non-government organisations, to help those Burmese workers in an humanitarian way," he said.
On April 12, the crew filed a request with the Hong Kong government for legal aid to pursue their case for non-payment of wages. If the process is successful, it will lead to the ship being seized and auctioned, and the proceeds paying the crew what it is owed.
Ei San contributed to this report. Title photo: A crew member on a vessel travelling along the Yangon River. (Ann Wang / Frontier)